The South Sydney Rabbitohs are pleased to announce the one-year contract extensions of Tevita 'Junior' Tatola, Mark Nicholls and Jacob Gagan for the 2019 season.
Tevita 'Junior' Tatola, Rabbitohs first grade player #1141, burst onto the NRL scene this season having joined the Rabbitohs from the Wests Tigers under 20s squad.
At just 21 years of age and in his rookie NRL season, the young front rower has played in 23 of 24 regular season matches, adding plenty of aggression and consistency off the bench for the Red and Green.
His efforts through the year were rewarded as he represented Tonga in the mid-year Pacific Test match against Samoa, scoring a pivotal try, and will be continuing his development at the Club for at least a further twelve months. 
Mark Nicholls, Rabbitohs first grade player #1140, joined the Club in 2018 and has impressed in the front row, playing 12 games so far this season adding some much-needed starch and impact to the forward pack.
Having debuted in 2012 at the Canberra Raiders, Nicholls went on to play 21 games with the club until he moved to the Melbourne Storm in 2017, becoming a part of their premiership-winning squad.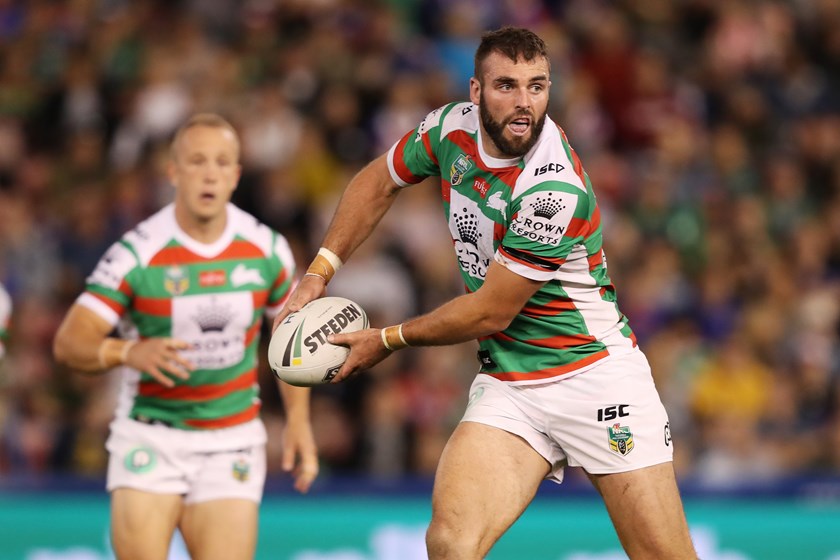 As an ultra-consistent competitor with plenty of experience, Nicholls has become an established campaigner in the Rabbitohs' squad. 
Jacob Gagan has also extended his tenure with the Rabbitohs for a further twelve months, bolstering the Club's stocks in the outside backs.
As a fleet-footed winger or centre, the 25-year-old has played eight NRL games so far in his career with the Cronulla Sharks and the Newcastle Knights and has been a standout performer in the Intrust Super Premiership for a number of seasons, playing eleven matches in 2018. 
Head coach Anthony Seibold was delighted to have the trio locked up for at least another season. 
"These three are key signings to help our depth in both the forwards and the backs, and to keep the pressure on spots in our top 17," Coach Seibold said.
"Junior has done a remarkable job playing in 24 straight games in first year of NRL Football, stretching back to the Charity Shield in February.
"'Nico' (Mark Nicholls) adds experience and depth to our front row rotation and has proven this year that he can play consistent NRL-level football, and Jacob has shown a great attitude towards his training and his preparation, and he will add to that competition for positions in our backline."
| | |
| --- | --- |
| Name:  | Tevita 'Junior' Tatola |
| Date of Birth:  | 11 October 1996  |
| Place of Birth:  | Sydney, NSW  |
| Height:  | 183cm  |
| Weight:  | 114kg  |
| Position:  | Prop  |
| Junior Club:  | Holy Cross Rhinos  |
| Rep Honours:  | One Test for Tonga (2018); Australian Schoolboys (2016)  |
| NRL Games:  | 23 (All for Rabbitohs)  |
| NRL Debut:  | Rabbitohs vs Warriors, Optus Stadium, 10 March 2018 (Round 1)  |
| | |
| --- | --- |
| Name:  | Mark Nicholls |
| Place of Birth:  | 5 January 1990  |
| Height:  | 194cm  |
| Weight:  | 104kg  |
| Position:  | Prop  |
| Junior Club:  | Leeton Raiders, Gungahlin Bulls  |
| Rep Honours:  | One game for NSW Residents (2014); two games for Junior Kangaroos (2010)  |
| Previous Clubs:  | Raiders (2012-2016); Storm (2017)  |
| NRL Games:  | 40 (19 for Raiders, nine for Storm, 12 for Rabbitohs)  |
| NRL Points:  | Four (From one try for the Raiders)  |
| NRL Debut: | Raiders vs Dragons, Canberra Stadium, 2 July 2012 (Round 17) |
| | |
| --- | --- |
| Name: | Jacob Gagan |
| Date of Birth:  | 25 March 1993  |
| Place of Birth:  | Sydney, NSW  |
| Height:  | 184cm  |
| Weight:  | 94kg  |
| Position:  | Utility Back  |
| Junior Club:  | Cabramatta Two Blues  |
| Rep Honours:  | Australian Schoolboys (2010); NSW under 18s (2011)  |
| Previous Clubs:  | Sharks (2014-16); Knights (2017)  |
| NRL Games:  | 8 (7 for Sharks; one for Knights)  |
| NRL Points:  | 24 (From 5 tries for Sharks, one try for Knights)  |
| NRL Debut:  | Sharks vs Dragons, WIN Stadium, 7 June 2014 (Round 13)  |