It was South Sydney that had the last laugh in 2007. In round 16, having lost our previous encounter with the Newcastle Knights by a single point, a wickedly cold night in Newcastle set the scene for a come-from-behind win for the Grand Old Club. Although the story behind that victory is a bizarre one.
After a bitter falling out between former Souths man Adam MacDougall and the Souths administration, MacDougall would line-up for the Newcastle Knights in the 2007 season. The Knights would get the first laugh with a heartbreaking 23-22 win over the Rabbitohs in Gosford.
The last laugh, however, came at MacDougall's expense when Souths hooker Stuart Webb's trash talking would wind-up the former Souths back and draw his ire only for Webb to act as a decoy to remove MacDougall from the line and open a hole for the Rabbitohs to score, snatch the lead and claim a 28-25 victory.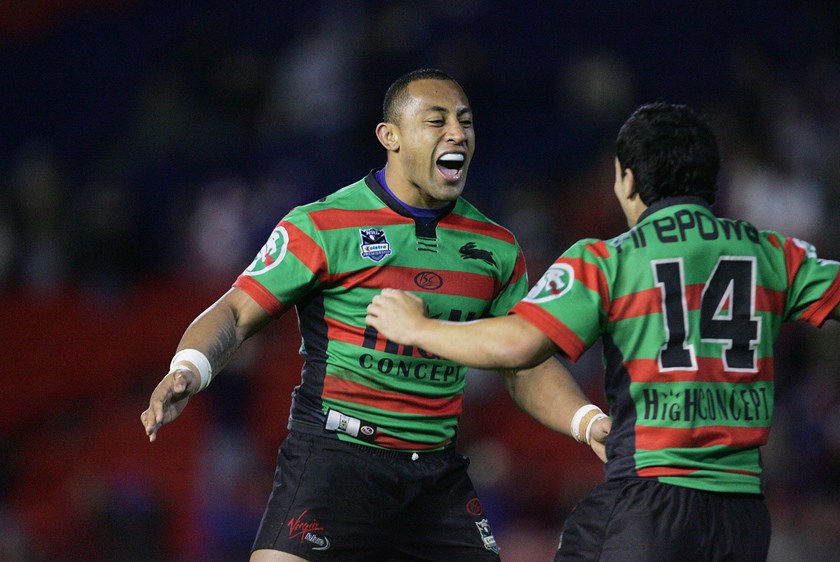 The encounter between Webb and MacDougall went unnoticed by everyone watching the game, but Rabbitohs Media Manager Jeremy Monahan was filled in with the story as he went to collect players for their post-match media interviews.
"The team was talking about the game in the sheds. They were all excited after the match, cheering, laughing and having a great time and the story came out that 'Webby' had called 'Mad Dog' out during that play with words to the effect of "I'm going to run over you, I'm coming for you"," recalls Monahan.
"And with 'Mad Dog', as often happens, the eyes started rolling and he shot out of the line to try and put a shot on or shut down the play - I don't know what he was thinking - but that left the gap behind him and 'Webby' turned out to be a decoy runner.
"When you're watching it from the press box it just looked like a bad defensive read from 'Mad Dog' when he shot out of the line to try and shut down the play. That left a big hole behind him and our boys were good enough to hit that hole and score the winning try."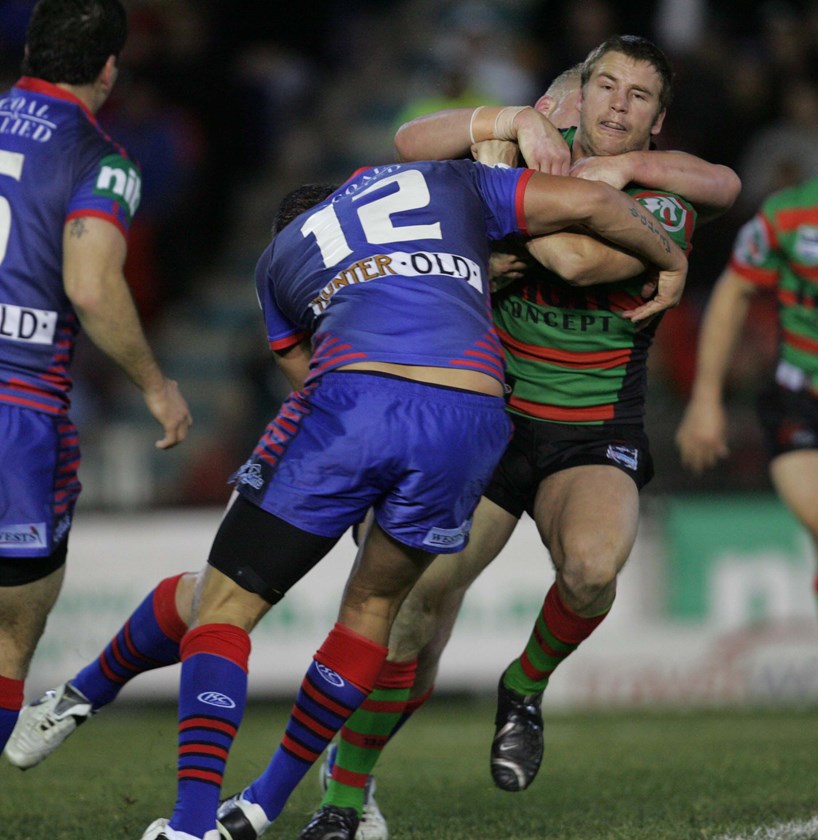 MacDougall had earlier in the match made a public swipe at Souths management when he scored in the 27th minute. Grabbing the ball to celebrate, the Newcastle winger pretended it was a phone before throwing it at his teammate. The celebration was designed to anger Souths officials but it would be MacDougall who would lose his cool later on and lose the match for Newcastle.
"Adam had a shot at the Souths management previously when he scored his try by pretending the ball was a phone and throwing it at one of his teammate's heads. That made the big screens at the stadium, I don't know if that was motivation for the boys or not but they got the last laugh when 'Mad Dog' shot out of the line," said Monahan.
For Webb, it was all in good nature. The hooker reveals there was no love lost between his former teammate and the players at Souths after the falling out. He remembers more how much the win meant for the club, breaking a 13-year drought at Newcastle for the Rabbitohs.
"I can't really remember what I said but I most definitely would have been winding him up. I don't think I would've said I'll run over him - I don't think I ran over anyone in my career!" laughs Webb.
"In the end it worked and we managed to get the win. It was huge for us because we hadn't won in Newcastle in about 13 years and with 'Doug's' leaving there was a bit of bad blood between him and the club, but definitely not between him and the boys.
"I guess we had the last laugh after his early try celebration."
A proud David Peachey, in a post-game interview with Andrew Voss, would declare that his side had "shown a lot of character that South Sydney haven't had for a long time".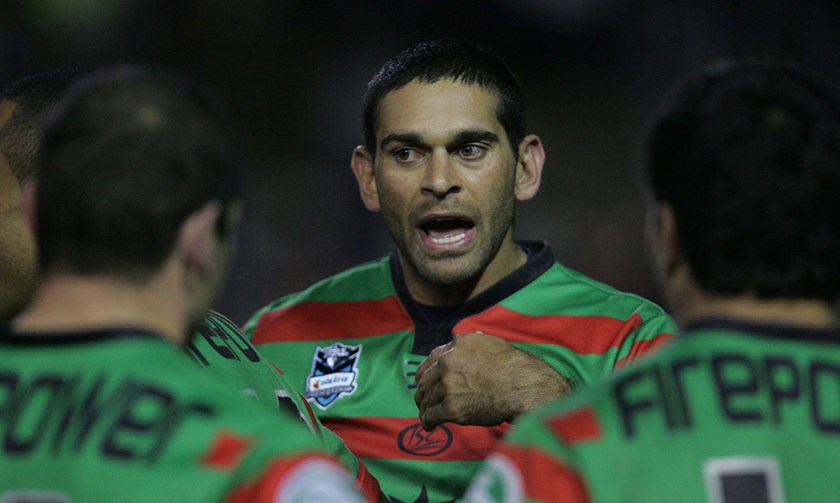 South Sydney have stormed home with three late tries to beat Newcastle 28-25 at a cold and windy EnergyAustralia Stadium. Rabbitohs five-eighth Ben Rogers crossed in the 76th minute to secure Souths' first victory in Newcastle since 1994.
It saw the Rabbitohs charge into the NRL top eight, while leaving Newcastle - seventh before the start of round 16 - possibly down as low as 13th by the end of the round.
Knights rookie halfback Luke Walsh, after setting up three of the home side's five tries, looked to have sealed victory for Newcastle with his 73rd minute field goal. But young Souths hooker Isaac
Luke ended up delivering the final blow, sending Rogers over less than four minutes from fulltime with a perfect cut-out ball from dummy-half.
After trailing 12-0 following a horror opening 10 minutes, the Knights looked to be cruising to an easy victory after running in five straight tries for a 24-12 lead.
But a 60m intercept try to Souths halfback Jeremy Smith in the 64th minute - from a Jarrod Mullen pass - turned the match.
Souths skipper Roy Asotasi barged over for his second try of the night - and third in two games - four minutes later to level the game, before the Rabbitohs triumphed in a frantic finish.
Newcastle - without NSW State of Origin stars Danny Buderus, Steve Simpson and Kurt Gidley - led 16-12 at halftime after scoring three tries in the final 12 minutes of the first half.
Knights centre Adam MacDougall enjoyed a mixed night against his former club. It was his defensive lapse while defending the Knights' tryline late which led to the Rabbitohs match-winning tries. Earlier, though, it seemed he was destined for a night out against the Bunnies in his 100th game for the Knights when he scored late in the first half.
----------
Match report supplied by Michael Curin.
SCOREBOARD
South Sydney 28 (R.Asotasi 2, N.Vagana, J.Smith, B.Rogers tries; R.Simmonds 2, I.Luke 2 goals) defeated
Newcastle 25 (A.MacDougall, G.Carmont, C.Vuna, C.Paterson, J.McManus tries; Paterson 2 goals; L.Walsh field goal) at EnergyAustralia Stadium, Newcastle, Friday night, June 29, 2007 (7.30pm).
Crowd: 16,320. Referee: Sean Hampstead. Sideline Officials: Allen Foster, Matt Cecchin. Video Referee: Phil Cooley. Halftime: Newcastle 16‐12. Scrums: Newcastle 7‐3. Penalties: Souths 8‐7.
Goalkickers: Simmonds (Souths) 2/2, Paterson (Newcastle) 2/5, Luke (Souths) 2/3. Weather: Cold, windy.
SOUTHS: David Peachey; Reece Simmonds, Nigel Vagana, Shannon Hegarty, Paul Mellor; Ben Rogers, Jeremy Smith; Peter Cusack (c), Stuart Webb, Roy Asotasi (c), Luke Stuart, David Fa'alogo, Dean Widders. Interchange: Issac Luke, Shane Rigon, Manase Manuokafoa, Jaiman Lowe. Coach: Jason Taylor.
NEWCASTLE: Nathan Hinton; James McManus, George Carmont, Adam MacDougall, Cooper Vuna; Jarrod Mullen, Luke Walsh; Mitchell Sargent, Terence Seuseu, Adam Woolnough (c), Daniel Abraham, Cory Paterson, Reegan Tanner. Interchange: Michael Young, Jesse Royal, Kade Snowden, Zeb Taia. Coach: Brian Smith.
Dally M points: 3 ‐ Asotasi (Souths), 2 ‐ MacDougall (Newcastle), 1 ‐ Luke (Souths).
Scoring Progression:
5 min: South Sydney 6‐0 (Vagana try; Simmonds goal)
11 min: South Sydney 12‐0 (Asotasi try; Simmonds goal)
28 min: South Sydney 12‐6 (MacDougall try; Paterson goal)
33 min: 12‐all (Carmont try; Paterson goal)
38 min: Newcastle 16‐12 (Vuna try)
49 min: Newcastle 20‐12 (Paterson try)
56 min: Newcastle 24‐12 (McManus try)
64 min: Newcastle 24‐18 (Smith try; Luke goal)
68 min: 24‐all (Asotasi try; Luke goal)
73 min: Newcastle 25‐24 (Walsh field goal)
76 min: South Sydney 28‐25 (Rogers try)