The Rabbitohs have also agreed to a request for a contract release for Anthony Seibold to join the Brisbane Broncos this coming season.
Coach Bennett had already signed a deal to join the Rabbitohs in 2020 on a two-year contract, which is now extended to a three-year agreement including Season 2019.
"I'm really pleased it's all resolved and that I can join this great Club with a free mind, knowing I did the right thing by the fans, staff and players," Bennett said.
"I'm really looking forward to being at South Sydney and working with the players, staff, Board and all of the Members.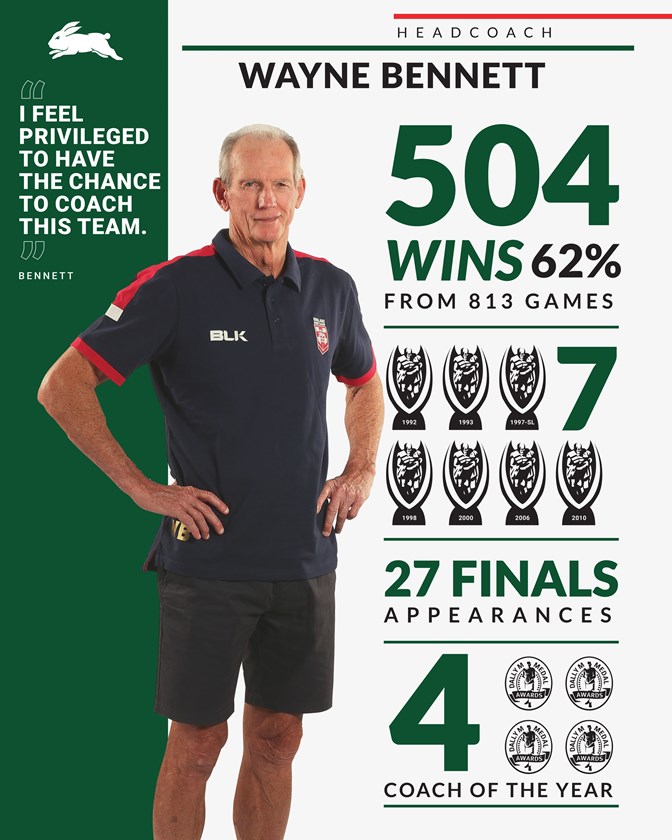 "It's a wonderful Club, South Sydney, and I feel privileged to have the chance to coach this team."
Rabbitohs General Manager of Football, Shane Richardson, is very happy to have Bennett on board for the coming season.
"Wayne is ready to go for 2019 and we're ready for him to start his tenure with us," Mr Richardson said.
"Everyone is really excited about the season ahead and we're sure it will be a great year for our Members and supporters.
"We thank Anthony for his efforts over the past two years and we wish him, his wife Hollie and his three daughters Isabella, Ava and Sienna the best for the future."
 Biography
 
Name:
Wayne Bennett 
Coaching Role: 
Head Coach for Seasons 2019-2021
Club Coach Appointments:
Head Coach – 631 games for Broncos (1988-08, 2015-18) – 402 wins
Head Coach – 75 games for Knights (2012-14) – 34 wins
Head Coach – 79 games for Dragons (2009-11) – 51 wins
Head Coach – 28 games for Raiders (1987) – 17 wins
Head Coach – Brisbane Souths (1977-79, 1984-85)
Head Coach – Brisbane Brothers (1980-82)
Head Coach – Ipswich (1976)
NSWRL/ARL/SL/NRL Coach Win
 62% (504 wins from 813 games)
Rep Coach Appointments:
Head Coach – England (2016-current)
Head Coach – NRL All Stars (2010-13)
Assistant Coach – New Zealand (2008)
Head Coach – All Golds (2007)
Head Coach – Australia (1988, 2004-05)
Head Coach – Queensland (1986-88, 1998, 2001-03)
Head Coach – Queensland Tri-Series (1997)
Coaching Achievements:
Seven premierships (1992-93, 1997{SL}-98, 2000, 2006, 2010)
27 Finals appearances (1987, 1990, 1992-2011, 2013, 2015-18)
Five Origin Series wins (1987-88, 1998, 2001-02)
Coach of the Year (1987, 1997-SL, 2000, 2015)
Playing Record:
Warwick, Toowoomba, Brisbane Brothers
Ipswich (1976)
Brisbane Souths (1977-79)
Seven games for Queensland (1971-73)
Australian tour of New Zealand (1971)