Wayne Bennett and Great Britain squad pay respects by laying wreaths at Auckland War Memorial.
In 1914, the Great Britain Rugby Lions finished their tour in New Zealand with six games, including the final game, a Test against New Zealand, it was only the second ever tour by the side. That match was played at the Domain Ground on 1st August 1914, four days after war had been declared.
The majority of players involved knew they would soon be heading to the battle field on their return to Britain. Three of the squad would make the ultimate sacrifice for their country and were killed in the Battle of the Somme in 1916. Billy Jarman (Leeds), Fred Longstaff (Huddersfield) and Walter Roman (Rochdale) were the three Rugby League Lions who lost their lives.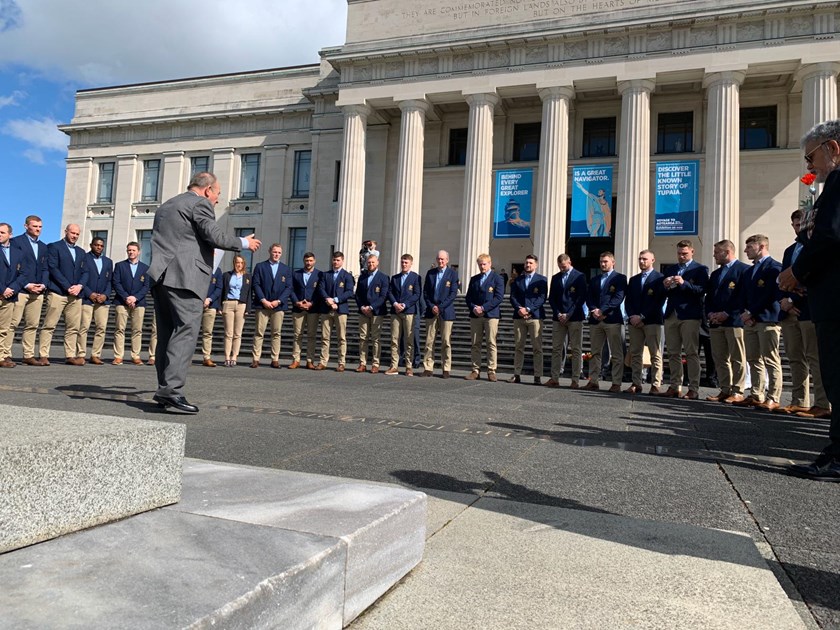 In 2018, to mark the centenary of the Armistice, Wayne Bennett took the national side to the Western Front to see the battle fields for themselves and it made a lasting impression on the squad. The squad were part of the Last Post ceremony at the Menin Gate with Head Coach, captain and the youngest player in the squad laying a wreath.
The squad are repeating that event on their return to Auckland for the 24th Lions tour Wayne Bennett, James Graham and Jake Trueman paid their respects by laying wreaths at the Auckland War Memorial which sits alongside the Domain where that last game in 1914 was played.