The South Sydney Rabbitohs have drawn some of the games big guns and will continue a long-standing rivalry at the 2017 Downer NRL Auckland Nines, with the pools being selected this morning (Thursday) in Auckland.
The Rabbitohs have been drawn in the Hanua Pool, with 2015 Nines champions set to take on the 2014 Nines champions in the North Queensland Cowboys, arch rivals the Sydney Roosters and exciting young outfit in the Canberra Raiders in the pool stages.
The Rabbitohs were drawn against the Roosters in last year's competition, defeating them 14-13 in the opening game of the tournament.
Souths also drew the Cowboys in the Waiheke pool in 2015, defeating the north Queenslanders 19-12.
The Rabbitohs have never played the Raiders in the Nines format, but the Raiders will be looking improve on their quarter finals finish in the 2016 tournament.
The Downer NRL Auckland Nines will be played at Eden Park in Auckland over the weekend of Saturday 4 February and Sunday 5 February.
The pools for the 2017 Downer Auckland Nines are:
Hunua Pool
South Sydney Rabbitohs, North Queensland Cowboys, Sydney Roosters, Canberra Raiders
Pihu Pool
New Zealand Warriors, St. George-Illawarra Dragons, Parramatta Eels, Manly Sea Eagles

Waiheke Pool
Cronulla Sharks, Gold Coast Titans, Penrith Panthers, Canterbury Bankstown-Bulldogs

Rangitoto Pool
Wests Tigers, Brisbane Broncos, Melbourne Storm, Newcastle Knights
The 2017 Downer NRL Auckland Nines draw is (local NZ time):
Game 1 - Sat 12pm - Sharks vs Titans
Game 2 - Sat 12:25pm - Panthers vs Bulldogs
Game 3 - Sat 12:50pm - Dragons vs Eels
Game 4 - Sat 1:15pm - Warriors vs Sea Eagles
Game 5 - Sat 1:50pm - Knights vs Tigers
Game 6 - Sat 2:15pm - Broncos vs Storm
Game 7 - Sat 2:40pm - Cowboys vs Roosters
Game 8 - Sat 3:05pm - Rabbitohs vs Raiders
Women's Game 1 - Sat 3:30pm - New Zealand vs Australia
Game 9 - Sat 3:55pm - Sharks vs Panthers
Game 10 - Sat 4:20pm - Titans vs Bulldogs
Game 11 - Sat 4:45pm - Dragons vs Sea Eagles
Game 12 - Sat 5:10pm - Warriors vs Eels
Game 13 - Sat 5:45pm - Knights vs Broncos
Game 14 - Sat 6:10pm - Tigers vs Storm
Game 15 - Sat 6:35pm - Cowboys vs Raiders
Game 16 - Sat 7pm - Rabbitohs vs Roosters
Game 17 - Sun 10:35am - Sharks vs Bulldogs
Game 18 - Sun 11am - Titans vs Panthers
Game 19 - Sun 11:25am - Sea Eagles vs Eels
Game 20 - Sun 11:50am - Warriors vs Dragons
Game 21 - Sun 12:15pm - Tigers vs Broncos
Game 22 - Sun 12:40pm - Knights vs Storm
Game 23 - Sun 1:05pm - Rabbitohs vs Cowboys
Game 24 - Sun 1:30pm - Roosters vs Raiders
QF1 - Sun 1:55pm - Waiheke 1st vs Piha 2nd
QF2 - Sun 2:20pm - Waiheke 2nd vs Piha 1st
QF3 - Sun 3:05pm - Rangitoto 1st vs Hunua 2nd
QF4 - Sun 3:30pm - Rangitoto 2nd vs Hunua 1st
Women's Game 2 - Sun 3:55pm - New Zealand vs Australia
SF1 - Sun 4:40pm - Winner QF1 vs Winner QF2
SF2 - Sun 5:05pm - Winner QF3 vs Winner QF4
Women's Game 3 - Sun 5:50pm - New Zealand vs Australia
Final - Sun 6:40pm - Winner SF1 vs Winner SF2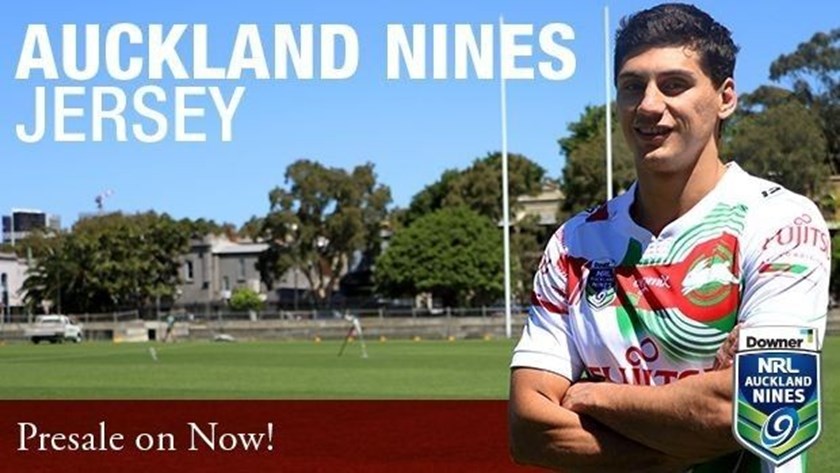 The Rabbitohs have launched their 2017 Auckland Nines Jersey.
To pre-purchase yours now, please click here.