In recent years, the South Sydney Rabbitohs have posted some big scorelines against rivals the Wests Tigers. Here are the five biggest winning margins against our inner-city rivals.
Round 14 2014 – Rabbitohs 32 def Wests Tigers 10 (22 points)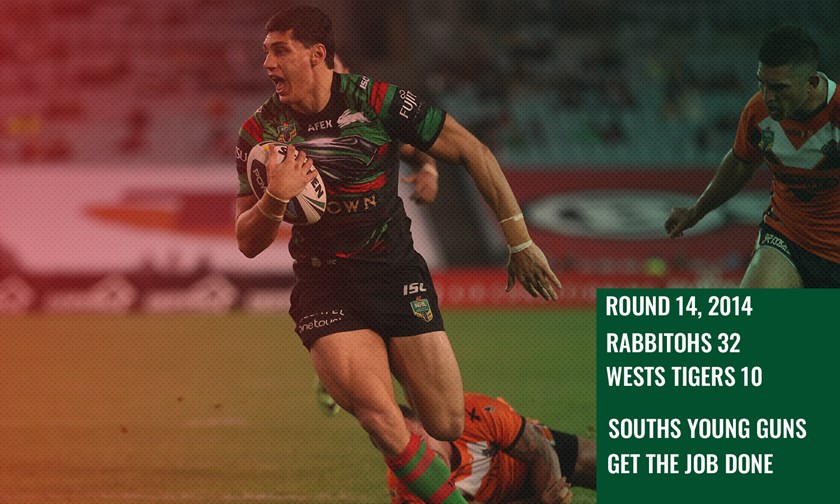 Despite missing their Origin stars, the Rabbitohs managed to trounce the Wests Tigers in a super performance midway through the 2014 season, appropriately in their Superman jerseys. 
Wests Tigers didn't give up without a fight however, and at one point only trailed by six. That was until rookie Alex Johnston scored a sensational 60-metre try, scooting from dummy half and splitting the markers to make a clear run to the line.
From there the Cardinal and Myrtle went on to record a strong 22-point victory, with both Johnston and fellow rookie Kyle Turner bagging doubles. 
Round 24 2007 – Rabbitohs 37 def Wests Tigers 12 (25 points)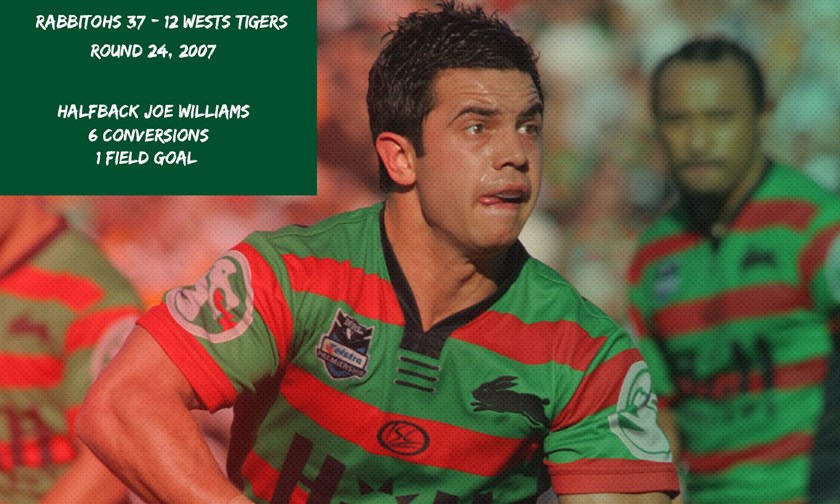 One of the most important matches in the modern era for the Club saw Souths arrive at Leichhardt Oval against a highly favoured Tigers outfit in late 2007. 
Needing a win to solidify their chances of a top-eight berth for the first time in nearly two decades, the Rabbitohs did not let their fans down, comfortably downing Wests 37-12. 
Youngster Yileen Gordon bagged a double, while halfback Joe Williams nailed all six conversions and slotted a field goal to boot in the historic victory.  
Round 21 2012 – Rabbitohs 32 def Wests Tigers 6 (26 points)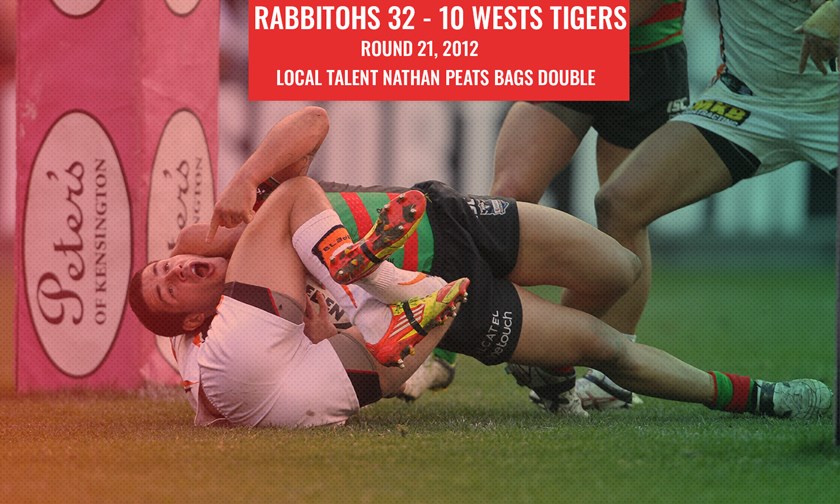 On the back of two massive wins against the Sydney Roosters and St George Illawarra Dragons, the Rabbitohs managed a third win in a row against a rival club, downing the Tigers 32-6 in emphatic fashion in Round 21, 2012.
In just his fourth starting role at hooker, La Perouse junior Nathan Peats bagged a double as his side went up 32-nil with still a quarter of the match to go. 
The Wests Tigers bounced back late, but the day belonged to the Red and Green as they posted a confidence-boosting 26-point victory, made more impressive with the absence fullback Greg Inglis. 
Round 10 2010 – Rabbitohs 50 def Wests Tigers 10 (40 points)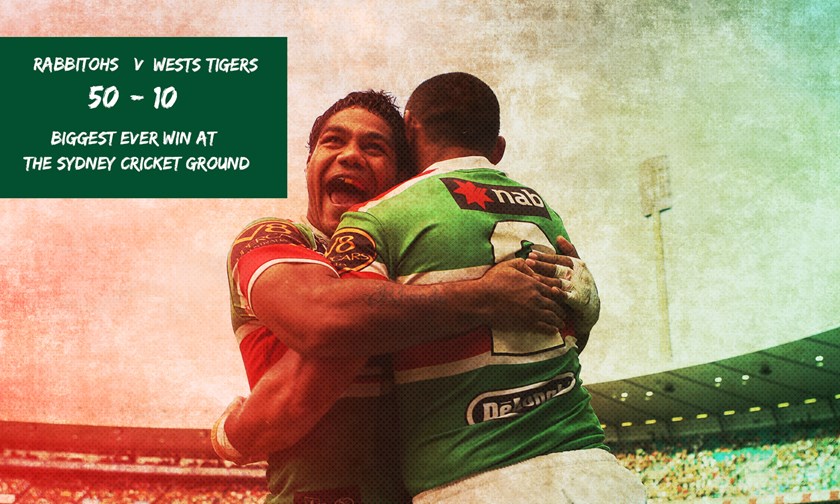 The Sydney Cricket Ground holds an esteemed place in Rugby League, and appropriately the Rabbitohs put on a cricket score in Heritage Round 2010.
Leading 18-6 at the break in their Minties jerseys, the Red and Green exploded in the second half, piling on 32 unanswered points, with a double to Beau Champion and Nathan Merritt completing his hat-trick. 
The match remains as the Club's biggest win at the venue in the top grade competition. 
Round 10 2013 – Rabbitohs 54 def Wests Tigers 10 (44 points)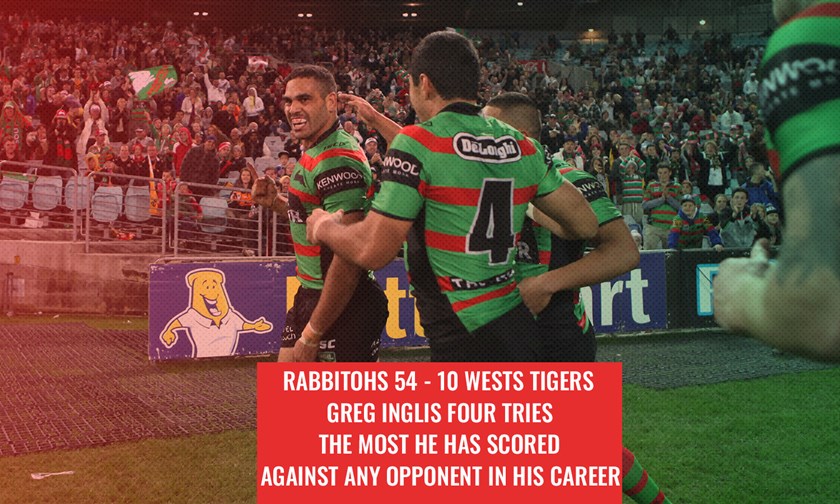 There was only going to be one result when the first placed team came up against last place.
Souths absolutely shot out of the blocks, piling on seven tries in the first half to lead 38-nil after 38 minutes against a Tigers outfit that had no answers for the Red and Green tsunami.
While the second half might not have yielded as many points, the half-century was cracked, with Greg Inglis scoring a mammoth four tries - the most he has scored against any opponent in his career thus far in the 54-10 demolition.