South Sydney Rabbitohs youngster Connor Tracey hailed his return from a three-year injury layoff as 'one of the best nights of his life' - and he can't wait to do it all again against Wigan at ANZ Stadium.
Lining up for the North Sydney Bears in his favourite number seven jumper, Tracey fought back the early nerves to play a solid 40 minutes against the Wentworthville Magpies in the Bears first trial match for 2018 - and celebrated with a long-awaited treat.
"It was a great night," said Tracey. "It was probably one of the best nights of my life just to get back on the field and doing what you love after such a long time out it was a really highlight for me and my family.
"[I had] a few nerves early on but once you get back into the swing of things you go into auto pilot, it was good to get that first hit out, the body went good and I'm ready for this week, I can't wait."
Recovering from four different surgeries including three knee reconstructions, the 21-year-old who hasn't played a single game of senior footy, stood tall against a Magpies side containing a number of NRL players.
"I've never played at that level," said Tracey.
"The last time I played was under 20s so it was a big step up, the contact especially in ISP is heavy contact so it was good learning curve playing at that speed and brutality."
Since then, Tracey has had the opportunity to train alongside some of the best in the business this season and the young half credited his Rabbitohs tutors for his impressive return to action. 
"We learn from the older guys here like Cody [Walker] and Reyno [Adam Reynolds] and to take that back and try and implement that with a new and younger team is a really good experience," Tracey explained.
"I knew getting into the game all I had to do was what we do at training because we train at such a high intensity so it was really quite an easy transition from training to the game."
Tracey may give thanks to his mentors but his intense discipline and commitment to his career hasn't gone unnoticed by those around him, with Head of Performance Paul Devlin absolutely ecstatic with Tracey's incredible feat.
"It was huge for the performance staff here to have a player who's been here for 18 months now to finally get his chance to play his first game," Devlin said. 
"The way he has applied himself to training in the dark lonely hours is an absolute credit to himself and his family and anyone who has had a long term injury will tell you the same.
Head of Performance Paul Devlin

"I just thought he was exceptional, he's an absolute freak of an athlete and I just think he's going to get better and better now."
"We celebrated hard with him on Thursday we were absolutely pumped for him."
However, Tracey didn't celebrate in the usual fashion, instead opting to reward himself with his favourite treat, a collection of chocolates, that he had been abstaining from since he first fell injured.
"I got back on the chocolate after a few years out, I got about five blocks of different chocolate and the girlfriend and I had a feast," Tracey beamed. 
"I used to eat too much chocolate and when I hurt my knees I made a lifestyle change and started eating healthier and I thought I'm just going to quit chocolate.
"It wasn't like I'm going to quit until I start playing. I quit for  a year and then I thought I might as well make it until I'm playing again because I was injured.
"Then I hurt my knee again so it was going to be a long time so I kept going with it but I got back on Thursday night."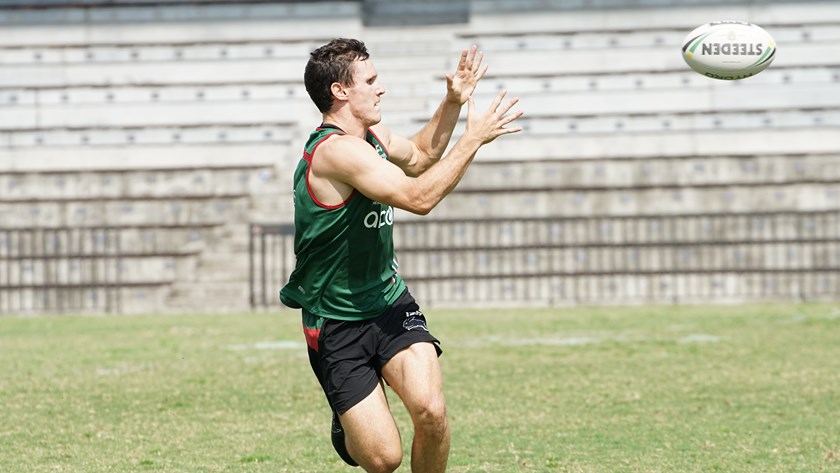 While the instant relief of chocolate has Tracey buzzing, he admits he will keep his delicious addiction to a minimum with his next hit out against Wigan Warriors just a few days away. 
However, Tracey says he's more than willing to put the chocolate aside to focus on producing his next best performance in the mighty Red and Green jersey. 
"I can't wait to get on the park with all the boys," he added. 
"It's such a good team, I can't wait to see how we go against the Wigan side. I saw them on Saturday night they're a really strong side, I personally can't wait to get back out on the field."
Important information for Rabbitohs Members
As the International Double Header is not a Rabbitohs home game, members will need to purchase tickets to the game and will not be able to gain access using their membership card.
Rabbitohs Members are able to access a 2-for-1 offer on all tickets, please check your weekly newsletter or call the membership team on 02 8306 9922 for details.
At the game, Rabbitohs Members will be able to access the Members Bar on the North Western Terrace. Please have your Membership card to gain access on the day.
Where: ANZ Stadium
When: Saturday 17 February
Hull FC v St George Illawarra Dragons, 5.45pm kick off
Wigan Warriors v South Sydney Rabbitohs, 7.45pm kick off