The glittering playing career of South Sydney Rabbitohs captain and international Sam Burgess has come to an end today following his announcement that he will retire from playing Rugby League, effective immediately.
Burgess, 30, will retire from the sport he loves due to a chronic left shoulder condition that only became apparent earlier this year after routine surgery.
Burgess will be remembered as one of the Rabbitohs' finest leaders from the Club's 111-year history, and is recognised within the sport as one of the best, if not the best, Englishmen to ply his trade on Australian shores.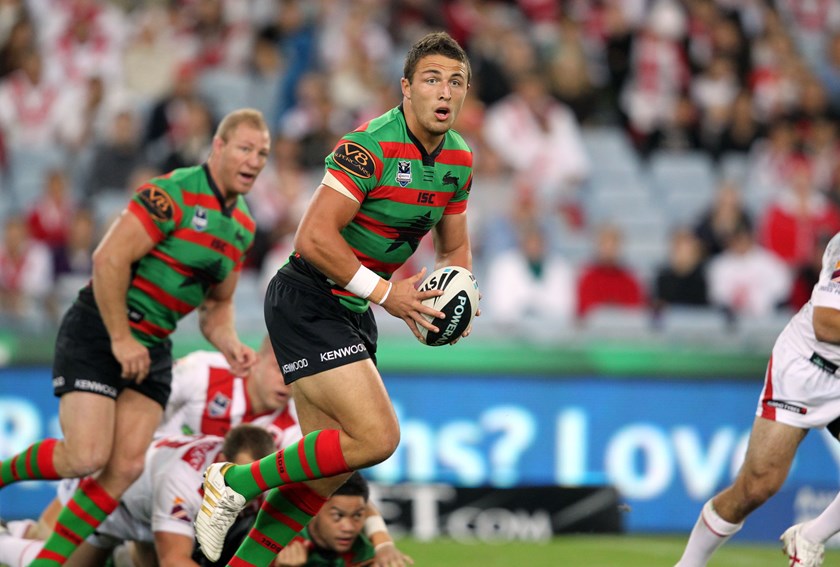 Sam, Rabbitohs first grade player number 1073, played 270 first grade games across the NRL with South Sydney and the Super League with the Bradford Bulls since 2006. Burgess made his first team debut for Bradford against Leeds in 2006, going on to play 88 games for the Bulls.
Burgess arrived in Sydney on his 21st birthday ahead of his initial NRL season in 2010 where he made his debut in the cardinal and myrtle against the Roosters in round one. Burgess would play 182 matches for South Sydney, including the 2014 NRL Grand Final in which he was awarded the Clive Churchill Medal for his inspirational performance playing the entire game with a shattered cheekbone and eye socket. Burgess remains the only South Sydney player to have won the award named after the Rabbitohs' greatest player, 'The Little Master' Clive Churchill, and the only non-Australian to have claimed the award since its inception.
Sam played 23 Test matches for England between 2008 and 2018, and played two Tests for Great Britain in 2007. Sam also represented England at the 2015 Rugby World Cup, playing in five Tests for the home nation.
Adding to the 2014 NRL Premiership trophy and his Clive Churchill Medal, Sam was also awarded the RLIF International Player of the Year award in 2014, was the Dally M Lock of the Year in the same year, has won the George Piggins Medal as the Rabbitohs best and fairest player on three occasions and the Jack Rayner Players' Player award five times.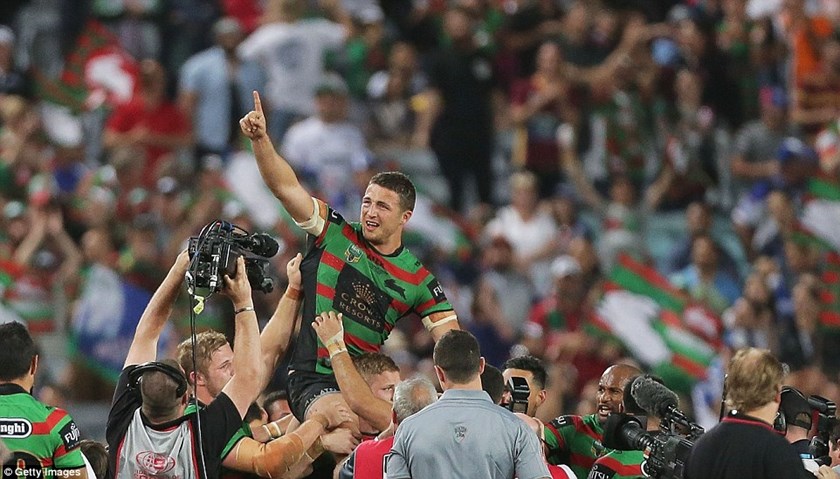 Sam Burgess Named Clive Churchill Medalist 2014
Sam has also shown his leadership qualities at club and international levels, captaining the Rabbitohs this season on a full time basis and sharing the captaincy through a number of seasons in red and green, as well as captaining England in 2016 and then the following year in the 2017 World Cup Final against Australia.
Burgess penned the following message to Members and supporters of the Rabbitohs, plus the broader supporters of the game.
"To all South Sydney Members and fans, fans of the game and even the supporters that aren't my biggest fans, I'd like to thank each and every one of you for making my career what it was in the NRL," Burgess wrote.
"I have loved absolutely every minute; the highs, the lows; the Grand Final; coming home; my injuries; my dates with the judiciary. It really has been a fantastic ride.
"This decision was one of the hardest decisions I've had to make in my life, however the decision was out of my hands essentially. I am no longer able to be myself day in, day out on the training field and consequently the playing field.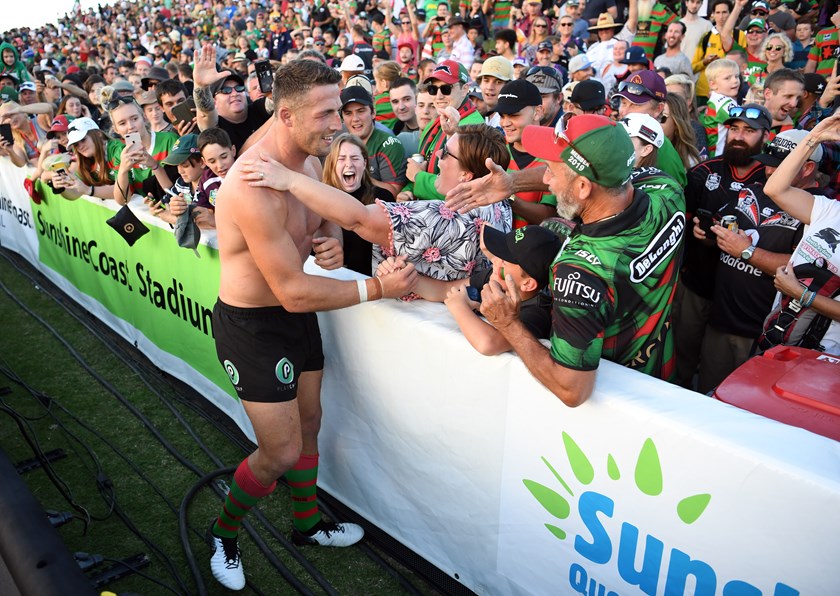 Sam Burgess

I will not be playing in the NRL next season. My time has come to an end. I'm excited for my next chapter in life whatever that may be. 
"I'd like to encourage everyone to smile as they read this. Let's all remember what we have done together as a Club over the past decade rather than what's not to be in the coming years. 
"We have some amazing young men at the Club and it's in safe hands. I will stay close and help grow the Club continually in any way I can.
"To my team mates and coaches along the way, I'd like to thank you all for being supportive and great men. I've learnt so much in my ten years here. From the young boys all the way through to 'the fossil' John Sutton. I value each friendship created and they'll last a lifetime. 
"To Russell - for making all this happen initially - I'll be forever indebted to you. Your passion is infectious.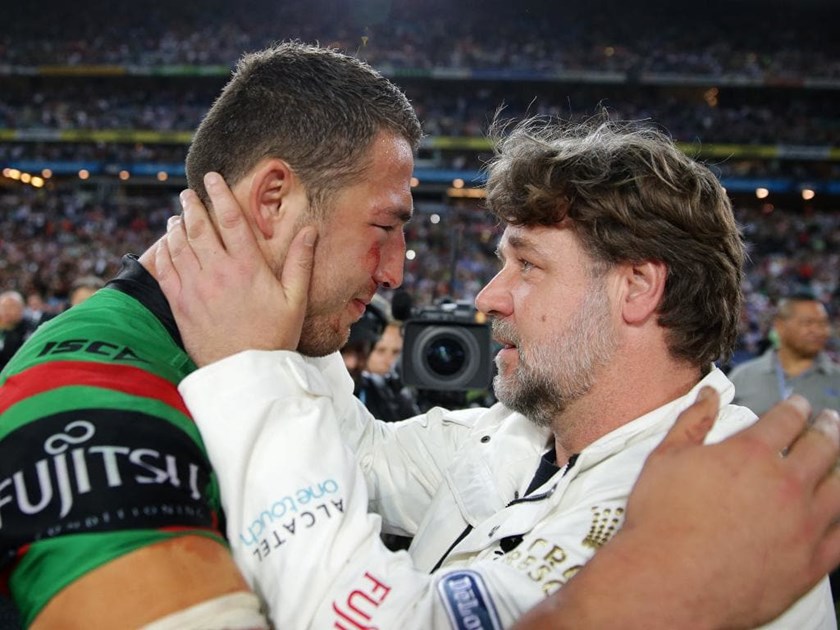 "To the Board of Directors, and all of our wonderful men and women in the office making everything possible, thank you.
"My family have been by my side the whole way, on and off the field. I love you all so much.
"Maybe I'll come and watch a game in The Burrow next year. You truly are the heartbeat of the Club. 
"I'm sure you'll agree with me, the spirit of South Sydney is alive and will live long after me. It will always be a huge part of my heart. Just like it is yours.
"Love always,
"SB 1073."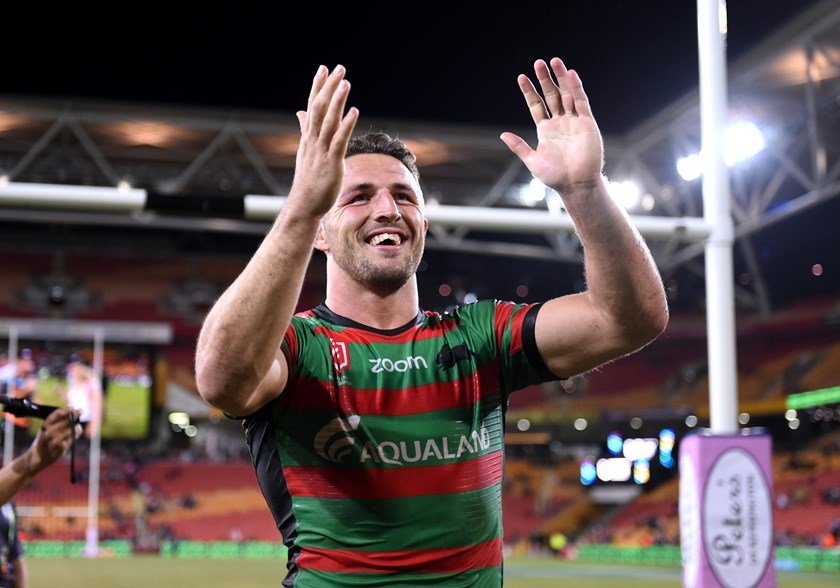 NRL Team of the Decade: Legends choose best of the best
Rabbitohs General Manager of Football, Shane Richardson, said Burgess will be revered by many generations of South Sydney and Rugby League players, Members and supporters for years to come.
"Sam has been nothing short of a phenomenon for this Club and sport," Mr Richardson said.
"We are so proud to have someone of the calibre, both on and off the field, of Sam Burgess representing our Club. He has played an integral role in establishing and implementing The Rabbitoh Way across our whole organisation.
"His playing record speaks for itself, but his influence on the Club outside of the playing field, in particular the relationships he has built with our Members and supporters, is absolutely first class.
"He is as comfortable speaking with the Queen of England as he is with the average Rabbitohs Member around the streets of Redfern. He is a man of the people and those traits of the man, not just the footballer, will hold him in great stead as he moves on to the next phase of his life.
Shane Richardson

We know that Sam will be a Rabbitoh forever.
Rabbitohs Head Coach, Wayne Bennett, paid tribute to Burgess and the effect he has had on him in recent seasons with England and South Sydney.
"I was lucky enough to coach Sam in the All Stars game in 2010. I'd had heard so much about this Englishman that I had to see him for myself," Coach Bennett said.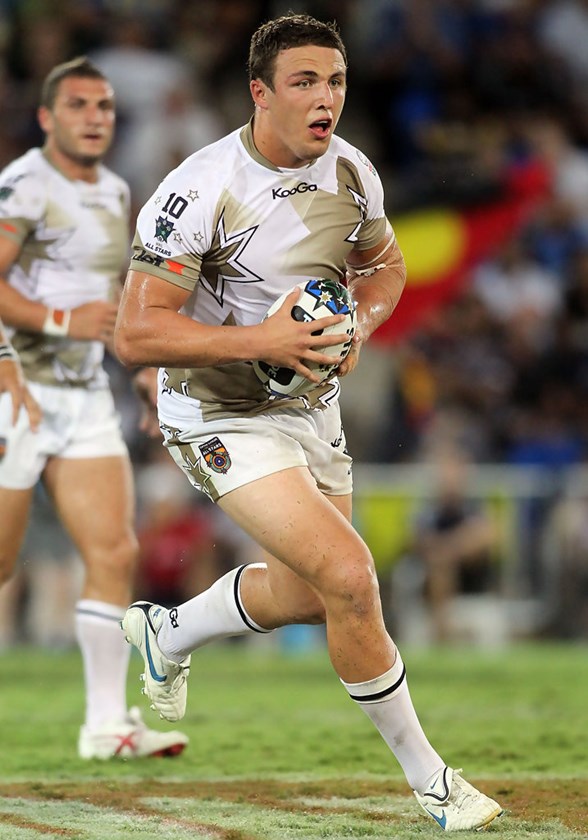 "Then I had the opportunity to coach him with England and I was hoping to coach him again this year with Great Britain. He was one of the drawcards for me in coming to coach at South Sydney.
"His leadership and capabilities on the field match the man he is off it. I thought it was a real blow to the game when he left to play Rugby Union but I'm glad he saw the light and came back.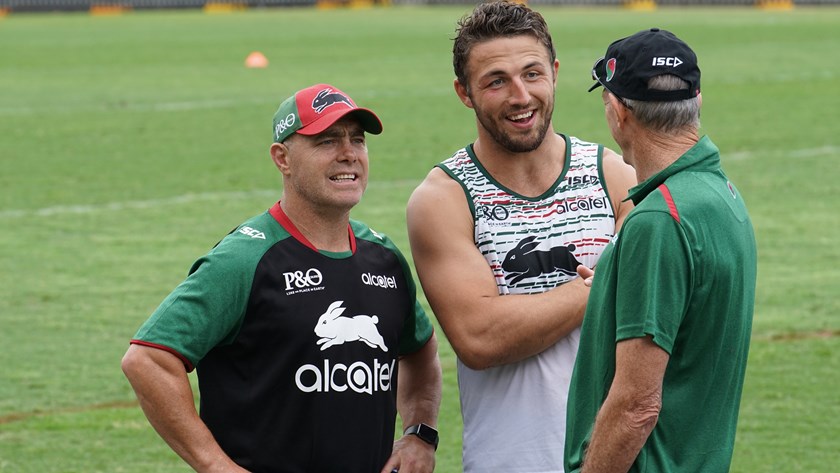 "I'm glad to have played a small role in his career and I feel blessed that he has been part of mine. I know he has made the right decision.
"He'll be a South Sydney man forever and he should be very proud of everything he has achieved over the past 14 years."
Rabbitohs Chairman, Nicholas Pappas, said Sam has provided some indelible memories for Rabbitohs Members and fans of the game alike.
"Sam is a gentleman, a warrior, one of South Sydney's favourite sons, and I'm certain he will be a success in every avenue he pursues now his playing days have finished.
"On behalf of the Club's Members I thank Sam for his selflessness and his efforts over many years, and we all wish him and his family the very best for the future."