Every NRL Club has a journeyman, and it seems like the South Sydney Rabbitohs have theirs in Rhys Kennedy.
Standing at 197cm, the imposing front-rower has been promoted to the NRL squad after a strong season in 2018 with the North Sydney Bears' Intrust Super Premiership side.
After cementing a starting spot and playing in a majority of the Bears' matches for the season, it was a deserved reward for the 24-year old, who had previously spent time in the lower grades in Melbourne, Canberra and Wollongong before arriving at Redfern.
"I guess you could call me a bit of a journeyman," Kennedy laughed.
"I grew up on the South Coast and ended up getting picked up by the Melbourne Storm and played under 20s there for three years.
"I then moved to Canberra and was in the full-time squad for two years and ended up playing in the ISP with Mounties.
"In 2016 I went to Wollongong, but took a bit of a backwards step and ended up playing in the local comp for a bit. Then in 2017 I made my way to North Sydney and now I've got my opportunity with Souths."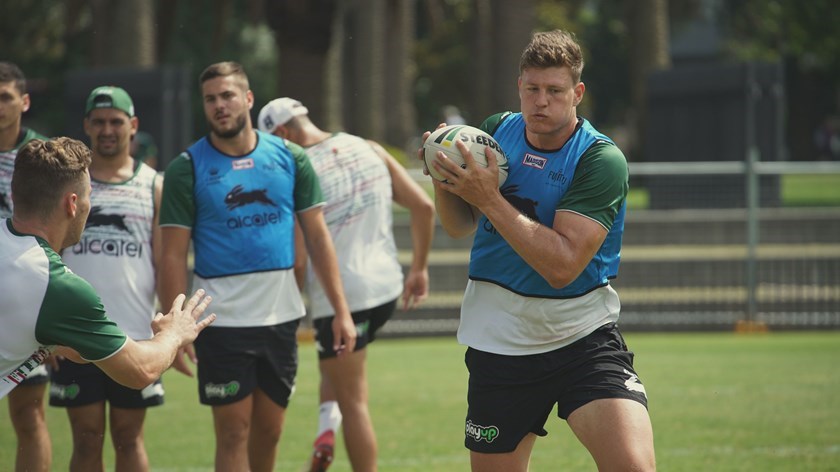 Having yet to make his NRL debut, Kennedy is the perfect example of persistence and commitment being rewarded.
While some young players may have given up on their first-grade ambitions, the 24-year-old has applied himself and has now been presented with an opportunity to wear the famous Cardinal and Myrtle.
For the man himself, it's an opportunity he won't be taking lightly.
"I was playing more minutes and had a decent season in 2018 so now I've been picked up," Kennedy said modestly.
"I'm really enjoying getting fitter at the moment. I'm gonna give it a red-hot crack. I've been around a few clubs but it feels good going back to being full-time and being at a Club like South Sydney.
"It's just about getting fitter and stronger. I've done a few pre-seasons now and I've definitely enjoyed it the most this time."
If there's one thing Rabbitohs fans can expect from Kennedy, it's an undying effort.
The best example of this came about in the Bears' 28-all draw against the Newtown Jets in Round 19, as he chased and batted back a grubber kick back into the field of play which resulted a try - at least that's what the records say.
The move not only got his side back into the contest, but found himself in an awkward but memorable situation soon after.
"We put in a grubber kick a few metres out, and I've chased the ball as it was going dead," he recalled.
"Only problem was, I was already about a metre out when I batted it back.
"I turned around and got ready to walk back to the defence, but the ref awarded a try after one of my teammates pounced on the ball!
"A few weeks later I was doing a bit of Uber work and I actually picked up one of the chairmen of the Newtown Jets.
"I had a chat with him about the footy, and he was complaining about them being robbed, but he didn't know who I was. I admitted to doing it and he wasn't happy at first, but we ended up having a laugh after that."
Having played 15 matches in 2018, Kennedy ran 105.1 metres per match and averaged 48.4 minutes each time he took the field, and had a 88.4% tackling efficiency with three tackle breaks and an offload per game.
Willie Peters

"He's definitely deserved his opportunity, and Rhys is the kind of player where there's no doubt in the world he has the ability, so I think we'll see the best of him this year."
Rabbitohs Assistant Coach Willie Peters was full of praise for Kennedy - claiming that the best is yet to come.
"Rhys has been going really well," Peters said confidently.
"He has been in a couple of systems now and was part-time with us last year and was training a little bit with the first-grade squad.
"He's definitely deserved his opportunity, and Rhys is the kind of player where there's no doubt in the world he has the ability, so I think we'll see the best of him this year."
Club Pathways and Player Education Manager Ben Rogers was full of praise of the front-rower, giving some insight into the type of player that Rabbitohs fans can expect.
"He's travelling really well and had a really good couple of months," Rogers explained.
"His body is in good knick and he's one of the fittest guys here so we're keen to see how he goes in the trials.
"It sounds strange, but his retreat speed in defence up and back into the defensive line is great, he's very mobile for a big body.
"He's a worker - he'll give you long minutes and a high work rate and he's hard to wrap up once he starts going.
For the Rabbitohs, the front row is looking quite healthy with the likes of George and Thomas Burgess, Mark Nicholls, Tevita 'Junior' Tatola and fellow recruits Kurt Dillon and Liam Knight in the squad.
But despite having plenty of competition, Kennedy has his eyes firmly set on earning his NRL call-up in 2019.
"It's pretty simple for me - I want to play first-grade," he said.
"Obviously there are aspirations after that, but my first goal is to play NRL.
"It's going to be a big task and it's only early days, but I feel like I've been training hard.
"Willie Peters and Billy Millard have been working hard with me with video to help me improve and I've definitely been ripping in."