The South Sydney Rabbitohs 2018 season has been officially concluded following a fantastic Red and Green Ball awards night.
Dressed to the nines, players, coaches, staff, Club partners, Members and supporters all donned their best outfits at the Rabbitohs' night of nights.
CEO and GM's Address plus Milestone presentations
Hosted by Fox Sports Commentator and South Sydney supporter Andrew Voss, the event began with an address from Club CEO Blake Solly, who spoke of the amazing love, commitment and support he had seen throughout 2018.
"I think we have the most loyal, the most passionate, the most understanding and the most knowledgeable Members in the NRL," said Mr Solly.
"From Mudgee to Perth, Townsville, Melbourne and Auckland, wherever we go you are there with us.
"Your support is so passionate and you are so loyal and we thank you for your incredible generosity and support that you give us."
Followed by Mr Solly's address, Club General Manager Shane Richardson spoke of the incredible season the Red and Green had on the field before presenting the milestone presentation to the players who reached special games marks this year.
"You've been magnificent all year, we've had our ups and downs but I think we've come together and believed in each other," said Mr Richardson.
"To the players, I want to thank you very much for reestablishing this Club where it should be, top four.
"It was no coincidence we were the leading try scorers in the competition, the way we scored those tries was not through brutality but the way we played,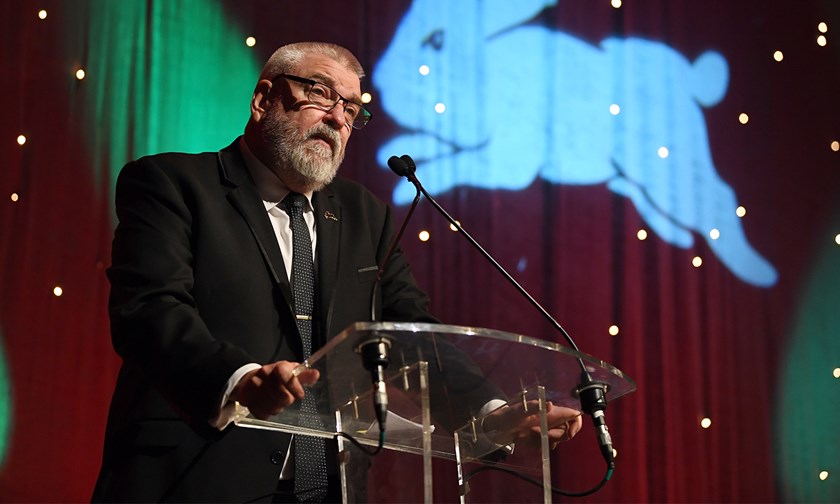 "We had the Burgess brothers running three passes through the middle of the ruck, we had dummy halves who could run the ball, we had halves that created and played what was in front of them, we had centres and wingers with pace, we had young guys who believed in each other, it was a pleasure to watch South Sydney.
"No other team, Melbourne, Easts or others, could say they enjoyed watching their team more than what our Members and fans did and I congratulate you for it."
The adoring audience celebrated the milestones of Alex Johnston (100), Thomas Burgess (100), Adam Reynolds (150), Dane Gagai (150), Jason Clark (150), Sam Burgess (150) and John Sutton (300).
The milestone presentation was topped off with an emotional farewell from the Rabbitohs ultimate Clubman Jason Clark.
South Sydney through and through, Clark is moving on to a different and exciting new challenge next season with the Warrington Wolves but struggled to hold the tears back as he said goodbye to the Club he grew up loving.
The Inaugural South Sydney Rabbitohs Women
The first award of the night was the Rabbitohs Women's Player's Player of the Year award, which was won by both Chloe Caldwell and Taleena Simon.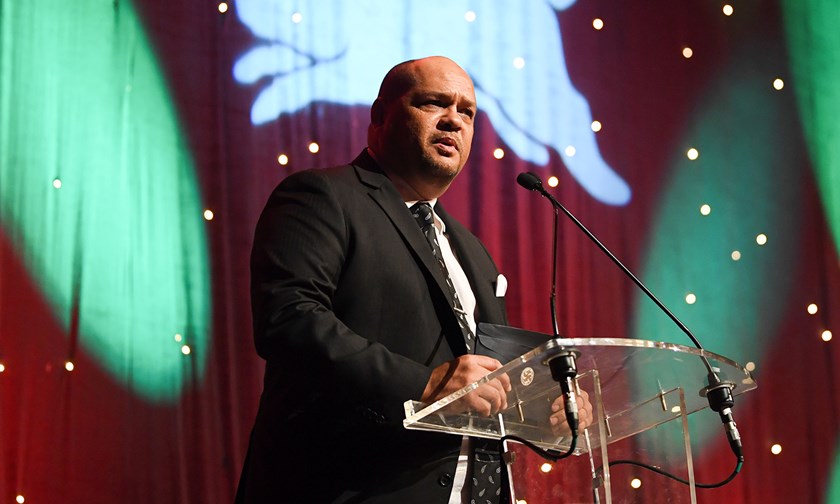 Unfortunately, both players were unable to attend but Rabbitohs women's Head Coach Danny Allende, who was presenting the award, accepted it on their behalf and gave both his stars glowing praise.
"Taleena scored 26 tries this year she's just an amazing athlete, Taleena was the first indigenous women to be contracted into the Australian Rugby 7s team and we were lucky enough to get her back to Redfern and Chloe Caldwell, you want to talk about what South Sydney is about, Chloe Caldwell is it."
This award was then followed by the Women's Player of the Year accolade, which was taken out by South Sydney junior, Maddie Studdon.
Studdon had an impeccable year in the Rabbitohs women's inaugural year, playing 14 games and scoring 120 points as she helped guide the team to the Grand Final the Harvey Norman NSW Women's Premiership.
She also captained NSW in the first ever Women's State of Origin match where the Blues triumphed over Queensland.
"I just want to thank Souths for giving us the opportunity this year to go in the Red and Green," said Studdon.
"I've grown up in the South Sydney area Souths is my hometown and to play in these colour this year was a dream come true for me."
Members' choice awards
Presented by Burrow Member's Michelle Cini and Bridgetta Milton, the Burrow Appreciation Award was handed out to both male and female players.
For the women, forwards Chloe Caldwell and Grace Uluiburuto were the Burrow's joint pick,
while for the NRL team, hooker Damien Cook picked up the award.
Cook would then go on to claim the Roy Asotasi Member's choice award, which was presented by Club Chairman Nick Pappas.
The double Member's award won by Cook demonstrated the great impact that he has had both on and off the field.
John Sattler Rookie of the Year award
The next awarded given out at the Red and Green Ball was the John Sattler Rookie of the Year award.
The 2018 accolade was claimed by Rabbitohs young gun Adam Doueihi, who took home the prize after a sensational start to his Rugby League career.
Handed to him by Chairman of the Juniors Keith McCraw, Doueihi was a deserved winner as he proved his worth as a versatile squad member.
Bob McCarthy Clubman of the Year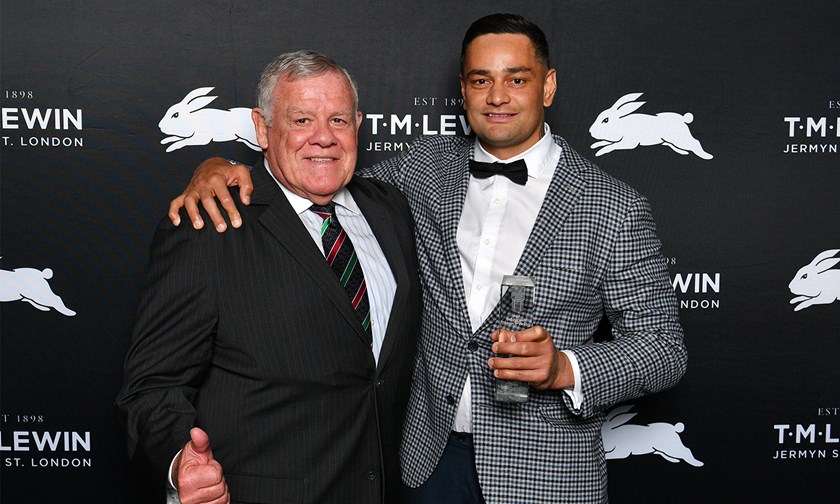 Another emotional Club award was handed out soon after, with the Bob McCarthy Clubman of the Year award bestowed upon 300 game Club legend John Sutton.
Presented by the man himself Bob McCarthy, the former Rabbitohs Premiership winner couldn't stop praising the work of the team this season and echo a similar statement to those speaking before him.
"On behalf of all us old fellows who got to watch the guys perform this year, as Richo said I couldn't wait like most to watch them play every week," said McCarthy.
"The way 'Seibs' [Anthony Seibold] and his coaching staff played this year was just beyond anything anyone would have thought could happen."
Winning the award for the first time in his career, Sutton was overcome by emotion, as the accolade topped off what was an incredible season for the South Sydney leader.
"Wow," beamed Sutton.
"To receive this the Club of the Year from one of the Greatest Rabbitohs players ever is just unbelievable."
Jack Rayner Player's Player award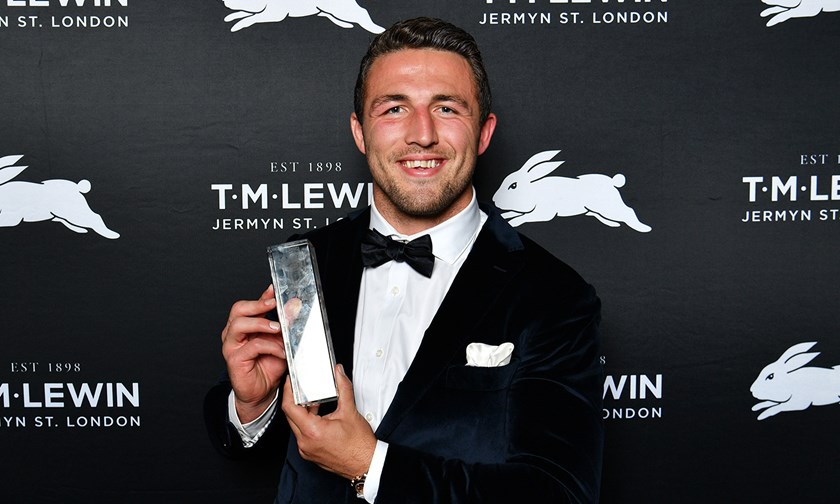 As the presentations came to an end, the final two awards were handed out.
First up was the Jack Rayner Player's Player award, which was taken out by none other than South Sydney warrior Sam Burgess.
After another incredible year, Burgess was a worthy winner of the award but the barnstorming Englishman could only thank and praise the amazing environment he gets to work in.
"Firstly, I want to thank the players for votes throughout the year, I love turning up every day, just being at work, we have a great environment, great culture and a great team," said Burgess.
"I said this to them all most every game this year, 'we're more than a team we're South Sydney' just before we ran out on the field and I truly believe it."
It was Burgess' fifth Player's Player award since his time at the Club and most likely not his last after he signed a new deal earlier this year.
George Piggins medal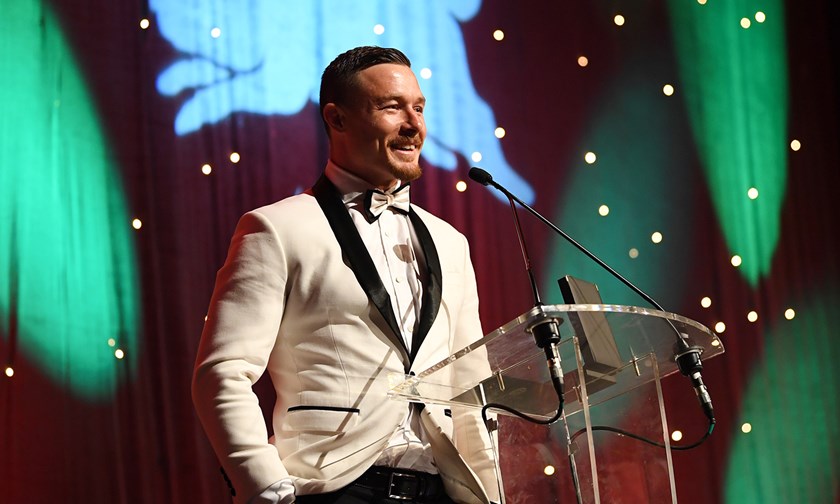 And finally, the esteemed George Piggins medal winner was announced.
There was probably no doubt in people's minds that hooker Damien Cook would claim the prestigious Club award after what could arguably one of the best individual season's in Rugby League history.
The South Sydney dummy half has gone from strength to strength in 2018, going on to represent NSW in State of Origin, to now, where he is just two weeks out from wearing the Green and Gold jersey for Australia.
Claiming three awards on the night Cook was taken back mostly by his latest triumph, which capped off what has been an incredible year for the number nine.
"It's a huge honour to receive this award, I walk in every morning to see the board the past winners of this award and to be mentioned amongst those names is unbelievable and something I never thought would ever happen especially at this great Club that has so much history."
That concluded an excellent evening, which was enjoyed by all who attended. All that can be said now is bring on 2019!