The South Sydney Rabbitohs Community Spirit was on display last weekend as former Red and Green players Michael Andrews and Joe Thomas visited regional NSW to help support communities affected by drought and promote Rugby league.
A highly successful visit, the presence of the mighty red and green helped lift the spirits of those who came to meet them, which for Andrews was a pleasure to see.
"Every town we pulled into we were getting stopped by Rabbitohs fans wanting a photo," said Andrews.
"The Rabbitohs are hugely popular throughout regional NSW and the communities we visited were most appreciative of the support."
Both Andrews and Thomas played for the South Sydney Football Club in the late 80s and early 90s and played more than 200 combined first grade games.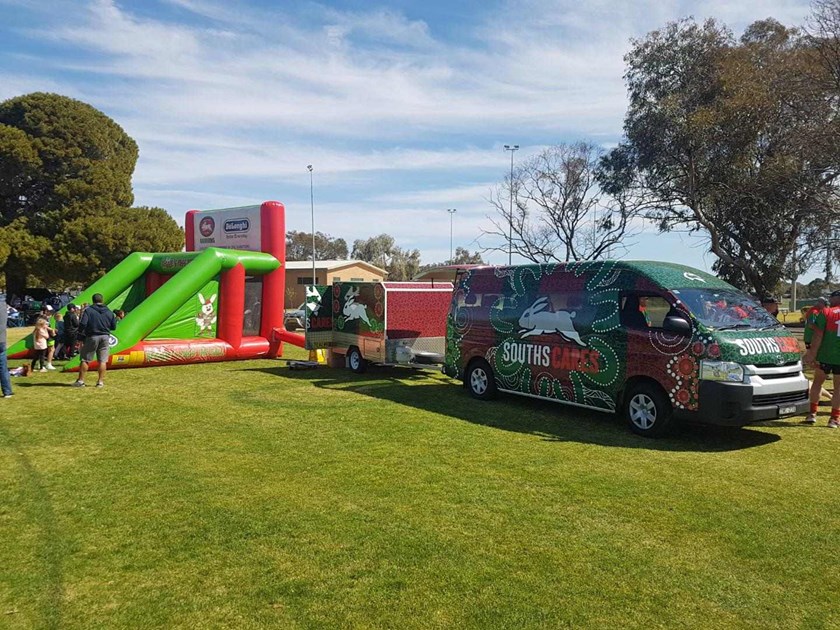 The two former Rabbitohs organised the regional trip with some other ex-players after seeing the impact the drought has had on rural NSW.
The regional trip included visits to Wagga Wagga, Hay, Gundagai and Goolgowi with the team distributing gifts donated by Souths Cares, as well as attending a Masters Rugby League Game in Hay.
The group will also be visiting the Hunter region in early October to continue to spread the Rabbitohs Community Spirit in drought-affected towns.