Over 300 proud Rabbitohs Members were on hand at Brisbane's Sofitel on Saturday to meet their heroes and to have their Red and Green gear signed.
The Rabbitohs squad took time out to rub shoulders with those present in what was the culmination of the side's two week road-trip north of the border.
Members waited patiently in line to get their chance to meet their favourite players for a chat, an autograph and even a photo.
For Rabbitohs skipper and Maroon, Greg Inglis, the day was an all-important opportunity to connect with the Club's Queensland faithful.
"We get incredible support everywhere we go, and we're very fortunate to have awesome support here in Queensland," said Inglis.
"It's outstanding to see so many people here today – it's a pretty big line, plenty of Red and Green and plenty of passion, and that just helps to make us stronger as a Club and as a group.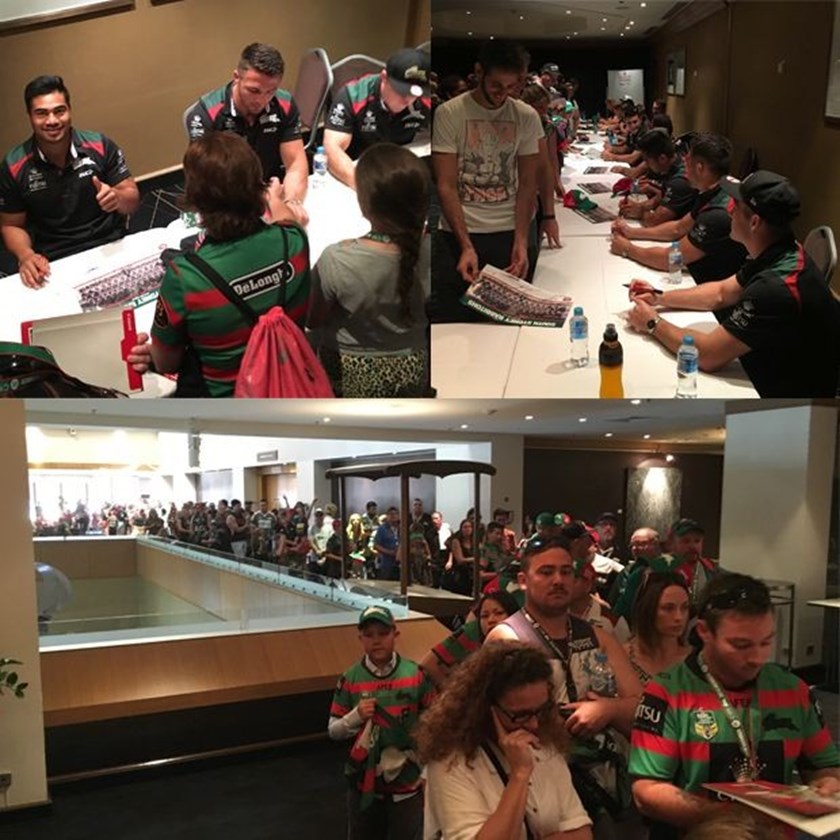 "We love meeting all the fans and Members everywhere we go, and if we can make someone's day, or put a smile on their face – that's what it's all about."
But it's not just in formal settings that the Rabbitohs have been giving of their time. During the Club's Round 7 trip to North Queensland, the men in Red and Green made young Member, Jaxon Anderson's day as they headed to the game.
In a stroke of luck, Jaxon, along with parents Tracy and Dean, stayed in the same hotel as the men in Red and Green ahead of last week's match against the Cowboys – the family travelling from Mackay to watch the match.
Excited by the knowledge that somewhere in the hotel, his Rabbitohs heroes were preparing for the game, Jaxon positioned himself in the hotel lobby for two hours, waiting for the team to depart for the stadium ahead of that night's clash.
It would prove to be worth the wait, with all the boys happy to sign young Jaxon's book as well as pose for photos, with Rabbitohs forward, Thomas Burgess, taking time out to ensure that Jaxon met all his favourite players.