Opportunity is the theme of the South Sydney Rabbitohs' clash against the Wigan Warriors this Saturday in the International Double Header, according to Head Coach Anthony Seibold.
Much like the many Rabbitohs Members and supporters, Seibold says that his players, particularly the younger crop, are as excited as ever to go out on the field after a long and gruelling pre-season.
The rookie Head Coach believes that the match will be the best opportunity for his players to prove their credentials and put their pre-season training to the test, particularly against a side such as Wigan.
"The guys who are playing are obviously very excited," said Coach Seibold.
"It's been a 14 week pre-season so far, so we're just looking forward to getting out there, and putting some things in that we've been trying to improve on at training, and then transfer that to the game.
"We've got a lot of competition for spots, particularly in the outside backs. Guys like Campbell Graham, Robert Jennings, Richie Kennar and Hymel Hunt are really excited about getting the opportunity to start against Wigan.

"Mark Nicholls and Jason Clark have had really good pre-seasons and they get an opportunity to start the game. Guys like Junior Tatola and Dean Britt will come off the bench and get some time on the field, so it's a great opportunity for them to play international opposition."
With such a young squad on hand, 'Seibs' believes that the exposure for his younger players against a successful Super League club like Wigan will be a great test for their first grade experience, particularly for the rookies who may earn a call up during the season.
Coach Seibold cited that the effort and output from his players was the emphasis for the match, and that he was looking forward to seeing all the hard work from pre-season being transferred onto the field.
"I want to see plenty of effort from those guys," he said. "We talk a lot about how it isn't skill-related parts of the game, it's the effort areas of the game that they need to be consistent with. I think our pre-season would have put our guys in a great physical condition.
"We've certainly worked on our game model but by having a younger group. It's all about having all the effort areas in the game on Saturday, and I just want them to think about being really good defensively individually and making sure they know what their job is in attack.
Head Coach Anthony Seibold

"I've spoken at length about exposing the guys to the peak demands of the game through game scenarios and the way we train here at the Rabbitohs and that it's our way of doing things."
While a victory against one of the strongest clubs in the English Super League would be the ideal way to begin his tenure, Coach Seibold believes that the real reward will be getting the best out of his players, and that the match will be treated as a trial for his side.
"I'm not too concerned about the result against Wigan," said Coach Seibold.
"It's just about guys putting their hand up and getting some game time. We'll take quite a bit of our group who started the game off at half time, and it's just about individuals getting an opportunity to be in a real game situation.
"Wigan are quality opposition and, for us, it is a trial game and we'd like to get on the right side of the scoreboard. But that's just a result, we're worried about individuals making sure they understand their role leading into bigger games ahead."
With the Charity Shield to be played the week after on Saturday 24 February in Mudgee, the rookie coach has reserved some of the Club's more experienced players for the 35th annual clash. The Club will however field an extended squad to take on Wigan this Saturday, in order to give the rest of the roster an equal opportunity to showcase their skills.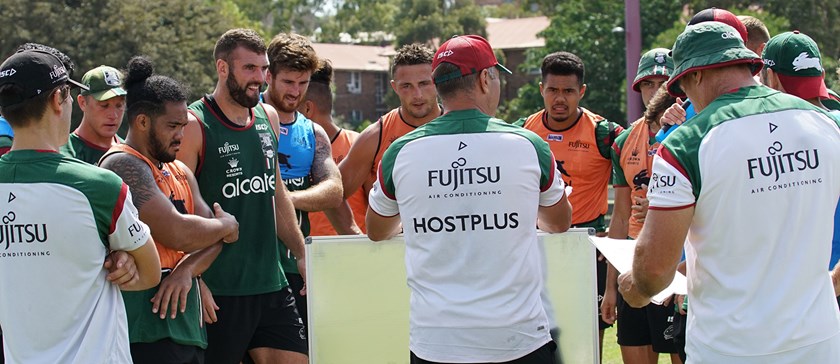 While the likes of Greg Inglis, Dane Gagai, Sam Burgess and Adam Reynolds may not be fielded against Wigan, Coach Seibold believes that there is no rush for his star players to get on the field, and maintained that his focus was on their English opposition first and foremost.
"We will rest some of our older players," he said.
"This game is about some players putting their hand up to play against the Dragons in the Charity Shield. We'll do some scouting on the Dragons post-Wigan, we just want to make sure we focus on this Wigan game first and foremost.
"Guys like Dane Gagai, Sam Burgess and other players like Cody Walker and Adam Reynolds who aren't playing against Wigan will be looking forward to playing them in the Charity Shield game, so once we complete the game on Saturday night the focus will be on the Dragons and the Charity Shield."
Important information for Rabbitohs Members
As the International Double Header is not a Rabbitohs home game, members will need to purchase tickets to the game and will not be able to gain access using their membership card.
Rabbitohs Members are able to access a 2-for-1 offer on all tickets, please check your weekly newsletter or call the membership team on 02 8306 9922 for details.
At the game, Rabbitohs Members will be able to access the Members Bar on the North Western Terrace. Please have your Membership card to gain access on the day.
International Double Header - Wigan Warriors v South Sydney Rabbitohs
Where: ANZ Stadium
When: Saturday 17 February
Hull FC v St George Illawarra Dragons, 5.45pm kick off
Wigan Warriors v South Sydney Rabbitohs, 7.45pm kick off