Played 
Won 
Lost  
Draw
For 
Against
Win %
Wests Tigers 
(2000-present)
 30
16 
14 
-
669 
791
53%
2008-2017
20
11
9
-
475 
(24 ppg)
457 
(23 ppg)
55%
Balmain Tigers
(1908-1999)
178 
95 
80 
3
 2707
2649
54%
Finals
10
2
8
-
98
184
20%
Western Suburbs Magpies
(1908-1999) 
 182
106 
71 
5
3018 
2620
59%
Finals
12
8
4
-
239
154
66%
The Wests Tigers was formed in 1999 when foundation clubs Balmain and Western Suburbs merged. Each club played in the competition for 92 years; each had its own magnificent history; and each had a long-running rivalry, heavily tinged with controversy, with the South Sydney Rabbitohs.
Western Suburbs, formed largely from the Ashfield Rugby Union Club and playing in the black and white magpie colours, struggled for many years. We beat them 42-7 in our first encounter at the Agricultural Ground in 1908, and went on to win our first 17 matches against them. In the early days, we certainly didn't lose too much sleep over Wests.
Our long and, at times, bitter rivalry with Balmain, though, can be traced right back to the very beginning. Formed just six days after South Sydney, Balmain made their home at Birchgrove Oval and that's where we first encountered them, winning 16-2 in 1908. We beat them again, 4-0, in 1909 but later that year, on premiership final day, the game's first great controversy erupted and the combatants were South Sydney and Balmain.
The NSWRL scheduled the match to be played as a curtain raiser to a Wallabies v Kangaroos game and the Balmain version of the story claims that both clubs decided to boycott the premiership final on protest. Balmain players formed a picket line outside the ground but Souths took the field, kicked off and regathered to score and claim the premiership.
However, historians now believe that Souths never agreed to any such boycott and Balmain was actually trying to bankrupt the NSWRL and set up a new organisation to run the game. Still, Balmain has forever maintained that the Rabbitohs "did the dirty on them" by turning up to play and from that day on matches between the two clubs always carried an extra sting.
Balmain certainly paid us back for that 1909 premiership many times over. Up until 1925, we were five times runners-up to Balmain and at that stage, the Tigers had actually won six premierships to our four. But all that changed as the Rabbitohs ran roughshod over the competition for nearly a decade, winning seven premierships between 1925 and 1932. It was during this period that league journalist Claude Corbett dubbed South Sydney "The Pride of the League".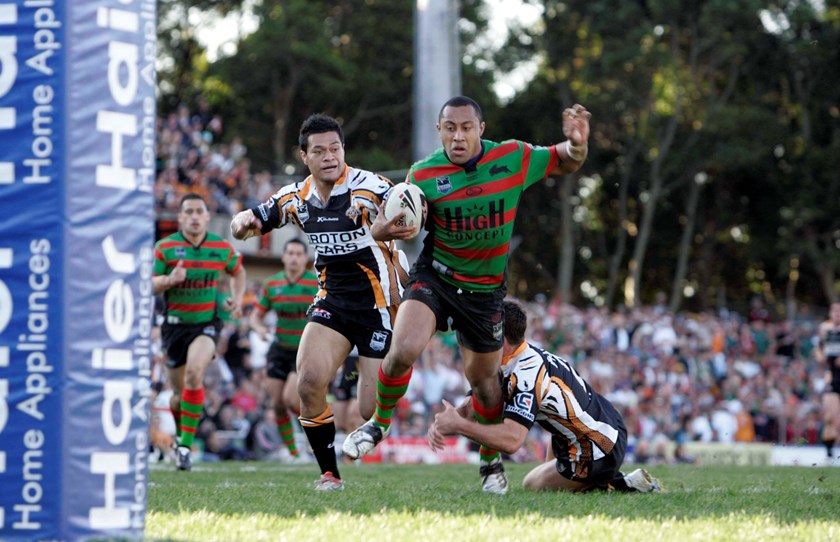 Western Suburbs had developed into a strong club by this time and it presented that Souths team with some mighty challenges. We beat them in the major semi-final in 1927 and 1929, lost the major semi-final to them in 1930 when they won the premiership, beat them in the preliminary final in 1931 and beat them in the grand final in 1932. A fierce rivalry had clearly developed between the clubs and when we next took the title in 1950, they were again our victim.
International winger Johnny Graves scored two superb individual tries before halftime that day and Bernie Purcell kicked five from five to take us to a 21-15 victory. Our second golden era had begun and we would reign supreme until 1955, except for one very rude interruption.
In 1952 we met Wests in the grand final on a very dark day in the game's history. One that has never been forgotten by the Rabbitohs. Raging favourites throughout the week leading up to the match, Souths woke on Saturday to find themselves 6-4 outsiders. And although this might have given them a whiff of something not quite right, nothing could have prepared them for what happened at the Sydney Cricket Ground that afternoon.
Referee George Bishop, a known punter, penalised Souths 15-4, disallowed fair tries to Rabbitoh centre Ken Macreadie and winger Cliff Smailes and awarded a try to Wests after a blatant knock-on. We lost 22-12. Booed off by the SCG crowd, Bishop announced his retirement immediately after the match. Souths captain-coach Jack Rayner said "Put simply, we were not allowed to win." Rayner and Bishop lived in the same suburb and passed each other many times in the street but, in a bitter aftermath to perhaps the most controversial grand final in history, Rayner never spoke to him again.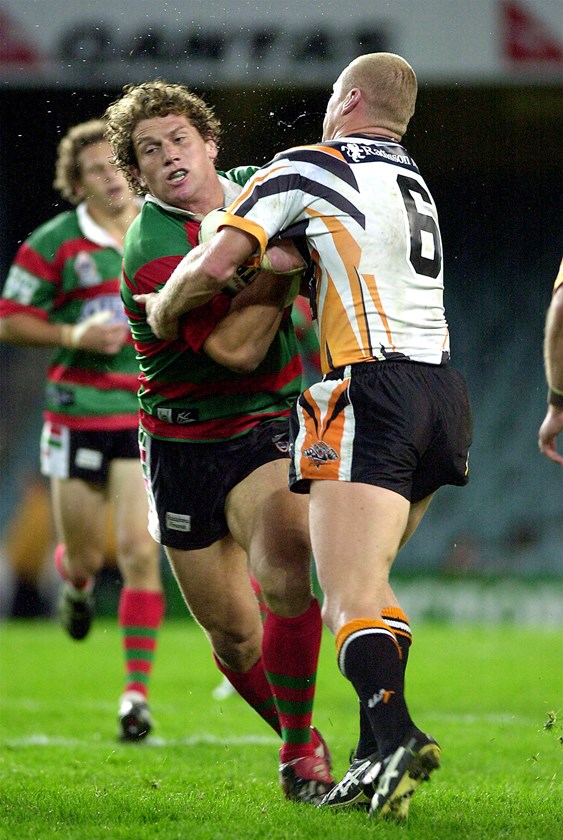 We managed to put that behind us, however, winning the next three premierships and, the next time we played Wests in a big match, we beat them in the minor semi-final in 1956. However, the following week the Tigers got us in the preliminary final. In an amazing match that saw the end of the second Rabbitoh golden era, the Tigers triumphed 36-33 despite legendary Rabbitoh lock Les "Chicka" Cowie scoring four tries.
The next time we met Balmain in a final was in 1969. We had won the premiership the previous two years, and were red hot favourites to win it again. We managed to just pip the Tigers 14-13 in the major semi-final, with Bobby McCarthy and Michael Cleary scoring tries and Eric Simms potting four goals. Amazingly, this was the first time we had beaten Balmain in a finals match since the infamous 1909 "forfeit", but all it did was set the stage for the Tigers to finally gain their revenge after 60 years.
We had only lost four games all year and were at unbackable odds to win the grand final a fortnight later. Yet that game just didn't go to plan for us. In a tactic that was as visionary as it was controversial, Balmain coach Leo Nosworthy had his players feign injuries in order to slow down the lethal Souths attack. Frustrated beyond belief and perhaps taking the game a bit too lightly, the Rabbitohs never got into the match. We trailed 6-0 at halftime and eventually went down 11-2 in what is remembered as the greatest boilover in grand final history.
The Tigers faded from prominence after that premiership but the Magpies once again rose during the '70s and '80s on the back of a brutal forward pack and the relentless drive of Kangaroo halfback Tommy Raudonikis. Although Souths were in decline by 1974, we did manage to qualify for the finals in fifth place and met Wests at the Sydney Sports Ground in the knockout preliminary semi-final.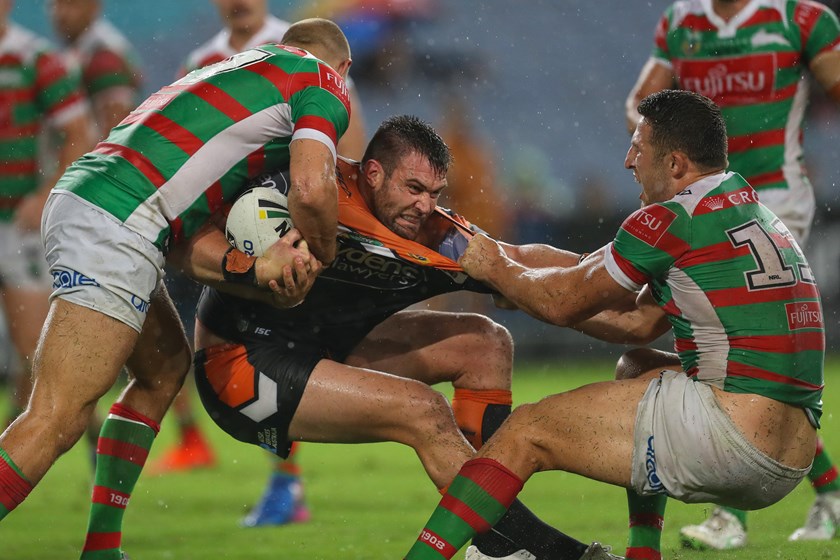 We led 8-7 at halftime after winger Steve Little and captain Bobby McCarthy each scored tries. However, as the players trooped off at the break, a storm was gathering in the west and it broke as the second half started. The wind swung around 180 degrees and Souths, having run into the breeze in the first half, were running into the teeth of a near cyclone in the second. That Magpie forwards took control and we couldn't hold them as Wests ran away to win 24-8.
It was the last time we played the Magpies in a final, but in the 1980s both Balmain and Souths built high-quality teams. More than three-quarters of a century after the 1909 forfeit, the feud between the Rabbitohs and the Tigers erupted once again – on multiple levels. The two clubs fought for supremacy as each felt it was getting close to a long-awaited premiership.
And on a personal level a spiteful, no-holds-barred war broke out between rival hookers Mario Fenech for Souths and Ben Elias for Balmain. Fenech was a local junior, universally loved by Rabbitoh fans everywhere because of his unbridled passion. At times he seemed to overload on emotion as he battled for his beloved South Sydney. Mario's passion was both his greatest strength and his Achilles' heel, and nobody knew how to exploit this better than Elias, a player of rare skill and rat cunning.
In 1986 we led the competition until the final round, when we lost the minor premiership after being defeated 38-10 by Balmain. After losing again the following week in the preliminary semi-final against Canterbury, we faced the Tigers in the sudden death semi at the Sydney Cricket Ground. During a tumultuous season, Mario had been in trouble repeatedly with referees yet defiantly led from the front. On this day, however, it all went horribly wrong.
The match itself was unfolding into a classic with the scores locked 8-all early in the second half when Elias, arriving late to a scrum, told referee Kevin Roberts to watch out for an "eye-gouge". The scrum exploded in a flurry of fists and Elias reeled back, holding his face. As the fight calmed down, nobody expected anything more than a penalty, but Roberts called Mario out and said: "You gouged his eyes. Off!"
The Souths pack watched in disbelief as Mario trudged off, looking back only once to glare at Elias. The gouging charge was later dismissed at the judiciary yet for the rest of the afternoon the Tigers exploited their one-man advantage, eventually running rampant as the shadows lengthened over the SCG, ending a Rabbitoh season that had promised so much with a 36-11 humiliation.
Exactly a year later, in September 1987, came a chance at redemption for the Rabbitohs. Once again our opponent in the knockout semi-final was Balmain, and once again it was Fenech v Elias. Despite the electrifying Phil Blake scoring a superb try from a Craig Coleman grubber kick in the first 10 minutes and Souths clearly outplaying the Tigers on the day, it was a match that went right to the wire as both teams traded penalty goals.
The Tigers' Ross Conlon, a superb goalkicker, was on song all day. Five penalty goals in the first half and we were down 10-8 at the break. Two minutes after halftime: another one. 12-8 to the Tigers. Souths five-eighth Mark Ellison kicked a penalty goal for 12-10, and then another one. It was 12-all with less than 10 minutes to play before Blake, cool as a cucumber, slotted a field goal on the third tackle. Souths 13-12.
With four minutes left, the Tigers got yet another penalty, again well within Conlon's range. Fenech could barely watch as he contemplated yet another elimination at the hands of Elias and the Tigers. Conlon lined it up, steadied, and pulled it wide to the left. With a minute to go Ellison landed one final penalty goal and, when the siren sounded, the scoreboard read South Sydney 15, Balmain 12. Mario Fenech, along with every Souths fan in the place, went absolutely crazy. Revenge was sweet that day, but still neither side managed to win that elusive premiership.
In 1989 both Souths and Balmain really believed they had what it would take to finally break the drought. We lost just three games all year and, when Balmain beat Penrith in the first week of the play-offs, it was Souths v Balmain in the major semi-final with a spot in the grand final up for grabs. The gates were shut at the Sydney Football Stadium well before kick-off with a capacity crowd jammed in.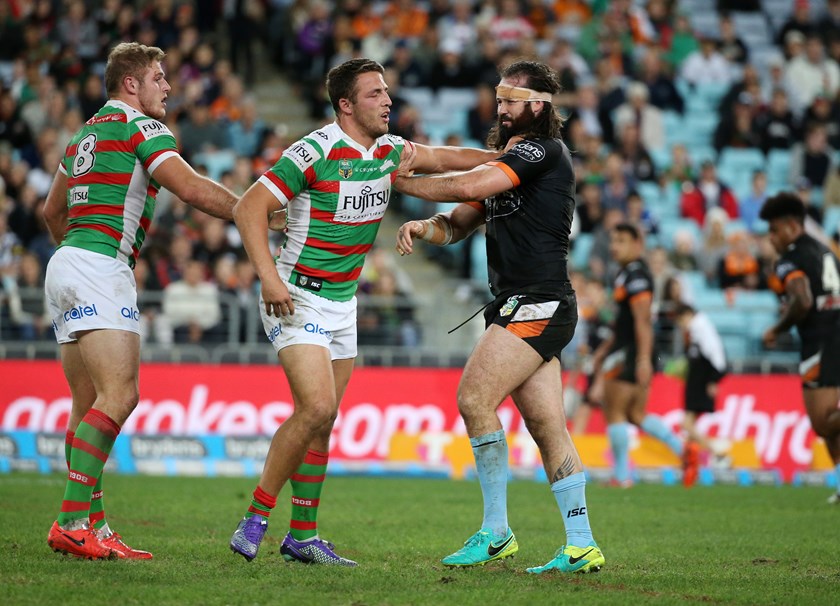 The match could have gone either way as both sides slugged it out. In a nail-biting second half, things went awry, with that man – Ben Elias – completing the critical play of the match when he charged down and then gathered in a kick from Ellison, leading to the decisive try. Two controversial decisions – both of them lineball forward pass calls – went against us and the Tigers ran out 20-10 winners. It was the last time we played them in a final.
Throughout the 1990s, Souths, Wests and Balmain all fought against the rising tide of expansion and rationalisation that swamped the inner-city Sydney clubs. Whereas we continued to battle through our expulsion from the competition at the end of 1999 right up to reinstatement in 2002, Wests and Balmain decided they could no longer compete individually and joined forces to form the Wests Tigers, who first played in 2000 but didn't meet the Rabbitohs until 2002. And just as we had closed our 90-year rivalries with both Wests and Balmain with victories in 1999, we opened our new rivalry with the Wests Tigers with a victory in 2002.
It was a gorgeous Sunday afternoon at Leichhardt and more than 16,000 people – the biggest crowd the joint venture had pulled to date at the ground – turned up. In some ways it was a celebration of the traditional clubs and Souths didn't let their fans down. Five-eighth Owen Craigie and centre Andrew King both scored within seven minutes and we led 12-0. The Tigers hit back with two unconverted tries before front-rower Scott Geddes and winger Brent Grose added another couple for us to lead 20-8 at halftime. The scoring continued after the break and further tries to fullback Wade McKinnon, Grose and flying winger Joven Clarke wrapped up a magnificent 38-24 victory.
In 2003 we lost the first five games before meeting the Tigers in round six. We were clinging to a four-point lead with just two minutes to go at Aussie Stadium when Nathan Merritt broke into the clear and ran 80 metres to score and seal an unforgettable 32-22 victory. Later that year we won an absolute classic at Leichhardt, coming from 16-0 down after just 17 minutes to win 18-16, courtesy of a try to skipper Bryan Fletcher with two minutes to go and a sideline conversion from Justin Smith.
In the second week of 2004, we led 16-6 into the second half before being run down, the Tigers levelling at 16-all after 67 minutes. Play shifted from end to end for the next 13 minutes with no score, and so the game went into golden point. Eight field goal attempts were missed before Rabbitoh halfback Willie Peters finally got one over the crossbar seven minutes into extra time.
And, of course, there was that glorious afternoon in late 2007. Just two weeks out from the finals, Wests Tigers and Souths were locked together in equal eighth place. All week the hype was about how the Tigers were pretty much unbeatable at Leichhardt Oval, but in the glorious afternoon sun in front of more than 20,000 fans, we ran in three converted tries in each half to quite simply blow them off the park. Yileen Gordon score two and John Sutton, Jeremy Smith, Dean Widders and Roy Asotasi got one each. Joe Williams slotted the conversions one after another from all over the place, and added a field goal to finish off a 37-12 demolition that paved the way for our first semi-final appearances in 18 long years.
Following the successful 2007 campaign, our centenary year in 2008 was one filled with disappointment, the Tigers contributing as much as anyone, beating us 30-10 and 36-12.
But our next meeting in early 2009 was one plenty remember, with a fan-favourite providing an unlikely match-winner. Both sides were coming off a bye and clinging to hopes of making the top eight and the Sydney Cricket Ground hosted the clash in Heritage Round on a Sunday afternoon.
Souths crossed first with second rowers David Kidwell and David Fa'alogo combining close to the line, before a chargedown from Tigers' bookend Todd Payten allowed them to hit back through powerhouse winger Taniela Tuiaki, who got a double soon after as he bulldozed over multiple defenders to score.
The Rabbitohs crossed late in the half through our own winger Fetuli Talanoa to bring the scores level at 10, but the Tigers got two quick-fire tries in the next ten minutes to lead by 12. With halfback Chris Sandow going down with injury, things looked dire, but Souths weren't done yet. In the 60th minute hooker Issac Luke put up a huge cross-field kick, which found the arms of a leaping Talanoa, who did a three-sixty degree turn in mid-air and placed the ball down. Luke nailed the sideline conversion to bring it to 22-16.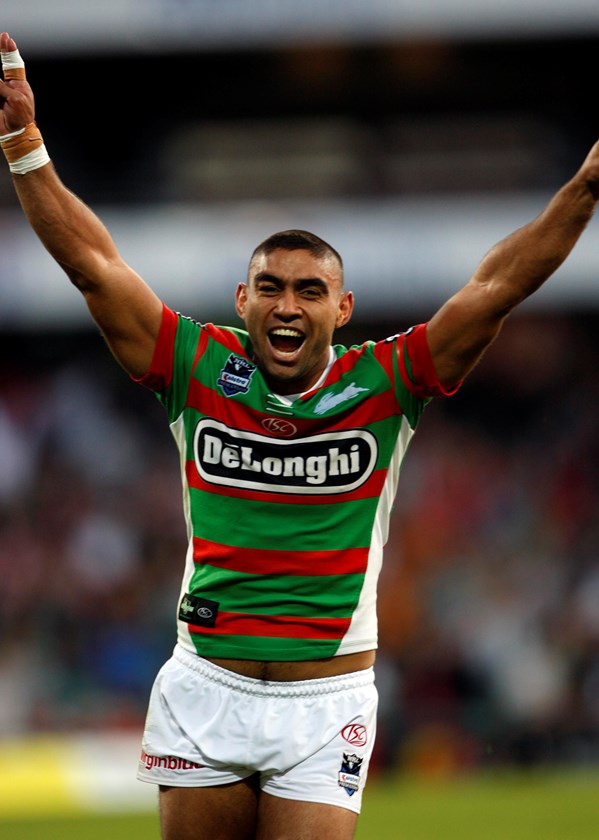 With ten minutes left Tuiaki made a bust up the middle, and looked destined to score before Rabbitohs' fullback Luke Capewell and centre Beau Champion brought his charge to a halt. The big Tongan winger wasn't finished, though, and he offloaded the ball which went through a number of hands, ending with Rhys Hanbury, who was man-handled by Craig Wing, crashing into the black and white striped corner post, leaving only the stump. With only five minutes left on the clock and Souths back on attack, centre Beau Champion hit a hole and cut inside, scoring a crucial try. Luke converted and it was 22-all.
After Tigers five-eighth Benji Marshall attempted a long-range field goal which swerved to the right with less than two minutes to go, an absolute miracle unfolded. With Souths on the attack in the final 30 seconds, Luke got the ball to Craig Wing, whose field goal attempt ricocheted off a Tigers player, restarting the tackle count. With the hooter about to sound, the ball was sent once more to Wing. Confronted by a horde of Tigers, Wing jinked and threw the ball wide to the right wing. To Nathan Merritt.
In his first ever attempt in the top grade the mercurial winger, known for being a try-scoring machine, piloted the ball straight through the sticks and snatched the game 23-22. Merritt threw his hands in the air and the Souths faithful went crazy in the stands as the sun set over the beautiful SCG. What an afternoon it was!
Our next meeting at the SCG a year later produced a superb performance from Souths, as the Rabbitohs sent an ominous warning to the rest of the competition, disposing of the Tigers 50-10. After leading 18-6 at halftime Souths went on a 2nd half rampage, Nathan Merritt bagging a hat-trick, Beau Champion grabbing a double and Colin Best, Chris Sandow, Fetuli Talanoa and Dave Taylor scoring a try each, with Issac Luke nailing seven conversions.
Later in 2010, we got them again, but this time it was somewhat more of a nail-biter.
Heading into Round 22, the Tigers were flying high and looking to consolidate their place as a competition heavyweight, while Souths' season had stalled as injuries and poor form took them to the brink of missing the finals. With so many casualties on the sidelines, Souths called in a young centre Dylan Farrell. It was a debut that neither Farrell nor any Souths fan in attendance will ever forget.
The Tigers shot out of the blocks, scoring within the first few minutes, but Farrell announced himself to first grade with try, fending off defenders and crashing over in the corner. The Tigers hit back through two soft tries, though, and led 16-6 at the break.
Wests pretty much gifted us a try in the opening minute on resumption, as their winger Beau Ryan batted a 40/20 kick attempt back into play, the ball sitting up perfectly for Fetuli Talanoa to grab it, race downfield and score with no one in sight. We were back in it, down by just four points, but the Tigers scored twice in the next ten minutes to lead 28-12 with half an hour left.
And then came Farrell. Charging onto a deft Chris Sandow chip kick, Farrell picked up the ball one-handed and made his way to the line, reducing the deficit to ten. A penalty kick fifteen minutes from the end extended it back out to twelve.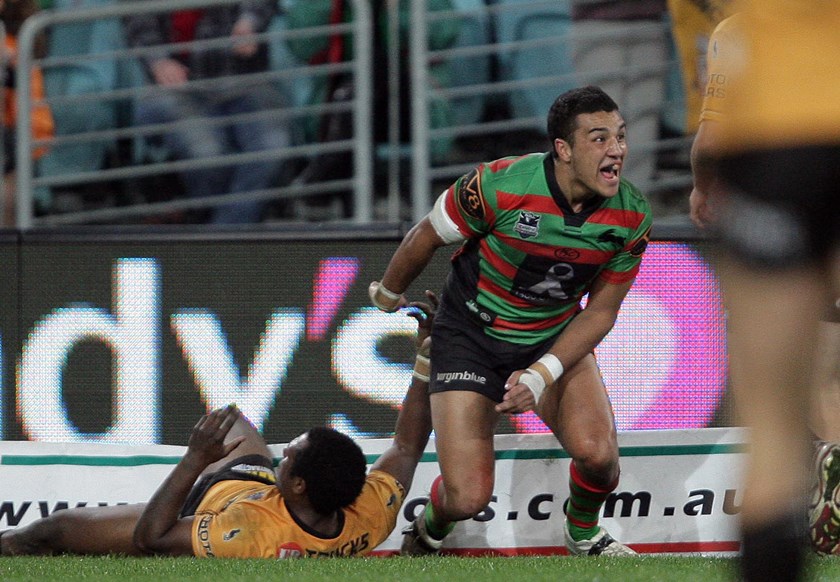 But this was a Souths side that knew how to come back from adversity. Sandow sent fullback Rhys Wesser over and then, with less than five to go, John Sutton dummied his way to the line. Sandow curved the conversion in cool as a cucumber, and all of a sudden it was 30-all. Sandow had the chance to win it, but shanked a last minute field goal, sending the match into Golden Point.
In the 83rd minute Tigers' superstar Benji Marshall just fell short with a 50-metre drop goal attempt, and the score stayed at 30-all until the very last seconds of extra time. Then, with players on either side absolutely fatigued from the gruelling match, Wesser ran across field 40m out, palming off defenders, and eventually broke through the line. 20 metres out, the crowd screaming itself hoarse, Wesser threw a desperate cutout pass that hit the chest of centre Shaune Corrigan who, five metres short, threw an offload inside to Farrell.
Carrying defenders on his back, the young buck surged over as the siren sounded, scoring his third try of the match and winning the game 34-30. The crowd went ballistic and the players swarmed all over each other in celebration. It was truly one of the gutsiest victories of the past decade.
We lost the next match to the Tigers, but after that, we won seven of the next eight. Of those matches, there were some memorable victories, including Round 5 in 2012 when we came back from a 16-4 deficit with ten minutes to go to win 17-16 thanks to a Greg Inglis field goal which just scraped over. Later that year we powered to a 32-6 victory, at one stage leading the match 32-0.
Season 2013 was especially dominant as, firstly, we massacred the hapless Tigers 54-10 in Round 10, with Greg Inglis scoring four tries. Then, in Round 25, the Burgess brothers made history as they became the first set of four brothers to run out for the same First Grade side since 1910. After trailing 18-0, the class of the Rabbitohs shone through as we powered to a 32-18 victory, with both Sam and Luke Burgess scoring tries.
The Tigers shocked us in early 2014 with a surprise 25-16 defeat, but we got them back with a 32-10 victory later in the season on the way to our 21st Premiership.
Following the Premiership, however, the Tigers took plenty of joy in beating us, and they did four times in a row. Their team of youngsters such as Luke Brooks, Mitchell Moses and Martin Taupau were too good for us, and for a while, it seemed like they had the wood on the Rabbitohs.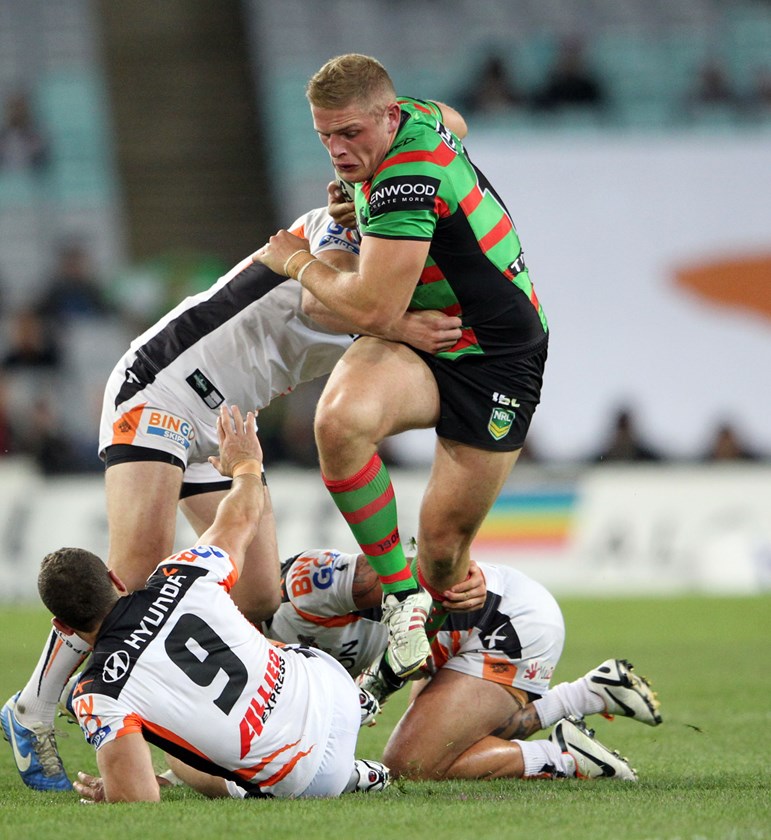 But in Round 10 last year we put them back in their place with a solid 28-8 victory.
Neither side was in a position to challenge for the eight, but the old rivalry still added plenty of spice to the game. Souths hooker and former Tiger Robbie Farah had every reason to avenge the Round 1 loss, especially after missing out on a NSW Blues jersey for the first time in years.
Even without our Origin stars, Souths ran amok. Cody Walker laid on the first try after 11 minutes to a flying Alex Johnston, and Sam Burgess and Angus Crichton went over for easy tries to give us a 16-2 halftime lead.
Despite the Tigers scoring shortly after the break, it was all one-way traffic as Farah orchestrated a second-half blitz that saw Johnston and Burgess earn doubles. The win gave us a glimmer of hope for the rest of the season, and let Farah give a big 'up yours' to his former club. We'll see how he goes this week (against his former, former club)!
The story of the Rabbitohs and the Wests Tigers is a long one, with 90 years against Wests, 90 years against Balmain and now a more recent rivalry with the merged entity. Men in Red and Green have faced men in black and gold or black and white an incredible 390 times, and the rivalry all goes back to that day more than 100 years ago, when the Tigers reckon we robbed them. But regardless of what really happened that day, ghosts from days past always have something to say when we play them.
We have well over 200 victories already on the board. It's a history of supremacy. And every time we square off against this old enemy, the spirit of every Red and Green warrior who played in every one of those wins is with us. If you close your eyes, you can just about see them gritting their teeth and snarling, readying themselves for battle.
Our class of 2018 is heading for the finals, like so many Rabbitoh warriors before them. The Tigers are in our way this week.
I wouldn't want to be in their shoes.