Two amazing moments hooked Gareth Mills on the Rabbitohs and have set him on the path to a lifetime of Red and Green Membership!
A Bradford Bulls fan in the UK, Gareth moved to New Zealand half way through 2013. Missing his regular Rugby League fix with his Bulls he decided just prior to the 2015 Auckland Nines he needed an NRL team.
On a spontaneous moment he wrote each 16 NRL teams on separate pieces of paper, put them in a hat and let fate decide.
"Amazingly fate decided well and I pulled out the mighty Rabbitohs," said Mills.
"That night I bought a jersey, became an International Member and I guess the rest is history."
That was the first amazing moment. The second was what sealed his love of the Rabbitohs.
"At that Auckland Nines (2015), I was lucky enough to be sitting literally on the try line as Matt King scored our Golden Point winning try in the final. I've been hooked ever since," said Gareth.
Gareth is now a Silver Member, on his way towards Platinum Membership, and lives in Sydney. You can spot him at most Rabbitohs home games and he's followed the team to Melbourne, Brisbane and Auckland. Where he was lucky enough to meet Issac Luke - he sent us this photo of him...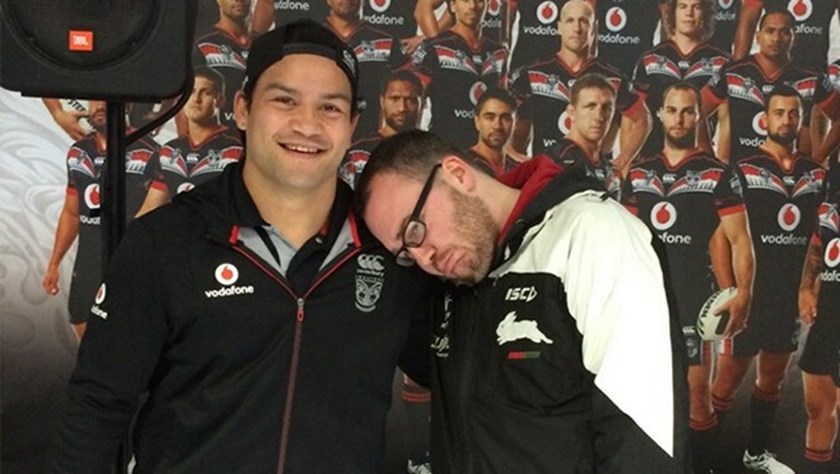 "I've been so lucky to join the Rabbitohs family even if i was through such an unorthodox pathway," said Mills.
"We have the best supporters and Members in the land and I love going to every match day I can. Glory, glory to South Sydney!"