| | | | | | | | |
| --- | --- | --- | --- | --- | --- | --- | --- |
|   | Played | Won  | Lost  |  Draw | For  | Against  | W%  |
| All Time  |  156 |  74 | 80 | 2 | 2652 | 2696 |  47.4% |
| Finals | 12 | 9 | 3 | 0 | 247 | 215 | 75% |
| Last 10 Years | 21 | 10 | 11 | 0 | 432 (Avg 21 ppg) | 469 (Avg 22 ppg) |  47.6% |
Manly Warringah entered the NSWRL competition in 1947 but the club made its first attempt for inclusion as far back as 1937. In 1946 Manly won the Presidents Cup for the first time and was finally granted entry to the premiership the following year.
When Manly played their first game at the start of the 1947 season, South Sydney had already won 11 premierships of the 38 played, but we were certainly not travelling well at the time. In fact, in the two years preceding the Sea Eagles' inclusion to the competition, Souths finished last both times, winning just one game in 1945 and none in 1946. But 1947 was the year of the Rabbitohs' rebirth.
We beat the Sea Eagles twice that season and, more importantly, signed both Clive Churchill and Johnny "Whacka" Graves, and appointed Jack Rayner as club captain. The seeds of the second Rabbitoh golden era had been planted. It was to be an era in which Manly's role of perennial bridesmaids was established and a fierce rivalry between the two clubs was born.
After four years near the foot of the table, Manly made a meteoric rise in 1951, actually qualifying for the Grand Final, but the Rabbitohs 2nd Golden Era was well underway. On Grand Final Day the Rabbitohs establishing a superiority over Manly in finals matches that was, with just a couple of hiccups, to last forever. We flogged them 42-14 that day, with Graves scoring four tries and Bernie Purcell kicking seven goals.
More premierships came our way in 1953 and 1954 and then, in 1955, there was another classic encounter with Manly; a match that provided one of the most legendary of all South Sydney images.
Floundering at the bottom of the table halfway through the season, we began a run of 11 sudden death matches, coming up against Manly at Redfern Oval two weeks before the semi-finals. Fullback Clive Churchill suffered a broken wrist in his first tackle but played on for the rest of the game. The Rabbitohs' heroic finals charge looked like ending early when Manly led 7-4 approaching full time. But, with less than a minute to go, Souths lock Les "Chicka" Cowie scored a try right in the comer to level the scores at 7-all.
After the siren sounded, Churchill, his broken left arm hanging limply by his side, landed the sideline conversion to complete one of the most famous Rabbitoh victories of all time. He didn't play again that season, but we came up against Manly in the minor semi-final, once again proving too strong and winning 14-12, before going on to win our third premiership in a row.
In 1968, as Souths third golden era took hold, Manly beat us in the major semi-final and this time must have believed that their time had finally come. But once more Souths beat them in the big one, with flying winger Michael Cleary swooping on a loose pass and clearing away for a 90- metre try as Souths triumphed 13-9.
In 1970 we beat Manly 22-15 in the major semi and were hot favourites to beat them again in the grand final two weeks later. This time, however, the Sea Eagles had a more sinister plan to beat us; one that laid the foundation for decades of animosity between the clubs. As the teams took the field that day, only Manly coach Ron Willey and prop John Bucknall knew what was about to take place. In the third minute, as he made his way back onside, Souths captain John Sattler was king-hit by Bucknall, the impact of the blow smashing Sattler's jaw in two places and knocking out six teeth.
Manly must have thought that without our skipper we'd falter. But they didn't take into account Sattler's unbelievable courage, for he refused to leave the field, playing out the remaining 77 minutes as we dominated the match and won easily in the end 23-12, scoring three tries to nil.
The Souths forward pack, incensed by the brutal attack on its leader, ripped into the opposition. Bucknall didn't even last until halftime. The images of Sattler playing the match and being chaired from the field at full time, his face swollen and contorted, his jumper smeared with blood, are burnt into the mind of every Souths fan.
In 1971 we once again knocked Manly off in the major semi-final on the way to our historic 20th premiership. It seemed Manly would never win a grand final, but they developed another tactic, this time played out off the field. At the end of 1971, Manly embarked on a policy that would finally bring them success. They resorted to the cheque book and lured player after player away from Souths to "Millionaires Row" on the northern peninsula. They fleeced Souths of John O'Neill, Ray Branighan and Bob Moses, each of whom played a major role in Manly's first premiership in 1972. The beginning of the longest premiership drought in our history can be laid squarely at the feet of Manly.
It wasn't until the mid-1980s that we rose again to challenge for the prize, scraping into the semi-finals in 1984. Having won a Tuesday night play-off, Souths met Manly in the knockout preliminary semi at the Sydney Cricket Ground on the Saturday. Although to a man the media wrote Souths off as "cannon fodder" for the Sea Eagles, who had 15 internationals in their squad, the Rabbitohs had other ideas.
Trailing 14-0 after 10 minutes, the Souths forwards, led by favourite son Mario Fenech, decided they might as well go down fighting. Hard man Dean Rampling gave the call of "Henry" in the next scrum and it erupted in a firestorm of punches, the brawl lasting more than a minute. After that, the big name Manly pack went missing once again and Souths stormed back into the match, levelling at 14-all by halftime and going on to win 22-18.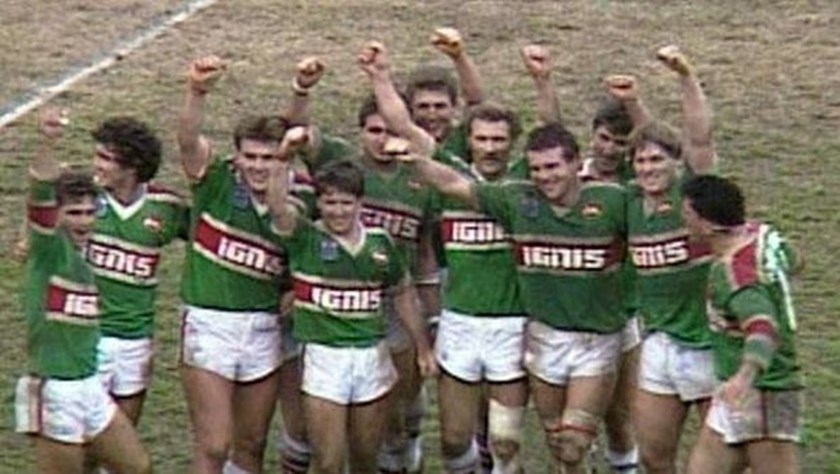 During the late 1980s we developed into a genuine premiership threat due to a superb pack of forwards, spearheaded by super-powered, young prop Ian Roberts. 1989 finally looked to be our year as we stomped the opposition into the turf all season. However, before the semi-finals had even started, Roberts had been poached for 1990. Manly had swooped yet again, taking another beloved local junior who would go on to play for Australia.
From 1990 we entered a long period of darkness against the Sea Eagles, winning just three matches in 15 years. But we did eventually emerge from these times and, while it's true that any victory over Manly is memorable, there were a few absolute belters since the mid 2000's.
When we played them in 2005, Manly was riding high in second place and we had won just two out of 12 games. They got off to a great start, too, scoring after six minutes to lead 6-0. However, when David Fa'alogo scored four minutes later, it was the start of something very special. Tries to Adam McDougall and John Sutton had us in front 14-6 at halftime, but the fun had hardly even begun. Brad Watts, Shane Rigon, Todd Polglase, Yileen "Buddy" Gordon and Mick Moran each scored tries and we led 40-6 with five minutes left. Finally, with two minutes to go, our ninth and final try was scored by the mighty Manase Manuokafoa and it just about brought the house down. The despised Manly had been pulverised 44-6, and all was well with the world.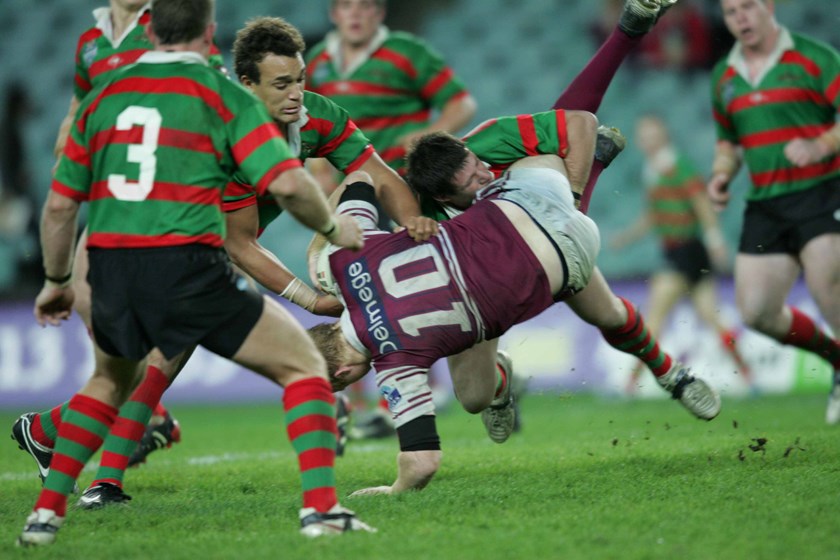 In 2007, the Rabbitoh faithful started pinching themselves during the second round as we pushed towards the finals for first time since 1989. Just three weeks prior to the playoffs, we faced the Eagles, who were again sitting in second place, at Telstra Stadium in a must-win match . Trailing 18-6 at halftime , we began the second half on fire and the momentum began to build. After 50 minutes a try from dummy-half to rookie hooker Issac Luke narrowed the gap to six points. Four minutes later John Sutton charged onto a Joe Williams pass to crash over and Williams' conversion from a wide angle levelled the scores. From there it was anyone's match until, with less than seven minutes left, Ben Rogers grubber kicked for winger Fetuli Talanoa to score the match-winning try. It was the night that ignited the Rabbitoh challenge of 2007.
Three weeks later we met them at Brookvale Oval in our first finals match in 18 years. We trailed 6-2 at halftime, but when Paul Mellor climbed high to grab a Williams bomb to score and level it up just three minutes into the second half, the match was truly up for grabs. Unfortunately, two cruel decisions went against us: the first when Luke was ruled to have lost the ball despite the referee calling held twice and three tacklers continuing to maul him; the second when Manly half Matt Orford kicked through and ran straight into the back of Rogers. Referee Shayne Hayne ruled play on but, while Orford writhed on the ground and the game was halted for four minutes, Hayne got a call from the video referee to penalise Rogers for a late tackle. From both of these contentious calls the Sea Eagles scored converted tries and our season was done.
In 2008, we'd get our revenge. While we lost the first encounter, the second time we faced them that year was a very different story. Halfback Chris Sandow ran rampant that day, with Nathan Merritt bagging a hat-trick in a 40-32 victory. Although it was our last win in an otherwise forgettable season, it was a very satisfying win against the Silvertails. Aren't they all?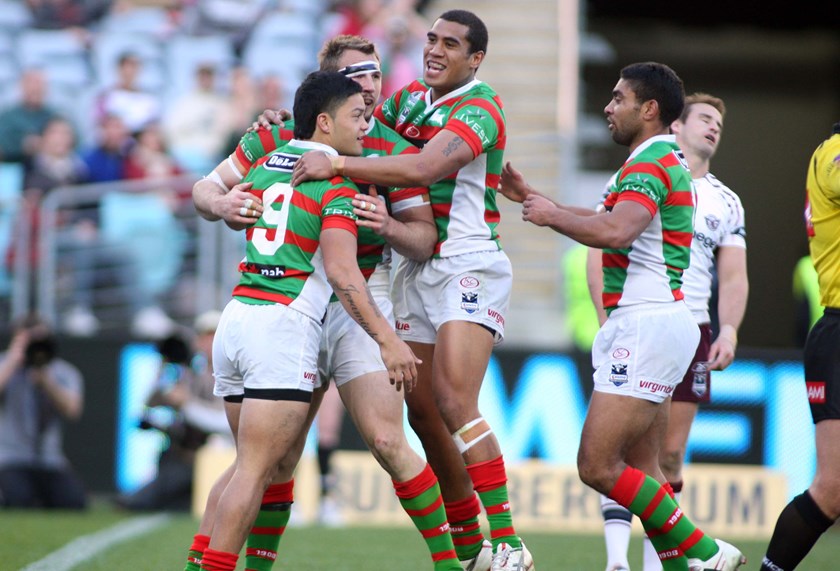 The Rabbitohs had begun their resurgence as a force to be reckoned with in the rugby league landscape. A tough, uncompromising period of vicious matches, crushing lows and brilliant highs would follow as Manly and Souths emerged as strong premiership contenders.
Round four, 2011, would prove to be a heart stopping battle. On a cool April night in Gosford, both sides would go try-for-try before a rampaging Greg Inglis took the match by the scruff of the neck, setting us up with a 32-14 lead with ten minutes to go. But the drama wasn't done.
Somehow we managed to concede three soft tries and all of a sudden it was up to their rookie halfback Daly Cherry-Evans to kick a sideline conversion to send the game into golden point. Souths fans' hearts were in their mouths as the Sea Eagles' halfback booted the ball, but hooked to the left, delivering us a memorable 32-30 win. 
In 2012, things got very serious at South Sydney as we made the top four, and then the preliminary final. That season's journey would end there, but at Redfern there was a feeling that our long awaited 21st Premiership was in sight. And, as fate would have it, Manly would be in the way.
In fact, our first finals battle with the Sea Eagles since 2007 would be the first step towards ending the premiership drought that Manly was the catalyst for so many years before, albeit a bitterly painful step for all Souths fans. After overcoming the Melbourne Storm at home in the qualifying final, we hosted the Manly in the 2013 preliminary final at Stadium Australia.
We opted for a safe start as Glenn Stewart took Sam Burgess with a head high tackle, with Adam Reynolds kicking the penalty to give us a 2-nil start.
There was plenty of fire in the belly as John Sutton scored our first try, bulldozing over from dummy half to give us an 8-nil advantage after just seven minutes. Just a couple of sets later, Nathan Merritt crossed in the corner, and with Reynolds converting, we had a 14-0 lead after just twelve minutes of play. It seemed almost too good to be true, and that's exactly what it was.
Manly's experience shone through, as they posted 30 unanswered points, effectively ending our season. Dylan Walker bagged a try in the last minute, but it was all in vain. We had blown our chance to get to the big dance for the first time in 42 years, and it was a result that lingered over us that whole summer. We couldn't have known it at the time,  but in hindsight it was one of the best things to happen to us in many years.
After a Round 26 loss to the Roosters, we lined up against Manly in the qualifying final the following week at Allianz Stadium. With both teams finishing in the top four, it was the perfect opportunity for us to avenge our loss from the previous year.
That night was like a wild, outrageous, happy dream for the Rabbitoh faithful. Our outside backs ran rampant, continually creating opportunities and making long range breaks. At halftime we led 22-0 thanks to tries to Adam Reynolds, Luke Keary, Lote Tuqiri and Alex Johnston.
The blitz continued through the second half as Reynolds, Walker and Johnston crossed, and all of a sudden we were leading 40-0. The atmosphere in the stadium was electric, and although we conceded four tries in the last ten minutes, we had made a clear statement of intent in the dominant display, which eventually gave us the confidence to take out the Premiership after a 43 year drought.
Since taking out our record 21st Premiership, our record against the Sea Eagles has been back-and-forth, with three wins and three losses. 
The cultures of South Sydney and Manly are starkly opposed and there are few clubs we enjoy beating more. Traditionally, South Sydney represent the working class while Manly unashamedly stand for privilege and position. When we take them on, we take on more than a football team. We take on their whole "born-to-rule" mentality.  
Manly hate us too, do they? Well, so they should.
Because, deep down, they know the truth. And deep down, they can't handle the truth. The truth is that, throughout our history, we have been tougher and harder than them whenever it really mattered. That's when we prove to them that, whatever high and mighty position they might think they are born into, out on the football field they've got nowhere to hide.