Kids selling lemonade and cookies were thrilled when South Sydney Rabbitohs forward Sam Burgess showed his generosity to support their fund-raising efforts.
Enjoying his Sunday off at Coogee Pavilion last week, Burgess was made aware of a group of young champions, who were putting in the hard yards on a blistering hot Sunday afternoon.
Zoltahn Szabo, Tristan Lee, Aidan Lee, James Finnegan, Jack Johnson and Ben Pignatellli are all mates from Coogee Nippers and Waverley College, and together, they put their hands up to help raise money for Project Compassion.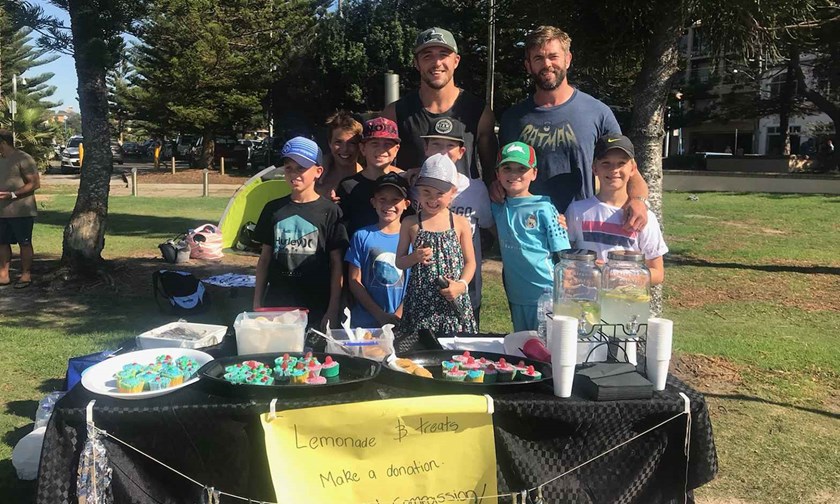 Working in 38-degree heat for three hours, the young group of lads served up a variety of treats, including freshly squeezed lemonade for the passing public on the Coogee Promenade.
One passer-by was so keen on a delicious snack the boys were selling, he donated $100 in exchange.
Ecstatic with the generous donation, the team from Coogee Nippers were made even more excited when they realised who their customer was.
Burgess then took the time to chat with the team and have his photo taken before parting ways, leaving wide grins and laughter behind.
With a bit of mateship and a show of compassion, the stall finished the day a resounding success, collecting $525 for Project Compassion. 
Project Compassion aims to deliver emergency and humanitarian aid to people living in poverty around the World.  For more information about Project Compassion - click here.