The Penrith Panthers didn't make things easy for Nathan Merritt. It took him four years from his debut in Round 9 of 2002 before he could bag his first try against them. From then his relationship with the Panthers would be frustrating, but deliver some of the best moments in his career.
'Merro' worked it out against the Panthers in 2006 - the second time we faced them that season he would score a blistering hat-trick that would seal him as the NRL's leading try scorer.
That hat-trick would be the first time in the history of the game that the leading try scorer would belong to a club that finished last on the ladder. Merritt scored 22 tries in 24 games, beating out second placed Brett Stewart by two. 
At the Dally M Awards night at Sydney Town Hall, Brian Carney from the Newcastle Knights was named Winger of the Year. Then Rabbitohs CEO Shane Richardson described it as "the worst decision I've ever seen made".
"One of my best mates in the world is Brian Carney," recalls Richardson.
"I said to him afterward; 'Brian you're kidding. How you won that ahead of Nathan Merritt… You've got to be joking.
"And he still shakes his head himself. It was the worst decision I've ever seen made."
Absurdly, the Alexandria Rovers junior would have one of his finest years in the Red and Green in one of the toughest on-field seasons for the Grand Old Club. Souths would finish 2006 with 11 regular first-graders injured on the sidelines and only claiming three wins.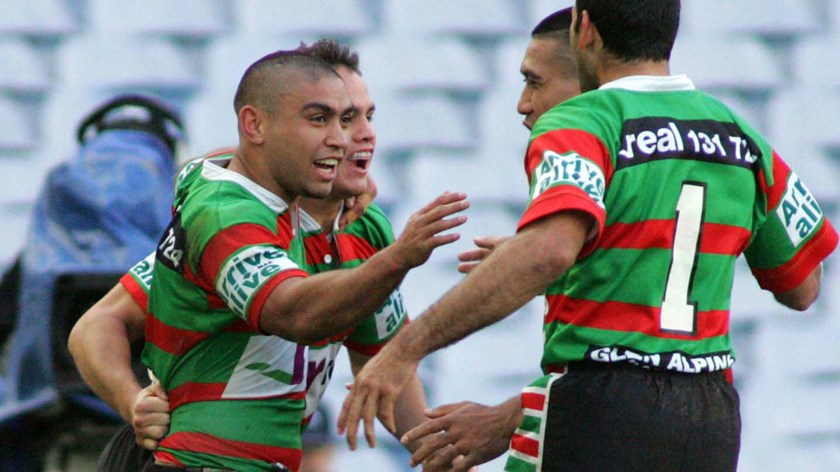 Then Captain Peter Cusack remembers Merritt's contribution that year admirably. 
"He had a tremendous year. He couldn't do a thing wrong. His tryscoring received recognition but I thought his defence was particulary brilliant," said Cusack.
"He was picking the right times to come in and stay out and I don't think he made a defensive mistake in the back half of the year."
Penrith continued to be a sparse hunting ground for Merritt. It took another three years before he could add another try against the Mountain Men to his name. They also frustrated him in 2010 and 2011 - keeping the legendary winger scoreless.
But one of the most glorious moments in the Club's history would come when Merritt took the field at Penrith Stadium in Round 6 of 2014.
It was a Friday night at the foot of the mountain. The Rabbitohs had only won two of their last five matches. Minutes before kick-off, a torrential downpour soaked Penrith Stadium, setting conditions for a grinding, tough game against the team that would finish the season in fourth place.
It was 6-2 after 54 minutes when Merritt would grab his 145th Club try - breaking legendary Test winger Benny Wearing's 81-year old scoring record. Merritt would also surpass Bob McCarthy's 211 first-grade games in this match (his record was broken the week before by John Sutton).
'Merro' would again write his name in the record books in a match against the Panthers. Souths would go on to win 18-2 and later that year win our first Premiership in 43 years.