After starring for Blacktown Workers in the ISP last season, Rabbitohs' recruit Tom Amone had plenty of suitors - but for him, there was one place he wanted to be - The Club of Choice.
Beginning his Rugby League journey in Wentworthville in Sydney's west, Amone (pronounced Ah-moh-neh) rose through the grades at Parramatta as a highly-touted junior, making the Australian Schoolboys side in 2014.
In 2018 his performances with Blacktown earned himself a spot in the ISP Team of the Year, and now finds himself playing alongside the same players he was looking to barrel over last season. 
"My manager told me there was an opportunity here. I came and had a meeting and it all happened pretty quick," Amone explained. 
Tom Amone

Being at the Club has been pretty great so far. I'm loving it, especially training with the Burgess brothers, Greg Inglis and John Sutton.
"It's been pretty tough but I'm really enjoying it. I've played against a few of them (current teammates) especially when we played North Sydney last year.
"I also played with Connor (Tracey) and Bayley (Sironen) with the Australian Schoolboys so it helps to have them around. I knew of them but I wasn't close with them until now, but I've also gotten to know 'Junz' (Junior Tatola), Lucky (Ta'avale) and Keaon (Koloamatangi)."
The 22-year-old now not only has the opportunity to play alongside familiar faces, but now shares the same locker room with some of the game's biggest superstars. Last weekend he had the rare opportunity to play at the Club's spiritual ground - Redfern Oval - at the John Sutton Testimonial match, something he says he is still coming to terms with. 
"Being at the Club has been pretty great so far. I'm loving it, especially training with the Burgess brothers, Greg Inglis and John Sutton," he said. 
"It was pretty surreal playing at Redfern Oval, having so much history around it on such a special day. It was a tough game but I really enjoyed getting on the field with those guys and hopefully, I can do it a lot more this year."
Rabbitohs Members and supporters should keep their eyes peeled for the Tongan front rower, having impressed in each of his three trial matches for the Club so far, and has added plenty of punch through the middle of the field in both attack and defence. 
While some people shirk at the idea of rolling up their sleeves and throwing themselves into the fray, the strongly built forward says it is something that he relishes.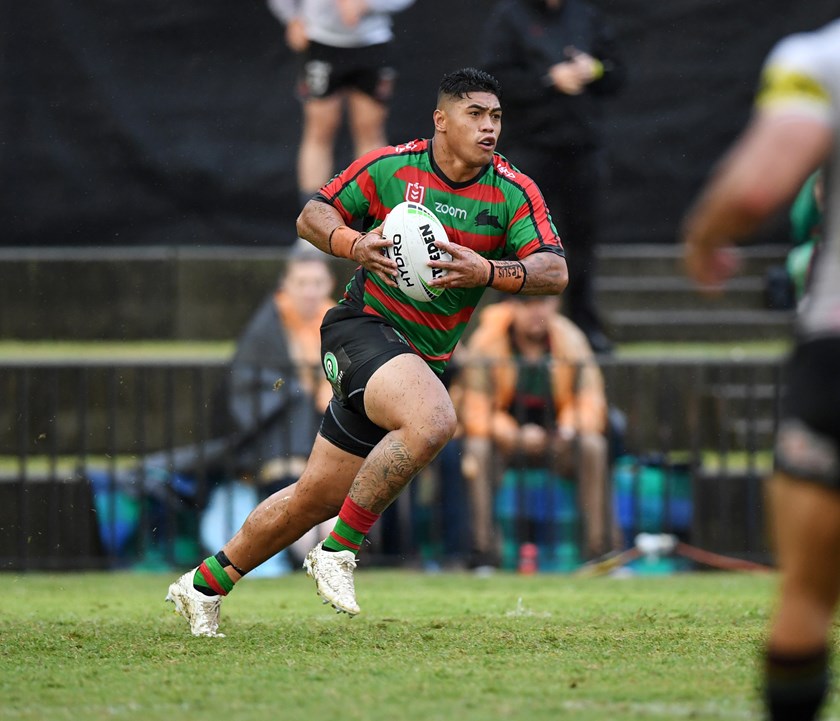 "I started off as a lock but then bulked up a bit and moved into the front row. I love playing both positions and getting in it, but I'll be happier just as long as I'm in the team," he explained. 
But impact on the field can only be achieved with dedication and character off it. in his first week at the Club, Amone began training at 6am making the commute from Parramatta while also working at night as a concreter to further provide for his young family. 
According to Ben Rogers, the Club's Pathways and Player Education Manager and Jersey Flegg coach, after adjusting to the full-time demands of NRL football, Amone has put himself in a strong position to earn a first-grade berth during the year. 
"His selection in the ISP Team of the Year is great recognition for someone who wasn't training full-time so from a low training base is great," Rogers said. 
"He's been going really well since he arrived. He came from Blacktown so at an ISP level of training, his fitness was low. The first couple of weeks were really tough for him fitness-wise because we were doing a lot of long distance and high speed running.
"But he really battled through and it's a testament to his character that he put his head down and didn't pull out of any runs. 
While Amone has a quiet off-field demeanour, his on-field input is something that Rogers says will create plenty of chatter among the Red and Green faithful.
Ben Rogers

He's a real presence and has a lot of aggression and intent and if we see that, we're in for a ride.
"He's high impact. You're going to see in attack he's going to scatter bodies and in defence he wants to get out of the line and hit his opponents," said Rogers.
"He's a real presence and has a lot of aggression and intent and if we see that, we're in for a ride.
"He's got a lot of x-factor about him with his carries and now his little tip-on offload he has developed, and in defence he has admitted that he wants to get out there and hurt people. That makes the difference in a game of footy and it sets the tone, and if he can harness that we can jump off the back of that and he'll be a real weapon." 
Much like his role on the field, Amone's goals and ambitions for 2019 are straight to the point. 
"Hopefully I can get my debut this year and play good football. I want to earn my spot and keep it in the side," he explained.
"I want to thank my old coach at Blacktown, Steven Hales. He helped me a lot in my development and when I wasn't in a bit of a rough patch when I didn't have a contract, and we've kept in touch now that I have and making sure I'm enjoying the experience."