How far would you travel to watch your Rabbitohs play? Proud Rabbitoh, Vicky Outen, recently came all the way from the UK to do just that!
In a true show of dedication to the Red and Green, after making the decision to head down under, the Rabbitohs and Warrington Wolves supporter waited for the 2016 NRL draw to be released so that she could plan her itinerary in detail around Rabbitohs games, eventually managing to take in three during her stay.
"Supporting Warrington Wolves back home in the UK and the Rabbitohs in Australia, we planned to watch as many NRL games as possible, ensuring we got as many Rabbitohs games as we could," Vicky told Rabbitohs.com.au.
"We also visited some of the beautiful locations that Australia has to offer. We managed to watch seven NRL games in the three and a half weeks we were in Australia for – three of them being Rabbitohs games.
"Also we were hoping if possible to see Matt King who also played in the Super League for Warrington."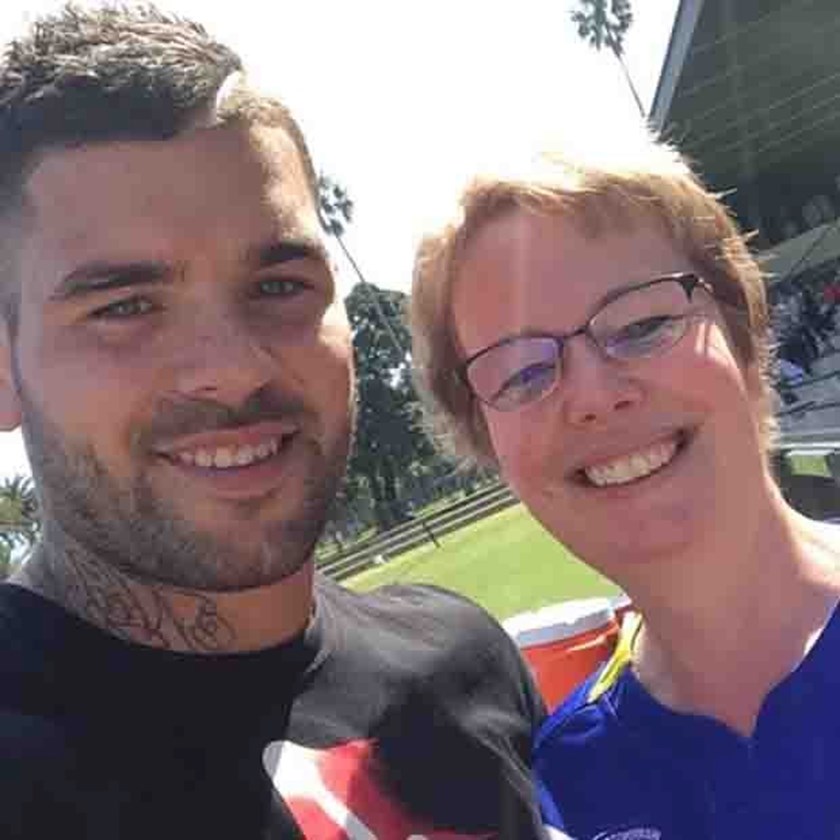 And meet they did, with the special moment taking place on Saturday 26 March when Vicky and her son David attended Round 7 of the SG Ball competition at the Simply Energy High Performance Centre, Redfern Oval, to watch King's Under 18s side take on West Coast.
"We didn't get to see him at the games due to the large crowds, nor at training during the week, but with a stroke of luck we met one of the Rabbitohs under 18s players through a mutual friend," said Vicky.
"He mentioned that the Under 18s were playing Perth on the Saturday at Redfern, so we duly turned up to watch the match!
"After the game, we achieved our aim of meeting Matt King! We were made to feel very welcome – a special mention must go to Jason Clark's father for showing us around the ground.
"We even got to meet Adam Reynolds as he was also at Redfern watching the game!"
But the good vibes didn't stop there, with the travellers also bumping into Dave Tyrrell as well as fellow countrymen, Thomas and George Burgess on the very last day of their stay.