Roy 'Razza' Asotasi is considered to be one of the most important player signings for South Sydney since re-instatement in the NRL in 2002.
Asotasi joined South Sydney in 2007, the first year of privatisation, following the handover ceremony. This occurred on Wednesday 7 June 2006 at the Sydney Town Hall, when chairman Nick Pappas handed over the keys to Russell Crowe and Peter Holmes a Court.
He was the catalyst for attracting other good players such as David Kidwell, Nigel Vagana and Dean Widders. They all said that they would not have even spoken to Souths had it not been for Crowe and Holmes a Court.
Later on the likes of Sam Burgess, Michael Crocker, Matt King and Greg Inglis also found their way to Redfern.
The club also signed an unknown youngster from Canterbury-Bankstown Bulldogs named Issac Luke on the recommendation of new recruitment officer Mark Hughes (one of the famous Hughes brothers who played for the Bulldogs in the late 1970s and early 1980s).
Jason Taylor was appointed head coach, coming from Parramatta where he was assistant coach to Brian Smith, then interim head coach after Smith resigned.
Mark Ellison was appointed assistant coach to Taylor.
Roy was born in Auckland, New Zealand on 6 January 1982, and is of Samoan descent. His junior club was Marist, Auckland, and he went on the captain both New Zealand and Samoa.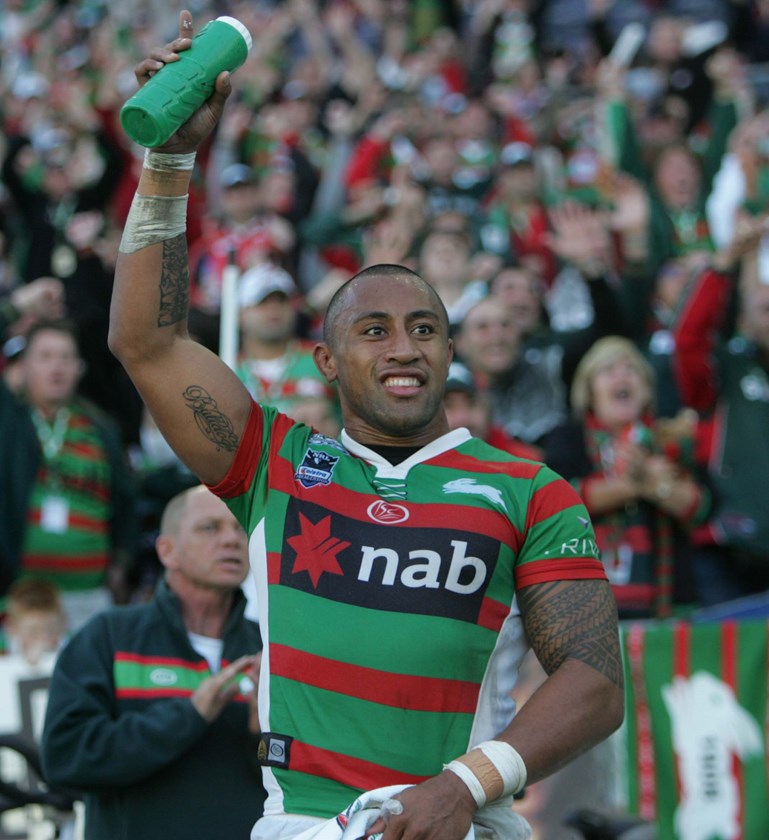 He joined the Bulldogs in 2000 as a prop forward playing in their premiership-winning SG Ball team against the Western Suburbs Magpies. They won again in 2001, this time against the Cronulla-Sutherland Sharks where he played in the second row.
By 2002 he made the Bulldogs Premier League team and by 2004 he was a regular member of the first grade team. He played in all 28 games that year, including winning the grand final over the Roosters 16-13.
Asotasi played 84 first grade games for Canterbury over five seasons (2002-06) scoring 8 tries, before joining Souths.
Coach Jason Taylor asked him to be captain, and at first he hesitated for a week, then accepted the role.
"I was only a kid at 25 years, and had never pictured myself as being Captain," Asotasi said.
"I had Peter Cusack helping me along the way so I knew he would help.
"When Madge (Michael Maguire) came in 2012 we had five co-captains Michael Crocker, John Sutton, Matt King, Sam Burgess and myself.
"Jason Taylor (2007-09) and John Lang (2010-11) were good coaches, but Maguire created the special culture that eventuated in the winning of the 2014 premiership.
"I missed out on that because I joined the Warrington Wolves due to salary cap constraints at Souths."
Roy played 133 first grade games at Souths in his seven seasons (2007-13) scoring 12 tries. His goal was to win a premiership at Souths but missed out.
At Warrington he played 58 games in 2014-15, scoring five tries and kicking one goal. He retired half way through 2015.
He also represented the Kiwis 24 times (2004-09) but surprisingly, did not get across the try line, and appeared in one Test for Samoa (nil tries).
Asotasi won the George Piggins Medal as the club's Best and Fairest player in 2007 and was named as captain of the New Zealand team for the Anzac Day clash in 2008.
Unfortunately he suffered a pectoral injury in the 22-20 round 25 loss to the Roosters at the Sydney Football Stadium, and he took no part in New Zealand's World Cup success. Another pectoral injury also disrupted his 2012 season.
Post retirement he came across an opportunity to run an F45 gym, which was a good fit.
"It was a no-brainer because I was naturally used to doing so much training and it really made sense to be able to be involved in the health and fitness industry," Asotasi said.
"It wasn't until half-way through 2016 that Souths offered me a role in the club as an Ambassador which involved appearances on game day, schools, media, Members and sponsors events.
"I jumped at the chance to work with the club that I spent a lot of time with, captained and meant a lot to me'.
Roy was awarded Life Membership of SSDRLFC in 2014, and the same year the club announced a new award to be presented at the Red and Green Ball, the 'Roy Asotasi Members' Choice Award.'
In 2018 he was named in the Southern Courier's Top 50 Souths players of all time.