With a surname 'Fenech' which when translated into English means "Rabbit", it was only fitting that Mario Fenech would not only play for South Sydney but become one of the club's most passionate and inspirational captains.
Born on 11 November 1961 in Malta, the family migrated to Australia the following year, and settled in Wellington, Waterloo - a short distance from Mount Carmel school 400 metres from Redfern Oval. Mario attended school there.
Mario's birthday, 11 November, co-incides with the day Ned Kelly was hanged in 1880, World War One ended in 1918 and the Whitlam government was dismissed in 1975.
The family consisting of parents Albert and Doris, and brothers Stephen, Joe and Michael returned to Malta but came back to Australia in 1970 and bought a cottage in Banskia street, Botany. His next school was Marist Brothers, Daceyville, a real Rugby League school. He put his hand up to play because all his mates did.
His first team away from school was Botany United, and his coach was Henry Morris, who at the time was President of the Souths Juniors Club at Kingsford. As a kid he was actually a St. George supporter.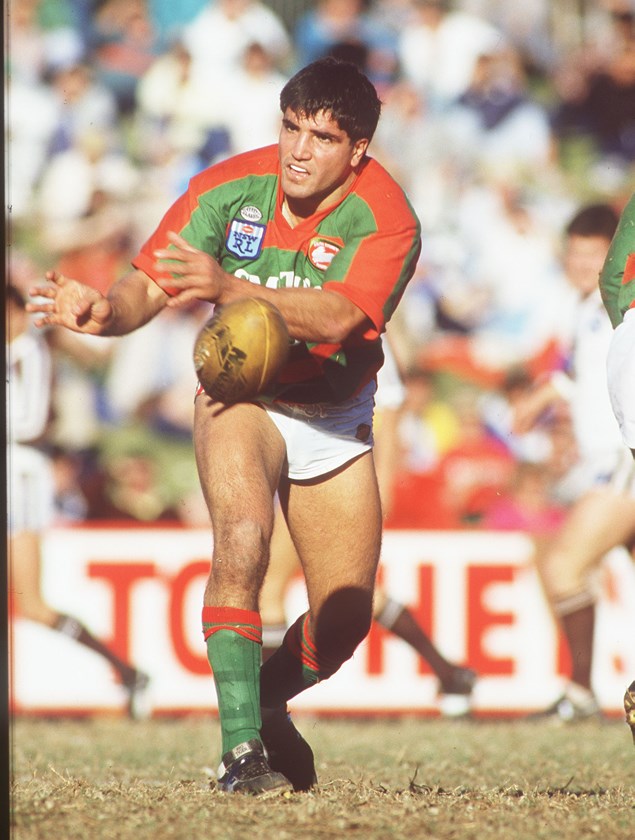 The real turning point in Mario's life was when his best friend Craig Mullins asked him to join him at the Mascot club, and eventually gained selection in Souths winning S.G. Ball teams of 1975-77.
The President of Mascot was Frank Cookson, Souths football manager in 1998. By 1978 Mario had graduated to the Jersey Flegg side, and it was here that he gained his nickname 'Test Match'. During a warm up for a game, a teammate yelled out 'look at Mario, he thinks he's playing in a Test Match' – and the name stuck.
Many good players came out of Mascot including Shane Arneill, Stan Browne, the late Greg Mackey to name a few.
By 1979 he was Jersey Flegg captain, and made Presidents Cup in 1980. Called up to grade in 1981, he made his first grade debut in Round 15 against Wests at Redfern Oval on 12 July, as a replacement.
He was 19 years and 243 days old. However he spent most of the year in Under 23s, winning the grand final against Parramatta 18-5. Captain of the team was Craig Coleman, a half-back from the Waterloo club.
Coach Brian Smith had a high opinion of the cheeky young player they called 'Tugger'. They would spend the next ten years playing together in Souths first grade. Mario is also the godfather of his daughter Tara.
Mario's coach in 1986-90, George Piggins, was also a Mascot junior. Mario's career at Souths spanned 1981-90 appearing in 181 first grade games scoring 18 tries and one field goal, mainly at hooker. He was captain in 118 of them.
He also played 42 games in reserve grade (one try) and 25 in Under 23s (10 tries). His representative career included two games for Australian President's XIII (one as a replacement against PNG in 1985 scoring one try and one against Great Britain in 1988 as captain), one game for City Firsts in 1988 (2 tries), one game as a replacement for City Origin 1989 and 2 games for NSW against Queensland 1989.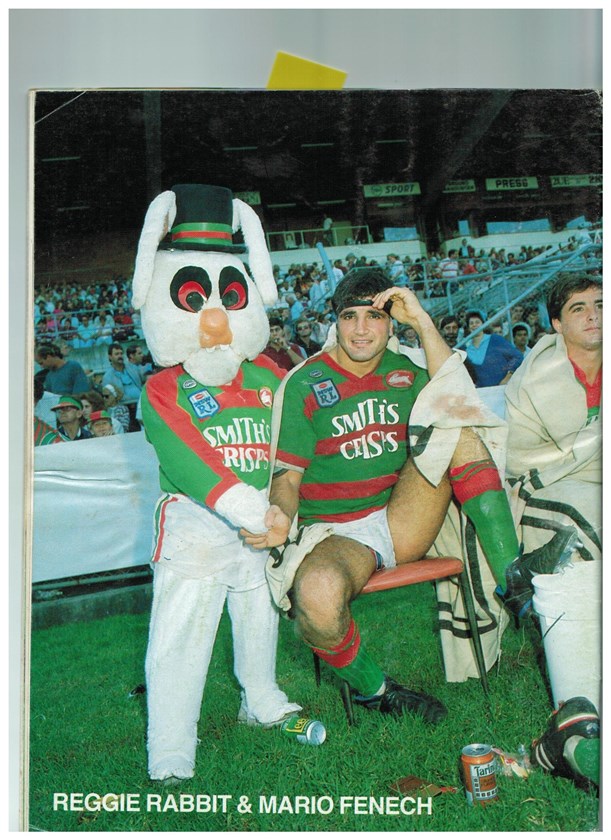 In the 1986-87 season he played three games for Bradford Northern (UK) including one against the touring Australian Kangaroos. At the end of 1990 he left Souths to join North Sydney Bears after George Piggins told him, Les Davidson and Phil Blake there was not much money to keep them at Souths.
He played four seasons at the Bears between 1991-94 playing in 83 first grade games. Fenech finished his playing career at South Queensland Crushers playing 11 games in 1995.
It was here that he earned a new nickname the Maltese Falcon, after a football accidentally hit him on the head during a game. He captained the Crushers in two of those games.
Mario was awarded Life Membership of SSDRLFC in 1997.