John Sattler, an inspirational leader.
John William ('Satts') Sattler was born in Maitland on 26 July 1942.  He was educated at Maitland Marist Brothers College. A snappy young-dresser, he worked in a menswear store at Kurri Kurri west of Newcastle.
He worked his way up the grades from the Under 16s to first grade in 1962, and was made vice-captain at age 18. This was the year the all-conquering Great Britain team was touring Australia, and Satts was selected to play for Newcastle against the Englishmen.
The Australian Test team was no match for the Poms, but Sattler played a blinder that day, and Newcastle beat them 23-18, and attracted interest from Sydney clubs St. George, Canterbury and South Sydney.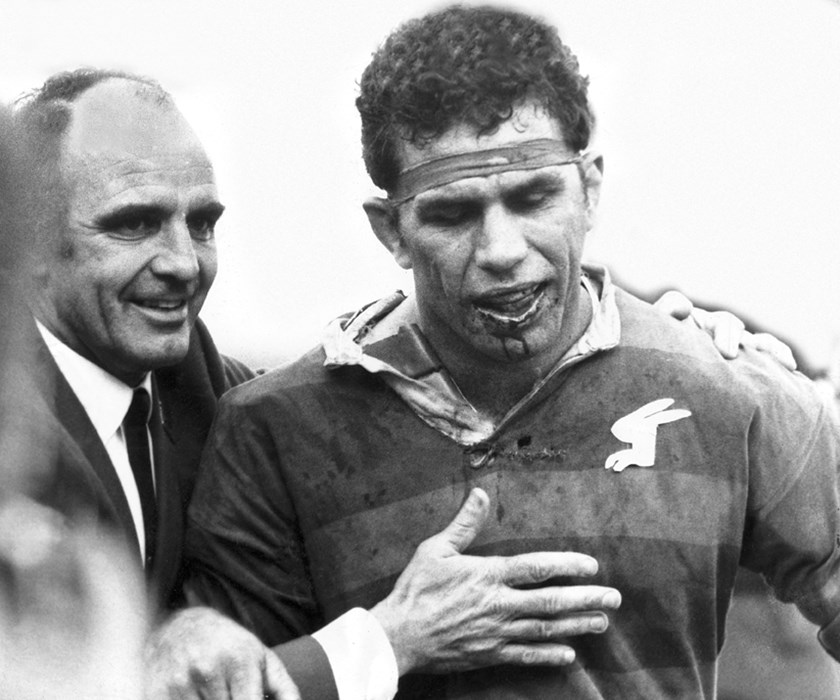 On New Years' Day, 1963 John was in bed when there was a knock on the family home door. John's Dad Ivan, a mad Souths fan, opened the door, and to his astonishment, standing in front of him was Souths' club treasurer George Hansen and club sponsor Joe Maloney. "We want you to play for South Sydney", they said.
John had already fielded two offers, Frank Facer (St. George) and Eddie Burns (Canterbury). However the Souths offer of 650 pounds signing on fee, 40 pounds a win, 30 pounds a draw and 20 pounds a loss, was too good to knock back.
John and Ivan dove to Souths Leagues Club and John signed the two year contract in the Boardroom. He was 6 months shy of his 21st birthday. His Newcastle teammate full-back Les Johns signed for Canterbury, who had also signed Clive Churchill as coach for 1963.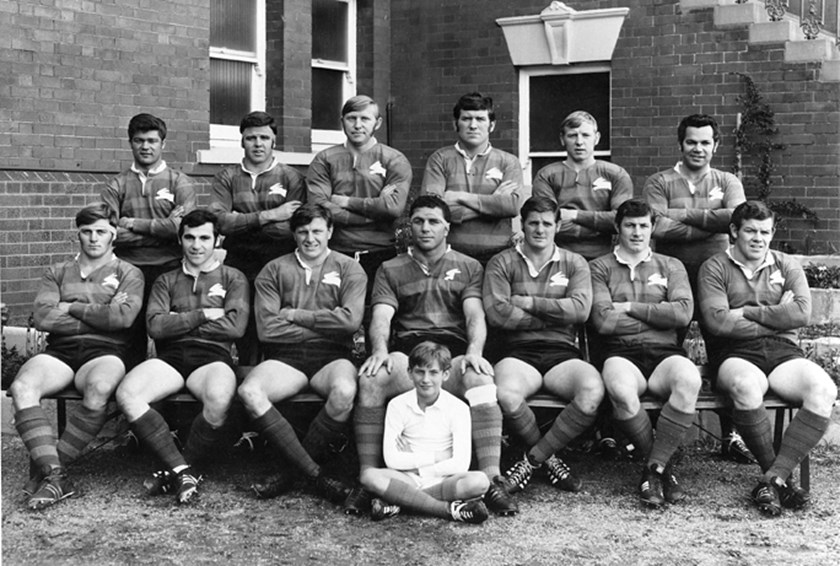 Sattler would go on to play 195 games for Souths, all in first grade, scoring 12 tries. Ironically Jack Rayner played the same number of games. Season 1963 was a poor one for Souths , winning only four games under coach Denis Donoghue, who later became President of the Football Club during the third golden era of 1967-71.
A local teenager named Bob McCarthy made his debut in 1963, and the following year came another promising junior Ron Coote. New coach Bernie Purcell switched Sattler to the second row partnering McCarthy, with Coote at lock.
Souths then signed John O'Neill from Gunnedah, Jim Morgan from Maitland and Bob Moses from Newcastle in 1965, and a hooker called Elwyn Walters from Tweed Heads in 1966. Along with other Souths Juniors forwards like Gary Stevens and Paul Sait, the Rabbitohs fielded arguably the greatest club forward pack in the game's history.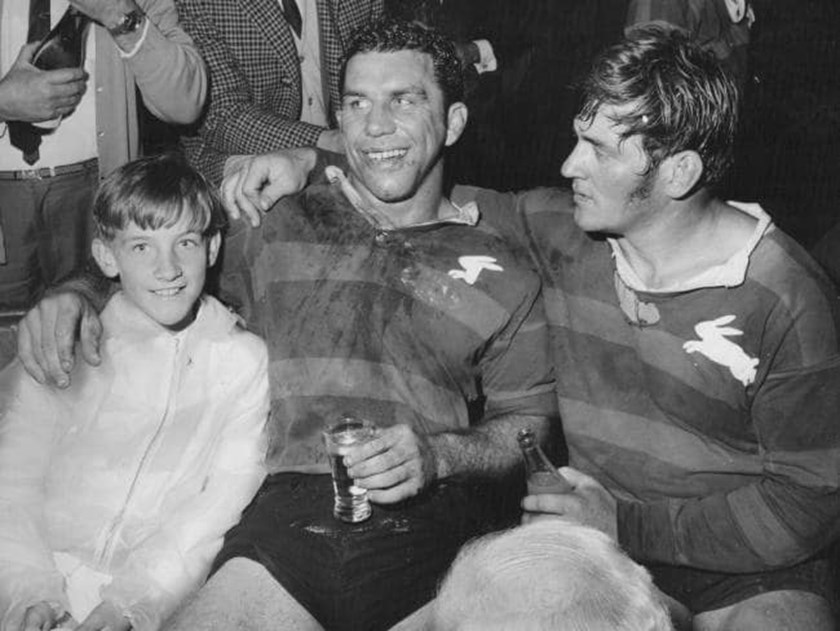 In his first season 1963 John would drive his VW all the way from Kurri Kurri for training and back home sometimes at midnight. He stopped going to the pub with the teammates after training. In early 1964 he decided to make the move and found full board at 40 Paton St, Kingsford.
An old lady he knew only as Miss Thompson, the owner of the house, provided meals and laundry for six pounds a week. Souths lined him up a job on the assembly line at General Motors Holden, Pagewood, keeping in line the club's working-class roots. But he missed his wife Barbara, and she eventually moved to Sydney. They bought a house at Kyeemagh in 1965, smack in the middle of Dragons territory.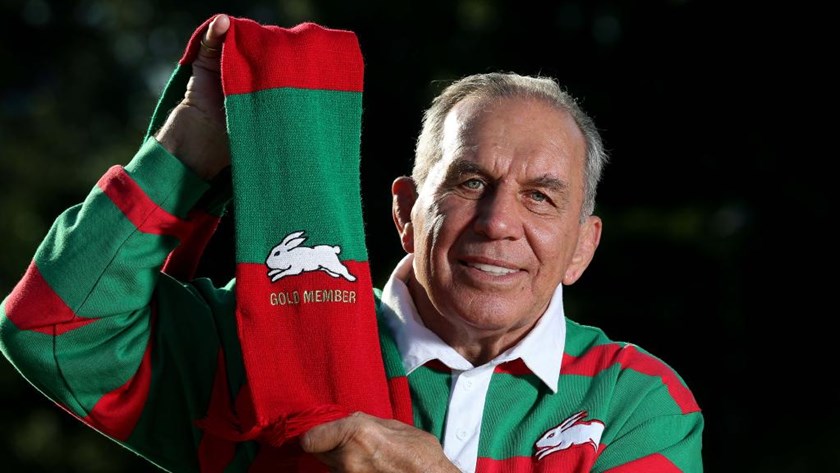 John learned very early the Rabbitohs' culture. For thousands of South Sydney fans, the club was more than just a sporting team. It was a family, and the team's success or failure determined their moods and even their lives. Especially at Redfern Oval the one-eyed die hards in their red and green outfits, who took pride in giving visiting teams as much hell as they could.
Redfern was their turf, and the players became soldiers who were duty-bound to protect it. John honoured his promise to Dad Ivan to train hard, and he would do road runs with Bob McCarthy who wore sprigs and Eric Simms who preferred bare foot.  
John earned a reputation as a 'firebrand', and was sent-off the field eighteen times – twelve while playing for Souths, two at Kurri Kurri, one on the 1967-68 Kangaroo tour, one for Wests Brisbane and one for Norths Brisbane.
He was a self confessed 'Jeckyl and Hyde' character – says Michael Cleary "off the field the complete gentleman, on the field it was like someone would flick a switch, his eyes would spin like poker machines and he would go after the opposition".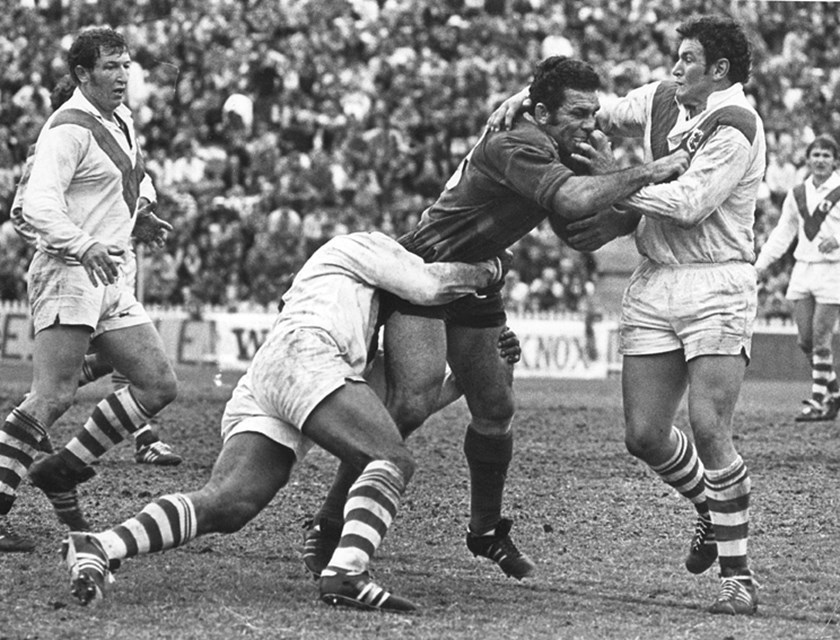 He was captain in the 1965 grand final against the mighty St. George Dragons who marched to their tenth successive premiership defeating Souths 12-8 in front of a record SCG crowd of 78,056. The following year there was a big 'blue' between Bernie Purcell and the committee, and Bernie was sacked as coach when the team failed to make the semi-finals.
Clive Churchill took over and stayed until late 1975, when he resigned and was replaced by Bob McCarthy, who was still playing for Souths. Churchill's appointing of Sattler as captain proved to be a master stroke, John was transformed from firebrand to team leader.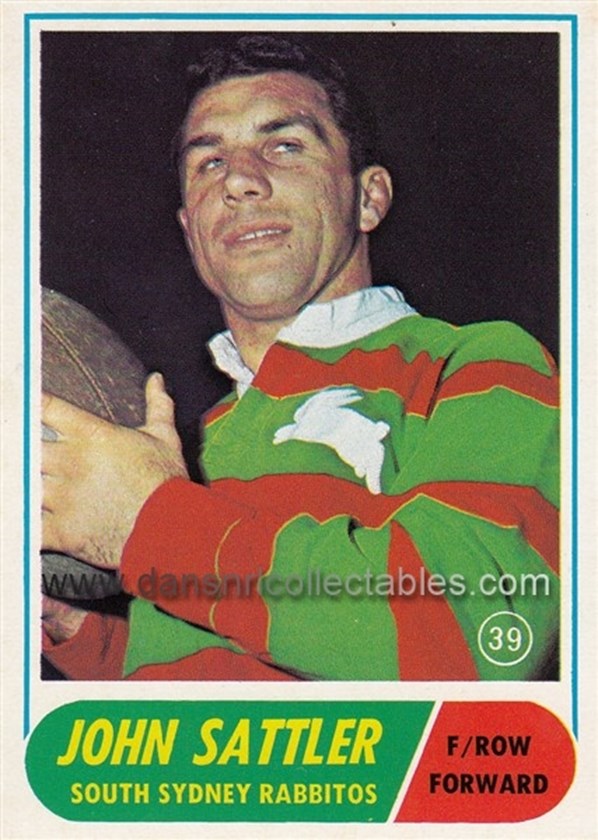 All the players looked up to Satts, and he lead them to grand final victories in 1967 over Canterbury-Bankstown Berries 12-10, Manly 13-9 in 1968, Manly again 23-12 in 1970  and 1971 St. George 16-10. Balmain beat them 11-2 in the 1969 decider, considered the biggest upset in grand final history.
"We used to be very quiet in the dressing room before big games, but this day there were blokes having a joke around, players asking about horse racing results and so on. Lurch O'Neill even said what a joke, fancy playing this weak mob in a grand final", said Sattler.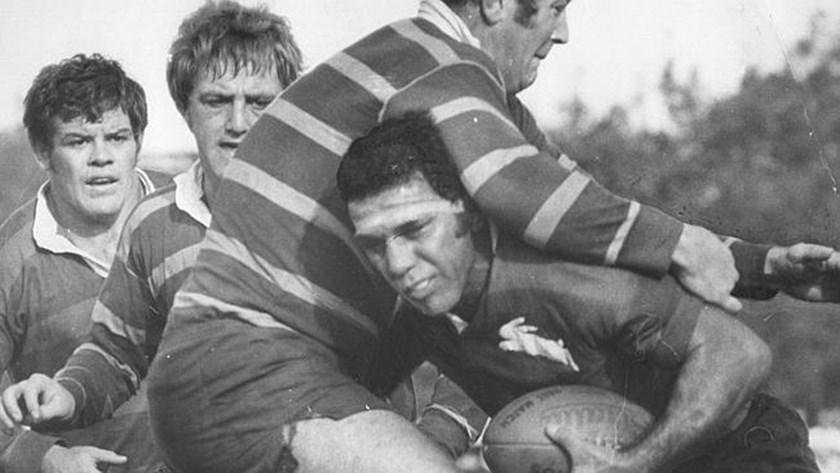 Balmain devised tactics to slow the game down – every time Souths started a roll on, their players would feign injury, especially in the second half. With five minutes to go, it was over, and O'Neill said to Satts "I can't believe it, these pussy cats are going to beat us". John O'Neill died on 9 August 1999 still not believing it.
Four minutes into the 1970 grand final Manly forward John Bucknell smashed Sattler's jaw in an off the ball incident, but John played the whole game in an incredible show of courage.
"Don't let the bastards know I'm hurt, he told his players". Late in the first half Bucknell ran the ball up and McCarthy tackled him so hard that Bucknell was taken off on a stretcher.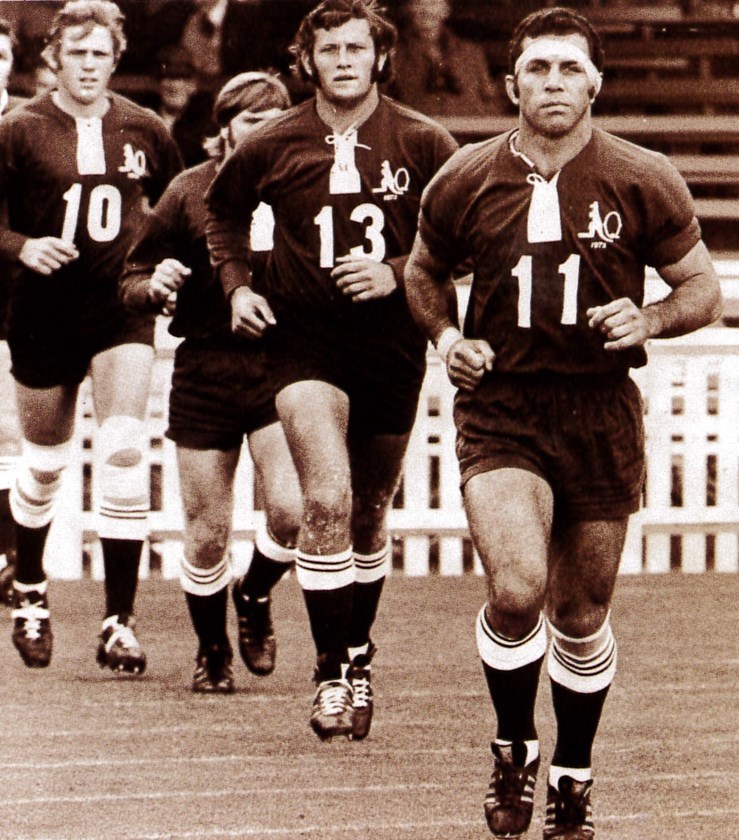 At the end of 1971 the team started to break up, with John O'Neill and Ray Branighan going to Manly, Ron Coote to Easts. Sattler had one last year at Souths in 1972, before Senator Ron McCauliffe, President of the QRL, rang and offered John to play up there.
He signed with the QRL and was placed with Wests Brisbane for 1973-74. He was captain of Queensland in the 1973 interstate series against NSW. John was ready to retire when Norths Brisbane pair Tommy Bishop and Bobby Bax came to see him, and talked him into one last year in 1975.
John Sattler's last game was played on 14 September 1975, the Preliminary Final losing to Redcliffe 25-2. He was 33 years and 50 days old, and had played in 357 games in total from 1961 to 1975. His representative career also included nine games on the 1967-68 Kangaroo tour of England and France, captain of the 1969 NSW tour to New Zealand and captain of Australia on 20 June 1970 at the SCG losing to Great Britain 28-7.
John was always a person who had to keep busy and after his playing days were over, he became a publican at various hotels around Southport such as the Queens and Cecil. Later he would pull beers at the Southport Leagues Club.
John and Barbara have two children, Lisa and Scott, who gained instant fame with 'that' tackle on Roosters winger Todd Byrne in the 2003 grand final win with Penrith. Scott played with Gold Coast 1992-93; 97-98, Eastern Suburbs Roosters 1994, South Queensland Crushers 1996-96, Penrith 1999-2003 and Wests Tigers in 2004.
John played a key role in the formation of the new club Gold Coast Giants in 1988, along with Bob Hagan and Peter Gallagher. Bob McCarthy was the first coach of their choice.
Throughout John's career, people would say "Scott is John Sattler's son". Following the Scott Sattler tackle that turned the 2003 grand final, John now tells people his is Scott's Dad.
John Sattler was awarded Life Membership of the SSDRLFC in 1972, along with Bob McCarthy, while both were still playing, a rare achievement. In 2004 he was named Captain of the Souths Dream team, and in 2008 was named in the NRL's greatest players. In 2012 The grandstand at Kurri Sportsground was named the John Sattler stand.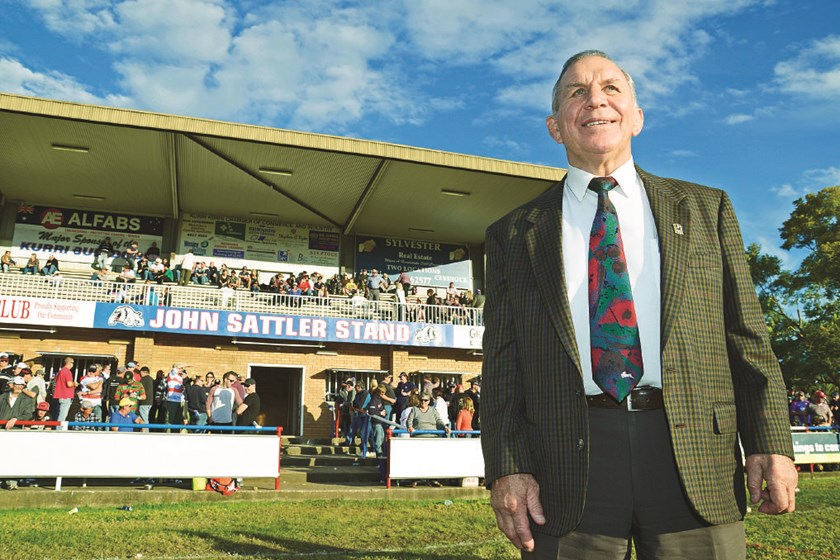 On Saturday 9 February 2019 the Souths Juniors Club at Kingsford put on a tribute dinner, a night to honour and thank John for his dedication to the Rabbitohs on and off the field. John William Sattler – a true legend of the Souths Sydney Rabbitohs.