Sam Burgess is excited to see the South Sydney Rabbitohs have set such a high standard in pre-season and he says that playing catch up is a challenge he is embracing.
Burgess rejoined his Club teammates at Redfern Oval on January 11, alongside his brother Thomas and new recruit Dane Gagai, following their Rugby League World Cup exertions.
With his fellow Rabbitohs already having an additional two months of preparation under their belts, Burgess expected to be worked hard - but he was clearly impressed with the platform new Head Coach Anthony Seibold has already built.
"I've walked back into a great culture and a great environment," Burgess said.
"Anthony Seibold has gotten everyone training very sharp and everyone's looking fit and healthy so it's taking me some time to catch back up but it's great to be back around.
"The boys have been training extremely hard, whilst the boys from the World Cup had a bit of a bit more time off and needed that break from such a long year." 
After a coming of age season, where the England international captained both Souths and the England national team, the barnstorming forward is keen to rekindle old relationships and build new ones in 2018.
With the full group reunited, Burgess believes that a packed changing room not only helps to lift levels, but also gives the younger players a great insight into what they need to do if they are to become consistent NRL players.
"It's great, a full changing room is always nice, there's a few characters," Burgess beamed.
"It gives some younger players an opportunity at being better players and that's what it's all about." 
Sam Burgess

"I think it's good for the competition for spots and we can help improve some players on the way."
After narrowly missing out on World Cup glory, Burgess says that despite the heartbreaking loss to Australia, that his experience with his international teammates was an one he'll look back on fondly.
"Although we missed out narrowly on the final it was a great experience and a great eight weeks," said Burgess.
"We just made the most of every opportunity we had together, and I guess over a long season you can lose sight of that, so I guess I'll bring that back and just enjoy every day and see how far it takes us."
It won't be long until Burgess is reunited with some of his England teammates - this time on opposite sides of the field - when the Rabbitohs clash with the Wigan Warriors on February 17, and the smiling Englishman says he's already heard from his soon-to-be opponents.
"There's a little bit of banter going on, but more they want to catch up socially for a coffee away from the game rather than on the field, we're not talking about that just yet," said Burgess. 
"I think they've already started their season by the time we play there so they'll be in some good shape and it'll be a good time for us to get some guys on the field and see how practice has been paying off."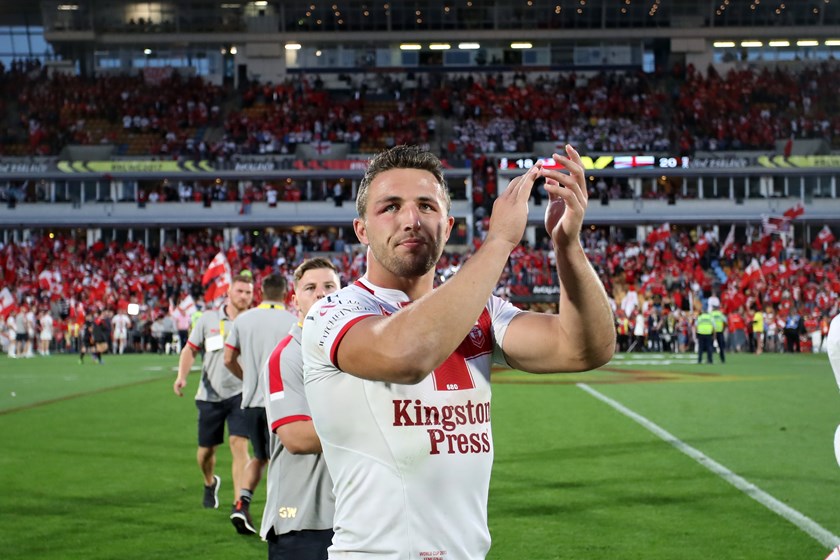 With a just a few weeks left until the footy begins, Burgess is well aware there is still plenty of work to do but the 2014 Clive Churchill medallist knows what needs to be done to achieve his targets.
"I've got a number of goals," he added. "Obviously staying fit and healthy is one of the main goals I have myself. To get myself in peak physical shape leading into the season to give myself the best chance of performing well."