Five minutes after Cronulla Sharks five-eighth Greg Bird kneed South Sydney winger Shane Marteene in the head - resulting in Bird getting sent off - Marteene crashed over to score a four pointer that would kill any hope the Sharks had of a comeback. It was a magnificent night in 2004 that helped get Souths through the "tough times" they were experiencing.
Willie Peters, the man who put Marteene through the hole in the Sharks line to score, remembers that match well. Peters helped orchestrate a barrage of South Sydney points as the men in Red and Green ran in seven tries to two in the 36-12 touch-up at the Sydney Football Stadium.
It was a happy night for the South Sydney halfback - even though a Luke MacDougall hat-trick meant he had to settle for only two Dally M points after the match.
Souths Coach Paul Langmack's side were feeling up to the fight in the round four fixture. They were confident after opening the season with a tight loss to the Roosters followed by a golden point win over the Tigers before a bye in the third week of the competition.
But, as Peters remembers, Cronulla are always a side that enjoys a fight.
"Every game against Cronulla is always tough. They've always been renowned as a tough, physical side. They're a physical side the way they play - the individuals in their side are tough and they play tough as a side," remembers Peters.
"As you remember, Greg Bird kneed Shane Marteene in the head and got sent off so that definitely helped us. But we did put it together that night.
"It does [fire you up], obviously it's a knee to the head. Greg Bird has been a tough player for many, many years. He was younger back then and it was a bit of a brain explosion, I'm sure he'll admit that as well. But, as I say, our football did the talking that night."
They wouldn't win another match until round 14.
Peters remembers the dark days but, looking back, he can see the silver lining. As the Club struggled to find its feet there was plenty of hard work being put in to build towards future success; building to our 21st Premiership.
"They were tough times to be honest, really tough times, we struggled to win games. It was a challenge for everyone involved but everyone did their best and helped grow the club to where it is today," says Peters.
"I wouldn't change anything for the world because the tough times grew me as a person. I always wanted to get into coaching and I can draw from that. I've been here through the good times and obviously the challenging times and that's definitely helped me as an individual.
"To be in the position I'm in now, I'm so grateful to be in the coaching staff and helping this great club reach our 22nd Premiership."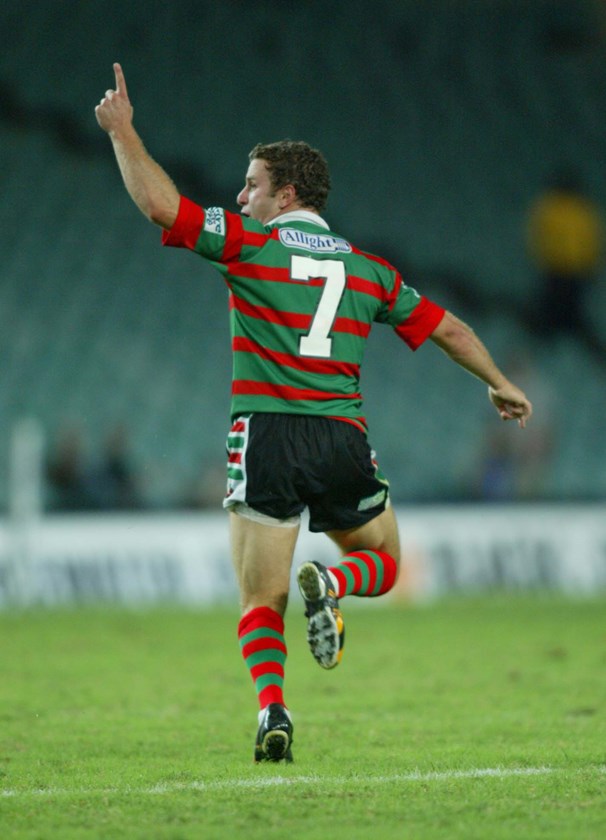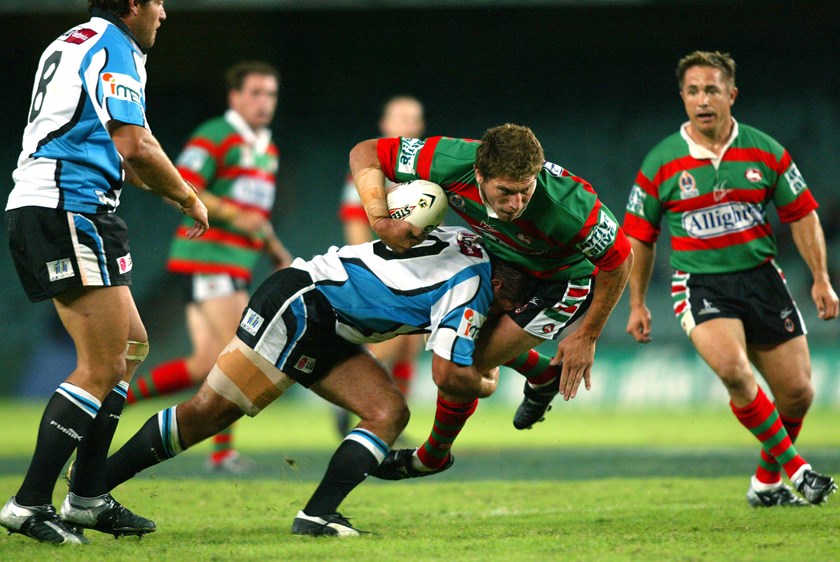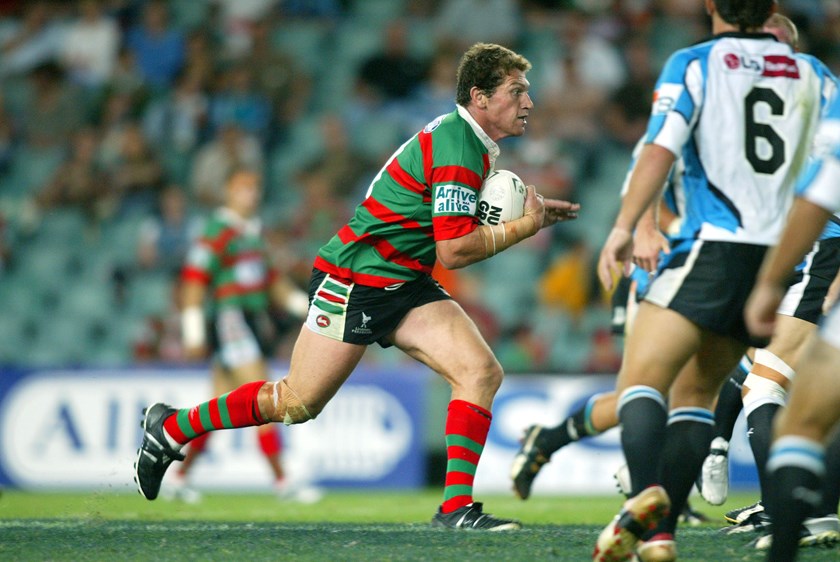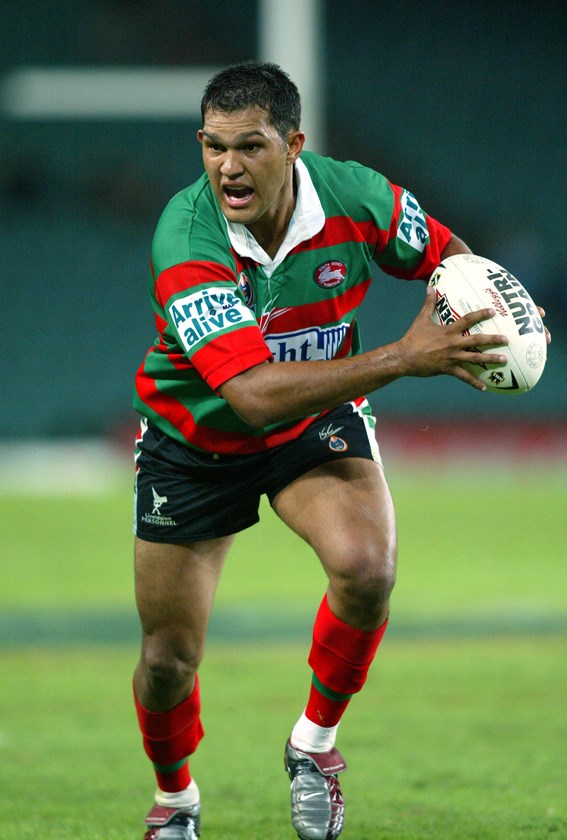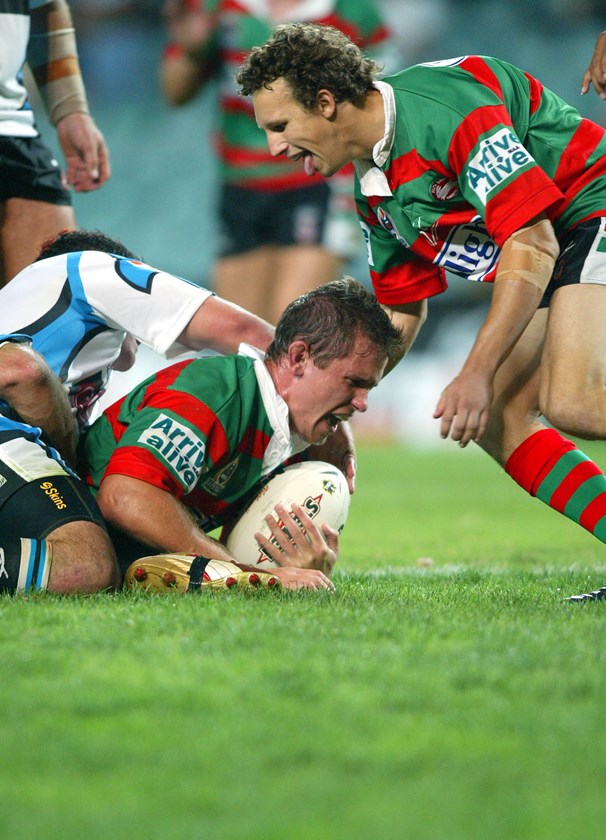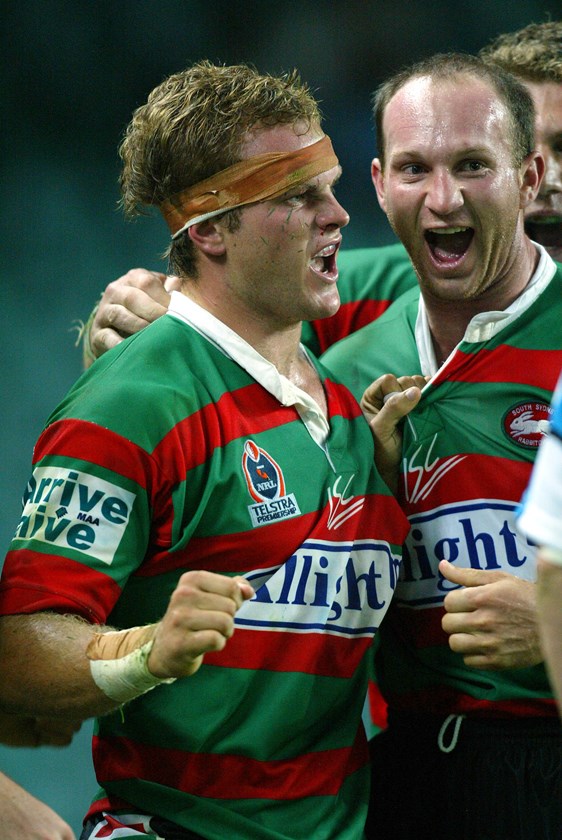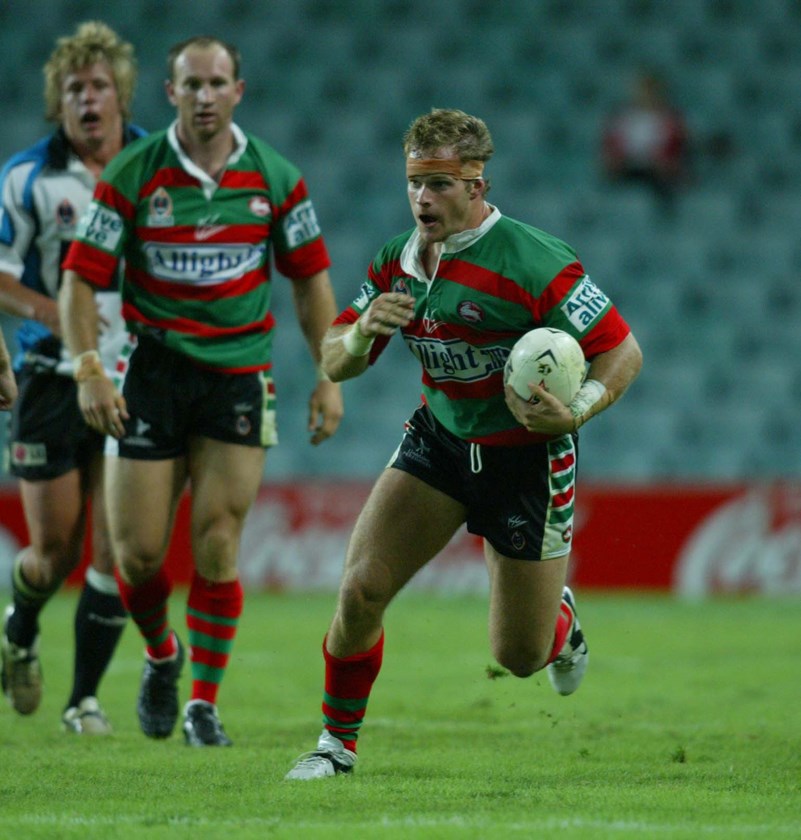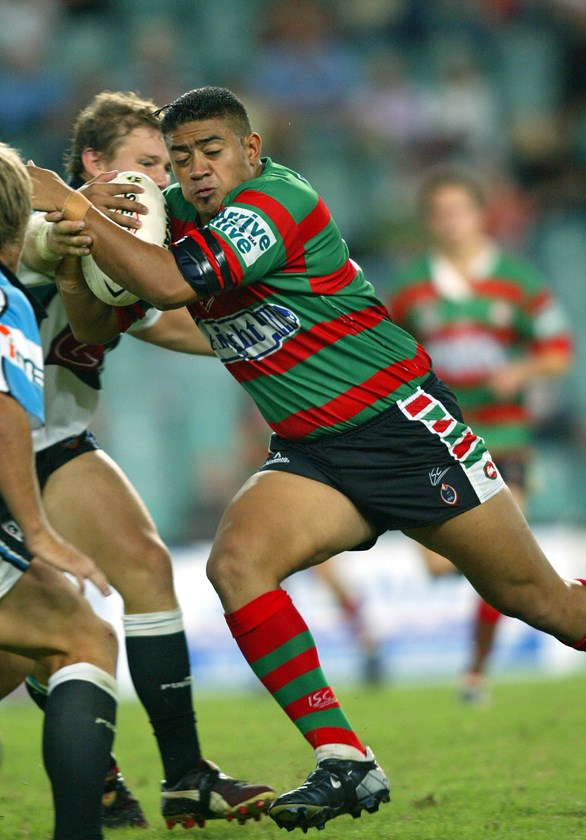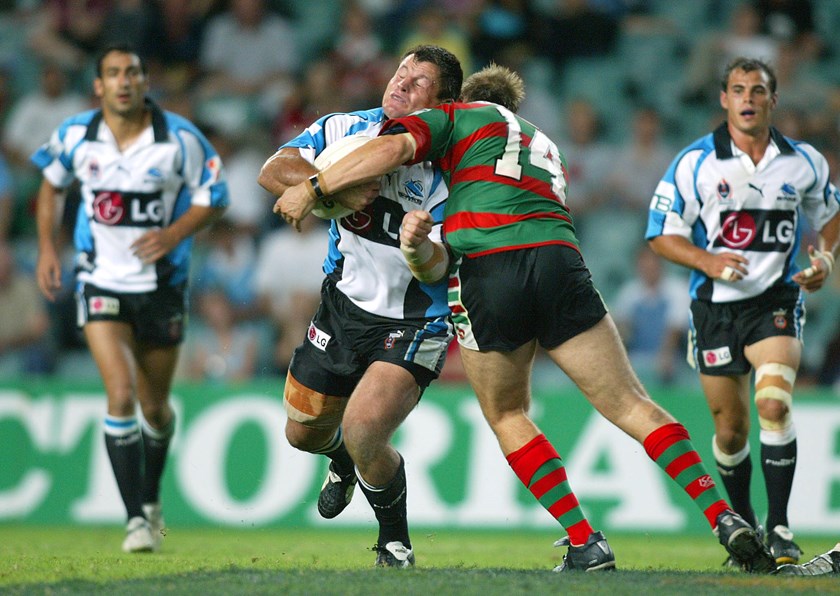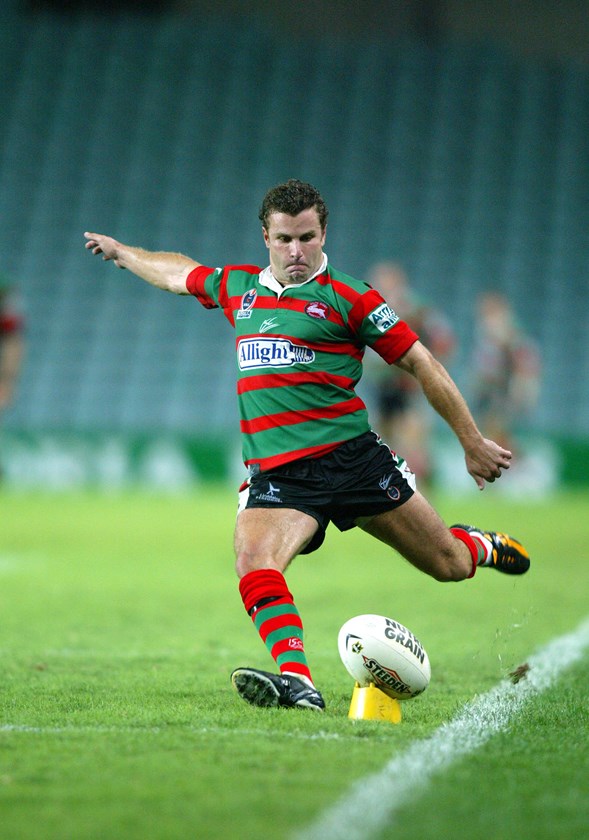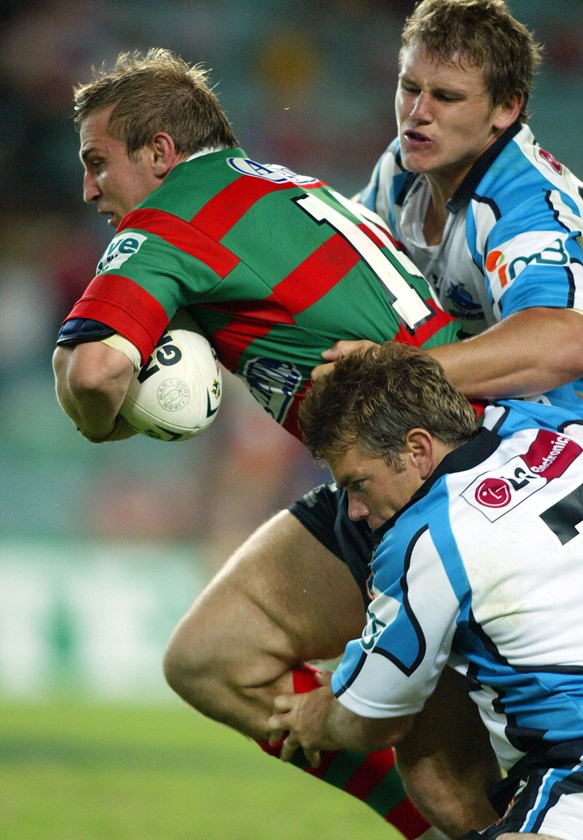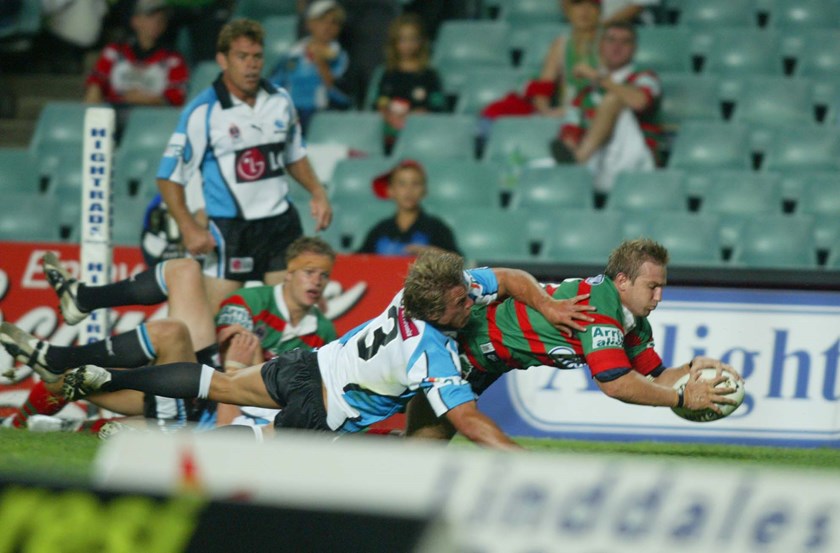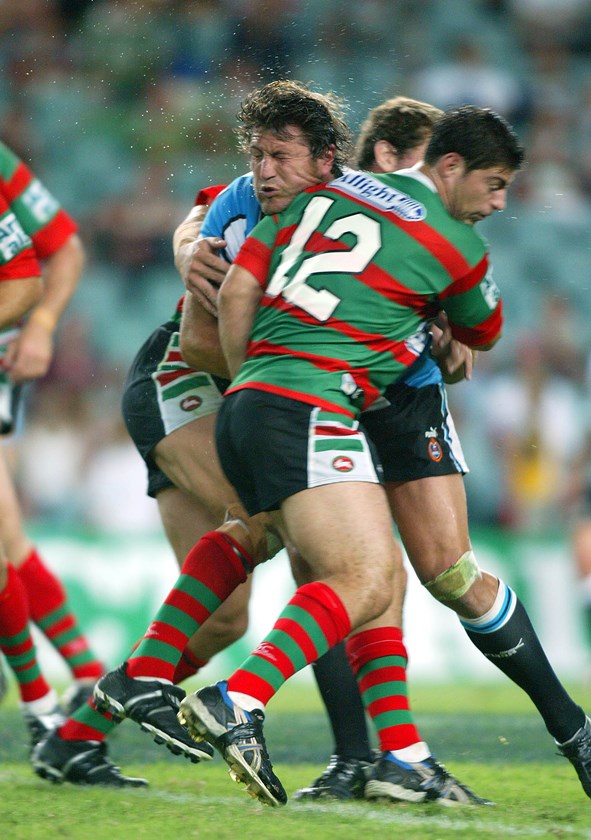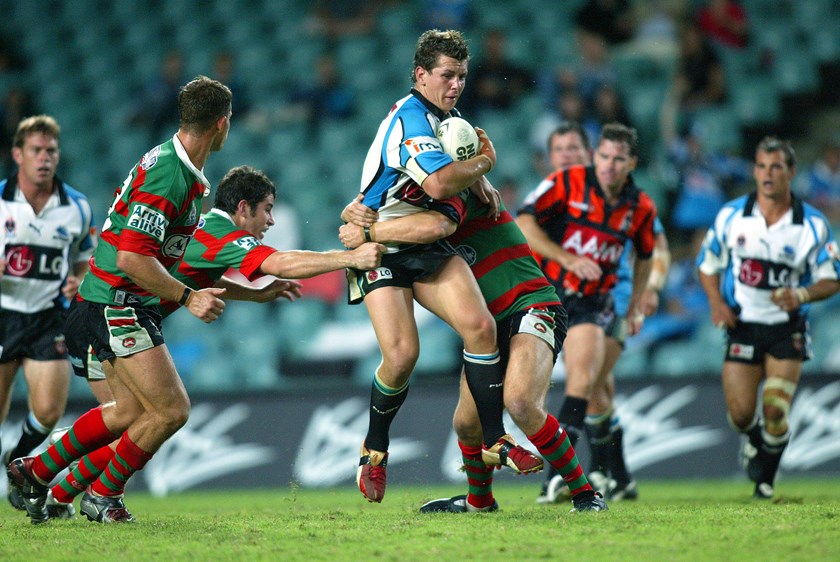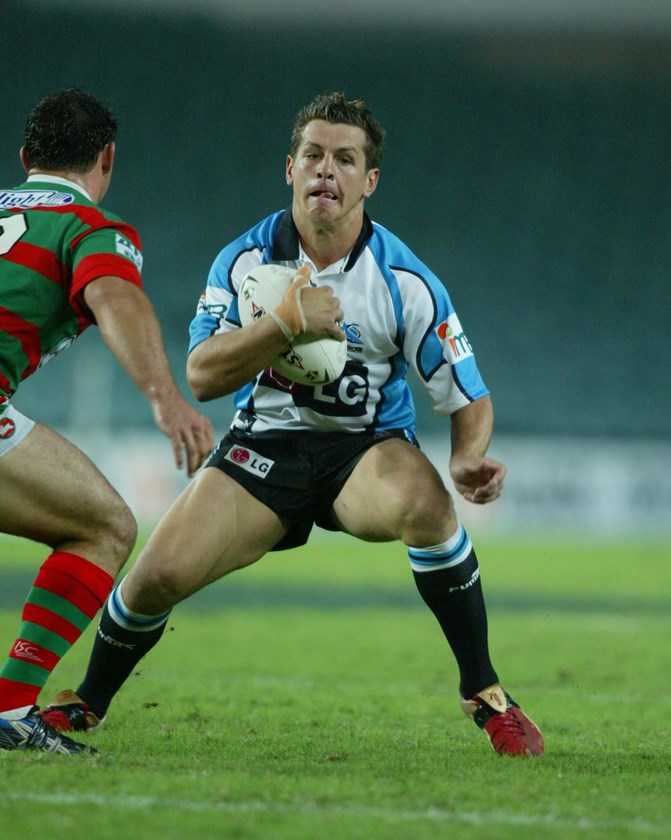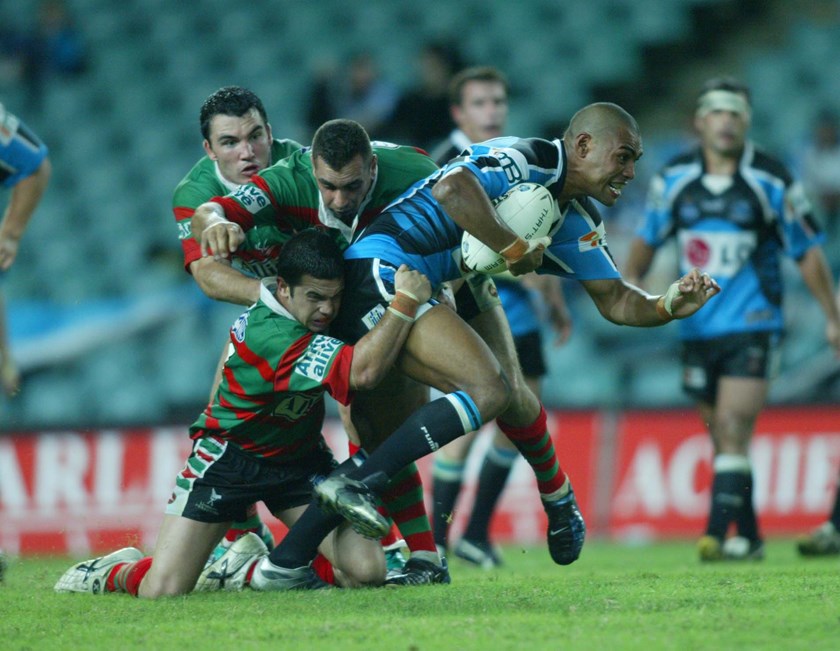 ----------
Match report supplied by Michael Curin.
The South Sydney Rabbitohs had a barnstorming 36-12 win over an undisciplined Cronulla Sharks at the Sydney Football Stadium. Souths had displayed signs of a long awaited revival against the Sharks, who were in disarray at full-time.
Showing a maturity not often seen by the Rabbitohs, they scored seven tries to two against a ragged Sharks outfit that lost the plot as the penalty count against them climbed. The match was probably summed up by the penalty count - 15-4 against the Sharks.
The low point of the game came in the 66th minute when Cronulla five-eighth Greg Bird was marched for kneeing Souths winger Shane Marteene in the head as he tried to get up from a tackle. He was later referred straight to the judiciary and suspended for 10 matches.
The MacDougall brothers were outstanding for the Rabbitohs, with younger brother Luke collecting a second-half hat trick. Adam played with purpose after being omitted from a preliminary 25-man squad chosen for the Anzac Test on April 23.
"He was disappointed to miss out and I think he went out there to prove a point or two," said coach Paul Langmack.
The Rabbitohs are fitter and smarter this season, but just as importantly, the mental scars of the previous two seasons are starting to heal. In that time, they found any number of ways to lose but they're now starting to learn how to win. When the Sharks fought to 12-all through a Hassan Saleh try after 35 minutes, the Rabbitohs of yesteryear, even yesterweek, would have folded up the play-book and self-destructed like only they know how to.
But instead, they scored the final five tries, and the ill-disciplined Sharks, meanwhile, will have to start making similar strides if they are to haul themselves into finals calculations this season.
Cronulla coach Stuart Raper was bitterly disappointed with his team's discipline and performance. "The players are embarrassed tonight," he said. "I don't think our preparation was right. We were out-enthused and our discipline was poor."
SCOREBOARD
South Sydney 36 (L.MacDougall 3, J.Smith, B.Kearney, M.Minichiello, S.Marteene tries; Smith 2, W.Peters 2 goals)
defeated
Cronulla‐Sutherland 12 (P.Bailey, H.Saleh tries; B.Kimmorley 2 goals) at Aussie Stadium, Moore Park, Saturday night, April 3, 2004 (7.30pm).
Crowd: 11,017. Referee: Tony Archer. Touch Judges: Paul Kalina, Peter Sciberras. Video Referee: Stephen Clark. Halftime: Souths 18‐12. Scrums: 7‐all. Penalties: Souths 15‐4. Goalkickers: Peters (Souths) 2/3, Smith (Souths) 2/4, Kimmorley (Cronulla) 2/2.
SOUTHS: Brad Watts; Luke MacDougall, Lee Hookey, Adam MacDougall, Shane Marteene; Ashley Harrison, Willie Peters; Luke Stuart, Jason Death, Glenn Hall, Bryan Fletcher (c), Mark Minichiello, Shane Rigon. Interchange: Brett Kearney, Willie Manu, David Fa'alogo, Justin Smith. Coach: Paul Langmack.
CRONULLA: David Peachey; David Simmons, Ryan McGoldrick, Paul Franze, Hassan Saleh; Greg Bird, Brett Kimmorley (c); Jason Stevens, Dean Bosnich, Danny Nutley, Sam Isemonger, Phil Bailey, Matt Hilder. Interchange: Chris Beattie, Matt Bickerstaff, Keith Galloway, Micheal Sullivan. Coach: Stuart Raper.
On Report: Stevens (Cronulla). Charge: Tripping (Grade 2). Plea: Guilty. Sentence: One match suspension (83 demerit points).
Sent Off: Bird (Cronulla), 66 min. Charge: Striking (referred charge). Plea: Guilty. Sentence: Ten match suspension (12 demerit points).
Dally M points: 3 ‐ L.MacDougall (Souths), 2 ‐ Peters (Souths), 1 ‐ Minichiello (Souths).
Scoring Progression:
17 min: Cronulla‐Sutherland 6‐0 (Bailey try; Kimmorley goal)
21 min: 6‐all (Smith try; goal)
31 min: South Sydney 12‐6 (Kearney try; Peters goal)
35 min: 12‐all (Saleh try; Kimmorley goal)
40 min: South Sydney 18‐12 (Minichiello try; Peters goal)
45 min: South Sydney 22‐12 (L.MacDougall try)
67 min: South Sydney 26‐12 (L.MacDougall try)
71 min: South Sydney 32‐12 (Marteene try; Smith goal)
78 min: South Sydney 36‐12 (L.MacDougall try)