For the South Sydney Rabbitohs, coming up against the Melbourne Storm has always been a tough task.
In 28 meetings between the two sides, Souths have come away with four victories, such has been the dominance of the Melbourne club.
This one was perhaps the most important victory in our two-decade-long rivalry. 
After so many soul-crushing defeats to the Storm, the Rabbitohs, with the help of incoming coach Michael Maguire, who also plied his trade in the Victorian capital, brought in a number of former Storm players to help bring in a winning culture in 2012.
The likes of Michael Crocker and Greg Inglis were joined by Matt King (and Jeff Lima one year later), and the results under Maguire reaped rewards, with the Club reaching the preliminary finals for the first time since 1989. 
In that first week of the finals, Souths flew down to Melbourne to take on the Storm, but were unable to come home with a victory.
The next season, Souths played the Storm on two occasions, losing both. But the opportunity arose when in the first week of the finals, it was the Storm who had to come up to Sydney to face the Red and Green.
According to former outside back Dylan Farrell, the coach made it known to the players that this was no ordinary match.  
"When we played Melbourne under 'Madge' it was always a big game," said Farrell.
"With guys like 'Crock', Jeff Lima and 'GI' there, being ex-Melbourne players it was always a big game for them.
"They were the benchmark team of the competition and we were coming along pretty nicely that year, and they obviously did us in both times through the season. They were both hard matches and close ones, so there was always plenty of feeling in it.
"We were disappointed with losing the Minor Premiership to the Roosters the week before, but I remember coming into that game and knowing how important it was being the first match of the semi-finals and both being top four."
In the corresponding match the year prior, the Rabbitohs went into halftime trailing 18-nil, getting schooled against a side with plenty of finals experience. This time around, things were immediately different, as they pounced early with Farrell crashing over for a try in the 7th minute. 
"I remember Sam Burgess putting a shot on Justin O'Neill which dislodged the ball," he explained.
"Dave Tyrrell picked it up, sent it off to Adam Reynolds and he passed it to me. I didn't really have to do anything but it's always nice to get on the board first and lay that platform."
The Red and Green continued to pry open the finals specialists, who had qualified for the finals every year since 2002, eventually bringing in a 14-nil lead at halftime. Typically, however, the Storm mounted a late comeback, bringing the scores to 14-6 late in the second half. 
For Farrell though, there was full confidence that his side could get the job done.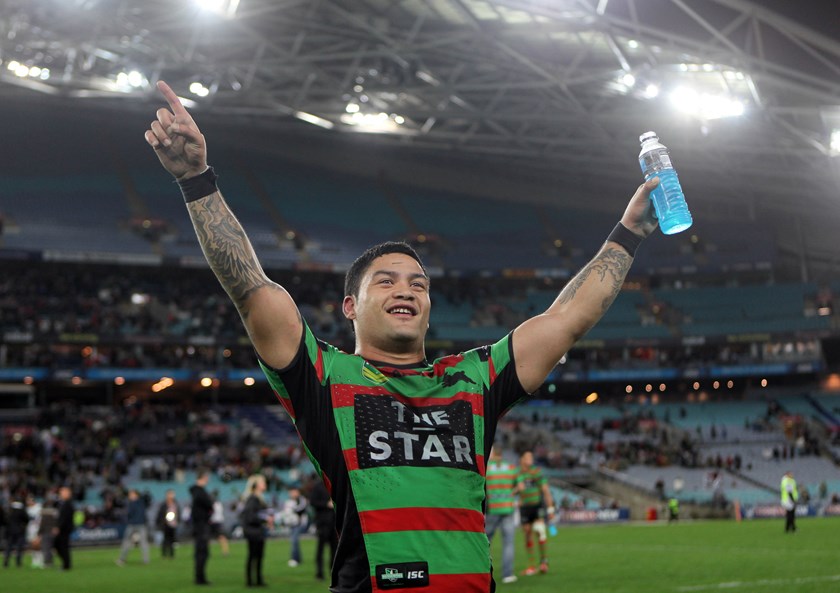 "I had one-hundred per cent faith in our side," he said.
"The previous year we made the preliminary final against the Bulldogs where we lost, so we used that as motivation. We had a quality side and never counted out Melbourne, who made a late surge, but we were fortunate to put them away.
"In that particular side whenever we were in front we didn't lose too many. We were the sort of team that had quality players to keep everyone's heads level and go along with the job. I would have been more worried if the Storm were in front and we were chasing points.
"I was pretty comfortable even though we were only just slightly ahead."
A try to Issac Luke in the 66th minute all but sealed the match, and although the side conceded a late try, the Souths faithful were in full chorus as the side qualified for their second consecutive preliminary final with a 20-10 victory.
With the ex-Melbourne contingent, headed by Maguire, being a big motivator for the side, the win also allowed Farrell to add something to his own personal record book. 
"There was a bit of heated discussion between 'Madge' and Storm coach Craig Bellamy at the previous game in Melbourne," he said.
"I remember they had a few words outside the team bus after we finished and I remember 'Madge' saying to us that if we had his back, we would go out and beat them in the semis.
"I remember after the game it was a massive win for us, we hadn't beaten Melbourne in a few years and being a semi-final he was over the moon.
"He was a pretty staunch coach and even after a win he'd be worried about the next job, but that week out of all the weeks being under him he was really happy with that win. That made it feel a little extra special, especially being with those ex-players as well. It was such a big occasion.
"That was the first and only time in my career I've beaten the Melbourne Storm."
Match report supplied by Michael Curin
------------
The South Sydney Rabbitohs have defeated reigning premiers Melbourne Storm by 20-10 in the qualifying round at ANZ Stadium and are now one win away from that elusive grand final berth.
The Rabbitohs ran out comfortable three-tries-to-two winners to book a preliminary final berth in a fortnight. They started nervously early-on with a penalty and an early Sam Burgess knock-on, but Burgess repaid his team when he came up with the hit which forced Justin O'Neill to spill the ball – Adam Reynolds then spread the ball out to an unmarked Farrell to cross out wide in the eighth minute.
Reynolds converted to give Souths a 6-0 lead. Reynolds also kicked a penalty goal to give Souths a commanding 8-0 lead after twenty-two minutes. Jeff Lima got over the line in the twenty-sixth minute through sheer will power as the Storm's discipline went out the window via five straight penalties, and a Reynolds conversion gave Souths a 14-0 lead. Sisa Waqa was denied a reply by Storm when Dylan Farrell held him up in the in-goal area just before the break.
The Storm started the second half with a lot more intensity and fire and were rewarded with a good try to Billy Slater in the fifty-fourth minute, which captain Cameron Smith converted and put them back in the game. Trailing 14-6 with 16 minutes remaining, the Storm were coming home hard when Cooper Cronk's kick was spilled by Nathan Merritt, with Slater pouncing on the loose ball to score.
Referee Jared Maxwell awarded the four-pointer only for video official Bernard Sutton to take the try off the Storm, ruling Will Chambers had impeded Merritt in the contest for the ball. It was a body blow to the Storm's charge – and the knockout punch came three minutes later when Greg Inglis danced his way past a few defenders before finding Issac Luke to make it 20-to-6.
The Storm fired a last shot when Will Chambers crashed over in the seventy-second minute, but it was all too late – the Rabbitohs defence which had held for much of the game was rewarded with a well-deserved victory, their first over Melbourne in Sydney since 2004 and just their fourth finals win since 1971. It leaves Melbourne to face the winner of Sunday's Canterbury-Newcastle elimination final in a sudden-death semi-final next weekend.
The Storm will be hoping for some good news on Waqa after he fell heavily on his head late in the contest in an incident which saw Farrell placed on report. Earlier, Souths prop Roy Asotasi was also placed on report for a questionable crusher tackle on Jason Ryles. Both players were cleared later by the Judiciary.
Nathan Merritt put the refereeing controversy aside, saying his team had done tremendously well to put a tough week behind them and gain a 10-point win over the Storm. "We had a tough week last week. We knew Melbourne would be up for a big, tough contest tonight, but full credit to the boys, they stuck in for the entire eighty minutes tonight," Merritt said.
Storm coach Craig Bellamy said Chambers never went to impede Merritt for Slater's disallowed try, but he admitted the incident was a very difficult call for the referee to make. "I thought we played really well in the last twenty minutes, Souths looked like they were just hanging on", Bellamy said. "We certainly had a bit of momentum ... then the try was disallowed by Slater. I thought that was a try and it would have made an interesting finish for us."
Rabbitohs coach Michael Maguire lauded his side's defence in a pressure-cooker environment. "I'm really pleased with their attitude tonight, particularly towards our defence. We haven't been happy as a group [about our defence] but we found that tonight. They all just worked really hard for each other, it provides opportunities and puts pressure on teams," Maguire said.
South Sydney 20 (D.Farrell, J.Lima, I.Luke tries; A.Reynolds 4 goals)
defeated
Melbourne 10 (B.Slater, W.Chambers tries; C.Smith goal)