Craig Wing lasted eight minutes in his comeback game for South Sydney in 2008 - injured by a shoulder charge to the back in round one against the Roosters. Three months later, still without full range of movement or full strength in his shoulder, Wing was a part of one of the greatest comebacks in Rabbitohs history against the North Queensland Cowboys in Townsville.
In his 10 years of first grade football Wing had never had an injury like this before. He required surgery on the dislocated shoulder and three months of rehabilitation ahead of his return in the round 16 clash with the Cowboys. He worked hard during that time, his shoulder passed the test but wasn't completely back to normal. Wing was nervous going into the match but was desperate to be back.
In the lead up to the game Cowboys coach Ian Millward stated his plan to target Wing, hoping for a "rusty" performance after his 15-week stint on the sideline. Millward used his press conference to try and rattle the South Sydney superstar, promising that his forwards would work him over during the match.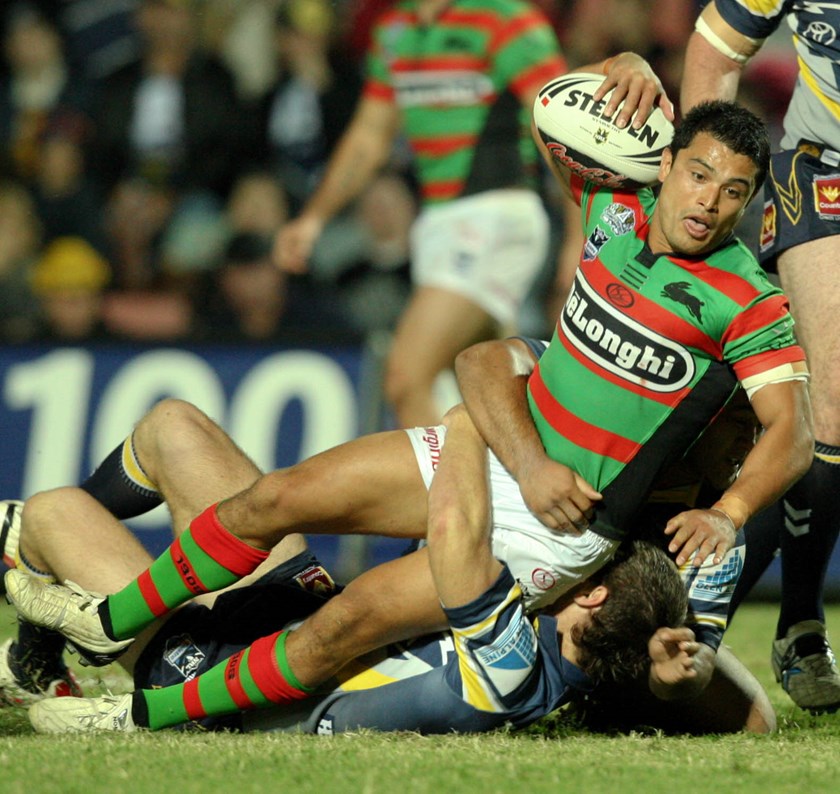 Souths had only won three games before travelling to Townsville for the Saturday night clash in June. An under-strength Cowboys side were desperate for a win and occupying the bottom place on the NRL ladder after an eight-match losing streak. South Sydney Coach Jason Taylor saw it as a perfect opportunity for Souths to build some momentum into the back end of the season with the return of Wing.
But things didn't go to plan as the Cowboys surged to a 28-4 lead early in the second half. To win the match from here the Rabbitohs would have to make the second biggest comeback in NRL history; and they had to do it in front of a very vocal crowd of 15,000 fans at Dairy Farmers Stadium.
"It was one of my first games back from my shoulder reconstruction. I'd never had an injury like that before so I was a little bit nervous going into it. We weren't really going to well that year. 'Chrissy' Sandow stepped up to fill in my position and had actually started to really make a name for himself," recalls Wing.
"I came back and played six. We started okay and scored a try but then they stacked up all these points against us out of nowhere and we had our backs against the wall. The first few times you're standing behind the goal posts after a couple of tries everyone still has their confidence and they feel they can turn it around.
"But once you're two or three tries behind then it gets a bit tough. The talk really starts to drop off and it's really up to the leaders to stand up and say; "ok look, what are we doing? Where are we going? How can we fix this? What are the things we need to focus on?"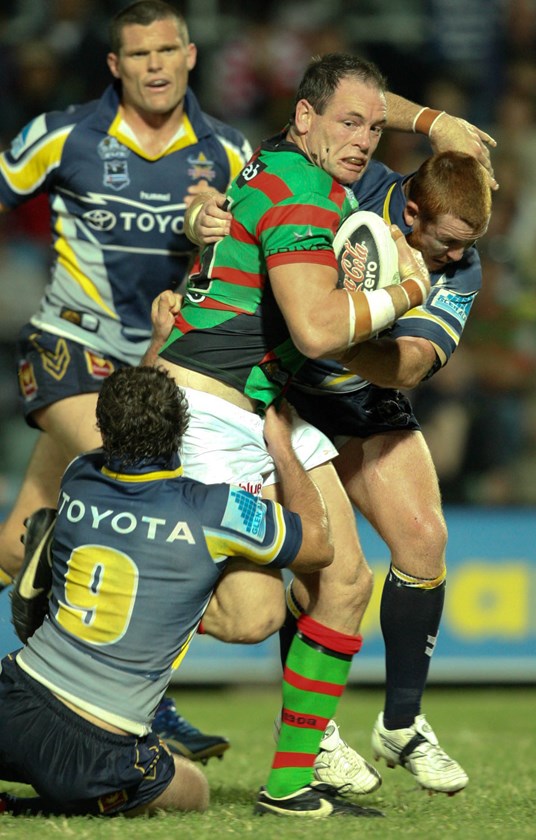 "I always felt like if we could get a few things to click then we can score some tries. We definitely saw opportunities in their defensive line, the areas that we were looking at during training and in the video room was there, we just couldn't put our plays on to take advantage of them.
"We just reset our minds and tried to make something of it and it just started to come together for us."
Shrugging off the limitations of his shoulder, Wing knew it was up to him and the senior playing group to step up and set the tone for this young Rabbitohs side.
He partnered a 19-year old Chris Sandow in the halves, Luke Capewell, also 19-years old, was at fullback. Our centre pairing was a 21-year old Beau Champion and 22-year old Jamie Simpson. On the wing was 20-year old Fetuli Talanoa. Nathan Merritt, at 25-years of age, was the only experienced player in the backline, besides Wing.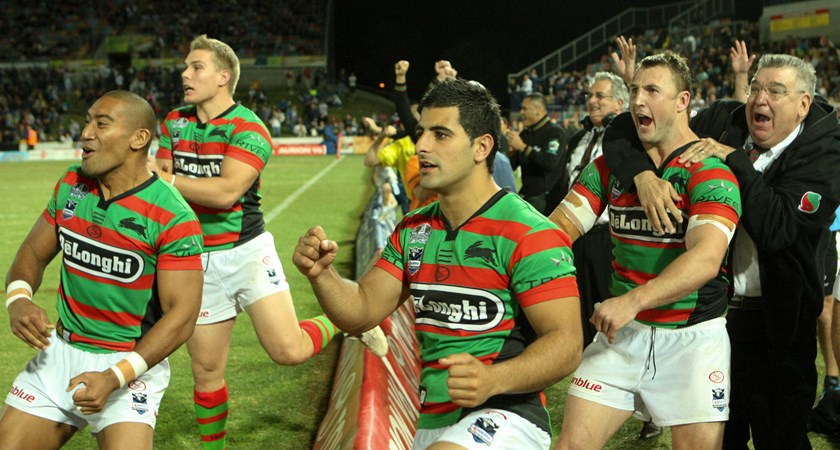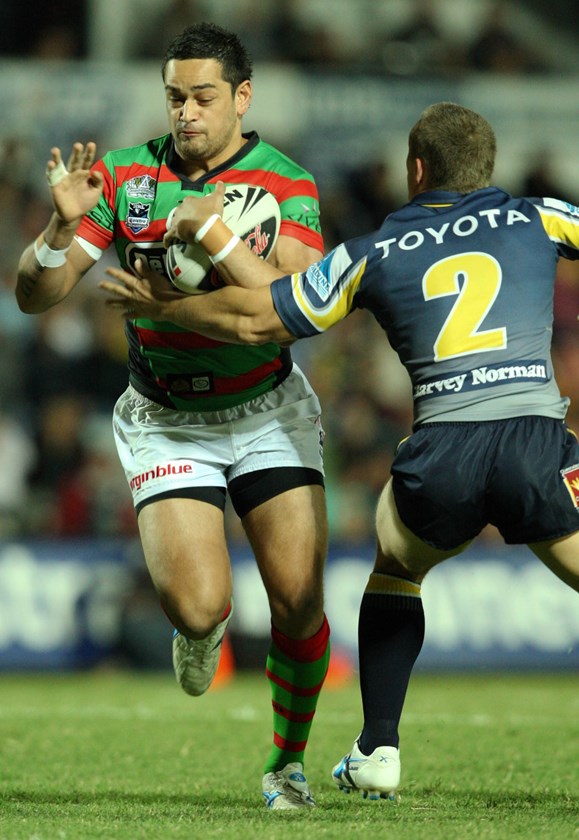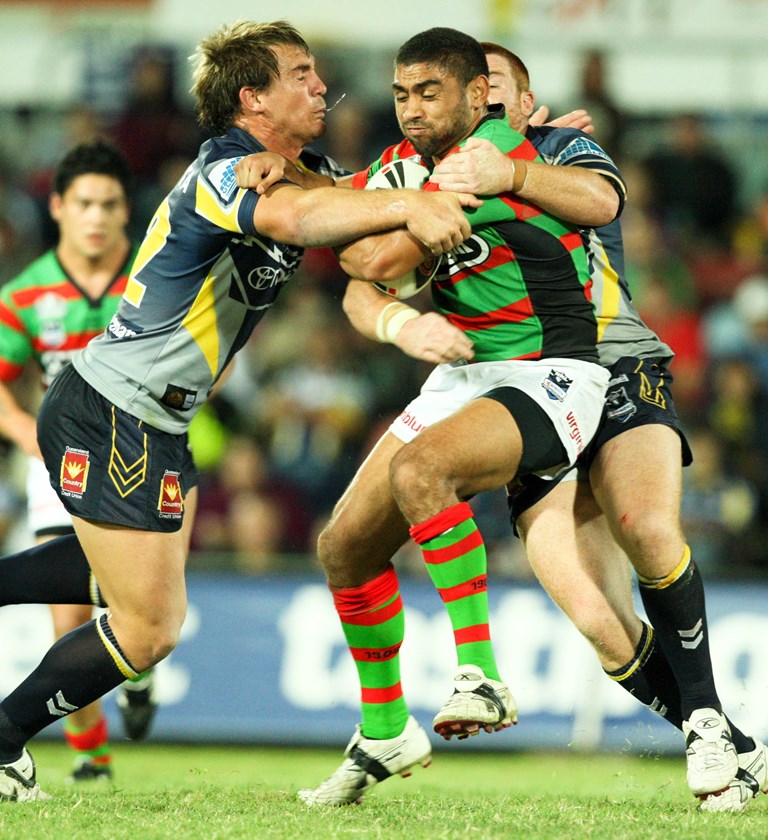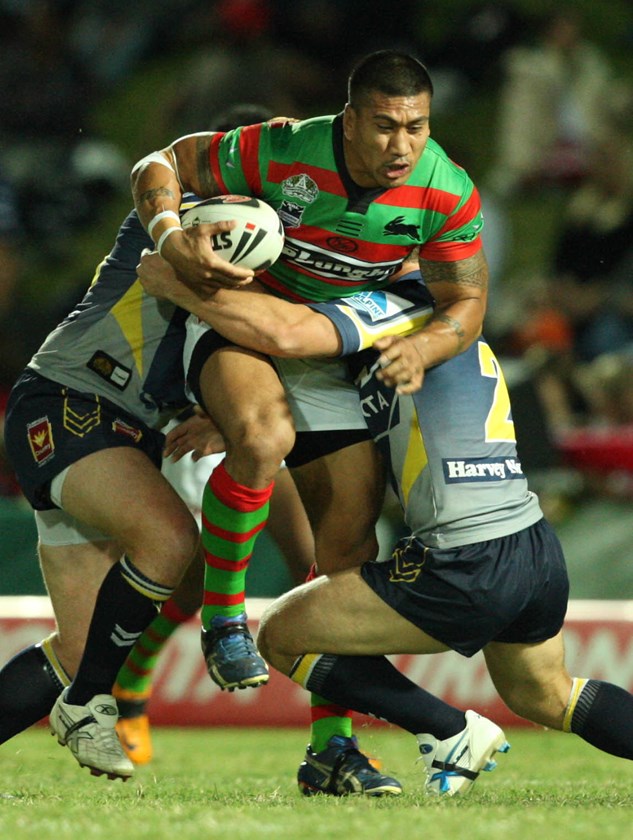 With just 30 minutes left in the match the Rabbitohs clicked into gear. Tries to Fetuli Talanoa, Craig Wing, Beau Champion and Luke Capwell, all converted by Chris Sandow, levelled the scored by the 75th minute.
Chris Sandow, in electrifying form in his debut year, would steal the show and seal the result with a field goal in the final minute of play. The Rabbitohs would withstand a late attack by the North Queensland Cowboys to seal their fourth win of the 2008 season.
It was a courageous return to the NRL for Wing after being sidelined for so long by what coach Jason Taylor described as a 'cheap shot'.
Cowboys coach Ian Millward, who had planned to target Wing to claim the win, said his side were left "absolutely devastated" by the result. They hadn't clocked off when leading in the 50th minute, they simply couldn't compete with the Rabbitohs when they started to click.
"I don't think they took their foot off the gas; we just started to get our game together and started playing the football we were supposed to play," reflects Wing.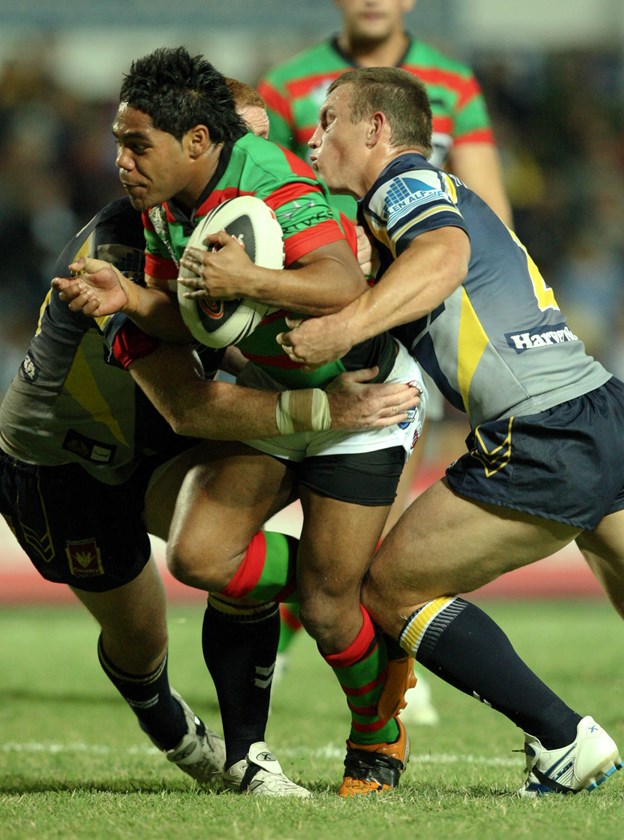 "As a player who's been up by a fair bit, you don't necessarily take your foot off the gas but everyone ends up trying to look for a try and that changes the way you played that got ahead in the first place.
"Then as soon as the other team starts to come back you start trying to protect your lead and then you're in trouble."
"It's really about breaking it down into a whole lot of simple parts and making sure that everyone is worried about themselves and not worried about everyone else's job.
"Generally, when things go wrong on the field and you start to fall behind people start to do things out of the ordinary and feel like they've got to start covering other people's positions. It just gets worse from there.
"For a senior player it's about trying to get everybody on track to just focus on their job. If we lose and everyone has been doing their job we can go away afterwards, work out a solution and improve from there. But if you lose and nobody has been doing their job then you can't really improve from that."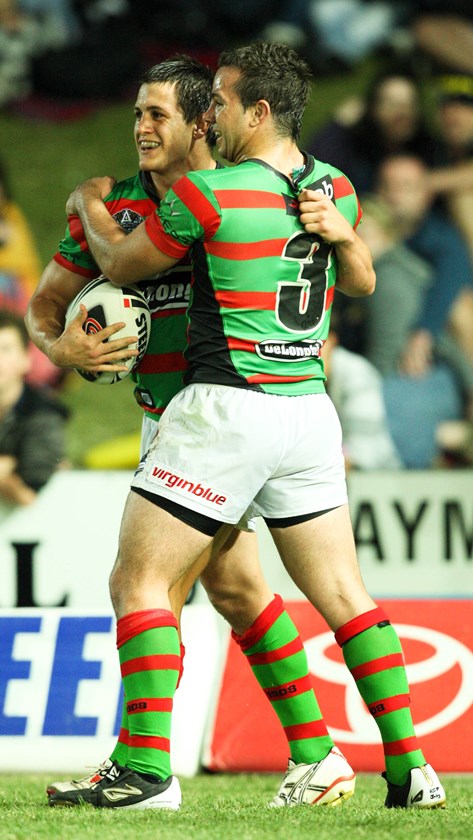 "For a senior player it's about trying to get everybody on track to just focus on their job. If we lose and everyone has been doing their job we can go away afterwards, work out a solution and improve from there. But if you lose and nobody has been doing their job then you can't really improve from that."
----------
Match report supplied by Michael Curin.
The South Sydney Rabbitohs have recorded their third straight victory with a nail-biting win over the North Queensland Cowboys in Townsville, 29 points to 28 in front of 15,631 fans. The Rabbitohs were down 28-4 at one point in the second half, coming back to win in the 79th minute with a Chris Sandow field goal. This win by the Rabbitohs is the second biggest comeback in Rugby League's 100 year history.
The Rabbitohs were gifted the perfect start to the game when Cowboy Carl Webb knocked-on from the opening tackle, but the Rabbitohs couldn't capitalise and put in an ordinary effort in the first ten minutes to trail 12-nil. Tries to Ray Cashmere and John Williams, along with a strong wind at the backs of the Cowboys, had the Rabbitohs trailing early in the first half. The game was the traditional arm wrestle for the rest of the first stanza, with the Rabbitohs crossing for their first try in the 31st minute. It was an unbelievable solo effort by Rabbitohs captain Roy Asotasi that saw the Rabbitohs post their first points, a 60 metre run in which he beat five defenders and threw a dummy to fool the fullback and score to the left of the uprights. The teams went into the break 12-4 in favour of the Cowboys, with the strong breeze giving the home side excellent field position every time they put boot to ball or were awarded a penalty.
The Cowboys came out firing in the second half, piling on three tries in seven minutes to open the half. Two tries to Ashley Graham and one to Ben Harris extended the home side's lead to 28-4. The Rabbitohs struck back in the 52nd minute when Fetuli Talanoa scored in the right hand corner. The ball was swung sideline-to-sideline over repeat sets for the try. Issac Luke converted from the sideline to take the score to 28-10. Three minutes later, Craig Wing scored a great try in his return match, Issac Luke converted again to bring the Rabbitohs within 12. Four minutes later the Rabbitohs scored their third try of the half, this time to centre Beau Champion, who stepped past four defenders to score on the left, and bring the Rabbitohs within six points.
The Rabbitohs struck again in the 75th minute when fullback Luke Capewell slotted between the centre and the winger on the right hand side to score out wide. Issac Luke converted from near the right hand touch line to tie it up 28-all with five minutes remaining. In the 79th minute of play, Rabbitohs halfback kicked a field goal to give the Rabbitohs a one point lead with one minute to go. Unbelievably, the Rabbitohs gave away a differential penalty in their own half, meaning the Cowboys couldn't take a shot at goal. The Cowboys kicked for touch and from the ensuing play, Issac Luke charged down the field goal attempt, giving the Rabbitohs an amazing victory and their third straight win.
Roy Asotasi's try was one of the best individual tries of the year, let alone one scored by a prop. Issac Luke was everywhere and Craig Wing played strongly in his return match. John Sutton was again one of the Rabbitohs' best tonight, making metres at will, creating opportunities for his supports and producing some excellent defence.
SCOREBOARD
South Sydney 29 (R.Asotasi, F.Talanoa, C.Wing, B.Champion, L.Capewell tries; I.Luke 4 goals; C.Sandow field goal)
defeated
North Queensland 28 (A.Graham 2, R.Cashmere, J.Williams, B.Harris tries; Williams 4 goals) at Dairy Farmers Stadium, Townsville, Saturday night, June 28, 2008 (7.30pm).
Crowd: 15,631. Referee: Tony De Las Heras. Sideline Officials: Daniel Eastwood, Adam Devcich. Video Referee: Russell Smith. Halftime: North Queensland 12‐4. Scrums: Souths 7‐5. Penalties: Souths 9‐7. Goalkickers: Williams (North Queensland) 4/5, Luke (Souths) 4/5.
SOUTHS: Luke Capewell; Nathan Merritt, Jamie Simpson, Beau Champion, Fetuli Talanoa; Craig Wing, Chris Sandow; Scott Geddes, Issac Luke, Roy Asotasi (c), Luke Stuart, David Fa'alogo, John Sutton. Interchange: George Ndaira, Shannan McPherson, Manase Manuokafoa, Michael Greenfield. Coach: Jason Taylor.
NORTH QUEENSLAND: Ashley Graham; John Williams, Mark Henry, Ben Harris, Brandon Boor†; Sione Faumuina, Anthony Watts; Ray Cashmere, Aaron Payne (c), Carl Webb, Ben Vaeau, Scott Bolton, Steve Southern. Interchange: Greg Byrnes, Shane Tronc, Sam Bowie†, Matthew Bartlett. Coach: Ian Millward
Dally M points: 3 ‐ Luke (Souths), 2 ‐ Sandow (Souths), 1 ‐ Wing (Souths).
Scoring Progression:
8 min: North Queensland 6‐0 (Cashmere try; Williams goal)
10 min: North Queensland 12‐0 (Williams try; goal)
31 min: North Queensland 12‐4 (Asotasi try)
41 min: North Queensland 18‐4 (Graham try; Williams goal)
45 min: North Queensland 22‐4 (Harris try)
48 min: North Queensland 28‐4 (Graham try; Williams goal)
52 min: North Queensland 28‐10 (Talanoa try; Luke goal)
55 min: North Queensland 28‐16 (Wing try; Luke goal)
59 min: North Queensland 28‐22 (Champion try; Luke goal)
74 min: 28‐all (Capewell try; Luke goal)
80 min: South Sydney 29‐28 (Sandow field goal)