All eyes are firmly on the 2017 NRL Season and your Rabbitohs are winding up to have a huge year in the Red & Green! We want you to come with us as we march into our 110th season - And here's seven reasons to help convince you to stand above the rest with the best family in the NRL!
1 - Red & Green Member Cruise By P&O Cruises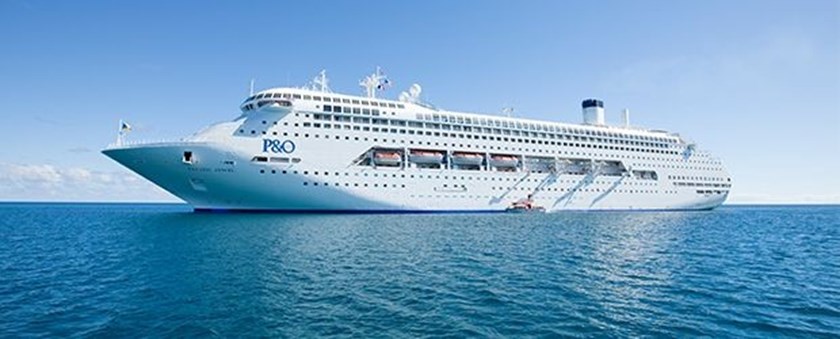 To celebrate our new Membership Partner, P&O Cruises, Member's can enjoy a Red and Green cruise onboard the Pacific Jewel!
Departing May 4th for a 4 night cruise to Moreton Island Rabbitohs Members can relax among former greats Roy Asotasi, Mario Fenech and CEO Blake Solly and also will enjoy:
Members exclusive $100 per room onboard credit
Members exclusive cocktail event
Members exclusive trivia session with great Rabbitohs prizes
Members exclusive Players Q&A session (prior to test match viewing)
Autographs & Photograph Sessions (All fans and members)
Live viewing of Aus VS NZ Test Match (all fans and members)
Group express check in (All fans and members)
Now available to book - Call P&O reservations 13 24 94 directly to make your booking and quote 'Rabbitohs Cruise TNZ' to be entitled to exclusive Rabbitohs Member benefits. Due to capacity limitations, Travel Agent bookings cannot be accepted. If you have already booked through a Travel agent please contact Taryn on [email protected]
2 - Member Zone!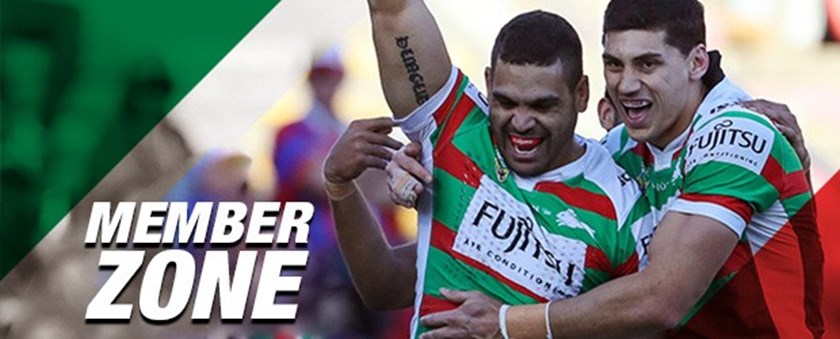 Based on feedback from our Members from our extensive market research, you told us you wanted more premium and exclusive content, and the new Member Zone will deliver that on a more regular basis than former publications like Red and Green magazine.
The Member Zone is now up and running with an exclusive and honest interview with Rabbitohs recruit Robbie Farah!
3 - Flexi Memberships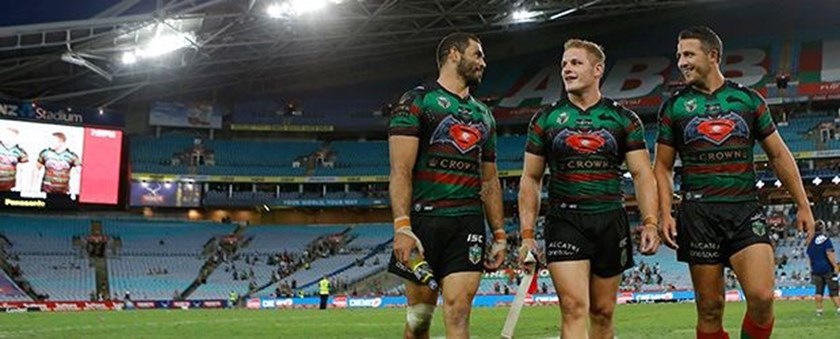 A new, flexible Membership option is here. The Flexi Three and Flexi Five.
These cool Membership options mean you will get a total of three or five tickets for the 2017 season, which can be used at any of our Rabbitohs home games played at ANZ Stadium.
That's right, buy a Flexi Membership and use the tickets at your leisure; either shout some friends or family and use them all at one game, or spread them over multiple games in 2017.
You will be able to manage your tickets through our online account manager by simply selecting which games you wish to attend, how many tickets you wish to use, and then print the tickets from home.
Flexi Three seating is located in bay is 109 and Flexi Five in bay 133.
Plus, if you run out of tickets you can top up your Membership with a further three or five tickets to home games played at either ANZ Stadium or SCG/Allianz Stadium.
Convinced yet? Join the Rabbitohs family in 2017 and be a part of our 110th season!
4 - More Open Training Sessions & Member Events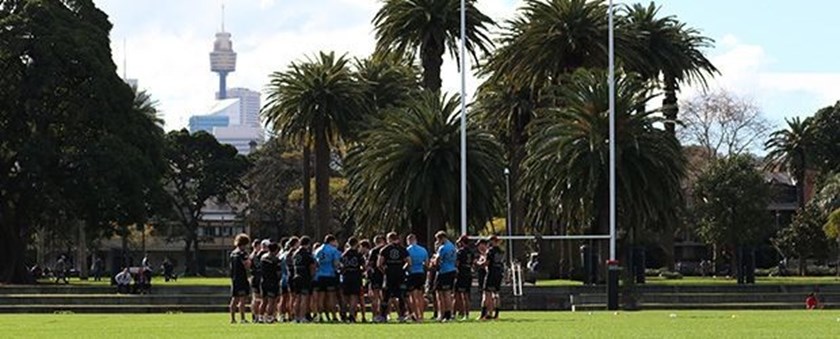 You'll get the chance to get closer to the 2017 Rabbitohs Players with added Member events to the Membership Calendar.
2017 Member events include:
More Open Training Sessions (NEW)
A Pre-Season Family Event (NEW)
Members Appreciation Day
Members Junior Clinic
Platinum Member Events
Interstate Meet and Greets
5 - Membership Milestone Program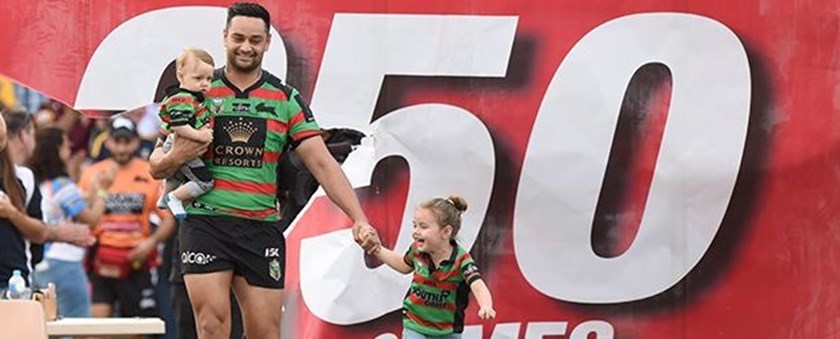 Like our players, we want to acknowledge and reward you for the number of games you attend in 2017.
The Milestone Program will acknowledge and reward Members who attend six, nine, 12 or 15+ matches at our home matches at ANZ Stadium and SCG/Allianz Stadium and/or our reciprocal away matches.
For each milestone you reach, to say thank you for your support, you will receive an acknowledgement prize or gift from the Club!
6 - New Membership Kit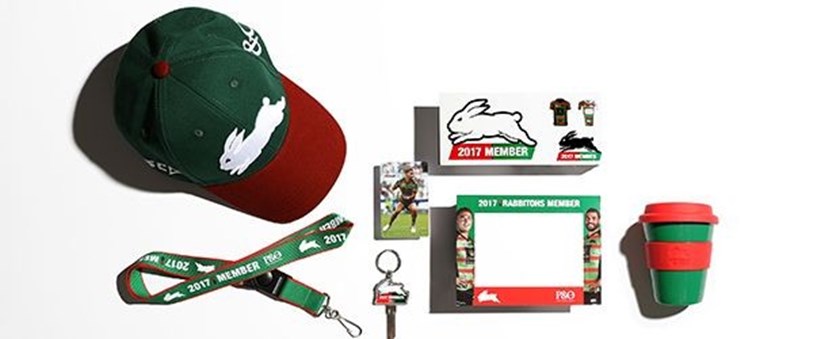 We have some new items in our Membership kits that we want to show you!
Members will receive:
A newly designed Members Hat
A 2017 Interactive Ladder Fridge Magnet
A Rabbitohs 'Un-Cut Key' Keyring
A Rabbitohs Lanyard
A 2017 Rabbitohs Bumper Sticker
Junior Members will also see some new items in 2017 including:
A Backpack
Lunch Bag
Bag Tag
Autograph Book
Rabbitohs Player Cards
7 - Personalised Rabbitohs Warm Up Top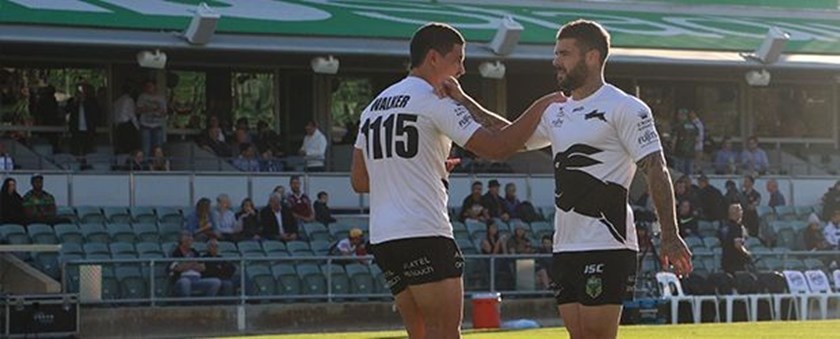 You will have the exclusive opportunity to purchase and personalise the South Sydney Rabbitohs warm up top, through an exclusive Members Only pre-sale commencing from 10am Monday 10 October and finishing on Friday 11 November 2016.
Click here to purchase your Warm Up Top Now