Statistics compiled by Michael Curin.
Between Rugby League's eight immortals there are two shared between South Sydney and Newcastle; Clive Churchill and Andrew Johns. Both had a huge and lasting impact on the game and changed the way it was played for the better.
But, as Mark Courtney writes in the Book of Feuds; "[Newcastle] have somehow sneakily staked a claim to two of our proudest traditions" - One of those traditions being a claim to having the greatest player ever wear their colours.
Admittedly it's difficult to do a side-by-side comparison of these two champions who played under very different rules and in very different eras. But there can be only one GOAT! So we've tried our best to compare these two immortals and show why Clive Churchill is the greatest of all time.
Both Immortals are shown as being resolutely tough players but one amazing story gives Churchill the early lead in this side-by-side. It took place on a balmy, Saturday afternoon in Redfern Oval in 1955.
Clive Churchill broke his wrist in the first tackle of our round 17 clash with the Manly Warringah Sea Eagles. Souths needed to win this match to keep their finals dreams alive. Churchill continued to play under intense pain for the next 75 minutes until kicking a sensational last-second goal from touch, with his arm hanging limply to his side, to record a 9-7 win.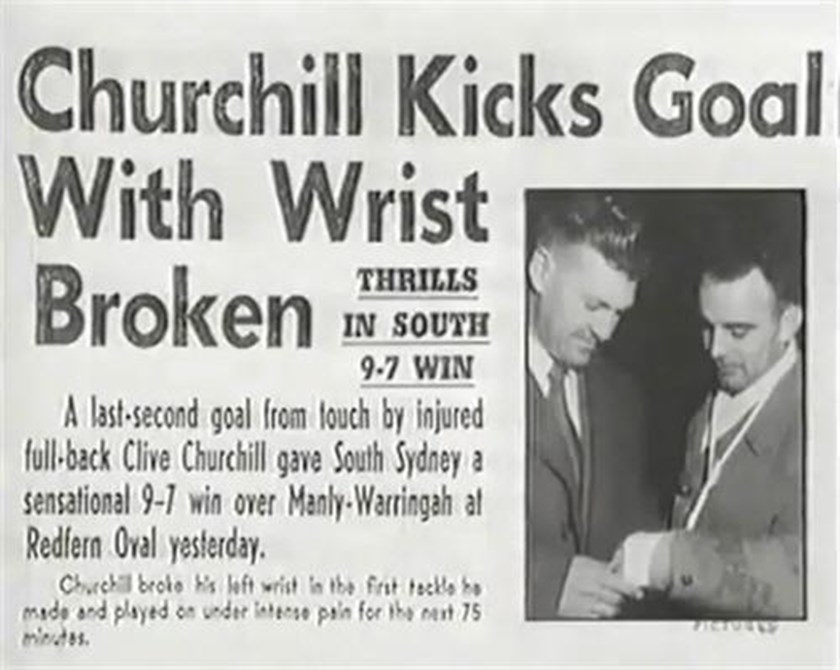 Jack Reardon, a former Queensland and Australian Test player, wrote the following about the courage the Churchill had:
"[Churchill] had king size courage. No one ever saw him shirk a tackle whether the man with ball was nine stone (57kgs) or nineteen stone (120kg)," wrote Reardon.
And Tom Goodman from the Sydney Morning Herald backed up Reardon's comments in his autobiography years later.
"He was "guts' and "fire", he was skill and daring, and cunning. Dynamic is an overused adjective. But, Churchill was the dynamo of the rugby arena," wrote Sydney Morning Herald journalist Tom Goodman.
"Clive Churchill, I believe, was the champion of all fullbacks, and he was one of the most exciting players ever," wrote Sydney Morning Herald journalist Tom Goodman.
If you look at the two players post-career, ignoring the rules that were altered following criticism off Johns' off-field incidents to only judge players on their playing ability alone, we can follow an extremely successful period of coaching for Churchill as opposed to Johns' work as an assistant.
And while Johns has time to match the achievements of Churchill in the coaching sphere, it seems unlikely he'll surpass the Little Master's coaching record of four Premierships from five consecutive Grand Final appearances. Churchill also went on to coach Australia 29 times for a 52% win rate and Queensland 5 times.
The third point of difference, as the Daily Telegraph's Dean Ritchie pointed out in 2014, that separates these two iconic footballers is the sacrifice they made to compete at the top level.
Churchill played for the love of this great sport only, and while no doubt Andrew Johns holds the game in the highest regard he didn't have to supplement his income through other jobs while playing.
"They have it all these days in rugby league. Players are fully professional, use state-of-the-art training facilities, enjoy full-time coaches and earn fat pay packets," wrote Daily Telegraph journalist Dean Ritchie in 2014.
"It wasn't always like that.
"That's just the way it was then. Back in those times you didn't play rugby league to earn a living. You were involved because you loved the game — as Churchill did.
"Rabbitohs Immortal Clive Churchill had to drive a taxi to supplement his modest income when coaching South Sydney to the club's last premiership in 1971."
As a fun fact before we go into the biographies of these two greats; In 1986 the Clive Churchill medal was first awarded to the best player in that year's Grand Final. But in 2008 the NRL extended this award back to players from all grand finals between 1954 and 1985. Clive Churchill was named the first winner in 1954 when Souths defeated Newtown by 23-14. Therefore, Clive Churchill won the first ever Clive Churchill medal.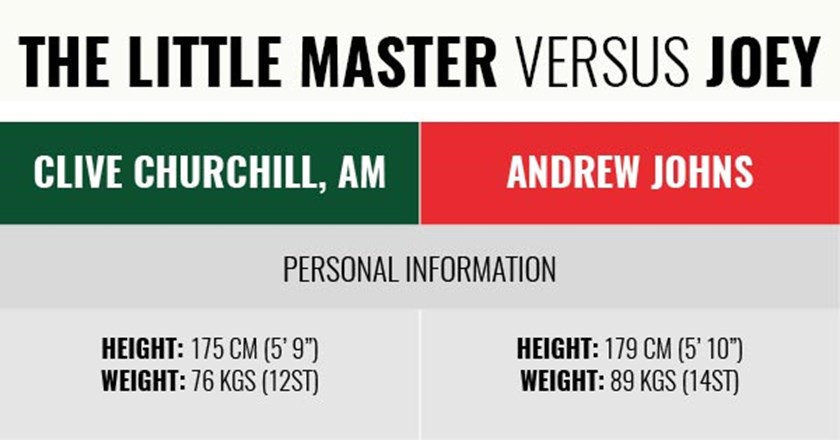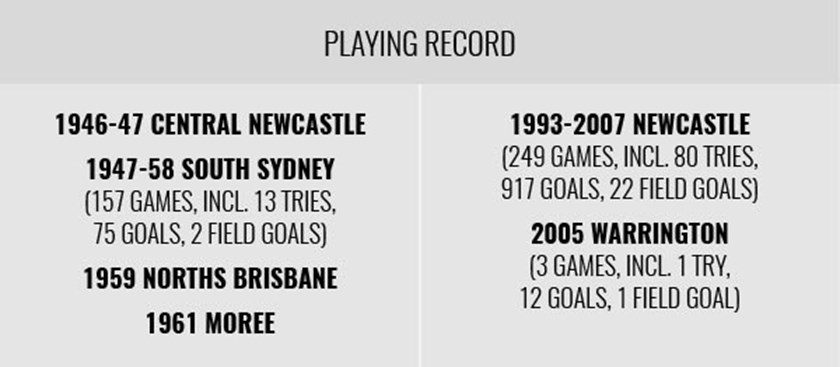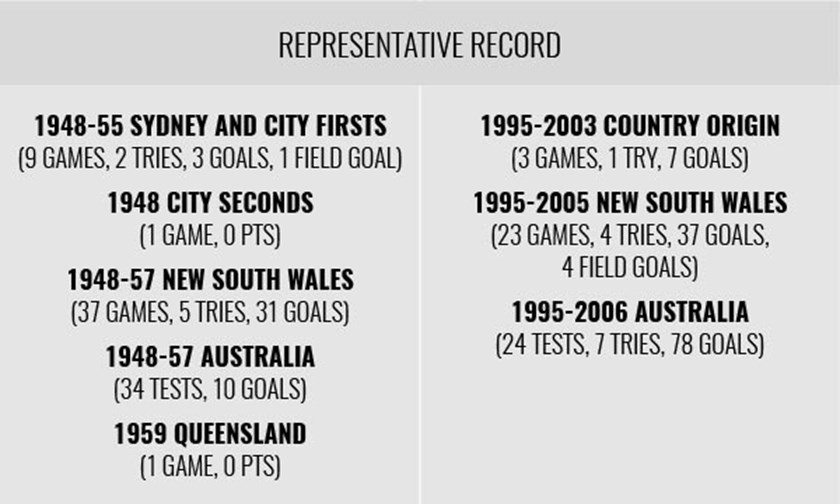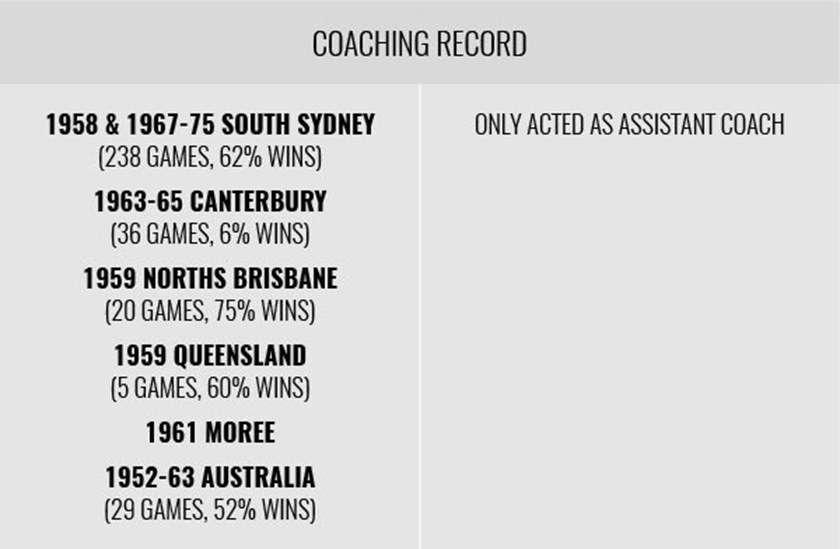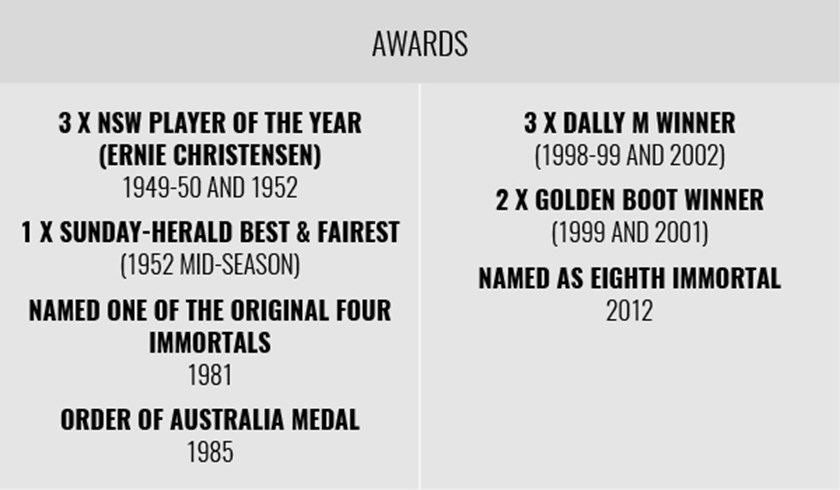 Biography
Churchill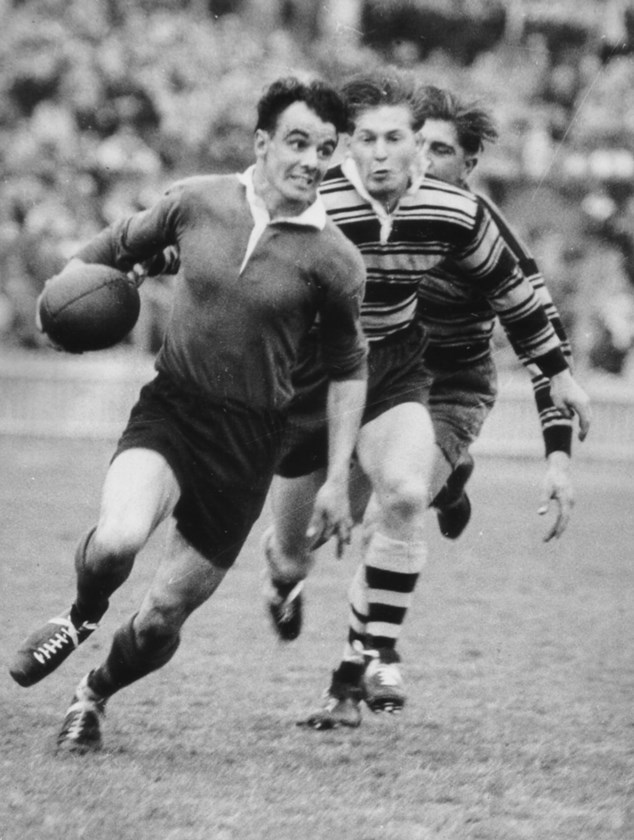 At the age of 12, Churchill travelled to Sydney to play on the SCG in a schoolboys match. The late Harry 'Jersey' Flegg, who at the time was president of the New South Wales Rugby League, was also at the Sydney Cricket Ground to watch the game and afterwards he addressed the young footballers.
Pointing to Churchill, Flegg said: "And over there I see a youngster who wore the number six jersey, and I predict one day he will become an international and captain Australia in Test football."
Not only did this bold prediction come true when Churchill played for Australia less than a decade later, and then go on to captain Australia, but he also turned out to be the greatest fullback of all time.
"There was no facet of the game that the champion full-back did not master - attack (he revolutionised the way full-backs play, chiming in the backline to make the extra man), defence, support play, kicking, captaincy and coaching," wrote Souths historian Brad Ryder of Churchill's ability.
Ray Stehr, former Easts and Australian Test player, gave the nickname to Churchill – the Little Master. During one of his provocative Friday night sessions at Radio Station 2UE, he said he had been asked thousands of times the question: "How does Clive Churchill compare with Dally Messenger?" Stehr's answer was: "I never saw Dally Messenger play. He was called 'The Master'. But, I've seen a little master. The little master is Clive Churchill."
This title has since snowballed into an official nickname for Churchill.
In 1981 Churchill was named one of the original four immortals (along with Johnny Raper, Reg Gasnier and Bob Fulton).
In 1985 Churchill was honoured as a member of the Order of Australia (AM).
In 1986 the Clive Churchill Medal first awarded to the best player in the grand final (in 2008 NRL extended this and awarded the honour to players from all grand finals between 1954 and 1985, with Churchill being the first winner in 1954 when Souths defeated Newtown by 23-14). The newly built Clive Churchill Stand at the SCG was named in his honour.
In 2002 Churchill inducted into the Australian Rugby League Hall of Fame, also named in South Sydney's Team of the Century.
In 2008 Churchill was named as fullback in both Australian and NSW rugby league's Team of the Century.
Johns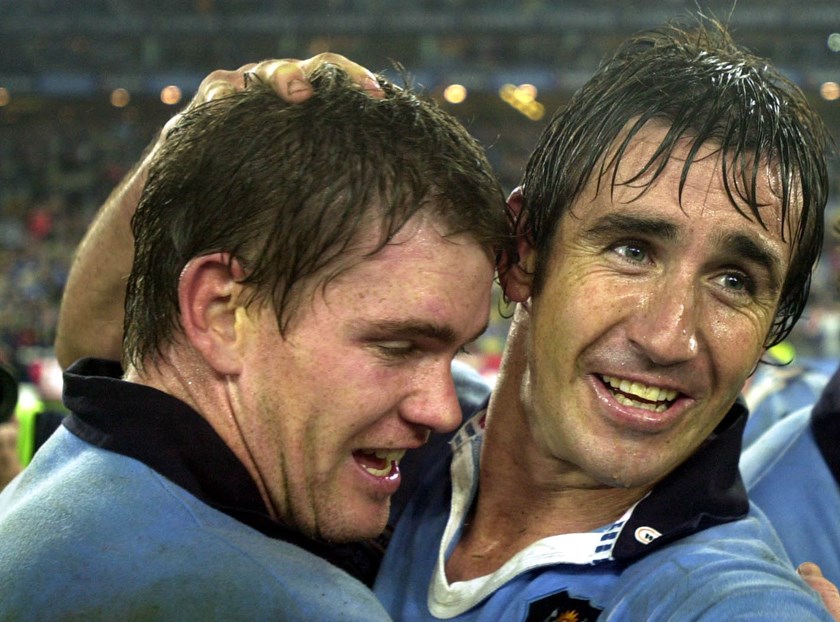 Andrew Johns began playing junior rugby league in his home town of Cessnock, New South Wales for the Cessnock Goannas. At an early age it was evident he had plenty of playing ability and Johns joined the Newcastle Knights junior ranks at age 15 in 1989.
Hailed as the best halfback in the world for many years, he captained the Newcastle Knights in the National Rugby League and participated in the team's only two premiership victories in 1997 and 2001, playing a club record 249 games for the Knights. Johns also represented his country at two World Cups, and on one Kangaroo tour, playing in total 21 Test matches for the national side. He played in 23 State of Origin series matches for the New South Wales Blues (captaining the side to a series win in 2003), and played for the Country Origin side in 1995 and 2003.
When Johns retired in 2007, he was the highest individual point scorer in premiership history, with 2,176, eclipsing Jason Taylor's previous record of 2,107 (which has since been beaten by Hazem El Masri).
In 2008 Johns was named as the Greatest Player of the last 30 years by Rugby league Week, beating the likes of Wally Lewis (No. 2), Brad Fittler (No. 3), and Darren Lockyer (No. 4). He was also named in the list of Australia's 100 Greatest Players, which was commissioned by the NRL and ARL to celebrate the code's centenary year in Australia. Also named as halfback both in Australian and NSW Rugby League's Team of the Century.
In 2012 Johns was named as the eighth immortal, also inducted into the Sport Australia Hall of Fame.
Verdict
Both were players of immense talent and inspired an extraordinary amount of people. Both are deserving of their place within Rugby League's Immortals. But only one can be held on the highest podium in the football community.
Clive did it better.