Cast your mind back to the last time the South Sydney Rabbitohs played the Sydney Roosters in a Preliminary Final. You remember... Surely.
It's the 26th September 2014, almost four years to the date. The full-time siren rings in the background as the Roosters conversion bounces off the post. It's a no goal, it's doesn't matter, it's 32-22 in favour of the Rabbitohs. It's the club's first Grand Final in 43 years.
What happened the following week is forever etched in South Sydney folklore but what happened that night will always be remembered. Just like the performance from a rampaging Ben Te'o, whose injection in the 15th minute was claimed by many, to be the turning point.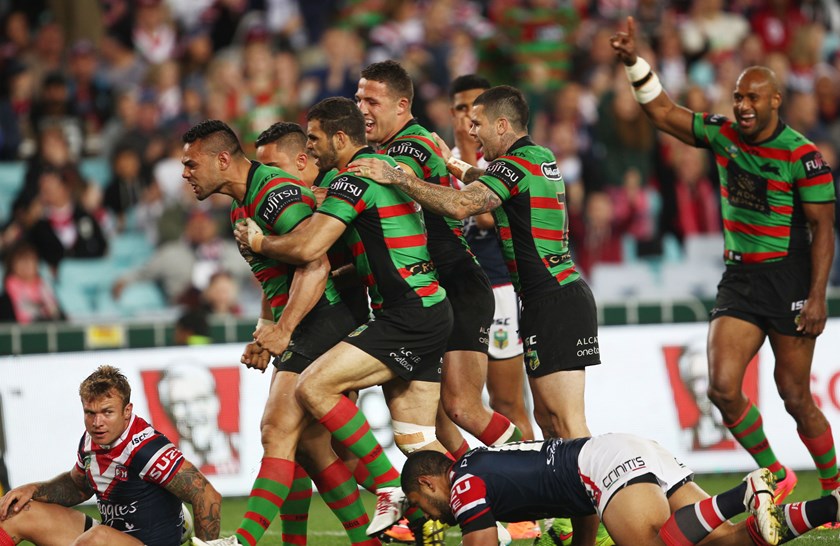 "I felt like it was quite a strange game because from the bench I felt like I was watching a replay of last year," said Te'o.
"It felt like we were freezing in the moment."
"I was sitting on the bench, we were 12-nil down, the momentum was with them and I felt like this is a nightmare happening again.
"I had already decided that I was leaving, I was going to rugby, Sam was leaving for rugby. I was thinking 'I can't believe this is it, this is how we're going to go out again," Te'o continued.
"When I went on, I just wanted to come on and bring the energy, try and help the team and that's just the way it was. Throughout the season we had guys stepping up at different times. If anyone can do anything to help that's what you do."
What happened from that moment on is history. Te'o, who was fresh from a four-game suspension following what was deemed to be a 'chicken wing' tackle on Sam Thaiday weeks earlier, became a man on a mission.
For Ben, the thought that this could be his last game in the NRL didn't sit well with him. He had to change the course of the match.
"When I came on and when I was on the bench, I made peace with myself," Te'o explained.
"I didn't know if we could win the game or not and I thought, this is it, this is going to be my last game of rugby league. I'm going to come out, take the shackles off, play free and go for it.
"I didn't want to hold back, I just wanted to go for it. When I came on, one of my first involvements was picking up James Maloney and slamming him and giving away a penalty... I know 'Madge' wouldn't have been that happy about it.
"I just wanted to change the momentum. I remember they kicked for touch and then they lost the ball on the next play and things started to turn.
"Obviously I had the thing with him (James Maloney) and the thing with Hargreaves, but I was just loving it out there. I wanted to rip, like I said, I thought it's possibly my last game, I don't know if we're going to win this, I'm just going to go for it."
And go for it he did. Five minutes on from the half-time break Te'o tore through the Roosters defence, running onto a short ball by Sam Burgess, taking Roosters rake, Jake Friend, for a ride on his way to the try line. Te'o's passion and the energy was there for everyone to see.
"It was a play that we practised during the week. When we got in the right area of the field to do it, I was always going to get that inside ball off Sammy. It was one of those ones where I didn't think, I wanted it bad." He said.
"I was determined to get over the line and once I got over, I felt like that was a turning point.
"You can see from the celebration I was pumped, everyone was pumped off it. I remember just screaming and getting a little bit light headed. It was such an unbelievable moment to be a part of."
Whether or not history repeats itself remains to be seen. For most of us, there's an underlying sense of deja vu with a twist.
In 2014, it was the Rabbitohs who were looking to make amends following 2013's agonising exit, while this year, it's the Roosters who are striving for supremacy, after they suffered the same fate in 2017.
A tough match to choose no doubt but it's no surprise to see Te'o tipping his former club, following last weekend's heroic one-point win.
"It's been one of those ones where last week was a bit shaky. They got through on a lot of luck and a lot of big moments from a few players."
"Obviously the strip from Cameron Murray and Reyno kicking those field goals. I think they can now be a little bit at ease. It was a testy moment but now they're through." He said.
With plenty to play for and so much to lose, both teams will be up against it, however, For Te'o, the weight of expectation rests firmly on the shoulders of the Tricolours.
"The pressure's not on them, the pressure's on the Roosters. South Sydney can go out and play the game like they have throughout the year. They're the best attacking team in the comp."
Although he's firmly entrenched in rugby union with English Premiership side the Worcester Warriors and the English national team, his heart still bleeds Cardinal and Myrtle from time. Usually in the morning when he's working out.
"If I'm at training I tape the games. Sometimes I have my phone in the gym checking the updates. I'm a massive fan, always watching, always supporting."