No punch in Les'Bundy' Davidson's fiery career at Souths has stuck with Rugby League fans more so than the day he knocked Peter Kelly's headgear off in a brutal game against Penrith in Round 14 of 1989. 
It's a big call when you consider the Test forward from Dubbo blued and brawled with players like Steve Roach, Don McKinnon, Paul Sironen and Geoff Robinson in his 113 games with the South Sydney Rabbitohs.
Having been told to look after an inexperienced Mark 'Block' Lyons by coach George Piggins, who was concerned Penrith veteran Peter Kelly, a NSW Origin Test forward, would bully the young No. 8, Les would become responsible for a moment that will always be remembered by Souths and Panthers fans.
Ironically, Les, in his own words, never stepped on to that playing field thinking he'd end up squaring off with an opposition player. He 'was there to play football'. But, that cool Sunday in July, he did what many Souths players before him had done - stuck up for his teammate. 
"With Peter Kelly, what had happened was, we had a young front rower coming into the team, Mark Lyons, and Georgey (Piggins) was an old school sort of coach - he'd played through the '70s which was much more physical than our era," recalls Davidson.
"He pulled me aside and said 'look, this young bloke hasn't had a great deal of experience. He'll be packing in against Kel (Peter Kelly). Just keep an eye on him and don't let him rough him up or anything.'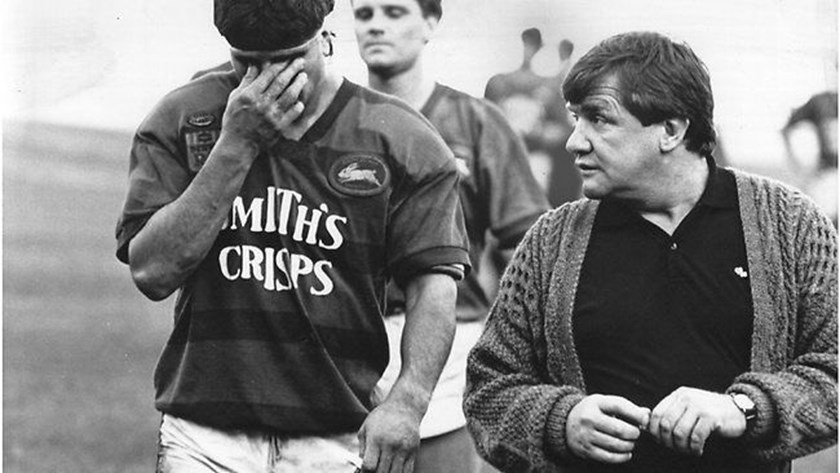 "I was somebody who couldn't allow myself any build-up prior to the game. I'd be sitting their relaxed but once I walked onto the footy field I was a different person. But that was in the back of my mind as we were running out - although I didn't think of it again until we had a scrum attacking their line.
"Kel and young Lyons started to rough up and it looked as though it was going to be on. Without even really thinking, I've come out of the scrum and whacked him. It sort of calmed everything down which was a good thing."
A young Bill Harrigan, three years into his top grade refereeing career, gave Davidson his marching orders. But the penalty went to Souths and, fittingly, 'Block' made a rampaging line-break from the restart to end up several metres short of the Penrith try line.
Penrith would go on to win the match 19-8 and end South Sydney's 12-match winning streak. Although Souths would get the last laugh by claiming the minor Premiership while Penrith ran 2nd, five points behind Les and his fellow Rabbitohs.
The 1989 season could be seen as the height of the Souths-Penrith rivalry as both teams trampled the competition. Yet, when 'Bundy' looks back he talks of a mutual respect between the competitors, despite the violence.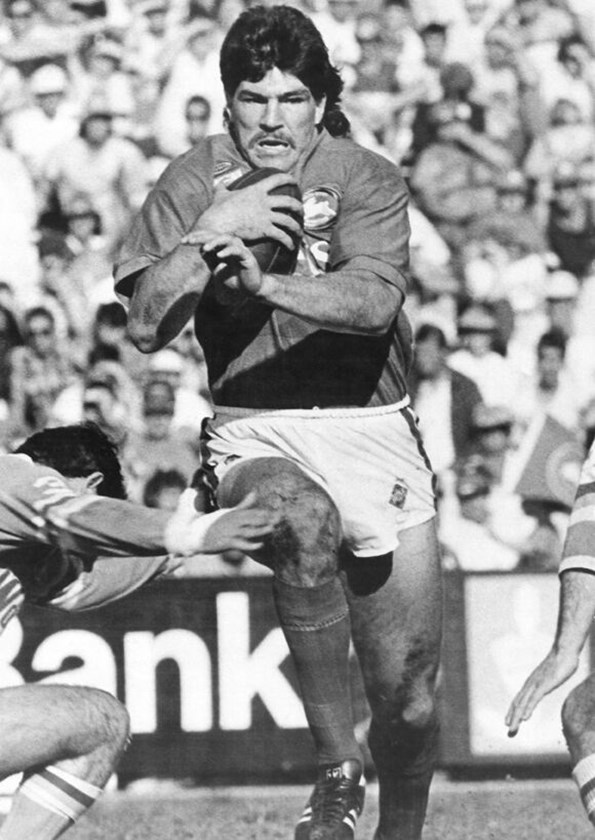 "It was part of the game," shrugs Les.
"I still see a lot of those boys through different things. It was something we did way back then. I saw Kel the other day at Folkesy's [Bulldogs legend Steve Folkes] funeral and, mate, you wouldn't think we were arch enemies."
His reputation as a classic 'take-no-prisoners' forward is in stark contrast to the father of four you can find splitting his time between fishing and shift work at the container terminal in Port Botany. Some of his co-workers jokingly refuse to believe he is the real Les 'Bundy' Davidson.
"It's a funny thing. I meet a lot of new people at work, people have spoken to them, and they get the impression I'll be the biggest, meanest, crankiest person ever. But when they meet me they think - you can't be the same person I watched on the video," laughs Les.
"I was renowned for it. I never wanted it to be that way but it was because we played with so much aggression. I had to get over them, they had to get over me. We were always butting heads in the scrums - they were a lot different than what they are today.
"Anything to do with an opposition forward team, we had to get the wood on them. We had a few old heads, especially Mario Fenech, that I started with who were all about that - getting on top of your forward pack.
"A lot of that also came from Dean Rampling. He hated anybody getting the edge on us. I just followed their lead. If you thought somebody was a little more aggressive towards you then you just had to rip in.
"I was a footballer, I was there to play Rugby League. It was just heat of the moment things. If I had time to think about things I certainly wouldn't have thrown as many punches as I did."