When it comes to the great South Sydney Rabbitohs sides of the late 1960s and early 1970s, the records show that the Red and Green hoisted the J.J Giltinan Shield four times in five years.
In 1967 they claimed their first premiership in twelve years and then backed it up the next season. Souths started the 70s in good fashion by taking out the 1970 and 1971 premierships to take them to 20 competition wins.
But there was one instance, in 1969, where Balmain crashed the party in unceremonious circumstances.
Sixty years' prior, the infamous 1909 Grand Final between the same two Clubs was 'played', although the matter of fact was that Souths kicked off to no-one, regathered the ball and scored to claim the title.
Ever since Balmain have cried foul as they claimed an agreement was made between the two sides to boycott the match.
Souths legend Bob McCarthy played in the 1969 boilover and was fully aware of the rivalry between the two Clubs leading up to the contest.
"I remember reading about that infamous Grand Final in 1909 when Balmain didn't turn up and Souths ran out on the field and were awarded the premiership," McCarthy said.
"We heard all about that and because of that it always became tough to play them, especially with no cameras going about."
The Rabbitohs, heavy favourites to take out their third title in a row, were coming up against a Tigers outfit that had already troubled them throughout the year. But the tight-knit Souths side, McCarthy says, was still confident of getting the elusive 'three-peat'.
"We had been together for quite a while, and we were confident, but not overly confident," he said.
"We just had some good boys playing for Souths back then, we were going for the three-peat and when we were going to play Balmain in the Grand Final we knew it was going to be tough.
"They beat us the first time we met, and we got them back in the second time. In the major semi-final, Arthur Beetson got sent off and we just beat them by a point."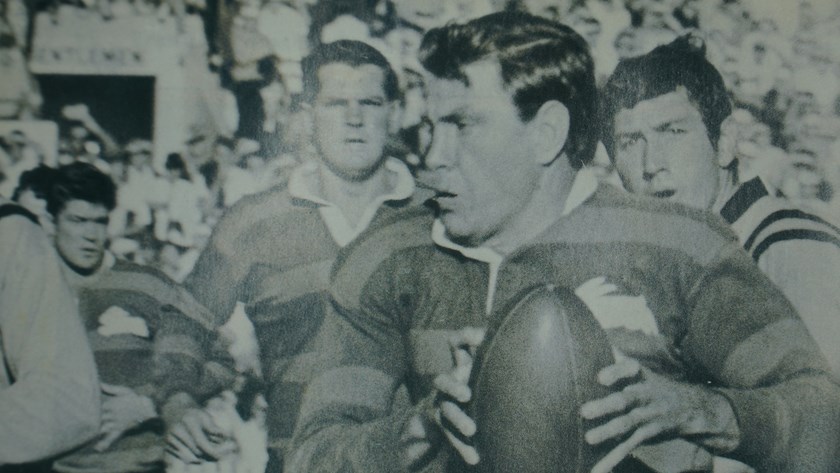 With the likes of John O'Neill, John Sattler, Ron Coote and Eric Simms donning the famous Cardinal and Myrtle alongside McCarthy, punters had their money on the Rabbitohs to rout the Tigers. But, as history shows, Balmain had other ideas.
In an act that some call pure genius, and others poor sportsmanship, Balmain feigned injury at every opportunity throughout the match to try and halt any momentum the Rabbitohs could get.
It's fair to say that McCarthy's Rabbitohs were caught off guard, and with an 11-2 fulltime score, Souths couldn't even muster up a try as the Tigers dived their way to the premiership.
"We knew we were in for a hard game, but we didn't realise they'd use the tactics they used and it really upset our flow of attack," said McCarthy. 
"For Grand Finals you're always a bit wary because anything can happen, but we didn't foresee the penalty count being eighteen to five and them lying down on the ground to slow down our attack.
"It was very well thought out because we had a very good attacking side. I think we scored over 100 tries that year and their coach thought up of a way to stop that by getting their players to feign injury and waiting until the referee signalled time back on.
"I remember John Sattler kept telling the referee to make them get up, but he just said that he wasn't a doctor and couldn't do anything about it. The next year the league changed the rules so that if you went down, play continued on, but unfortunately it didn't happen the year before."
Until their demise in 2000 as they merged with fellow foundation club Western Suburbs, Balmain were at the centre of numerous feuds and battles with The Grand Old Club through their 91-year rivalry.
McCarthy believes the bad blood between the two clubs stems from their geographical proximities, with the two districts only separated by the ANZAC bridge.
"Balmain were always bloody tough. They were an inner-city foundation club like we were and the people who played with them were working class who were going through the nitty gritty of life," he said.
"They lived for their side winning each week. I remember at times when I was playing we'd get beaten and people would be crying because that's all they had.
"Lucky for us we did pretty well for a while and made a lot of people happy."
By his own admission though, Bob McCarthy still laments the one that got away.
"I want to erase it from the memory," he laughed.
------------
Match report supplied by Michael Curin.
The underdogs, Balmain defeated short-priced favourites Souths by 11-2 in the 1969 grand final to win their eleventh and last premiership. It was rugby league's biggest upset in the new era of the four-tackle rule, and now most judges rate this as the biggest title upset of all time.
Souths have always claimed they were cheated out of the game by Tigers' tactic of laying down 'injured'. In those days if a player went down hurt, play was stopped and an ambulance man ran on to the field. It slowed the play down and frustrated Souths to throw them off their own game. But, it was all part of the rules at the time and the rules were changed after this game to stop this from happening again.
Apart from Balmain's tactics of laying down, their stout defence was also an important factor in the win as the Tiger cubs bustled and swarmed and knocked down their better-known rivals. They ran with the wind and led 6-0 at the break after two goals by Len Killeen and a snap field goal by David Bolton.
Souths couldn't settle into their normal rhythm and it was only a couple of good runs by Ron Coote, a disallowed try by Brian James in the 30th minute and a near-try by Mike Cleary that gave Souths fans anything to be happy about in the first half. Balmain also had their hard-luck story in the opening half when their prop Barry McTaggart was ruled to have made a double movement as he crashed over only seven minutes after the start.
Balmain stretched their lead to 9-0 when half-time replacement, Sid Williams scored the only try of the match. The try started after a mix-up between McCarthy and Sait. The ball was dropped and snapped up by evergreen Bolton, who skittled along, evading a number of tackles before finally being grounded. The ball then went out to 19-year-od Terry Parker (who later became Souths' administrator), and as three defenders came around him he slipped the ball to Williams on the wing to score.
With 24 minutes still left on the clock after that try, Souths kicked off and then made desperate bids in the next 15 minutes to win. They finally got on the board when Eric Simms landed a penalty goal midway through the second half. Despite big efforts from their big men, Sattler and O'Neill, who tried to bludgeon their way through the middle, and Coote's powerhouse running, they could not penetrate Balmain's solid defence.
The only tactic they did not use enough of was a short kick or chip over the top. Bolton snapped his second field goal in the 77th minute to put the icing on the cake and the game was as good as over. Referee Page caned Souths in the penalties by 15-6, mostly for technical breaches.
Souths' top officials plus coach Clive Churchill and skipper John Sattler all agreed that the better side had won, even though there were complaints made afterwards about the 'laying down' tactics and the penalty count against Souths. The two foundation clubs have been arch-rivals ever since the 1909 Final, when Balmain failed to show up and Souths won on forfeit.
Balmain 11 (S.Williams try; L.Killeen 2 goals; D.Bolton 2 field goals)
defeated
South Sydney 2 (E.Simms goal)