There are many ways South Sydney Rabbitohs supporters show their love for their Club.
Some turn up to every match, some buy huge collections of merchandise and memorabilia. Then there are others, like super supporter Damien Batty, who shows his love in a number of different ways, even whilst serving his country.
It's needless to say that Damien is a crazy South Sydney supporter.
Jumping on board the Rabbitohs ship around 2010, Damien is a relatively new supporter of the Club but it didn't take long for the red and green aura to turn him into a fully fledged die hard.
"I think both of those words (crazy and passionate) describe my passion for the Club, I live, breathe and eat Rabbitohs now, it's like a bug that gets in your system and you can't cure it," Damien laughed.
"My office is decorated red and green, the house is decorated red and green, I have a Rabbitohs wall, a lot of memorabilia and I attend as many games as possible."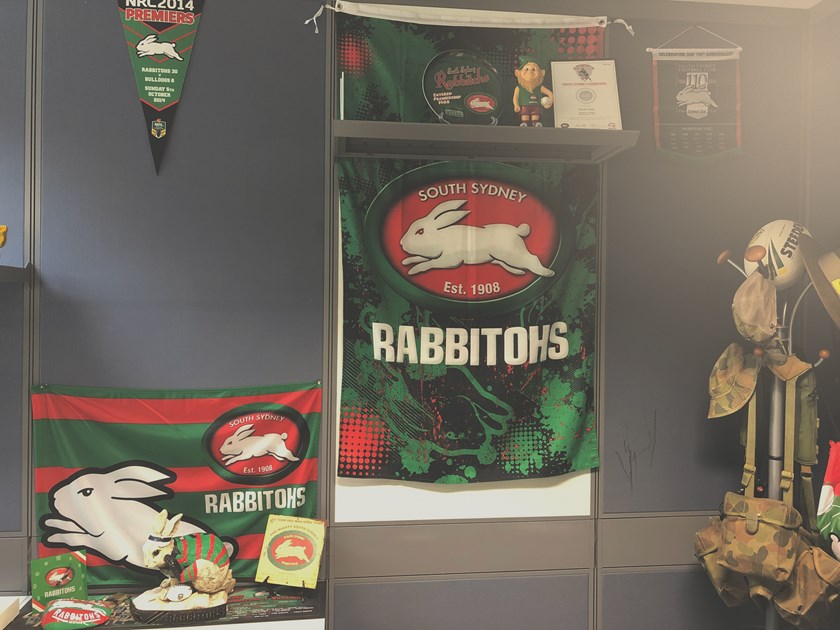 Damien works for the Royal Australian Medical Corps and has been posted up and down the seaboard, including a service in Afghanistan.
Despite game time being limited for Damien, he doesn't let the lack of action dampen his South Sydney spirit, constantly flying the Rabbitohs flag whenever he can.
"I was deployed in Afghanistan in 2012, which was a big year for the Club, I had Rabbitohs stickers on my car and drove it around the camp and wore my jersey anytime I could," he said.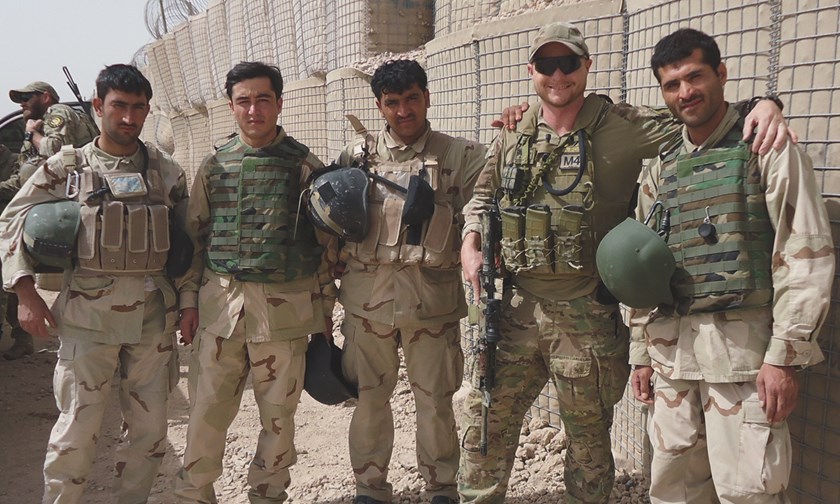 "But I think the values and the passion of the Club really align closely to those the army has, 'respect courage initiative teamwork', and also just never giving up and having that determination.
"I can see the parallels with the Club and I think we both thrive in a culture of adversity."
Currently posted back in Albury-Wodonga, Damien is still a little far away from the centre of Rabbitohs actions but distant hasn't stopped him from getting involved with the Rabbitohs movement.
With a side passion in music, Damien took the time in 2018 to post cover versions of 'Glory Glory to South Sydney' as well as put together verses for the famous 'Take me home, Country Road' parody, 'Take me home, Botany road'.
"Music has always been in the family, I played the violin growing up in school and also the bass guitar and guitar," Damien explained.
"During this season after a win, I recorded and posted up on Facebook, 'Glory Glory to South Sydney' on the violin.
"It got over a couple of hundred likes and I did it again on the mandolin and then I knew that the Burrow had written 'Take me home, Botany road', so I thought we've got the chorus we need a verse, so I recorded and wrote some of the lyrics to the verse as a parody to 'Take me home, Country Road' and posted it up."
Damien also posted a video of him playing Eric Bogle's 'And the Band Played Waltzing Matilda' whilst wearing his favourite Rabbitohs playing kit, the 2018 ANZAC jersey, which features an honour roll of all players who both played for the Rabbitohs and served their country, whom he wanted to tribute.
As well as being musically astute, Damien is a pretty handy painter, making his own Rabbitohs memorabilia to share.
"Close to where we live there is a business that makes garden ornaments out of concrete," Damien explained.
"We popped in there on the way back from a weekend getaway and they had concrete Rabbits, and I thought, they would look fantastic with some Red and Green stripes.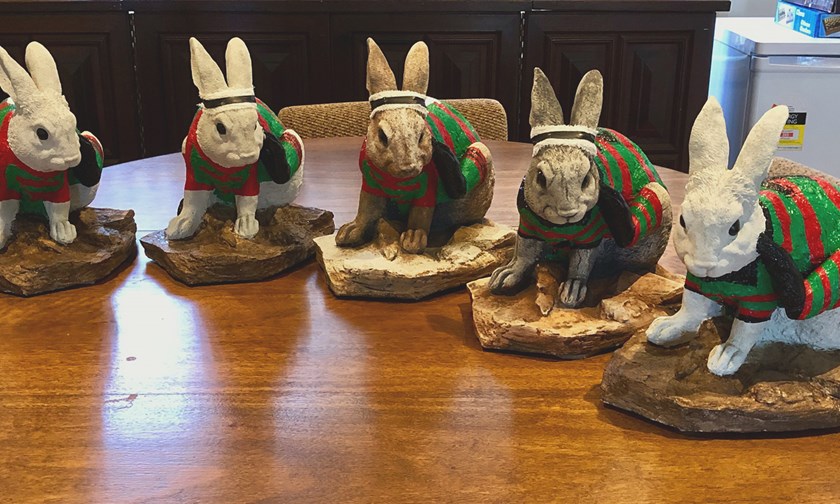 "So I started painting them for some friends who are Rabbitohs supporters, I painted one for Jason Clark, Mario Fenech and also the CEO Blake Solly. So that's fairly unique and something you can't buy or replace."
From serving his country to his passion for the arts, there's always a South Sydney flavour do everything Damien does and he hopes to keep that going in 2019.