The South Sydney Rabbitohs are excited to announce the contract extension of Sam Burgess for a further four years today, keeping him in the Cardinal Red and Myrtle Green until the end of 2023.
Burgess, 29, is widely regarded as one of the best Rugby League players in the world, having played a leading hand in the Rabbitohs' 21st premiership victory in 2014, leading his country of England as captain, and developing himself into an influential person within the sporting community both in Australia and overseas.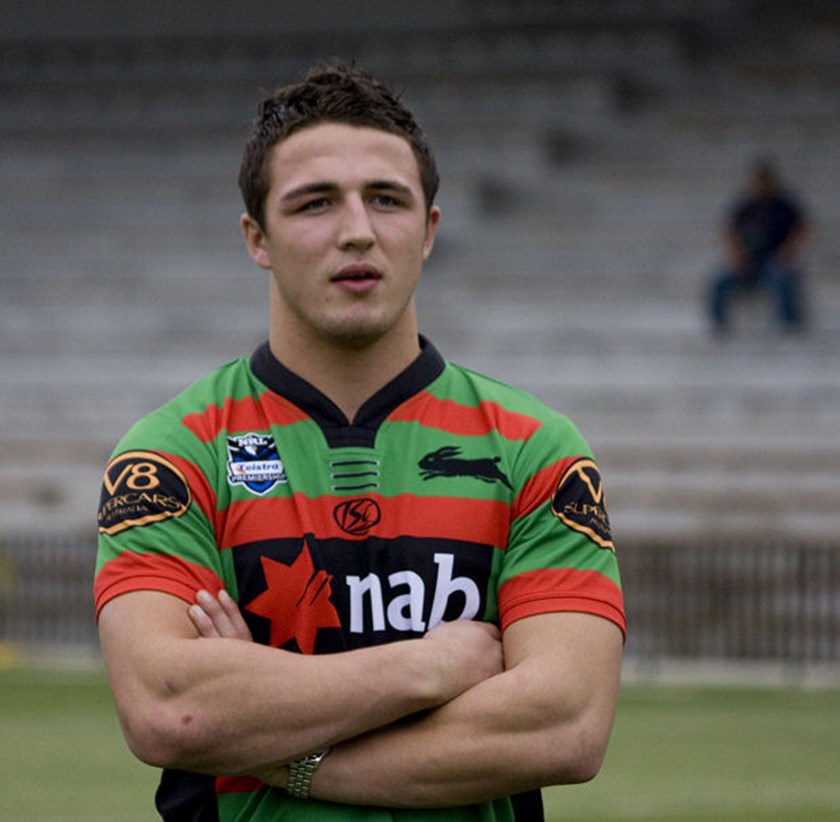 Burgess, who is Rabbitohs first grade player #1073, has played 160 NRL games, all for South Sydney, since debuting in 2010, while also playing in 26 Tests for England and Great Britain.
Burgess first arrived at the Club on his 21st birthday on December 14, 2009, as a highly-touted youngster, eventually playing in 22 of the Club's 24 matches in 2010 and quickly establishing himself as a premier forward of the competition.
Over the next few seasons, Burgess continued to develop as not only an influential on-field leader for the Club, captaining both South Sydney and England, but also as an off-field influence within the South Sydney and Rugby League communities.
His initial stint with the Club culminated in his incredible effort in the 2014 Grand Final where he played 79 minutes with a fractured cheekbone, etching his name into South Sydney folklore as the Red and Green took out their 21st premiership - our first title in 43 years.
A switch to Rugby Union in 2015 saw the Englishman head back to his native homeland to help take Bath to the Aviva Premiership final, while continuing his stellar representative record, playing for England in the 2015 Rugby World Cup while earning five caps for the red and whites. 
A return to Australia in 2016 has seen Burgess lead an up and coming Rabbitohs side which now resides in the top four, and now the inspirational forward has confirmed he will finish his glittering career in Redfern.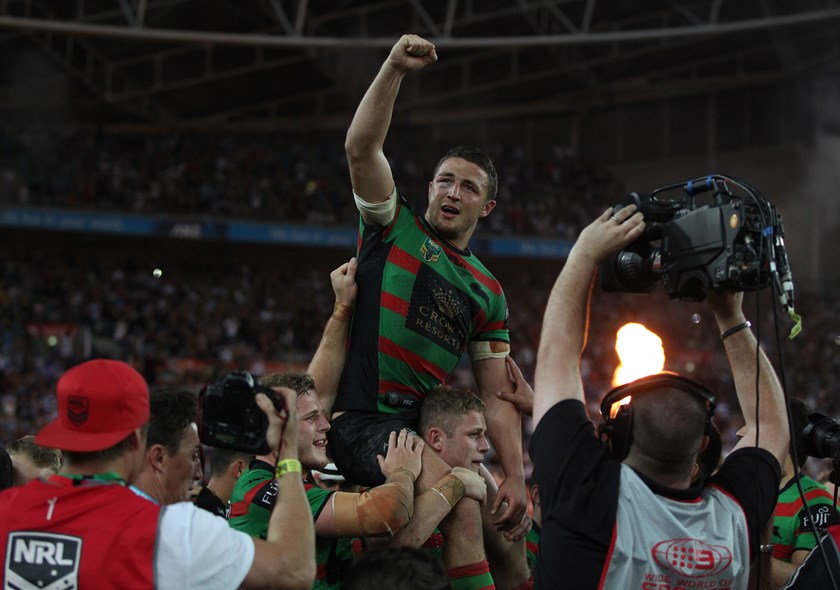 Rabbitohs Head Coach Anthony Seibold was full of praise for Burgess ahead of his re-signing.
"In my opinion, Sam is the leading forward in our game," Seibold said.
"He is an inspirational leader through his actions both on and off the field.
"He's been a tremendous help in my first year as a Head Coach along with 'GI' (Greg Inglis) and 'Sutto' (John Sutton).
"Since he's been here at the Rabbitohs he's demonstrated how much Souths means to him and I'm very happy to know that he will finish his career here at South Sydney."
Burgess said he was not interested in testing the market before signing his final contract, opting to stay loyal to the Cardinal and Myrtle.
"I'm a Rabbitohs man. It's as simple as that," Burgess said.
"The Club aligns with everything I'm about and my values, so it was an easy decision for me to extend my contract out to the end of my career.
"We spent a bit of time working out the contract as it is my last one, but Souths have always shown faith in me and I feel like I can repay that faith over the remaining years I have on the field.
"I wasn't interested in the player market or anything like that.
"I'm interested in leaving behind a legacy, being a small part of the fantastic history of this great Club.
"Players like John Sattler, Bob McCarthy, Ron Coote and Clive Churchill – they're all remembered at this Club for what they have done. I love the history and I want to leave my mark as well.
"No one is bigger than the Club and as a South Sydney player, you have a connection to those players of the past.
"My first-grade player number is 1073 and that means a lot to me. I can't tell you how much that number means to me.
"It's a special Club and I'm so proud to be part of it."
Mr Shane Richardson added: "Sam is one of the best players in the game, hands down, and with this contract extension he will play his entire NRL career with the one Club, the Rabbitohs.
"He is an inspirational player for his teammates and an inspirational person to the broader South Sydney community.
"He has made a home here at South Sydney; he is bringing up his young, expanding family here in South Sydney; and he is set to go down in the Club's history as one of its greats.
"He brings confidence to everyone around him and we could not be happier to have signed this contract extension with Sam which will see him play in the Red and Green for the next five seasons."
Name:
Sam Burgess
Date of Birth: 
14 December 1988 
 Place of Birth:
Dewsbury, England 
Height: 
196cm 
Weight: 
116kg 
Position: 
Utility Forward 
Junior Club: 
Dewsbury Moor 
Rep Honours: 
Rugby League - 24 Tests for England (2008-10, 2013, 2016-18); two Tests for Great Britain (2007); World Cup (2013, 2017); Four Nations (2009-10, 2016); one game for NRL All Stars (2010); one game for Northern Union (2007)

Rugby Union - five Tests for England (2015); Rugby World Cup (2015)
Previous Clubs: 
Bradford Bulls (2006-09); Bath Rugby (2015) 
NRL Games: 
160 (All for Rabbitohs) 
NRL Points: 
148 (From 37 tries) 
NRL Debut: 
Rabbitohs vs Roosters, ANZ Stadium, 14 March 2010 (Round 1) 
ESL Games: 
79 (All for Bradford) 
ESL Points: 
78 (From 17 tries and five goals) 
ESL Debut: 
Bradford vs Leeds, Headingley Carnegie Stadium, 7 July 2006 (Round 20) 
Rugby Games: 
26 (All for Bath) 
Rugby Points: 
20 (From four tries)