In the eyes of many, both Greg Inglis and Johnathan Thurston are two of the best Rugby League players to have ever laced a boot on.
With over 500 NRL games worth of experience and 2500 points scored between them - including nearly 80 test appearances for Australia and 70 Origins for Queensland - these two have done it all.
The two have also taken out Golden Boot awards, Dally M awards and adorned Clive Churchill Medals.
Both are role models in the community and have had the honour of representing their heritage as well, by captaining the Indigenous All Stars.
And of course, both have had premiership success for the Rabbitohs and Cowboys respectively. 
With Thurston more than likely retiring at year's end, and with the Cowboys' finals hopes fading away, this very well could be the last time we see 'GI' and 'JT' come up against each other on the football field.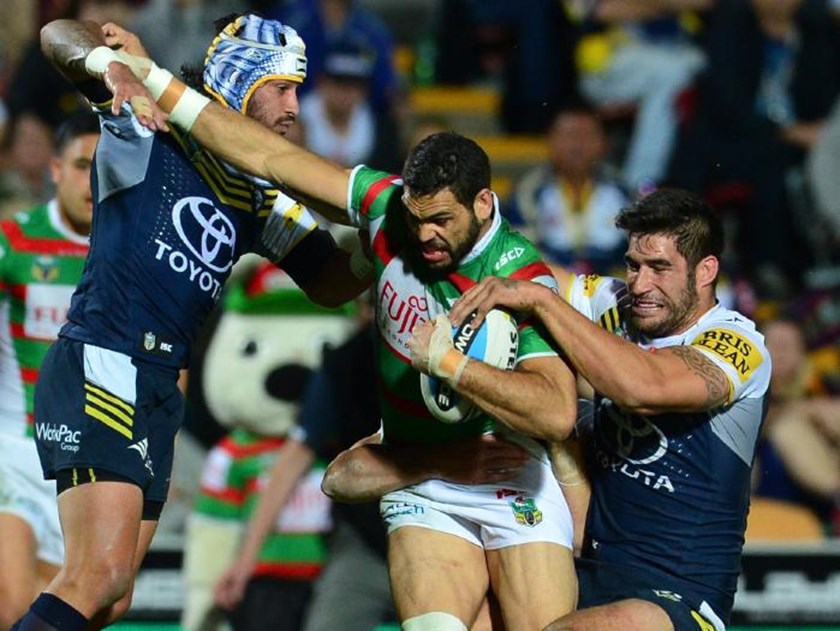 Although the decision to host the Cowboys in their own backyard may be highly criticised, it's somewhat appropriate that Cairns could be the setting for the final battle between these two superstars.
After all, Inglis has just been appointed as the state's captain, while Thurston has been a mainstay for Maroons for the past decade.
The shock representative retirement from Cameron Smith just a few months ago meant Queensland needed a new captain, and Thurston was quick to give Inglis the nod for the honour.
"The obvious choice would be Greg Inglis. Over 30 games in there and from all reports, his leadership has grown at South Sydney and he's playing some really good football," Thurston said on NRL.com
"Boys just follow 'GI', so having the 'c' next to his name, hopefully, it makes him unstoppable."
In his 20 club meetings against Thurston, Inglis has twelve wins. Although for Souths, his record stands at four wins and five losses, so Sunday will be the perfect opportunity for him, in a way, to 'even' out the scores.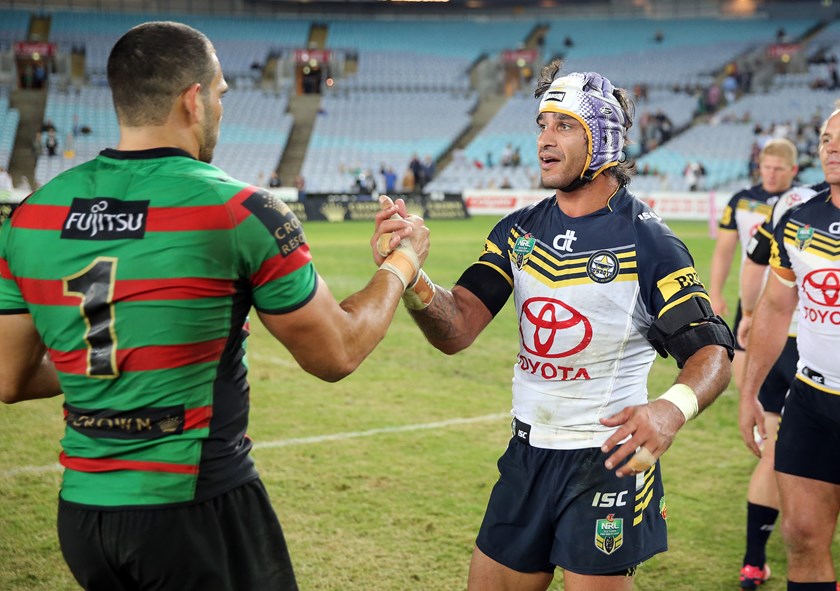 And what battles these two have had, particularly in recent years. 
In their Round 8 clash at ANZ Stadium in 2012, 'GI' scored the first try to give the Rabbitohs a 20-nil halftime lead, before Thurston's charge saw the Cowboys fall short in a 20-16 thriller.
The return fixture a year later saw Inglis bag a double – beating Thurston to a grubber kick for the first, and then running away in a long-range effort in the 75th minute to cap off a 28-10 demolition.
Thurston would get redemption in the next three encounters, despite the Rabbitohs taking out the title in 2014, as North Queensland began to flex their premiership muscles.
But a late-season victory in Round 23, 2015 to Souths, which was hyped up as a battle of the ages between the two combatants, proved Inglis' Rabbitohs still packed plenty of punch before the Cowboys took out their maiden title later that year. 
Despite North Queensland lingering in the bottom half of the ladder and the Rabbitohs flying high in second position, the Cowboys still have plenty of cattle to be a real threat this Sunday.
This is a danger game for the Rabbitohs - Inglis and his teammates know it.
Thurston and his troops will be looking to upset our seven-game winning streak as they attempt to claw their way back into finals contention.
It could be the final chance for Thurston to get one over the Rabbitohs, and don't we know that he always turns up against the Red and Green.
For Inglis, it will be a battle against a good mate and a more than worthy opponent.
Souths will be favourites, but up in Cairns the Cowboys seem to grow an extra leg, and in the game of Rugby League, anything is possible.
There is one guarantee though – these two champions will be at each other for the whole 80 minutes.