While there are plenty of Rabbitohs supporters who promote the Club through word of mouth, Anthony Basha is an example of someone who has gone to social media to earn his stripes.
Hailing from Granville in Sydney's greater west, Anthony's family started supporting the Club in the 1970s soon after immigrating from Lebanon, a common occurrence considering both the flags of both South Sydney and Lebanon share the famous Red and Green colours.
Growing up in a Rabbitohs obsessed household, of course, meant going to as many games as possible; supporting the Club through thick and thin, and eventually signing up for Membership.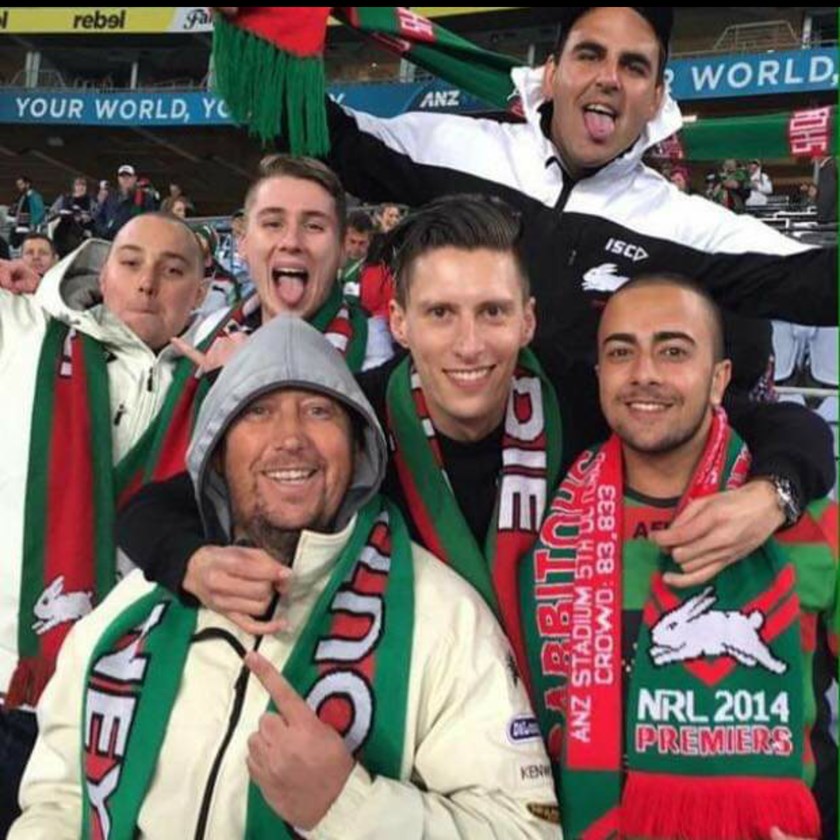 But with the 'Random Souths Guy' sightings floating around the internet over the last few seasons, Anthony wanted to take it one step further and decided to make a Facebook page in honour of all the die-hard supporters attending non-Rabbitohs sporting events.
Eventually, it caught on, and now there are multiple accounts on other media platforms doing the same thing.
"In all honesty, I saw other outlets post about it, so I thought I'd make a page dedicated to it and see how it went," Anthony admitted.
Anthony Basha

"Considering social media is such a big thing nowadays, it just adds another way support for the Club and I always try to show my passion through it."
"I didn't think it would get as big as it did.
Unfortunately, I couldn't find time to keep up with it considering how many Random Souths supporters there are and my schedule, so I deleted it, but I've made a little comeback with a new Instagram account.
"I didn't make the Twitter account, but it just goes to show how far it went, more people started doing it from there.
"Considering social media is such a big thing nowadays, it just adds another way support for the Club and I always try to show my passion through it."
Plenty have pondered the natural phenomenon that is the 'Random Souths Guy' and what exactly causes South Sydney fans to wear their colours whenever they go.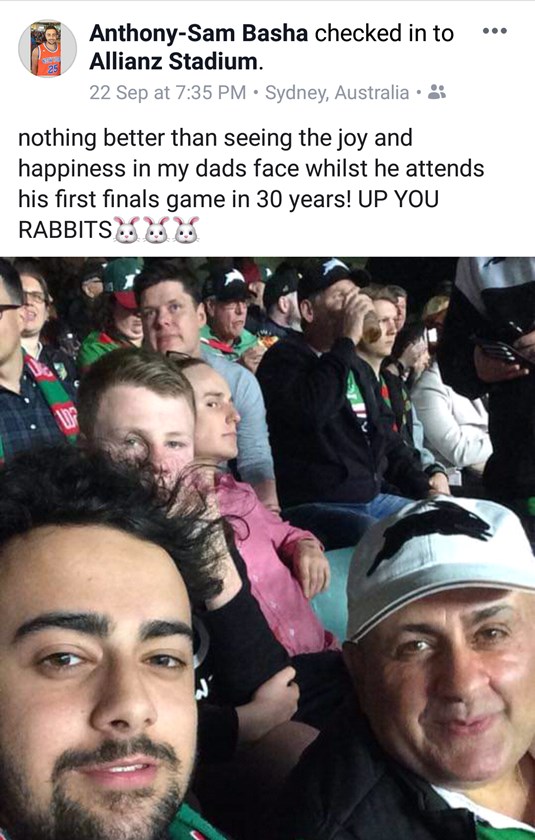 But according to Anthony it's a simple matter of pride and appreciation for one of, if not, the most jersey in Rugby League.
"I think we're like that because we're the most popular Club in the world," he said.
"Obviously some opposition supporters disagree, but when you go to a finals game it's easy to see we've always got some of the best attendance out of anyone.
"We're probably the most passionate fans because we've been through a lot, especially in the late 90s and early 2000s when we were unfairly kicked out of the comp, we marched and were then re-admitted.
"I think we've got the biggest supporter base in the world. I live in Granville, it's not even in the South Sydney area, and I could be driving around and see a car in front of me with a Souths sticker and I just think 'Wow, we're everywhere. You can't contain us'."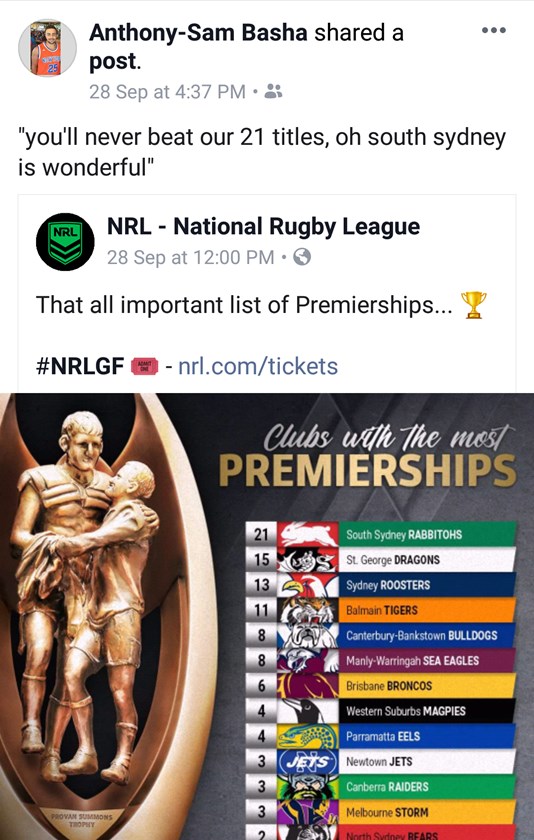 With so many Random Souths fans to choose from, Anthony said there was one that stood out to him the most, and even admitted that he had gotten into the spirit of things well before the trend.
"If I had to think about it, the best one I've seen was a guy at the FIFA World Cup earlier this year at one of Australia's group matches," he said.
"That was pretty impressive for a guy to go to Russia for the football, but it was next level to wear the mighty Cardinal and Myrtle as well.
"I've been the Random Souths Guy many times before. Back when I was in my mid-teens I would go to parties where everyone would be dressed up nicely and I'd be there in my Souths jersey, just because I love the Club so much.
"It's basically my life."