Business fronts around Mudgee have been decked out in red and white all week, so local resident Graham Riley decided to take matters into his own hands.
There's a festive feeling around Mudgee this week. Everyone's buzzing with excitement, shop fronts are decorated as if it's Grand Final week, finding a car park has never been this hard.
December's come early in Mudgee but it's not Christmas - it's the Charity Shield. 
The unofficial opener for the NRL season. Driving down the main strip in town, you can't miss the streamers and decorations decked out the front of business shop windows.
At first glance, it appears that the red V is more prominent throughout town. That is until you stumble across South Sydney Rabbitohs supporter Graham's house. The infamous Cardinal and Myrtle fills his front porch, garden and outside windows. Returning from Friday's signing session, Graham was more happy than open up on the reason for all the memorabilia.
"They had a competition around town to do up all of the business windows with all that St George stuff. Obviously, we're Rabbits so we put this up."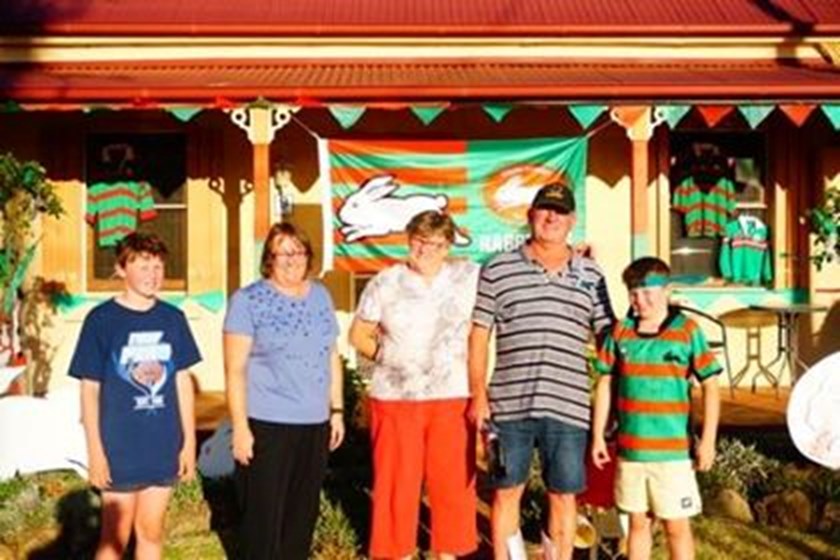 Unfortunately the Riley's won't be able to take out the top prize as their house is not a business meaning. However, the ultimate prize for this household is the game set to take place tomorrow, just down the road at Glen Willow Stadium.