Mark Mathews is an Australian surfing pro. An international big wave surfer whose name is mentioned in the same breath to that of Jaws Peahi, one of the biggest surf breaks on the planet.
Mark has ridden these waves, in the same vein that he's ridden the ebb and flow of being a diehard South Sydney Rabbitohs supporter.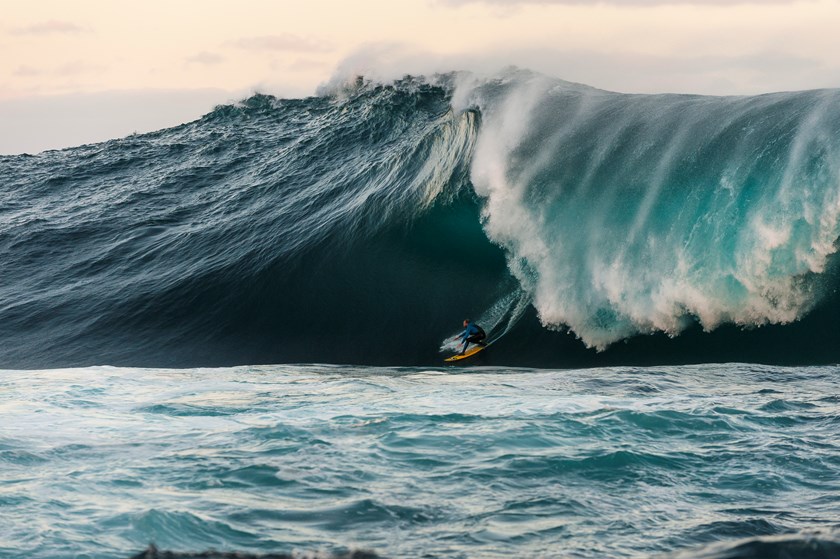 Surfing with Sutto
Raised in the Cardinal and Myrtle doused Sydney suburb of Maroubra, Mark became a lifelong friend of Rabbitohs living legend, John Sutton. The two sharing a passion for the swells that the sun-drenched shores of Maroubra has become known for.
"We met through surfing and just around the beach. Sutto was a year below me and he played with Reni [Maitua] and a bunch of other guys," he says. "I played with Reni at school. Sutto's actually a really good surfer too so we've known each other since we were about 13-14."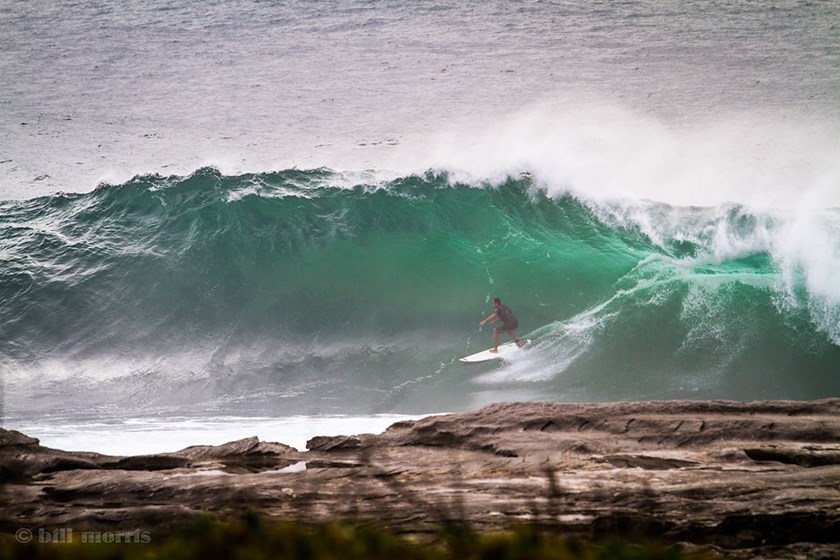 For anyone who follows the Rabbitohs, there's almost no bigger sin than missing your team's game. Thankfully for Mark, with Sutton in the squad, that's never the case.
"I've been a Souths fan my whole life. Dad was as well. But when Sutto started playing that's when I watched every game no matter what. I've always followed my best friends who have played league."
It was a memorable moment for any Souths supporter seeing Sutton lift the trophy back in 2014, however, few could have resonated more with hat moment than Mark himself. The importance of that Premiership accredited directly to the personal bond that the two shared from such an early age.
"It was a dream come true to be able to see Sutto win one and see the Bunnies win their first one in such a long time. It was amazing."
Words of wisdom
That bond with John Sutton continues to this day. Mark was invited as a motivational speaker in early January to talk with some of the up and coming players on dealing with the pressures that are entailed with being an NRL athlete. Words of advice made easier through his own experiences.
"I spoke to them about different things I do in my career to deal with stress and fear. With big wave surfing there's a lot of stress involved with drowning in the ocean and dealing with big waves and wipeouts and injuries and stuff like that.
I chat to them about the techniques that I use to help manage that anxiety and hopefully they can take that on board and it helps them out."
One of those techniques Mathews talks about is a process called gratitude practice, a train of thought aimed at enhancing ones well-being by focusing on the things that we can be grateful for.
It's best described by Mathews himself: "scientists have found out that the emotional state of gratitude, so when you feel grateful for something, the way your body actually physically functions is at its optimal state so if you can bring that into your life, especially for these guys through the training they do.
"The training is so physically demanding but if they can at least be in that state of gratitude throughout training, throughout pre-season, throughout all this then their body heals better.
"It functions better to give them the best chance of having to deal with that crazy amount of training because it's above and beyond what the human body is really supposed to be capable of. They've got to figure out every tiny little tool they can to help them deal with that."  
Miraculous moments
At home in Maroubra, Mark was on his couch when the trophy was hoisted in front of thousands of adorning fans at ANZ Stadium. Through his own personal preference of course. "I was here at home, my favourite thing is watching league on TV with the commentary at home and no one around. I hate distractions when I'm watching it so I was here at home just jumping up and down on my lounge. I couldn't believe it, it was unbelievable."
While the 2014 Premiership is an unforgettable moment for Mark, there's been plenty of others that have come close to topping that list - starting with reinstatement.
"When they got back into the comp was phenomenal, that whole period of all the protesting and all that stuff. It was like you just didn't know if they were going to get back in, so to get back in it was just amazing.
"The years following that were special because you spend so long following a team that wasn't doing that great but every win was just amazing. It's almost as exciting when you're following a team that's not doing as well as when you're following a team that's kind of expected to win all the time.
"Even those years were unreal as well. That game when we beat the Roosters on the bell and Dave Taylor set up that one try in 2012 off the kick-off. That was amazing because we grew up hating the Roosters. The only other thing better than watching the Bunnies win is watching the Roosters lose. It was pretty awesome."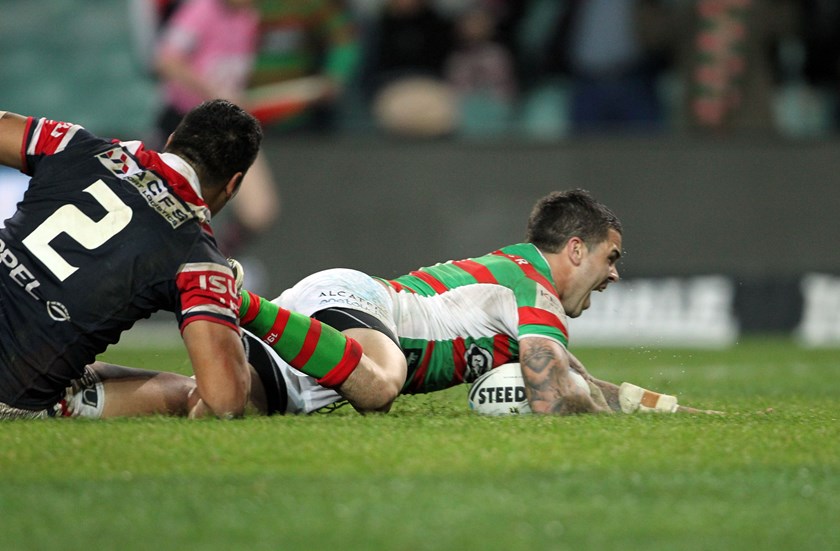 Resilient returns
Like most Souths supporters, winning Premierships and beating the Roosters tops his wish list in 2018, but the return of the Club's number one custodian comes a close third.
"The return of Greg [Inglis] for sure, I caught up with him when I went in to speak to the boys and he said he's coming along good so I can wait to watch him in full flight again it'll be unbelievable."
With Inglis on track to return this year, Mark is hoping for his own return to the big wave arena following an incident down the NSW South Coast in October, 2016.
After being towed into a 6-8 foot wave, Mathews was slammed into the reef and, in the process, dislocated his knee. He tore his anterior cruciate ligament, lateral collateral ligament and posterior cruciate ligament, in addition to tearing an artery and fracturing his shin. A nightmare for any physio let alone Mathews himself.
Had it not been for the freezing temperatures of the south coast, the leg would have needed to be amputated. Fast forward to January 2018, Mark is on his way to a full recovery and biting at the bit to be back doing what he loves.
"There's still plenty [of recovery] to go. I had that injury a year and three months ago. I'm through the worst of it. I'm just starting to surf again now. Still a long way off getting back to big waves but I'm hoping that by the end of the year I'll be in Hawaii and back at it again getting some big surf." 

From one Souths supporter to another, we hope so too.
Away from professional surfing, Mark Mathews has spent the past 7 years performing motivational speaking to corporations such as Google and MasterCard in addition to Australian Football League clubs the Greater Western Sydney Giants and Geelong Cats. 
You can find more information on his keynote speaking through his website.

Additionally, you can find him on Instagram
Do you have a Souths story to tell? Email Matt Lucas and share why you'd like to be featured.


Previous editions of My Souths Story