A dream came true for young Rabbitohs fan, Harrison, when he got the opportunity to meet Sam, Tom, George and Luke Burgess during the off-season in Noosa.
Harrison's mother Alicia, after receiving a call at 11:30pm from her brother, Linden, informing her that he had spotted Sam, made the decision to take her son to Hastings Street to see if they too could run into Sam.
"Knowing that my nine year old son is a diehard South Sydney fan, Linden asked Sam if he would be happy to take a picture with him so he would be able to show Harrison the next day," said Alicia.
Alicia told her son that his uncle had just run into Sam Burgess and without hesitation, Harrison jumped out of bed, dressed himself in his South Sydney paraphernalia and begged his mother to take him to Hastings Street.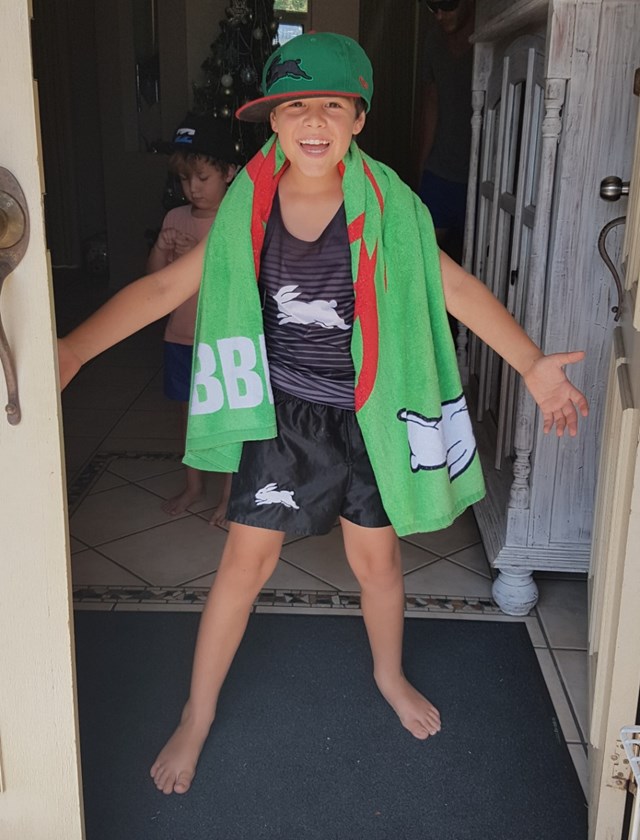 "Being late at night I hesitated and suggested that it might a good idea for me to go and see if I could get Sam to sign Harrison's South Sydney singlet due to the time.
"Harrison was most disappointed and wanted to come with me, hesitantly I agreed and we jumped in the car and drove to Hastings Street."
Alicia and Harrison spotted a large crowd of people upon entering Hastings Street and assuming this was where Sam was, they rushed over towards the crowd.
"Harrison and I jumped out of the car and ran towards the crowd, there must have been at least 30 people there, much to my surprise the minute Sam spotted Harrison and I running towards him he stopped everything he was doing to greet Harrison with a warm friendly smile and a hand shake."
Luckily for Harrison, not only did he get to meet Sam but all four Burgess brothers - George, Tom and Luke.
"All four of them happily stopped and spoke with Harrison, signed his South Sydney singlet and posed for photos and took the time to thank Harrison for his support."

Describing the experience as 'a dream come true', Harrison couldn't wipe the smile off his face for days and is treasuring his now signed singlet.
"To say Harrison was absolutely elated is nothing short of an understatement.
"You could not have contained Harrison's smile even if you had tried, he was grinning from ear to ear, he was in the presence of his heroes and they were taking the time to sign his singlet and actually have a conversation with him amongst all the pandemonium.
"It most certainly is an experience Harrison will never forget.
"These four men are truly wonderful role models and representatives of the code, the behaviour they displayed while greeting myself and my son was astounding and above all it was incredibly genuine and I can't thank them enough.
Do you have a story like this that you would like to share? Send in your stories to [email protected]