Of the many South Sydney faithful I've come across, very few rival the passion and dedication of Peter Panagopoulos.
You would be hard-pressed not to find a conversation around the schoolyard about Rugby League in the winter - or any time of the year in fact - without his input. 
Despite being a few years below myself, there was always had time to have a yarn to the boys who loved their Rugby League; bagging Roosters, Dragons, Bulldogs and Tigers supporters when their teams lost, then thoroughly convincing them why Souths would win the comp this year.
And of course, the most vocal and passionate of the Red and Green army we had was Peter - something that hasn't stopped since completing high school. 
Of all the Next Gen supporters I've covered so far, I wanted to make this one a bit more personal, having known Peter for the best part of the last decade.
At 2pm two cappuccinos sat on the table in front of us at the Park Cafe, but there was no doubt in mind that there would be plenty more to come considering how much we both had to discuss - not only about the Rabbitohs but about life in general.   
Having finished his day working with the family business beginning at the crack of dawn, it was a credit to Peter to make the drive from Rockdale to Redfern just for this interview.  
His love for the Cardinal and Myrtle stemmed from an early age, and it's certainly something that's alive more than ever with the world of social media coming to the forefront.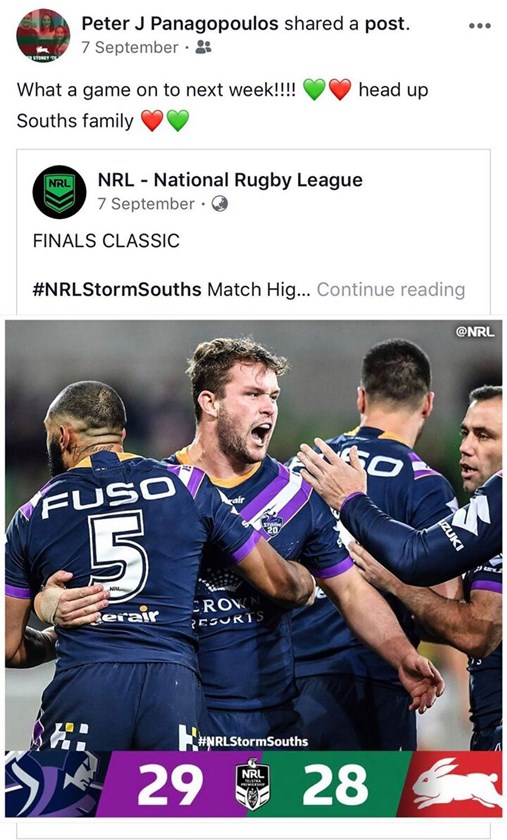 "I like watching a whole bunch of sports, but Souths are my true passion," he explained. 
"I've been a Member since 2008 and in a Red and Green jersey since I can remember. My uncle's business Padstow Smash Repairs was a corporate sponsor, which is how I started following them."
"He went to the fightback march in 2000, and his Membership number is 150, that's how far back the family goes.
"I then became a Member and now we have three seats on halfway - my sister, my mother and myself. We've gone to every home game for the last six years. It's my 12th season coming up so I've been a Member since I was ten.
"I'm proud of that because it shows how much I am dedicated to this Club."
It's been overcast for most of the day, with storms expected to come through in the next half hour. But as the weather continues to worsen, our conversation only got better. 
With the age of social media, Members and supporters of clubs now have more chance than ever to express their support of their team and voice their opinions - something that Peter is sure to do every chance he can get.
So why is it so imperative to get the point across? 
Peter Panagopoulos

Wearing that little rabbit over my heart is a big thing for me - having that makes my life.
"Mate, it's important to tell people that South Sydney is the best - win, lose or draw - I'm sure you know that," he laughed.
"But seriously, I do it to get the point across about my own self-belief in the Club - South Sydney is my life and I bleed Red and Green. 
"I like to think the Club if the Club then that, then that gets the message across. It just reinforces how much you love the Club and your support for them - so I do it as much as possible no matter the result. 
"You've gotta keep the Souths tradition alive - all the way to Botany Road as they say. That's how it is."
Of course our chat about everything Cardinal and Myrtle turned to season 2019 - something Peter is obviously excited about. 
How couldn't he be after a top-four finish in 2018 and a squad that will be better for it, along with the addition of super coach Wayne Bennett?
No matter what happens though, he'll always be looking forward to each and every coming season. 
"Wayne Bennett is a big change, but I'm really looking forward to seeing what he can do with our squad," he said.
"I'm a big Cameron Murray fan. He's a top player. I went to school with Dean Hawkins and he's always been a big Souths fan which is great to see in the young guys. 
"The boys are keen and raring to go from what I've seen and heard, we've got a strong core and all the distractions are over. I think we'll go a long way."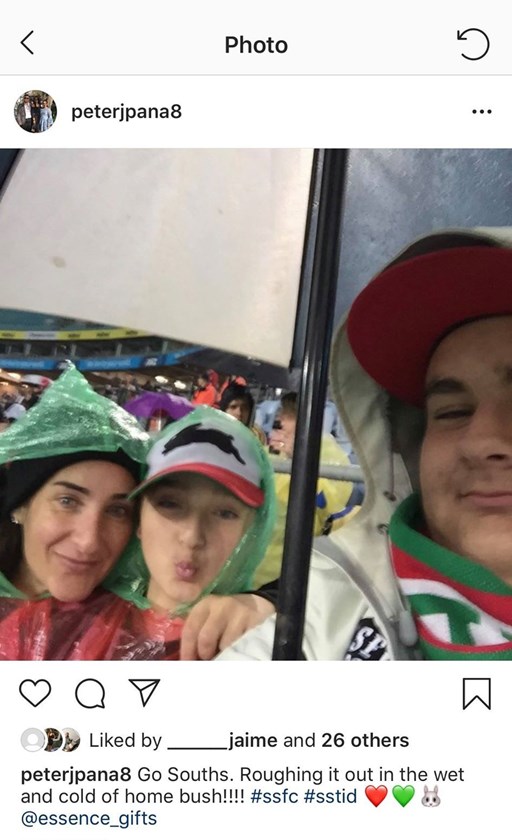 It's hard not to admire South Sydney faithful that attends every match - there is always a group of faces that are always recognisable. But what keeps them going back for more? 
It's something that can be asked for most Souths fans, who finally got a taste of Premiership glory in 2014 after a 43-year drought - now what? 
According to Peter, it deserves a simple answer. 
"It's expectation - whether that's having an expectation of myself being at the games or having an expectation on the players performing for the fans. They represent us and we represent them.
"I've gone to Melbourne each time we've played them there in the last six years; I'll go to every game that I can in Sydney and eventually I want to go to Queensland for some matches.
"Wearing that little rabbit over my heart is a big thing for me - having that makes my life."
A drizzle has now turned into a downpour, and as we ran back around the corner to avoid the rain, we were both drenched from head to toe. 
I thanked Peter for his time, and as he got back into his van, he turned around with a smile and simply replied:
"Glory, Glory"