Many things have changed in the 110 years of our feud with Eastern Suburbs; the rules of the game, their name three times, players, perceived territories are just a few. But one thing that has remained constant in those 110 years is the pride of the South Sydney community in the Cardinal and Myrtle hoops.
Many chapters in the Book of Feuds can be filled with tales of aggression, fiery matches, underhand tactics, player poaching and other indiscretions between our two foundation clubs. These stories are passed down from generation to generation and serve to stoke the fire in the belly of the many Souths supporters in the grandstands. 
Larry Armytage, a foundation Member of the Rabbitohs and follower since 1965, feels that pride inside him whenever someone mentions the Rabbitohs, and conversely feels that fire when he hears about the Roosters. That's something he's now passing down to his granddaughter Olivia.
In many ways Larry and Olivia are part of the main characters in the Rabbitohs and Roosters feud: the supporters. They recite the battle stories, inspire others to come on the journey with them, influence the mood of games and keep the enmity alive when the sons of South Sydney clash with the Bondi brats. 
"I hate them," laughs Larry. "They've got a sort of air of arrogance about them."
"Between the supporters it's really a hatred. The Members and fans probably hold onto it more than anyone else, we live it. Even my granddaughter can't stand them and she's only 15.
"The feeling wasn't there when I was young, my mum took me to my first grand final in 1965, but as you get older you sort of get the feeling of it. When we play the Roosters, they're the team that you want to beat most of all - much more than Manly."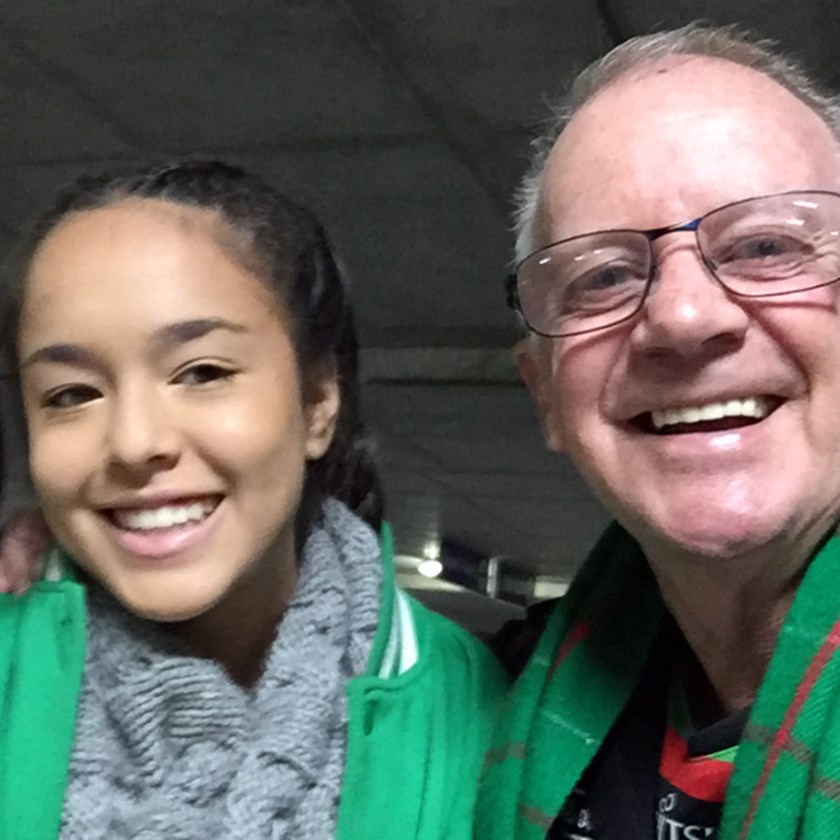 The proximity of our clubs has a lot to do with it. There's no 'love thy neighbour' feeling between Souths and Easts - especially when the Roosters are coveting our territory and local juniors. This feud has been simmering for 110 years since Easts were formed one week after the Grand Old Club.
For Larry, there's not one example that explains why Rabbitohs and Roosters clash so passionately outside the 80 minutes inside the stadium. He can point to several players being coaxed out of Redfern by the Roosters, but it's a cultural thing which materialises within the supporter groups of each club.
"We had Craig Wing go there, Braith Anasta went there; it leaves a bad taste in your mouth. Craig Wing, especially, I would've loved to have kept at Redfern. Roosters had the money, so they took them," explained Larry.
"I've got lots of mates that are Rabbitohs supporters. Anytime the Roosters get beaten they'll ring me and say, 'how good?'. It's great to see anybody beat the Roosters.
"And it's never going to change. Being a Rabbitohs fan is really a 'til I die' kind of feeling. I think it's the same for Roosters fans but it's hard to tell because they don't turn up very often. That's why we love to give it to them!"
Passing on his stories there's a moment which he always finds himself recounting to family and friends - the classic Sydney Football Stadium clash in 2012, won at the death by the Rabbitohs an incredible run of off-the-cuff play.
Watching from the grand stands with his granddaughter Olivia, it was a night that really underlined the animosity that Rabbitohs and Roosters fans have for each other. Berated for almost 80 minutes by gloating Roosters fans, it was Larry that got the last laugh after the astonishing last three minutes of that match.
"Being in the crowd is fantastic when you play the Roosters. We were in the crowd at Allianz Stadium for round 19, 2012, when we were behind by 10 points with about a minute and a bit to go," said Larry.
"Just before we won it my granddaughter said to me 'we can still win, poppy' and I thought there was no chance. Then Merritt scored and she turns to me and says 'we can win now' with about 50 seconds on the clock – I didn't want her to get her hopes up. There were Roosters guys behind us and they were giving us hell, they were so obnoxious."
"And then we scored. It was amazing, it was fantastic. You should have seen their fans, we were so happy."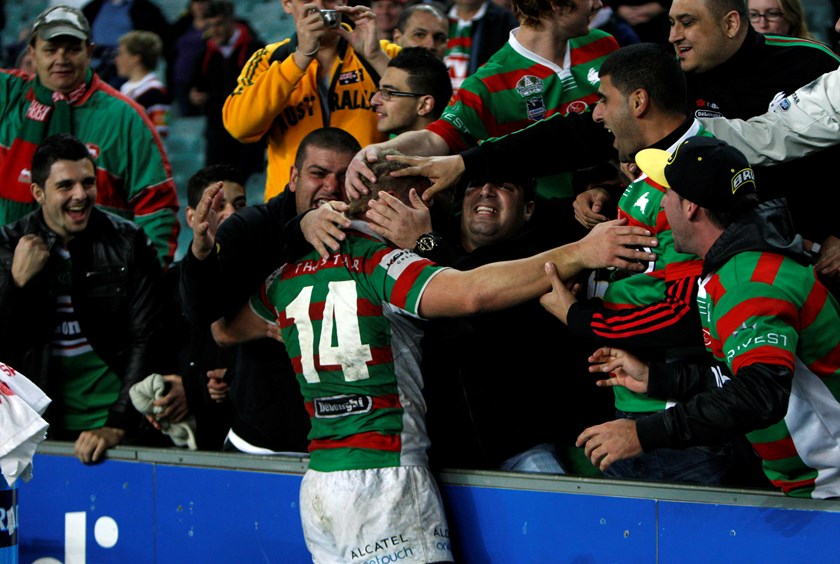 This year Larry is celebrating 53 years of supporting the Rabbitohs, through the years witnessing the heroics of players like Sattler, McCarthy, Niszczot, Fenech, Davidson, Wing and more. But, the player he feels most blessed to have seen play in the flesh is one of our modern legends of South Sydney.
"Since 1965 I've been watching football, I've seen Reg Gasiner and all those, but I can tell you if someone said to me 'if you could see one player at their best who would you see?' and it's definitely Greg Inglis. Without a doubt. Better than any of the immortals, he can do anything at his best."