For over two decades the Rabbitohs dreaded the away trip to Brisbane. But that all changed in 2009 when a Souths team full of confidence delivered one of our biggest ever wins against the Broncos thanks to an inspired John Sutton performance and a history-making hat-trick from centre Beau Champion.
Champion's hat-trick would record his name in the history books as the first Rabbitoh to score a hat-trick against the Brisbane Broncos since their establishment in 1988. It happened on a chaotic night; over 50,000 people packed inside Suncorp for a double-header showcase where Brisbane and Souths would play the first game. That night, the Rabbitohs went ballistic; scoring eight tries to the Broncos two and never looking likely to lose the match.
We exploded in the second half, scoring three times within the first 10 minutes after the re-start. But the game is also remembered for a freak accident involving referee Tony De Las Heras. The match referee was knocked unconscious from a stray Tonie Carroll knee after he was knocked to the ground during a Jamie Simpson linebreak. Play would continue with Phil Haines stepping in as referee as we ran away to a 44-12 victory.
Beau Champion, who debuted in 2005, can remember painful memories against the Broncos over the years but that 2009 clash felt like retribution to the Rabbitohs outside back.
"It was a memorable one for our team and for myself. We gave them a bit of a hiding that night. Leading up to that they'd beaten us numerous times in previous seasons so it felt good to get one back on them," said Champion.
"Scoring a hat-trick made me feel unreal because a few years before that I actually played a game there on a Friday night and had an absolute shocker. So to go back up there, to Brisbane, and get the win as a team and to beat a team like the Broncos, who were considered one of the super powers at the time, was something special.
"Especially for us guys, we weren't an experienced side, we had players around that 23, 24, 25-year old mark. To beat a really experienced team full of Origin players and seasoned campaigners was really good for our confidence and really good for our development and growth.
"It's awesome coming back with a win. Suncorp has a similar feel to Fortress Brookvale. Winning those games mean a lot more because they're a harder match to win. At Suncorp that night it was a double header and there was around 50,000 people there - winning that makes all the hard work and commitment worth it and it brings your team together as well."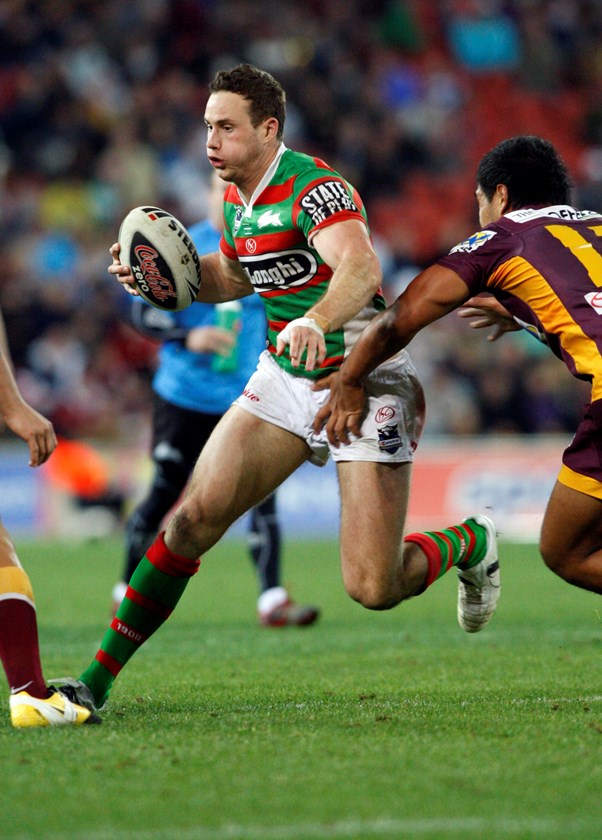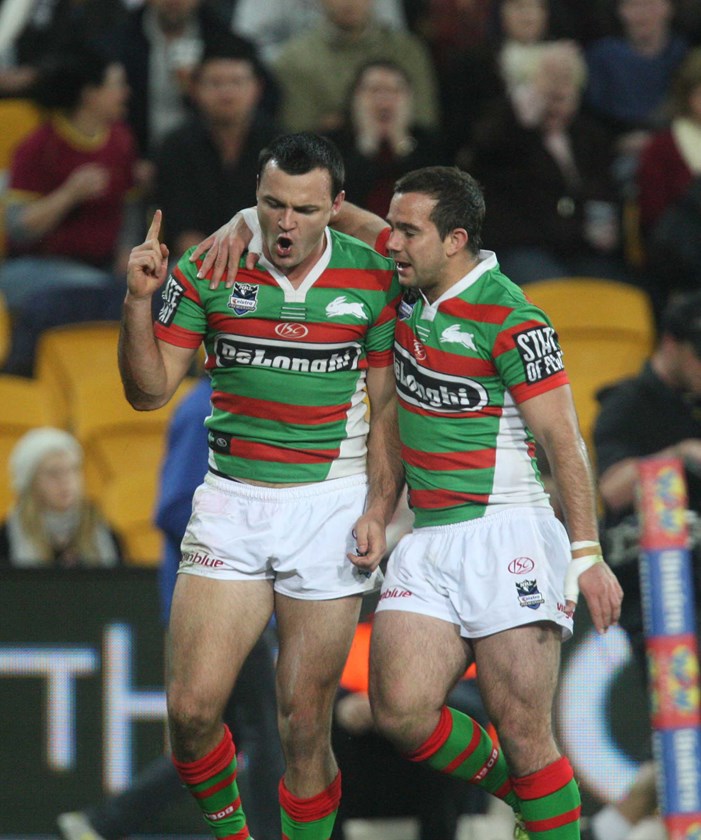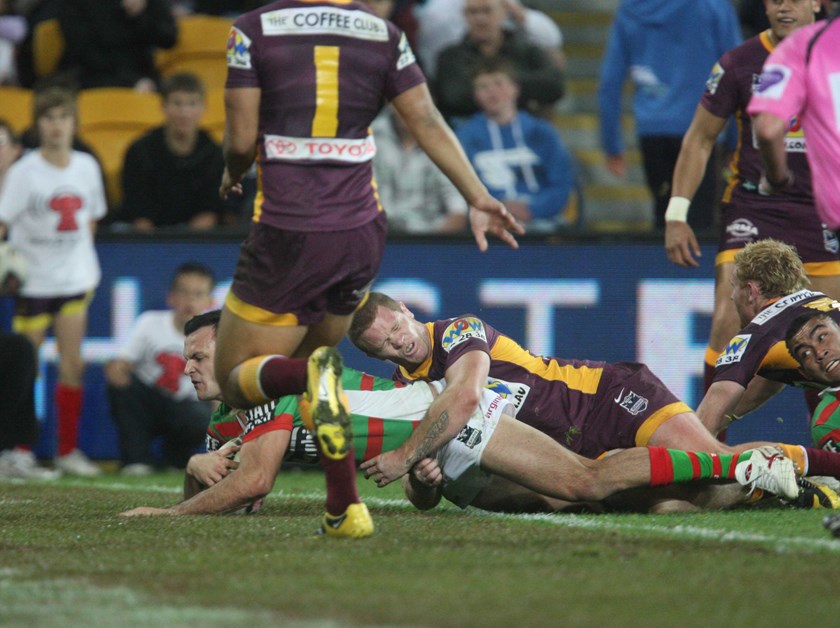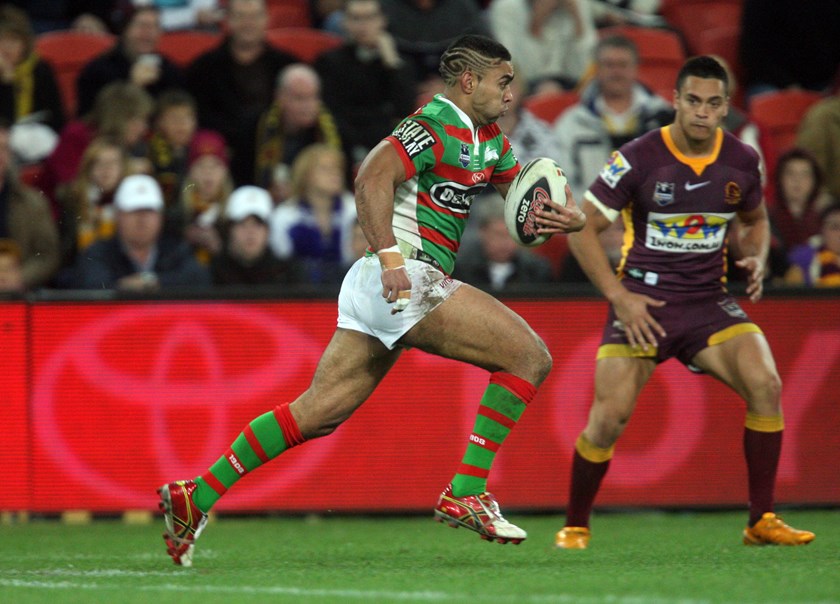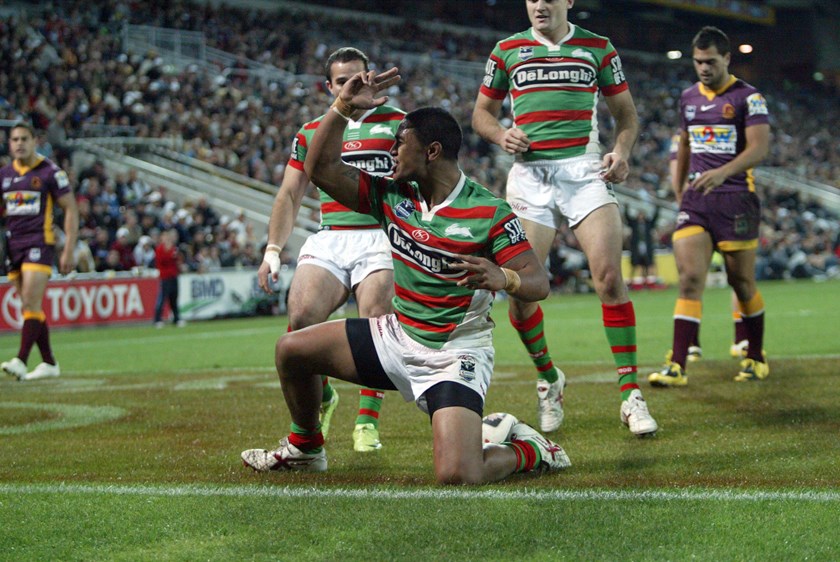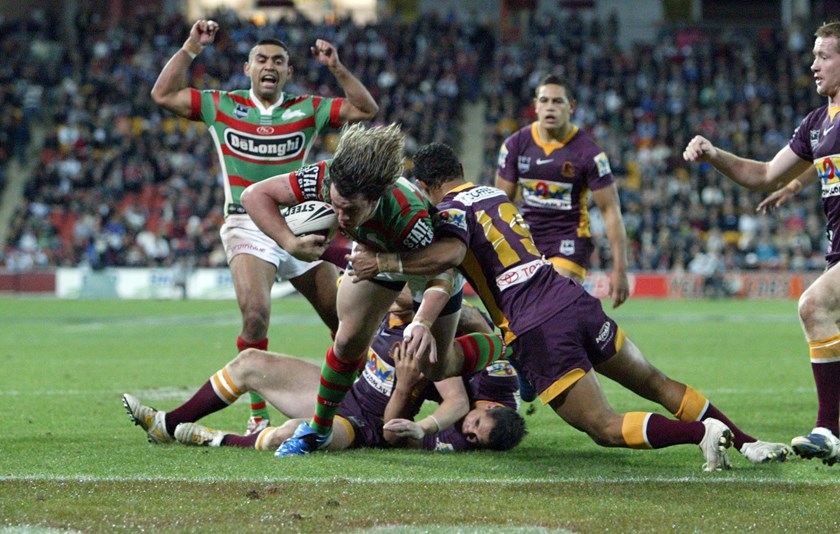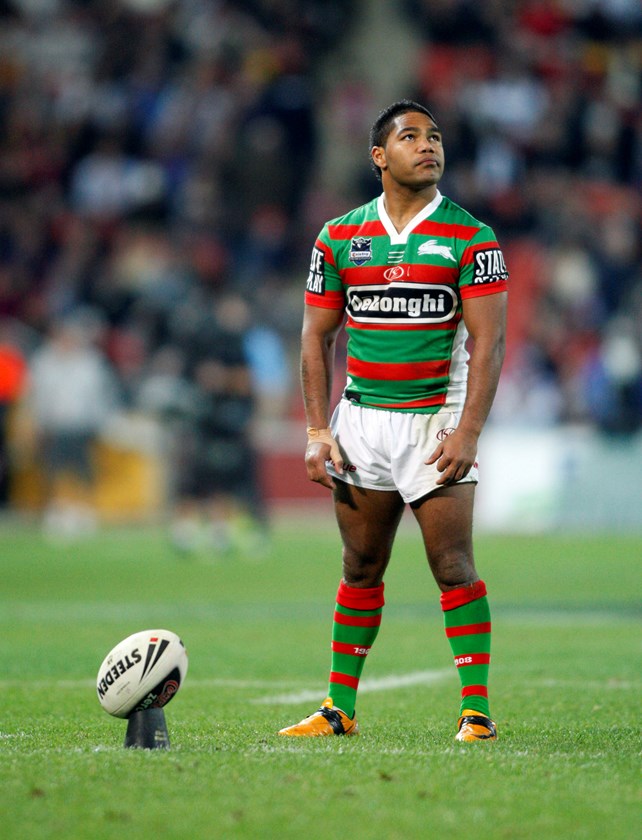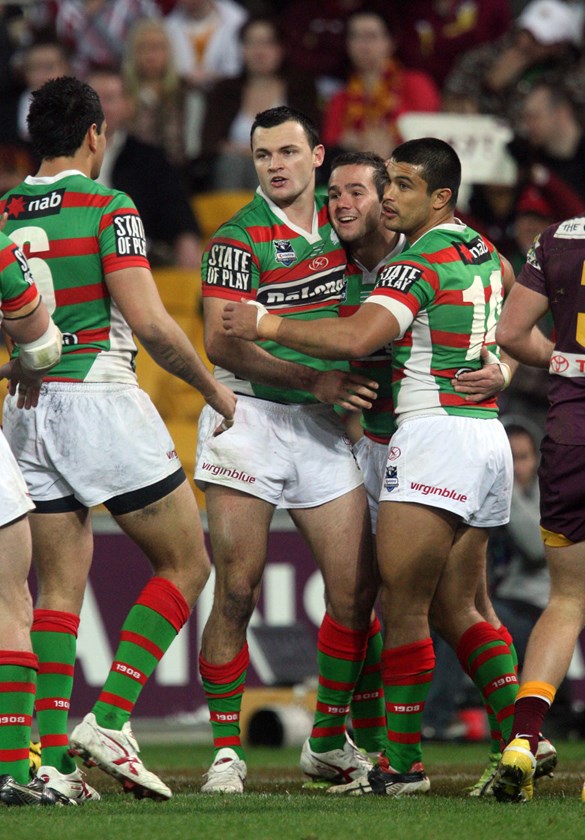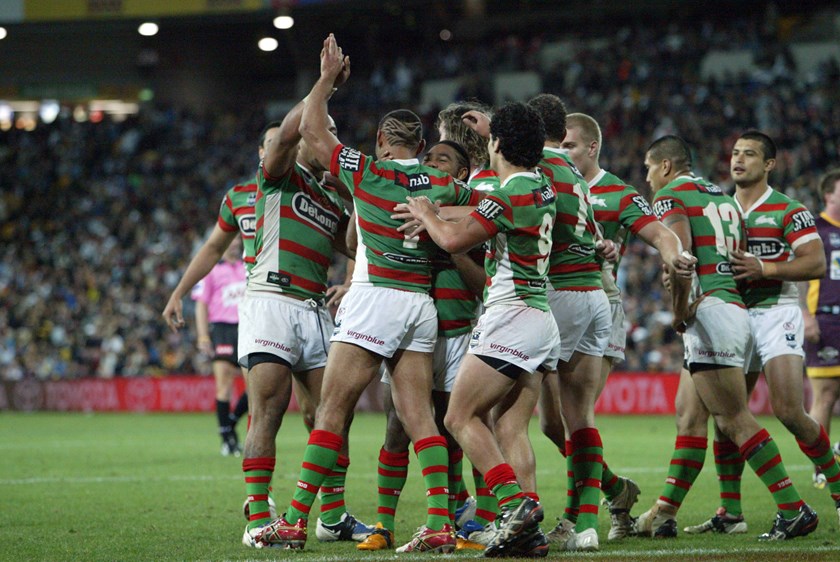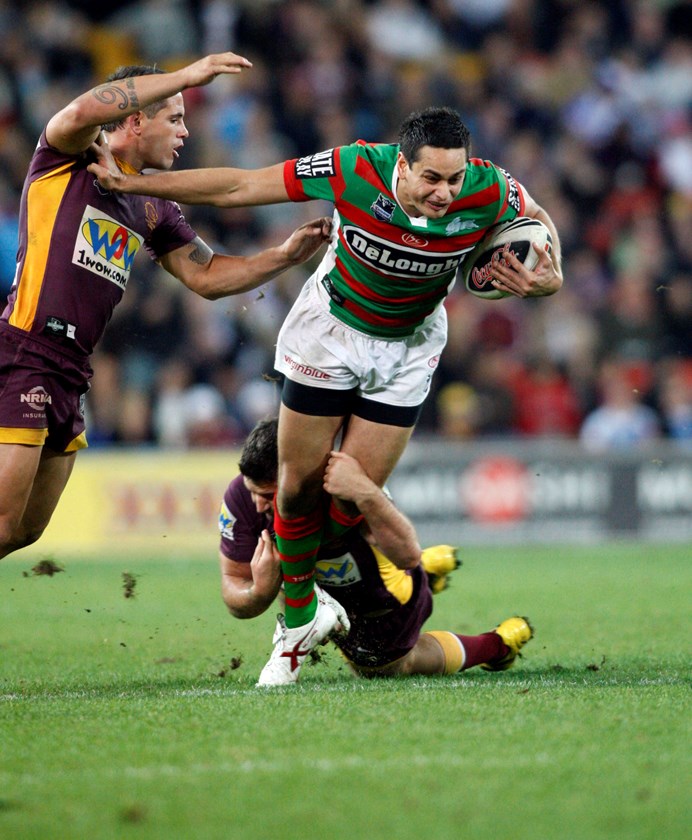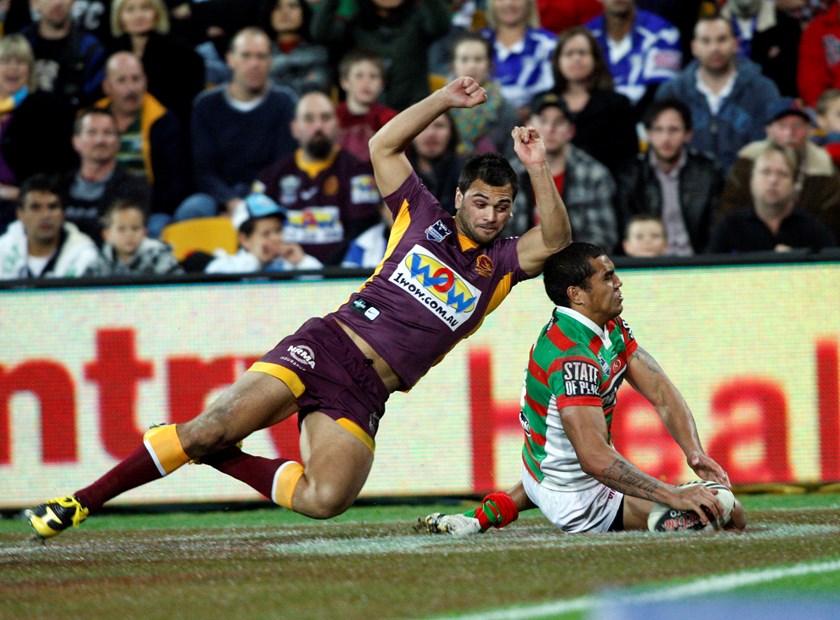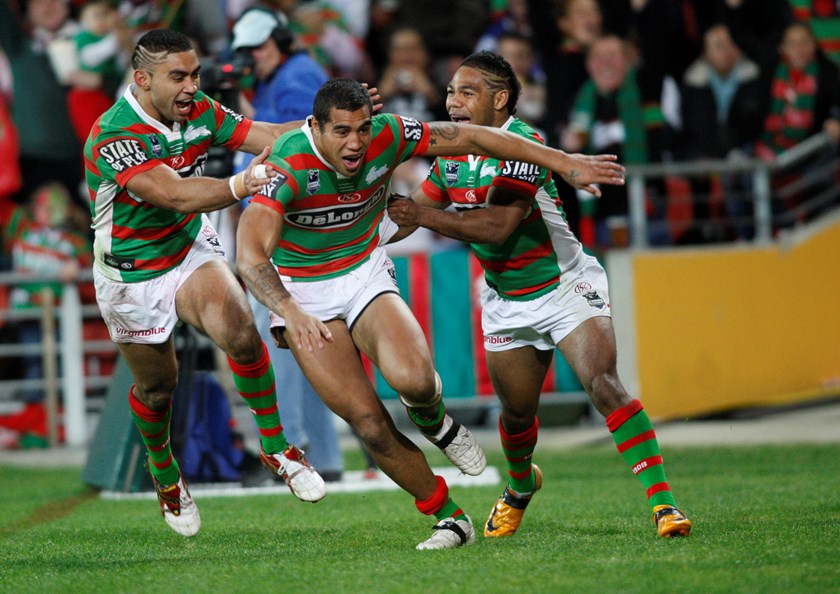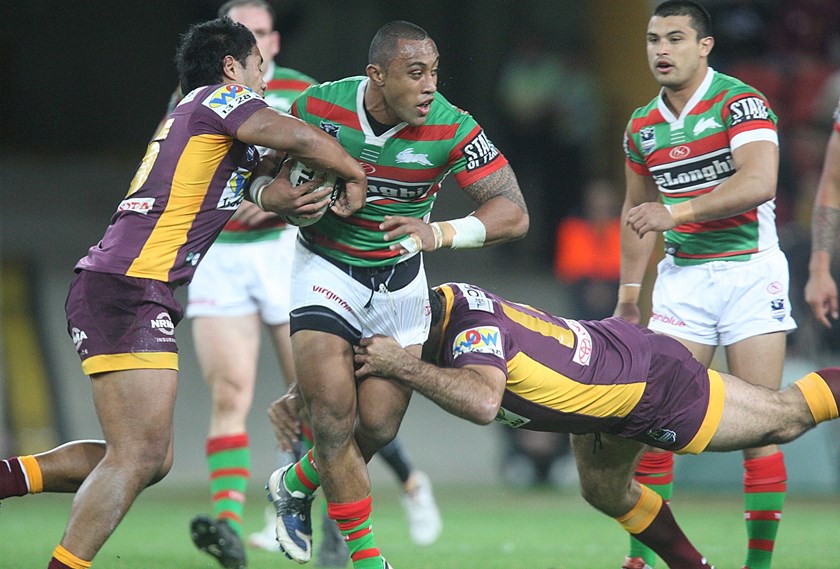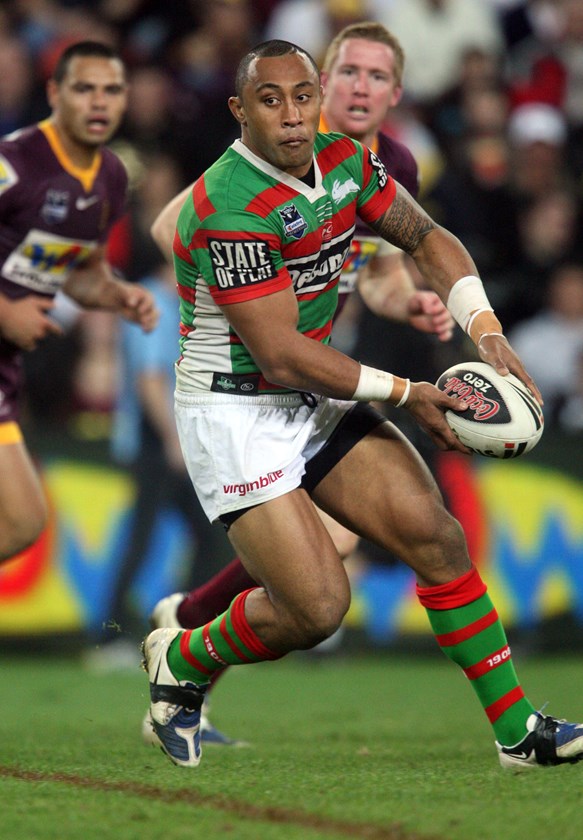 Champions historic hat-trick came from tries in the 16th, 39th and 48th minutes. Then Head Coach at the time, along with his assistants and senior players, had come up with a plan to beat the Broncos and finally get the Suncorp monkey off Souths' back. Champion remembers it clearly and credits John Sutton with it's fine execution.
"I remember the tries; that weren't too far our thank god," laughed Beau.
"Brisbane predominately were a team that would come up and slide a lot so we sort of worked out, if they were going to slide, the best way to go through them is to go back at their inside shoulders and run as hard as you can at those spaces - it worked that night.
"Our forwards got really good roll-on and 'Sutto' was on fire. He was just attracting players because he's such a big frame and because we were so close to the try line he was attracting players and seeing gaps, running into them."
Already a game that would live in the memories of Souths supporters for a long time, the game was underlined as a match that wouldn't be forgotten when referee Tony De La Heras was caught in a bizarre, freak accident which left the official unconscious in the 65th minute.
"Late in the game, it was all over and done with, and Jamie Simpson made a break off a loose ball and he beat a few defenders and stepped back on the inside. Tonie Carroll was chasing and, unfortunately, his knee went straight into the head of Tony De La Heras," recalls Champion.
"Unfortunately, for Tony, he was knocked completely out in the middle of the field. It was a bizarre incident because you don't often see a referee get knocked out - you see them maybe tear their calf or hamstring every now and then but, unfortunately, he copped one in the head. Thankfully he was all good after the game but it was a bit of a shock at the time.
---
Match report supplied by Michael Curin
The Rabbitohs massacred the home side in an eight-tries-to-two rout – their biggest ever win over Brisbane and their first in Brisbane since 1989 – that suggested the red-and-greens might make the top eight while the home side, co-competition leaders after 12 rounds, might not. With five-eighth John Sutton still wielding the baton he used to wreak destruction on the Panthers last week, Souths punched huge holes in the Brisbane defence out wide and close to the line. Their players were energetic, supportive and displayed a hunger for the ball; by comparison the Broncos were lethargic and lacked direction.
The opening exchanges were scrappy with plenty of dropped ball and limited completions. Souths posted first points with a try to Beau Champion (his first of three) after repeat sets in the 16th minute, but a soft four-pointer to Corey Parker in the 20th minute, with the Brisbane skipper diving on a deft Peter Wallace grubber behind the defensive line with fullback Nathan Merritt out of position, calmed the home fans. Then Sutton took the game by the scruff of the neck. In the 26th minute he took on the Broncos up the centre of the park, dummied at the line and delivered a wonderful left-handed round-the-corner offload to second-rower Eddy Pettybourne, who hot-potato passed to winger Jamie Simpson who drew fullback Karmichael Hunt and put support Nathan Merritt away on a 30-metre sprint under the posts.
Souths continued to press and were rewarded with more points shortly before halftime when Merritt fed a short ball to Champion, who exposed for a second time – and not the last in the night – a poor defensive positioning by Broncos left centre Steve Michaels.
Play was held up for almost 10 minutes from the 66th minute when referee Tony de Las Heras collided with Rabbitoh Jamie Simpson and was then accidentally kneed in the head by Brisbane's Tonie Carroll, who had attempted to hurdle him. Phil Haines, who was one of the Sideline Officials, came on as his replacement.
SCOREBOARD
South Sydney 44 (B.Champion 3, N.Merritt 2, E.Pettybourne, F.Talanoa, D.Tyrrell tries; C.Sandow 5, I.Luke goals) 
defeated
Brisbane 12 (C.Parker, D.Taylor tries; P.Wallace 2 goals)
Suncorp Stadium, Brisbane, Friday night, July 17, 2009 (6.40pm).
Crowd: 50,109
Referees: Gavin Badger, Tony De Las Heras
Halftime: Souths 16‐6
Scrums: Brisbane 8‐4.
Penalties: Souths 7‐5
SOUTHS: Nathan Merritt; Jamie Simpson, Colin Best, Beau Champion, Fetuli Talanoa; John Sutton, Chris Sandow; Luke Stuart, Issac Luke, Roy Asotasi (c), Ben Lowe, Eddy Pettybourne, David Fa'alogo. Interchange: Craig Wing, Shannan McPherson, Scott Geddes, David Tyrrell. Coach: Jason Taylor.
BRISBANE: Karmichael Hunt; Antonio Winterstein, Steve Michaels, Justin Hodges, Alex Glenn; Aaron Gorrell, Peter Wallace; Josh McGuire, Andrew McCullough, Joel Clinton, Guy Williams, Ben Te'o, Corey Parker (c). Interchange: Tonie Carroll, Lagi Setu, David Taylor, Josh Hoffman. Coach: Ivan Henjak.
Dally M points: 3 – Sutton (Souths), 2 – Merritt (Souths), 1 – Champion (Souths).
Scoring Progression:
16 min: South Sydney 4‐0 (Champion try)
20 min: Brisbane 6‐4 (Parker try; Wallace goal)
26 min: South Sydney 10‐6 (Merritt try; Sandow goal) 
39 min: South Sydney 16‐6 (Champion try; Sandow goal)
45 min: South Sydney 22‐6 (Pettybourne try; Sandow goal)
48 min: South Sydney 28‐6 (Champion try; Sandow goal)
50 min: South Sydney 32‐6 (Talanoa try)
55 min: South Sydney 32‐12 (Taylor try; Wallace goal)
64 min: South Sydney 34‐12 (Sandow goal)
68 min: South Sydney 38‐12 (Tyrrell try)
75 min: South Sydney 44‐12 (Merritt try; Luke goal)