For someone who has spent their entire life in Newcastle, moving to Sydney for a first-grade opportunity can be a daunting task - but it's something that new recruit Cory Denniss is taking in his stride.
Playing his junior football for Lakes United in the Newcastle competition, Denniss made his way through the grades at the Newcastle Knights, scoring a double in his first-grade debut in 2016 as an eighteen-year-old.  
Through the next two seasons in the Hunter, he went between NRL and ISP, plying his trade in the outside backs and furthering his development. 
And in 2019, he has made the decision to take the M1 for a new opportunity in Cardinal and Myrtle, something he says he is enjoying so far. 
"It's definitely different compared to Newcastle, obviously a lot busier but I'm enjoying the move," he said.  
"It's been good to get out of my comfort zone and try something new. The playing group is really tight-knit and everyone has made the move really easy."
For a young Novocastrian, you wouldn't have to look too far to find some home-town inspiration in Redfern. Two of the Club's most famous players - Clive Churchill and John Sattler - originated from the region.
There is a Newcastle flavour in the playing squad this season - with the arrivals from the steel city including ISP and Jersey Flegg players Jack Johns, Lyndon Hills, Lachlan Walmsley and Brock Gardner - who have helped Denniss feel right at home in the big smoke. 
"There's a few boys I know from back in Newcastle; I played with Brock Gardner in the juniors, and I've played ISP footy with Jack Johns the last few years too," he explained. 
Cory Denniss

I got to meet Wayne (Bennett) and spoke to him a little bit and I walked away from the meeting knowing I wanted to be here.
"I've been hanging with them a little bit, as well as Lyndon Hills who has been showing me around as well. I'm getting to know everyone with each coming day - and like I mentioned, it's been great getting out of my comfort zone and I've enjoyed getting to know everyone in the squad.
"I've been swimming down at Maroubra a few times, I've tried my hand at surfing as well but I might have to get a few tips from Sutto." 
After identifying the opportunity to pull on the Cardinal and Myrtle, Denniss revealed that a meeting with Head Coach Wayne Bennett all but sealed the deal - and elaborated on his excitement playing at one of the most famous Clubs under one of the most famous coaches. 
"There was an opportunity to come down and have a chat. I got to meet Wayne and spoke to him a little bit," he explained. 
"And I walked away from the meeting knowing I wanted to be here. 
"It was easy to make the decision, especially with the opportunity to be coached by someone with so much experience and so much knowledge, and I'm looking forward to learning more from him.
"There are a lot of things on and off the field he's really switched on to - he's making sure we're doing the right thing and looking after each other as well."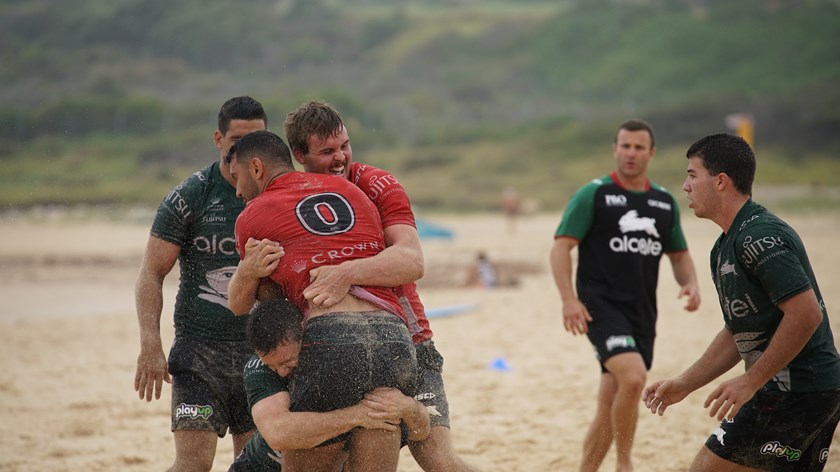 Being an outside back, Denniss has two of the best in the business - former Knights teammate Dane Gagai and Club captain Greg Inglis - to help him continue his development as a first-grader. The two senior players, he says, have had a positive effect on him and his younger teammates. 
"I've trained and played a bit with 'Gags' back when I was at Newcastle and he's always very helpful and full of new ideas which helps us young boys," he explained.
"The same goes for Greg as well. They're both great at giving us advice and making sure we're doing the little things right."
Two people who have already noticed Cory's presence in the squad have been Assistant Coach Willie Peters and Pathways and Player Education Manager Ben Rogers, who both believe the 21-year-old will be a great asset at the Club. 
"Cory was an elite player in the under 20s, he's got experience and will be handy for our outside backs as he can play both wing and centre," Peters said. 
"He's training really well and getting to know all of our plays and structures at the moment, and he's going to be a valuable member of our squad."
"He has really settled in well, especially with the boys in a social capacity and he's in good physical shape," agreed Rogers. 
"He's a good backup for Greg Inglis and Dane Gagai when they play Origin - he's played centre at NRL standard before and he won't miss a beat."
Willie Peters

He's training really well and getting to know all of our plays and structures at the moment, and he's going to be a valuable member of our squad.
A common denominator when it comes to a player's goals is a desire to play first-grade and win a Premiership, and while those both ring true for Denniss, it's his first and foremost ambition that is most admirable. 
"The main goal for me at the moment is to earn respect from the playing group, the coaching staff and the Club," he said. 
"By doing that and playing consistent week in week out footy, hopefully that gives me an opportunity to play first grade."
One thing that remains to be a mystery is whether or not Cory keeps his luscious moustache -  a constant throughout his career - with a decision yet to be made which will surely sway the interest of Rabbitohs Members and supporters alike. 
"I'm not sure, I'll have to wait and see once the season starts," he laughed.
"It might be a new change for me coming to Sydney to get rid of it."