South Sydney will be Liam Knight's fourth Club in as many years, but with a fresh start and a burning desire to feature in first-grade, Redfern very well could be a permanent base for the talented forward's career. 
Knight's story is a common one for most up and coming talent in the NRL - the 24-year old rose through the ranks, representing the NSW under 20s, playing ISP and eventually making his NRL debut in 2016 for Manly.
After a stint in Bondi, Knight moved down south to Canberra in 2018, where his strong performances in the ISP were rewarded with 10 NRL matches as a bench impact player.
But the allure of returning to Sydney was too great for the young forward, and an opportunity arose to become a Rabbitoh, one he has taken with both hands so far. 
There were plenty of positive signs from his performances in the Australian capital as well, with Knight proving to be an energetic and enthusiastic runner of the ball and a dominant force in defence.
Perhaps his best performance came in Round 15 last season as the Raiders trounced the Tigers 48-12, with as he recorded a linebreak, scored a try, threw an outstanding pass for a try assist and ran 71 metres in just fifteen minutes.
That same enthusiasm and energy is evident in the way he speaks of the Club, and with numbers like that, it's hard not to get excited about what he could produce in Red and Green in 2019.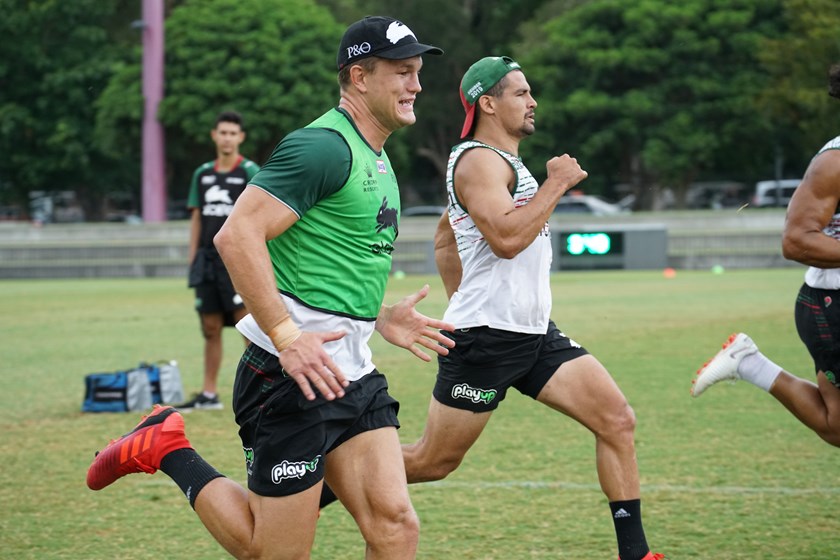 "I love it to be honest," Knight said of his time at the Club so far.
"It's good to be back in Sydney and at the Club. I got a little bit homesick, which was pretty much the main reason for coming back. I wanted to get back to Sydney and when the opportunity to play at Souths popped up I jumped at it.
"I'm absolutely loving training at the moment and being at such a proud Club."
The allure of being mentored by head coach Wayne Bennett is an opportunity that any player would take, and Knight is no different.
So much so in fact, that he confirmed a phone call from the seven-time premiership winning coach was what sealed the deal for his signature.
"He was a massive reason why I came - he gave me a call about three weeks before I arrived and I couldn't really resist be coached under him," he admitted.
"I had never met Wayne before, and it's still pretty surreal seeing him at training with him having been around the game for so long.
Liam Knight

From day one it was awesome seeing just how close all the players were, and how everyone wants to train and improve each other
"You hear all these stories about what he's perceived to be, but when you meet him he's simply a great bloke and mentor who has the ability to have a laugh and then get serious when it comes to training.
"From day one it was awesome seeing just how close all the players were, and how everyone wants to train and improve each other."
Rabbitohs fans from the 1980s will be familiar with Tony and Dean Rampling, who were affectionately known as the 'Bash Bros' by the Red and Green faithful for their barnstorming performances and intimidating style of play. 
Fans could witness the birth of a new set of 'Bash Bros' in the engine room forming in 2019, with Knight itching to line up alongside one of his new teammates. 
"Sam Burgess is a really good bloke. I've been trying to hang around him at training and learn whatever I can," he said.
"I've looked up to him for a few years from afar, I'm still pinching myself seeing guys like him on the training paddock and around the Club, and having the chance to talk with him like a normal bloke.
"I've been trying to model my game on his because he's been a really successful forward for a number of years."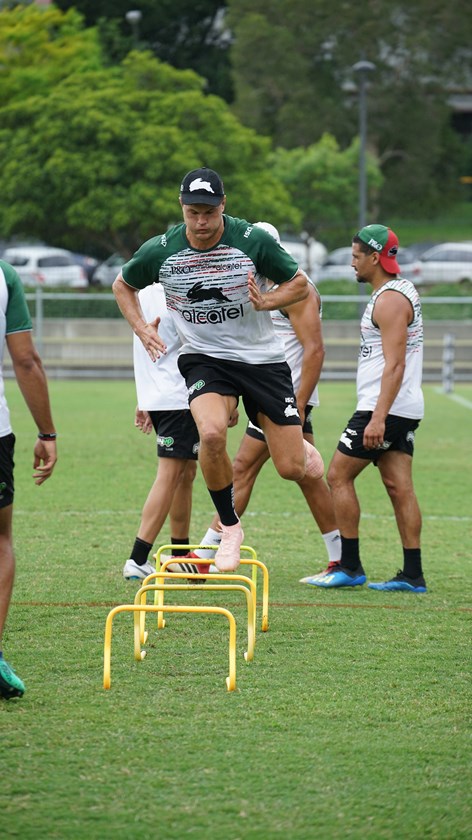 With the Club's engine room looking as strong as ever, particularly up front, you could be forgiven for thinking Knight might see limited game time in 2019.
But as a young forward with plenty of aggression and power in his game - not to mention confidence - he refuses to see his teammates as barricades blocking his personal success, and has employed a positive outlook for the upcoming season.
"There's definitely a lot of competition in the forwards, especially a lot of young guys," he said.
"Obviously you've got the Burgess boys, and there's Cameron Murray who's not only a good bloke but had a real breakout season last year.
"But I don't look at everyone as competition, I'm looking forward to learning off everybody else and push for a spot in that top seventeen.
"I probably prefer to play in the middle but I'm happy to play wherever the coach wants me to. I know it's a cliché but wherever I'm put I'll be fine with."
Willie Peters

I think he's a great addition to the squad. He's an aggressive player, extremely fit and has a high workrate.
Described by Rabbitohs General Manager of Football, Shane Richardson, as "an old-school front rower", there are plenty of good judges who still believe that Knight will be a success at NRL level.
One of those judges is Rabbitohs Assistant Coach Willie Peters, who previously worked with Knight at junior representative level, and praised the forward utility for his playing style and workrate.
"I've known Liam for a while now since being involved in the NSW 20s side a few years ago," said Peters.
"He has come from Canberra and has got a great opportunity with us, and I think he's a great addition to the squad. He's an aggressive player, extremely fit and has a high workrate.
"I think he will be a surprise packet this year, he's a player that can do something big when his mind is on the job and he's doing everything right."
Club Pathways and Player Education Manager Ben Rogers also spoke highly of the new recruit, and was sure to emphasise the value he has in the squad despite having been at the Club for a short period.
"Liam Knight is a young forward on the rise - he came here for an opportunity to play more first-grade and he's going to get that and is looking to make a big impression," he said.
"He and Sam Burgess have struck up a good working relationship. He's adjusted really well, and because he was already training with the Raiders he's fit, strong and ready to go.
"I can't wait to see how he goes, and I'm intrigued to see where he plays whether it's on the edges or in the middle."
Liam Knight doesn't seem to lack any confidence or drive - qualities that are evident both on and off the field - and in 2019 he is setting the bar high when it comes to personal goals.
"One of my goals is to play every game of the season," he stated.
"Obviously I can't control injuries and that side of things, but if I can stay fit I want to be in the NRL side all year.
"My main goal is to win the competition, but I'll concentrate first on contributing to the side and getting to play every game I can."
Fit, strong and ready to go - Liam Knight will be one to watch in 2019.