The South Sydney District Rugby League Club found itself in the firing line in 1999 after the Super League war. As the NRL moved to cut its competition to 14 teams, Souths Captain Sean Garlick knew it was his duty to rouse his team to make a case to stay by earning a finals berth.
Ultimately it wasn't to be for the Grand Old Club, but, despite constant noise from the media about our looming extinction, a brave pack of Rabbitohs stayed in the hunt until the very end. Souths finished 12th in the end, but during the season all hope seemed to rest at the foot of the mountain when we took on Penrith in Round 18.
We only faced the Panthers once that year and had only won one game against them in the previous decade. However, on a freezing Saturday in the dead of winter, knowing that a loss would likely end their finals dreams, Garlick led his team to a brilliant, defensive 20-0 win over the Panthers.
"We knew that the Rabbitohs were well and truly in [the NRL's] sights and so, as players, all we could do was perform well on the field so it just added that extra bit of pressure," recalls Garlick.
"We wanted to put [the Panthers] in their place - undoubtedly - they had some fiery players and we needed to get over the top of them. We knew we were up against a club with a great deal of pride and reputation and you always want to put your best foot forward when you're going to be in front of their crowd.
"You know you're going to get booed when you run onto the field, you know they're going to be on the referees the whole game, [yelling] get them onside so it's always going to be against you. It's particularly difficult winning in those situations.
"It was going to be my last year anyway in 1999. I'd already signaled my intention to retire but we had young players like Craig Wing who had the world at his feet.
Sean Garlick, former Souths Captain

"For the older blokes there was a real concern for what was going happen to those types of guys if we were thrown out of the competition. We needed to do the best we could as a team to give everyone the best shot of continuing their career."
But it would be Mark 'Spudd' Carroll and Mark 'MG' Geyer who would steal the show that night. A savage duel erupted between the lifelong mates who were opposing five-eighths in the Penrith junior league.
'Spudd' would win that battle as Garlick, Jason Nicol and Wes Patten ran in tries off the back of the hard-running forwards' reckless charges. Julian O'Neill would kick four from four attempts to make up the 20 unanswered points.
"'Spudd' was very easy to fire up. He took offence if anybody walked into the room that was taller than him," laughs Garlick.
"He'd already know who the big guys were and he'd take it as a personal affront that he had to get over the top of the opposing front rowers. It didn't take much to get him going; you'd whisper something in his ear, he loved the chest slap before the game and the jersey would only go on right at the last minute. He had his superstitions and his routine that nobody could break and he was fired up that night.
"MG had a very good, decorated career and was one of the toughest men in the game. 'Spudd' took that as a personal goal to get over someone like MG.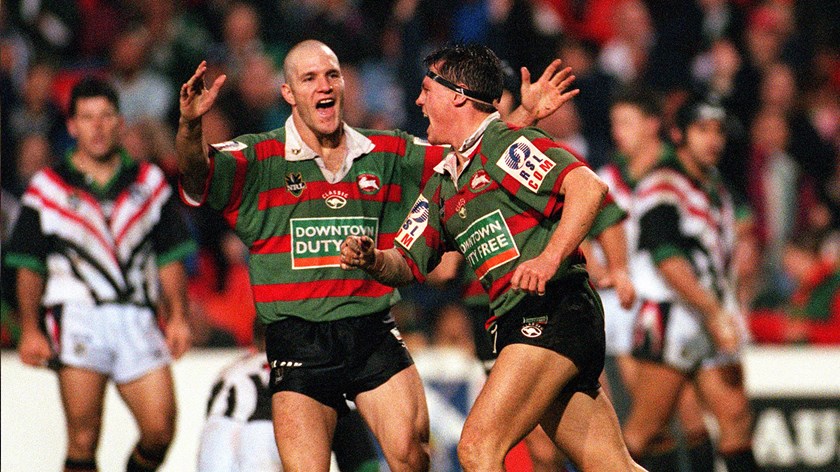 "I think going back to Penrith was always something special for him, it's where he made his debut out there at Penrith. Coming to the Rabbitohs was a big move and so he always wanted to let everybody know that, in his eyes, it was the right decision.
"I think it was one of the nights where we just couldn't seem to get it right in the eyes of the referee - but we still came out with the win in the end.
"That game in '99 was a particularly pleasing one for me, it was the last time I played at Penrith. To come away with a 20 point win, the first time I played out there was in my first grade debut in 1990 - we got flogged by 40 points - so it was a nice way to end that little association with Penrith for me."
There were two battles with Penrith that year - one on-field and on off-field. Despite winning the night at Penrith Stadium on July 3, in October they won inclusion into the NRL's leaner competition.
As best put by Mark Courtney in the 'Book of Feuds':
Second last on that contentious table, and therefore taking the 14th and last spot in the revised competition was Penrith. Controversy later raged as arguments about whether monies paid to Souths and Penrith should have been counted as "grants" or "sponsorship", but it didn't matter when the 2000 competition kicked off.
South Sydney, The Pride of the League, was kicked out of competition we had won 20 times.
The Chocolate Soldiers, with only 33 years of history and just a single Premiership, were in. And we were out.