In the context of their time, these are our picks for the Biggest Boppers in Rabbitohs history! A list of the tallest, heaviest, strongest and scariest players to have played first grade in the Cardinal and Myrtle.
Take a look through the list and let us know who you think should be there!
11) George Treweek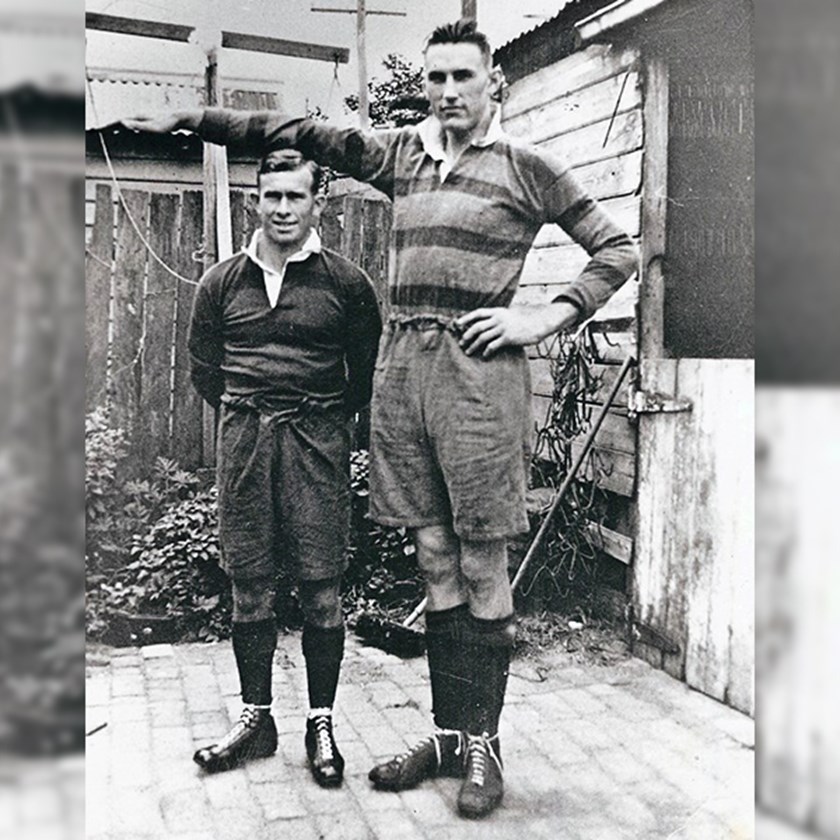 | | |
| --- | --- |
| Name: Albert George Treweek | Born: 31 March 1905 |
| Height: 191cm | Weight: 90kg |
| 119 Matches for South Sydney (1926-1934) | 39 Tries (117 Points) |
Souths Junior George Treweek was a massive presence in many ways during South Sydney's first 'Golden Era'. The man described as "all arms and legs" started his career as a fullback with Mascot Juniors before being shifted to the second row upon reaching first grade for South Sydney.
It was in the forward pack that Treweek reached his full potential - unleashing his towering frame upon hapless opposition and winning Premierships in 1926, 1927, 1928, 1929, 1931 and 1932 (captaining South Sydney in the last two).
He retired gracefully, not having the heart to tell the press that they had incorrectly spelt his name (adding an 'e' to his name) during his entire career. George Treweek, a gentleman to the end, died in 1991 aged 86.
One of the biggest boppers in his time, George would look relatively average in the modern times. The three biggest backs to play for our Club are all taller and heavier than George: Greg Inglis (height: 195cm, weight: 105kgs), Campbell Graham (height: 197cm, weight: 95kgs) and Paul Mellor (our youngest ever first grader, height: 190cm, weight: 105 kgs).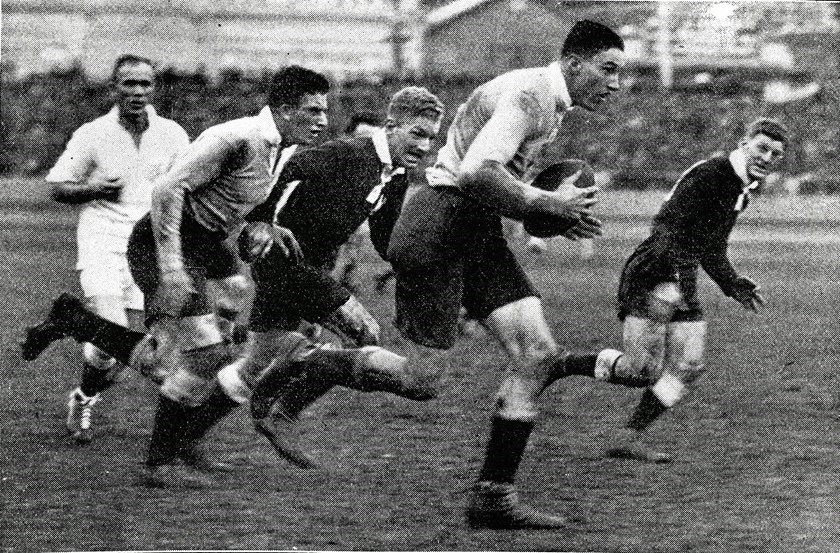 10) John O'Neill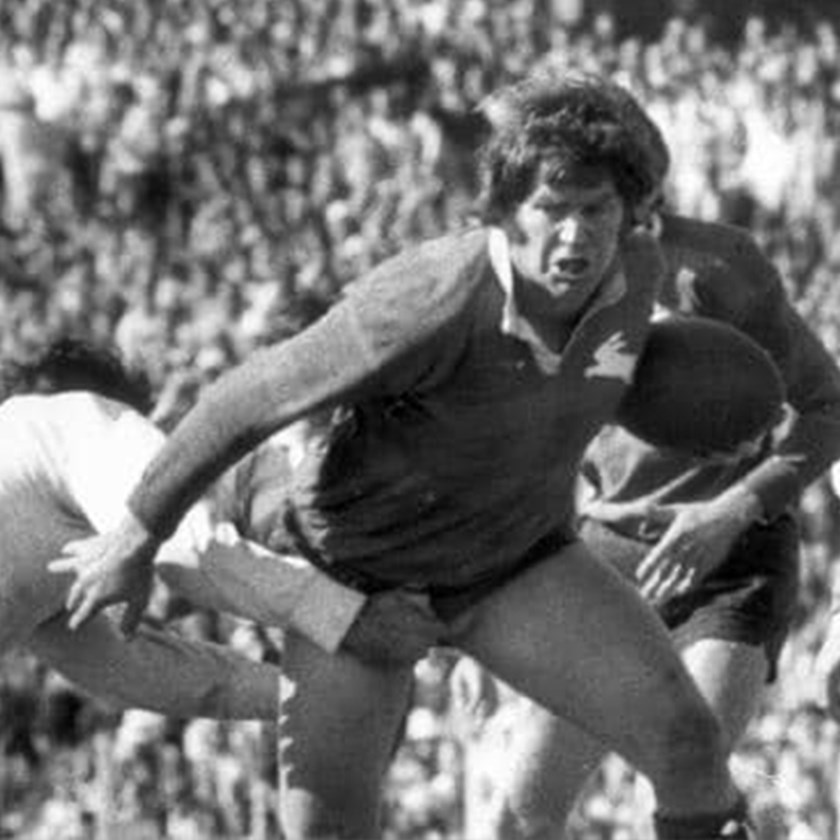 | | |
| --- | --- |
| Name: John O'Neill  | Born: 9 May 1943 |
| Height: 190cm | Weight: 104kg |
| 150 Matches for South Sydney (1965-71, 1975-76) | 11 Tries (33 points) |
Arriving in South Sydney from Gunnedah in 1965, "Lurch" O'Neill would become a ferocious part of South Sydney's dominant team of the late 60s and early 70s, playing in five grand finals and winning all but the 1969 contest against Balmain.
Whilst always tall, O'Neill built up his frame from 88kg in 1965 to 104kg by 1970. Fellow big bopper Bob McCarthy (who's quick to remind us he was the second biggest in that team) remembers O'Neill's power coming from his large legs and hips - providing the rugged prop with a solid frame in the defensive line.
In 1995 he was named in Australia's best Rugby League team since limited tackle was introduced but was shortly afterwards diagnosed with cancer. O'Neill put up a remarkable fight but passed away on 9 August 1999 at the age of 56 - he was held in such high esteem by the Rugby League community that over 4,000 people paid respects at his funeral.
Below: O'Neill is pictured far right in the back row.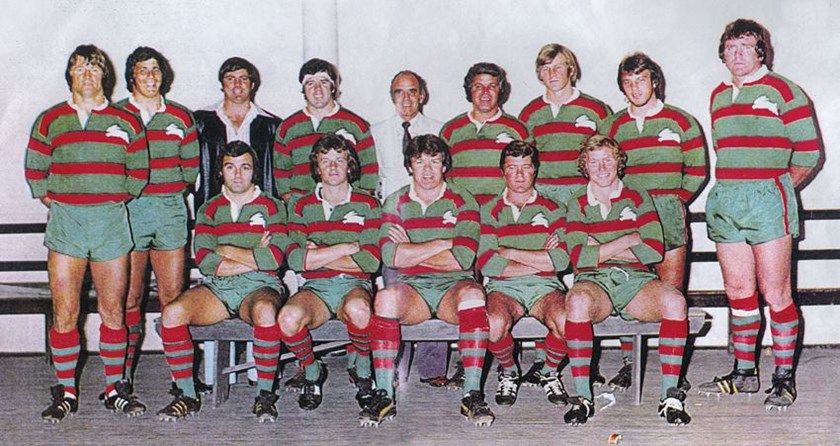 9) Greg Inglis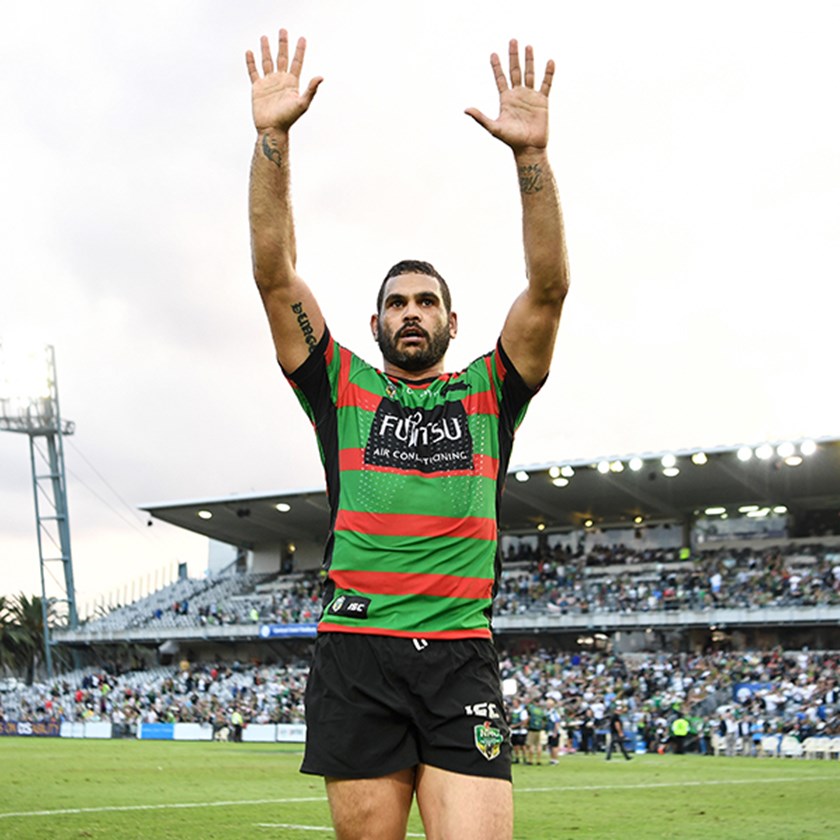 | | |
| --- | --- |
| Name: Gregory Paul Inglis  | Born: 15 January 1987 |
| Height: 195cm | Weight: 105kg |
| 144 Matches for South Sydney (2011-present) | 71 Tries, 1 Field Goal (285 points) |
The largest back to don the Red & Green in the Club's history, Greg Inglis continues to be a massive presence in the South Sydney Rabbitohs squad.
Capable of playing any position on the field, Inglis showcased his physicality best in the 2018 Queensland State of Origin side. Despite playing in a losing team, Inglis, who was named captain for the series, terrorized the NSW side with monstrous hits and carries while trying to inspire his team.
A genuine superstar of NRL, Inglis has won numerous individual accolades during his time in Rugby League including, but not limited to, Dally M medals at five-eighth and fullback, a Clive Churchill medal, a Wally Lewis Medal and the Golden Boot Award.
When asked what he would do if he wasn't a footballer Inglis replied "play another sport", and it's pretty hard to find reasons why he wouldn't dominate any arena he set foot in.
8) Ian Roberts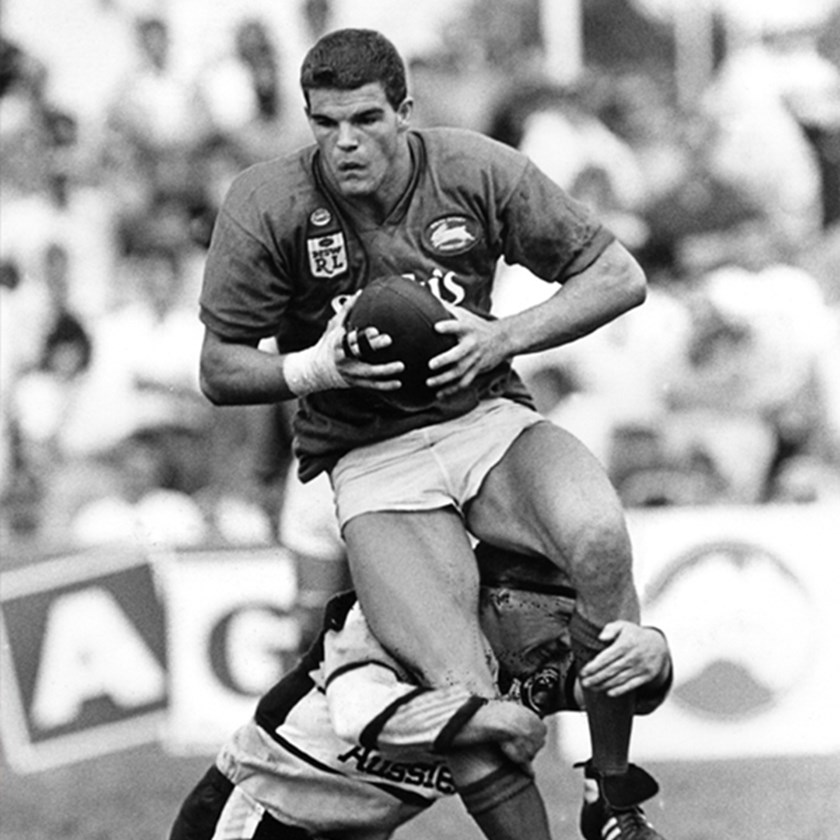 | | |
| --- | --- |
| Name: Ian Roberts | Born: 31 July 1965 |
| Height: 196cm | Weight: 112kg |
| 60 Matches for South Sydney (1985-1989) | 6 Tries (24 points) |
A rising star of the South Sydney Juniors, by the age of 21 Ian Roberts was described by Jack Gibson as "the best front rower in the game".
Tall and incredibly athletic, Roberts was the new school in Rugby League props - but he kept a lot of the old school habits. Roberts was quoted in an interview in the Mirror newspaper: "If someone smashes me in the mouth I'll smack them back. As soon as they see you flinch a bit they've got you. You can't afford to take a backward step."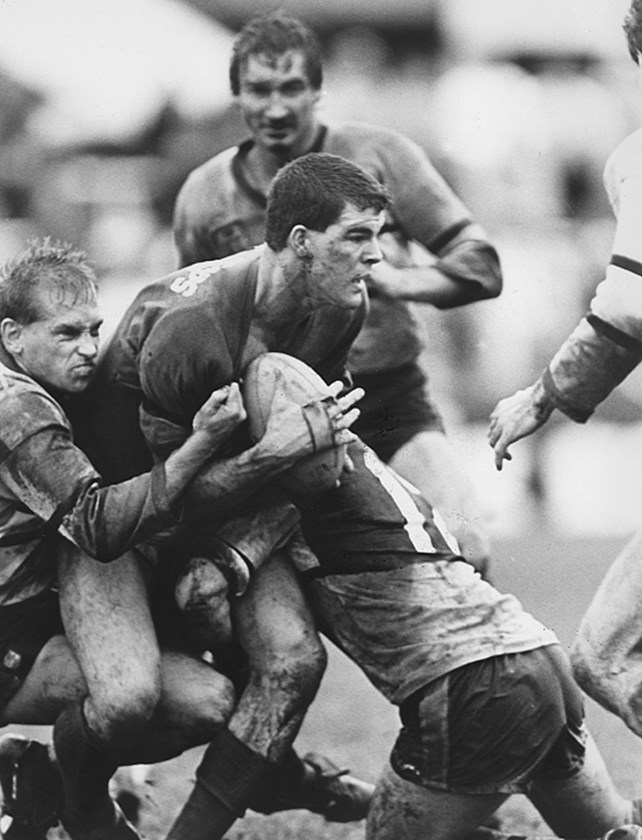 7) Mark Carroll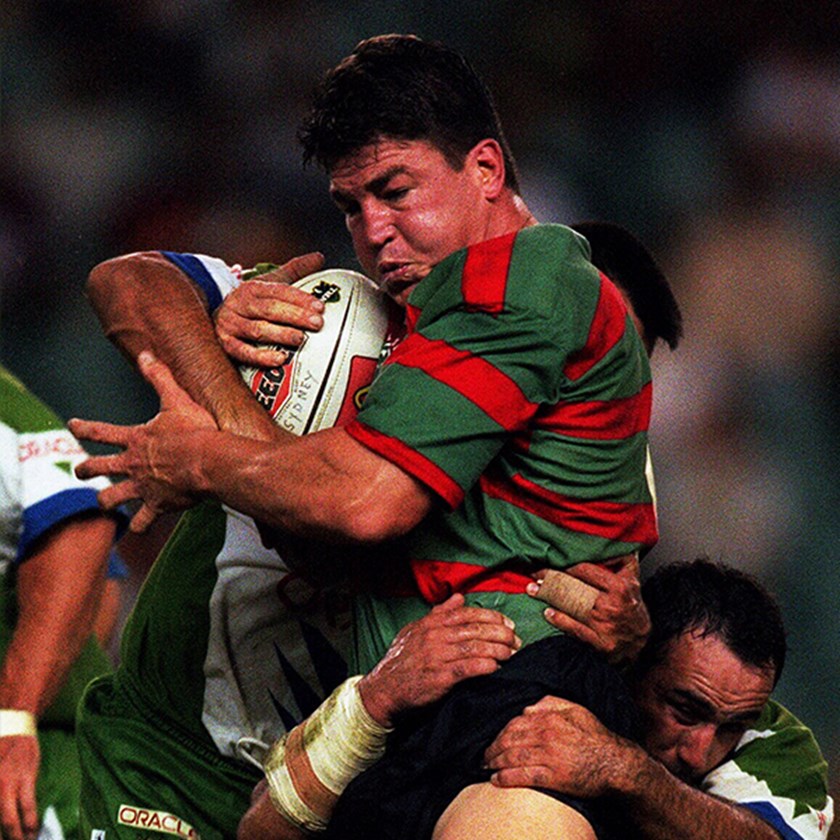 | | |
| --- | --- |
| Name: Mark "Spudd" Carroll | Born: 26 February 1967  |
| Height: 194cm | Weight: 114kg |
| 80 Matches for South Sydney (1990-93, 1999) | 6 Tries, 1 Field Goal (25 points) |
An unrelenting force on the field who was always ready for a personal battle with any opposition, Mark "Spudd" Carroll was consistently one of Souths best players in the early 1990s and a key part of our frighteningly large 1999 forward pack.
It wasn't just his size that made Carroll one of the biggest boppers in South Sydney history - it was also his attitude. Former South Sydney captain Sean Garlick remembers how Carroll played every game like he was the biggest man on the field - which he usually was.
"'Spudd' was very easy to fire up. He took offence if anybody walked into the room that was taller than him," laughs Garlick.
"He'd already know who the big guys were and he'd take it as a personal affront that he had to get over the top of the opposing front rowers. It didn't take much to get him going; you'd whisper something in his ear, he loved the chest slap before the game and the jersey would only go on right at the last minute."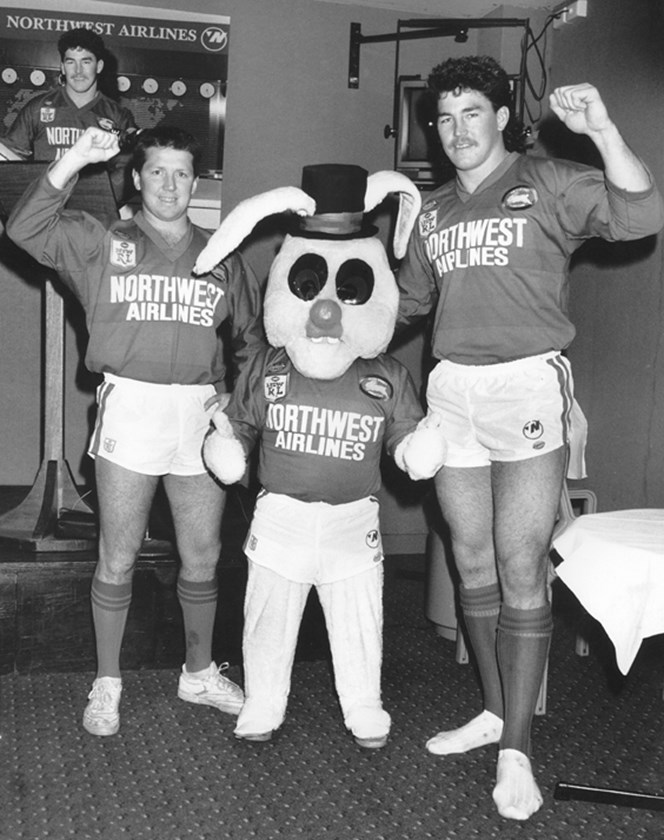 6) Charlie Frith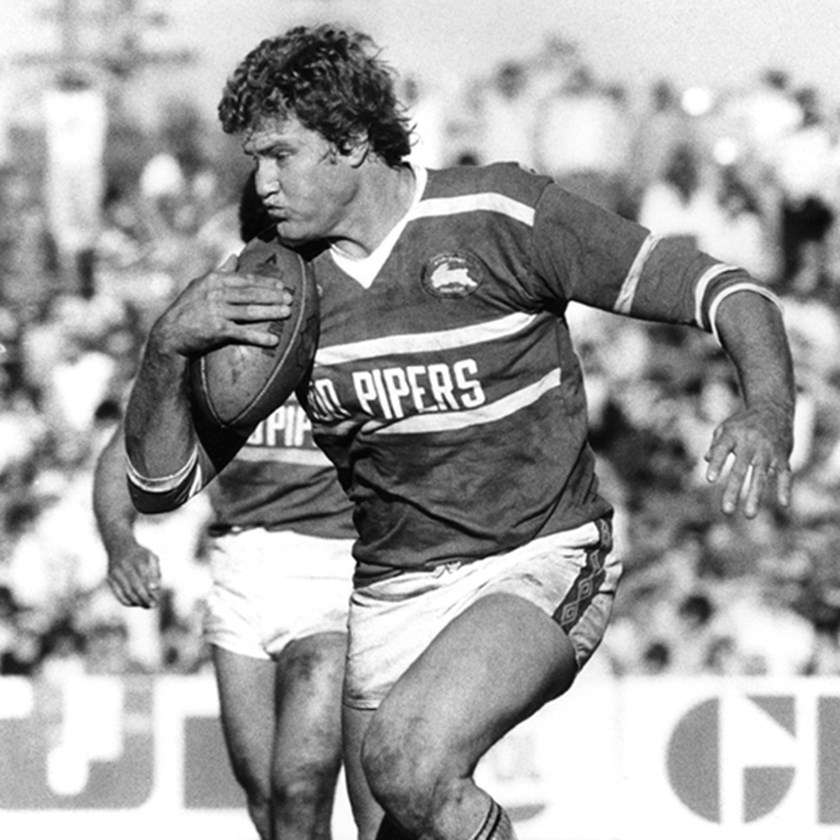 | | |
| --- | --- |
| Name: Charles Oliver Frith  | Born: 13 September 1957  |
| Height: 195cm | Weight: 115kg |
| 49 Matches for South Sydney (1979-1981) |   |
"Mate, what if I've killed him?"
Charlie Frith uttered these words to fellow Rabbitoh Paul Sait as they stood over injured Wests prop Bill Cloughessy after Frith hit him so hard in a tackle he was knocked unconscious and missing several teeth.
An enormous frame on the field, Frith was always up for clashing with fellow big blokes, while he had a tendency to pull back a bit on smaller blokes. He'll be remembered fondly by Souths fans for his huge impact in Souths 10-2 win over the Cronulla Sharks in the 1981 Tooth Cup final.
Frith remains one of the hardest tacklers and biggest blokes in the South Sydney history books. He now runs several sheep stations across Queensland and Northern Territories.
5) Paul McNicholas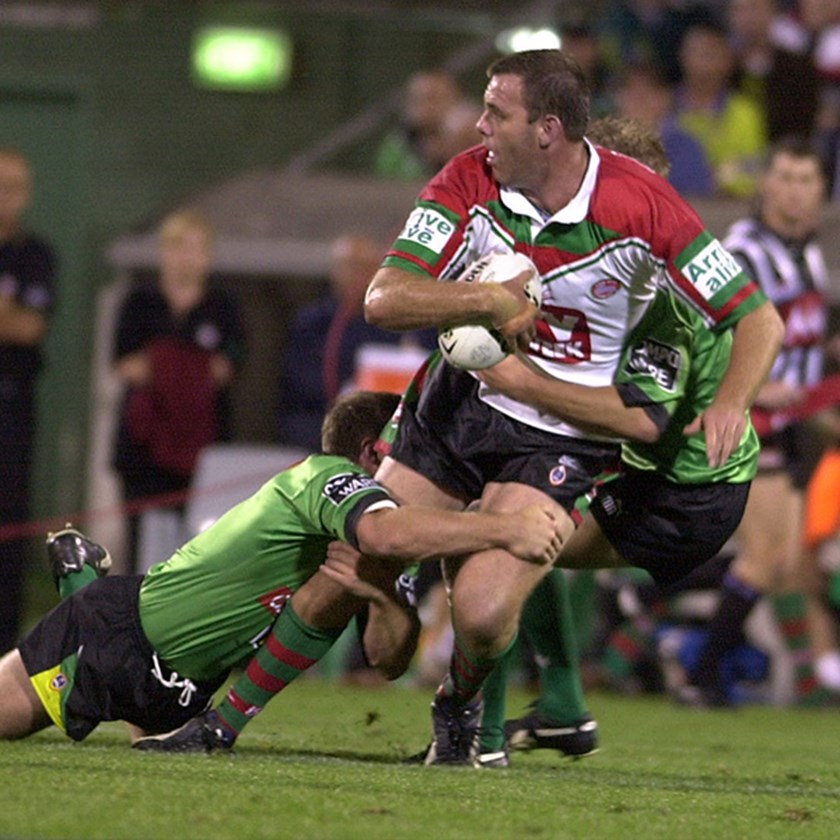 | | |
| --- | --- |
| Name: Paul McNicholas | Born: 26 May 1975 |
| Height: 201cm | Weight: 115kg |
| 34 Matches for South Sydney (1994-1999, 2002) |   |
Possibly the tallest Rabbitoh to play first grade - McNicholas developed into a reliable forward by 1999 before being forced to move to the Cronulla Sharks after the Rabbitohs were excluded from the competition.
He returned to help Souths claim their first victory after reinstatement in 2002 against the Canberra Raiders in round two - going toe-to-toe with Ruben Wiki during the process.
He finished his career in England playing for Hull FC and Oldham Roughyeds and earned three caps for Ireland in 2005-06.
4),3),2) - Sam, George & Thomas Burgess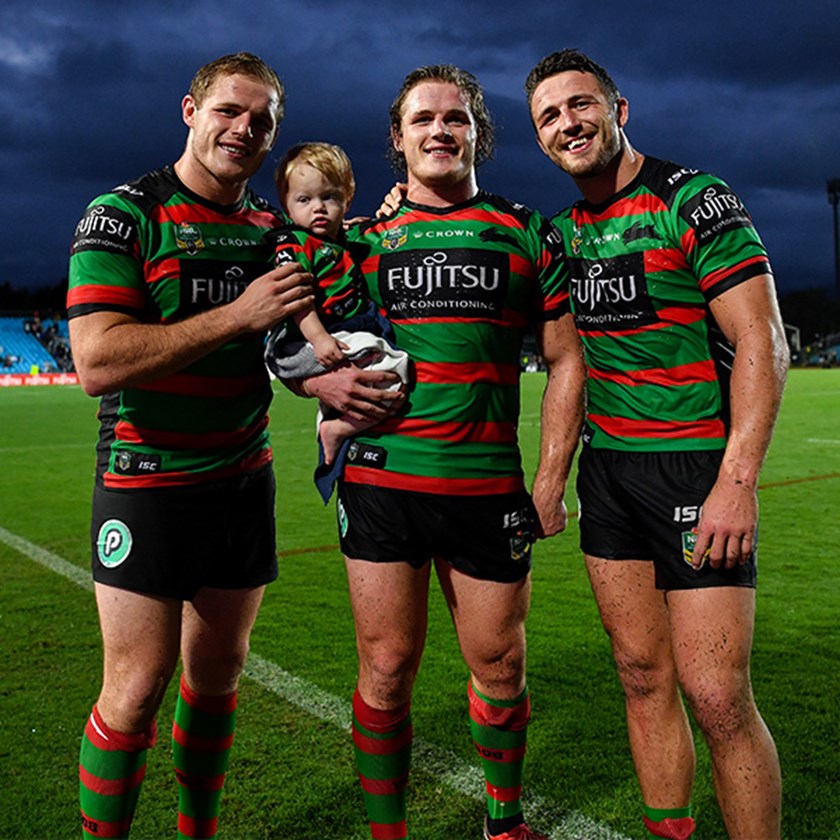 | | |
| --- | --- |
| Name: Samuel Burgess  | Born: 14 December 1988 |
| Height: 196cm | Weight: 116kg |
| 163 Matches for South Sydney (2010-14, 2016,18) | 37 Tries (148 Points) |
| | |
| --- | --- |
| Name: George Burgess | Born: 21 April 1992 |
| Height: 194cm | Weight: 120kg |
| 136 Matches for South Sydney (2011-2018) | 13 Tries (52 Points) |
| | |
| --- | --- |
| Name: Thomas Burgess  | Born: 21 April 1992  |
| Height: 196cm | Weight: 120kg |
| 119 Matches for South Sydney (2013-2018) | 8 Tries (32 Points) |
The Burgess clan know how to produce giants. George, Sam and Thomas Burgess are three of the largest humans to have worn the Red and Green both physically and with their impact on the field. Even eldest brother Luke, the smallest of brothers, still stands at 190cm and weighs 113kg.
The twins, Tom and George, have been bending defensive lines with barnstorming runs since joining the Club - George's 2014 Grand Final try a perfect example of his power - and have become regulars in England's national team.
While Sam is slightly leaner than his brothers, his work rate is unparalleled in Rugby League - averaging 32.4 tackles per game and 147.3 running metres per game.
With England coach Wayne Bennett linking up with the Burgess brothers at Club level as well as international - expect more to come from these bash brothers.
1) Matt Parsons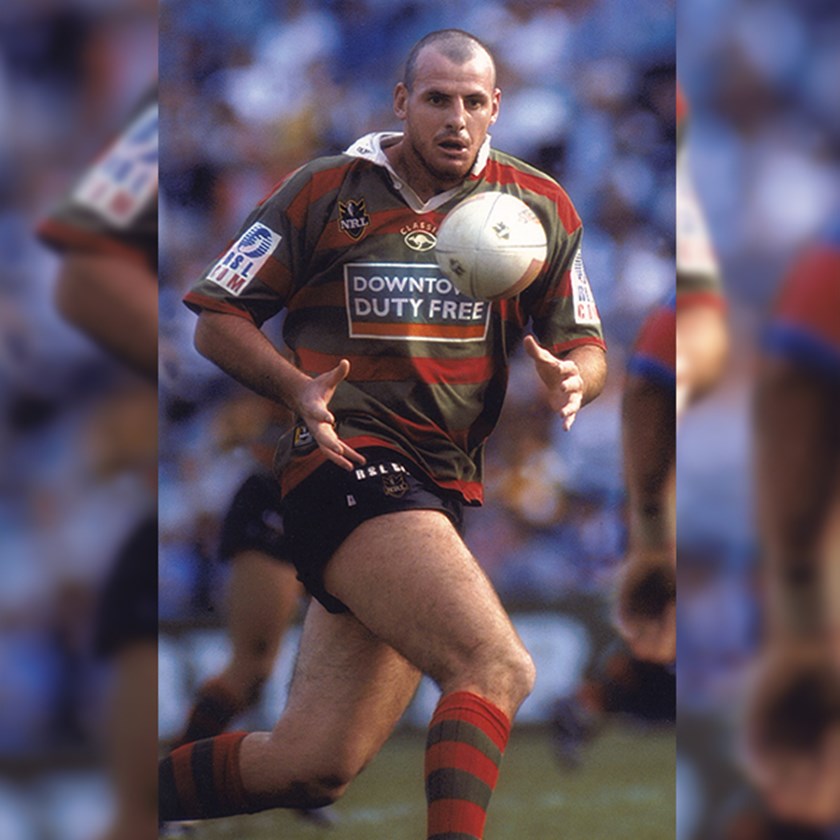 | | |
| --- | --- |
| Name: Matt Parsons | Born: 18 June 1973 |
| Height: 201cm | Weight: 135kg |
| 58 Matches for South Sydney (1997-1999) | 2 Tries (8 Points) |
Convincingly the biggest bopper in Rabbitohs history. The tallest (although McNicholas claims to have him in height) and heaviest first grader in recent memory, Parsons was the biggest member of one of our biggest forward packs in the late 90s.
He had a promising career with the Rabbitohs, being named the Dally M prop of the year in 1999, before being forced to find another club in 2000 after South Sydney's exclusion from the competition.
He played five more seasons, settling at the Newcastle Knights, before heading back to Werris Creek to play in the local competition.