Mark 'Spudd' Carroll sat down with Big League's Norm Lipson at the start of the 1999 season and made a declaration; all he wanted to do is pull on the Red and Green and put the "crunch" back into the Rabbitohs. No act would better demonstrate that then the two weeks in which he would knock out brothers David and John Lomax with terrifying hits.
Although it would prove to be Carroll's last year in rugby league he was still, undoubtedly, one of the toughest and most physical forwards in the game. After 13 seasons in first grade, 12 matches for Australia and 6 games for the NSW Blues - 'Spudd' showed no signs of slowing down.
Gearing up for the Rabbitohs round 12 clash with the Newcastle Knights, there was an excitement in the air as supporters readied themselves for another epic 'Carroll vs Harragon' clash. Even 'Spudd', who was coming back from injury, was hyping himself up for another bruising encounter with the 'Chief'.
But when Paul Harragon pulled out of the match-up on the day, Carroll lost a bit of the spark that had him excited for the clash. However, his father had some sagely advise for 'Spudd' that day.
"I was actually coming back from injury, I knew we were playing against the Newcastle Knights and it would be me against the 'Chief' again," recalls Carroll.
"But on game day 'Chief' ended up pulling out and I remember my dad rung me up and said "the best thing for confidence, son, is hitting someone with a shoulder charge".
After the phone call it was clear to 'Spudd' that 'Carroll vs Harragon' would have to become 'Carroll vs Lomax'. David Lomax, a two-time New Zealand international, would step into the gap left by Paul Harragon and the mano-a-mano was back on.
On a Sunday afternoon in May the two competitors lined up at the Sydney Football Stadium. From the kick-off David Lomax would run it straight at Carroll but cop a hit so devastating it knocked him out cold and he was unable to return to the field.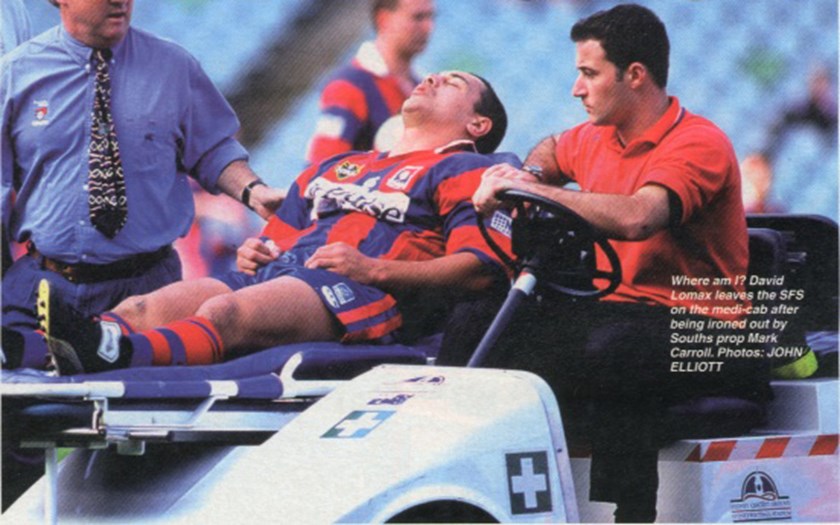 With the Knights reeling at the loss of one of their prop forwards in his first carry of the game, the Rabbitohs would go on to run out easy 27-4 winners in round 12.
"I remember I said to our captain, 'Garlo' [Sean Garlick]; "kick off and I'm gonna drop this bloke". Anyway I did, first tackle of the game I hit him straight on the button and we received the ball and ended up winning the game," said Carroll.
"I know you can't do that these days - the hit I did would've probably got 10 weeks. Back then it wasn't taken off the field, you could get away with a lot more then.
"I was never a swinging arm merchant. I was a hard, shoulder man. I'm still a firm believer that if you hit someone body-to-body and put them back on their arse; perfect tackle.
"But if you hit someone on the chin it deserves a minimum six weeks. If I re-watch the Lomax hit, I was definitely getting six weeks but back then you could do it."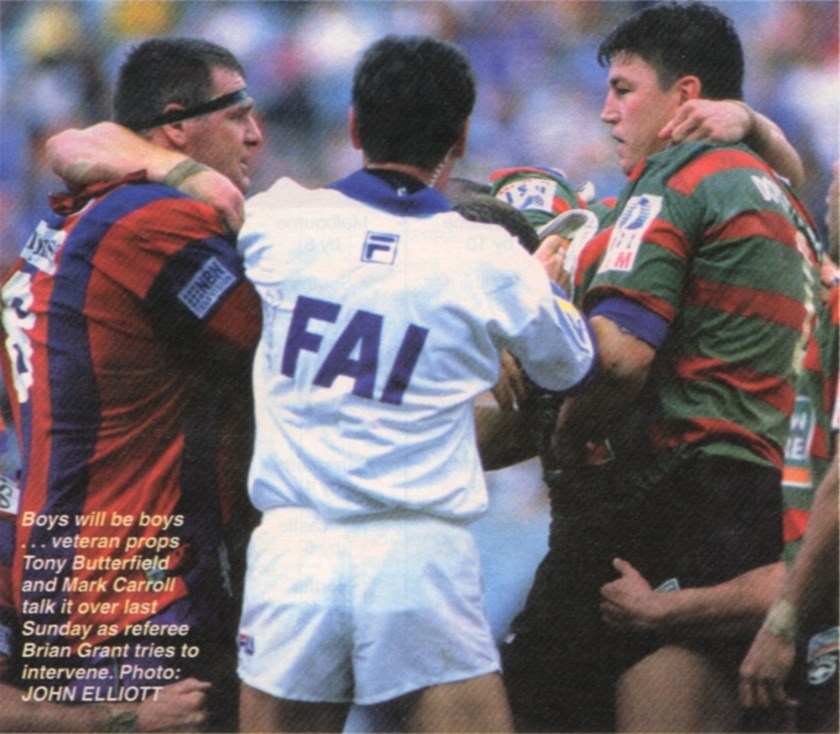 With Lomax out of the match, Carroll would continue to terrorise the Knights forward pack and found himself butting heads with Newcastle captain Tony Butterfield.
For Carroll it wasn't malicious, it was all about geeing up his team and getting the win for the Red and Green. Fellow forward Ian Rubins had spoke of Carroll s being "the leader of our pack" so it was natural that 'Spudd' would lead by example.
"It lifts the team," says Carroll.
"There's nothing better than when someone does a massive hit out on the field. With Souths, which came in under Maguire which I love, if someone does something great on the field a winger would run from the sideline to the other sideline to pat you on the back."
The fallout from the hit would be instant. John Lomax, the older brother of David, publicly called out Carroll, promising to return the favour to the Rabbitohs enforcer. John was playing for the North Queensland Cowboys at the time and would only have to wait a week before he got a chance to step into the arena with 'Spudd'.
"The next week, the funny thing was, I played against his brother John Lomax who was one of the best head-high merchants around. He came out saying he was going to bash me and give it to me because I hurt his brother," said Carroll.
"And I just said; mate, bring it on."
Carroll vs Lomax II coming Tuesday 15th May on Rabbitohs.com.au.
----------
Match report supplied by Michael Curin.
Fresh from a bye and with engine-room enforcer Mark Carroll back, Souths opened with their best 40 minutes of the season to lead 10-0 at half-time. The Rabbitohs played with their strongest side this season against the Knights outfit underdone through representative commitments and injuries.
Rabbitoh prop Carroll set the tone for the match in the opening seconds with a shoulder charge that left Newcastle's David Lomax unconscious on the turf. They continued to control the football, grinding our their most comfortable win of the year.
On the back of their superior go-forward Souths kept crunching forward, going to an early 2-0 lead through a Julian O'Neill penalty goal and, as a result of that, a try to Justin Loomans. O'Neill's conversion and a penalty goal in the 29th minute made it 10-0 at the break, and the outcome was never in doubt from that point on as the home side controlled the tempo.
The next try was scored by the competition's smallest footballer with the quickest feet, Wes Patten.
From inside his own 20m, Tim Brasher went through a Bill Peden tackle and held up nicely for Patten, who took it and then scored under the posts for a 16-0 lead.
The Knights were done.
They fell behind 22-0, 22-4, 23-4 and finally 27-4 when Tony Iro went from dummy half to score.
"We didn't have a bad player on the field today," coach Craig Coleman said.
"Everyone turned up ready to play. I asked them about their attitude on Friday and what it meant to them to win. We've had a pretty tough draw but over the next six or seven weeks we've set ourselves a goal. We think we can win the next six or seven games in a row."
At the opposite end Newcastle are in serious trouble, and it's all up front.
Harragon's knee gives him enough bother that he is unsure when he will be back. Add Tony Butterfield's dicky hamstring, Jason Temu's season-ending knee injury, another long-term knee problem for Glenn Grief and damage to Clinton O'Brien, who is not expected back for some weeks, and you see how short the Knights are in the front row.
Test winger Tim Brasher had been in coach Coleman's ear to give him a go at fullback, and "Tugger" complied in the second half. The veteran of 18 State of Origins and 16 Tests responded with his best form of the season to stake a serious claim for the No. 1 jersey.
"It was just what the doctor ordered," was Coleman's appraisal of Brasher's second half performance.
SCOREBOARD
South Sydney 27 (J.Loomans, W.Patten, J.Smith, A.Iro tries; J.O'Neill 5 goals; D.Trindall field goal) defeated
Newcastle 4 (J.Holbrook try) at Sydney Football Stadium, Sunday, May 23, 1999 (3pm).
Crowd: 10,267. Referee: Brian Grant. Touch Judges: Colin Jones, Paul Kalina. Video Referee: Chris Ward. Halftime: Souths 10‐0. Scrums: Newcastle 9‐7. Penalties: Newcastle 6‐2. Goalkickers: O'Neill (Souths) 5/6, Holbrook (Newcastle) 0/1.
SOUTHS: Julian O'Neill; Justin Loomans, Jason Nicol, Brett Rodwell, Tim Brasher; Craig Wing, Darrell Trindall (c); Matt Parsons, Chris Caruana, Mark Carroll, James Smith, Tony Iro, Jeremy Schloss. Interchange: Wes Patten, Wayne Richards, Robert Tocco, Ian Rubin. Coach: Craig Coleman.
NEWCASTLE: Mark Hughes; Jason Moodie, Matt Gidley, Timana Tahu†, Adam MacDougall; Matthew Johns, Justin Holbrook†; Tony Butterfield (c), Danny Buderus, David Lomax, Peter Shiels, Sean Rudder, Bill Peden. Interchange: Steve Simpson, Scott Conley, Troy Fletcher, Daniel Smailes. Coach: Warren Ryan.
Cited: Trindall (Souths). Charge: Reckless high tackle. Plea: Not Guilty. Verdict: Guilty. Sentence: Seven match suspension (81 demerit points).
Scoring Progression:
4 min: South Sydney 2-0 (O'Neill goal)
5 min: South Sydney 8-0 (Loomans try; O'Neill goal)
29 min: South Sydney 10‐0 (O'Neill goal)
51 min: South Sydney 16‐0 (Patten try; O'Neill goal)
61 min: South Sydney 22‐0 (Smith try; O'Neill goal)
67 min: South Sydney 22‐4 (Holbrook try)
74 min: South Sydney 23‐4 (Trindall field goal)
79 min: South Sydney 27‐4 (Iro try)
† Indicates player making his first grade debut.