The South Sydney Rabbitohs supporter base stretches far and wide unlike any other team in the NRL. 
Members and supporters are scattered across the globe and many travel long distances to see their beloved Red and Green stars take to the field. 
However, next Saturday the wait is over for one particular group of core fans based down in Canberra, who after four years will get the opportunity to see their team play again at GIO Stadium. 
For the first time since 2014, the Rabbitohs will travel down to the nation's capital to take on the Canberra Raiders in what will be a cracking game between to famous Clubs.
Whilst Canberra is packed full of Raiders fans there is a large contingent of Rugby League supporters who bleed Red and Green. 
One of those Rabbitohs supporters is Club Member Jerry Lissing, who started the Canberra Rabbitohs supporter group. 
Organising get-togethers and day trips up to Rabbitohs' home games throughout the season Mr Lissing is looking forward to seeing his beloved Cardinal and Myrtle a little closer to the home. 
Jerry Lissing

"It's been a long time coming that's for sure."
"We've got a great event planned and we can't wait for next Saturday." 
After a four-year absence from GIO Stadium, Mr Lissing is hoping the Rabbitohs will put on another exciting show that replicates the one they put on in 2014. 
"I remember that game fondly," said Mr Lissing.
"It was a Monday night game, which we won, it was freezing cold and I was sitting there with the Burrow."
"It was special because Souths fans virtually outnumbered Raiders fans on that day."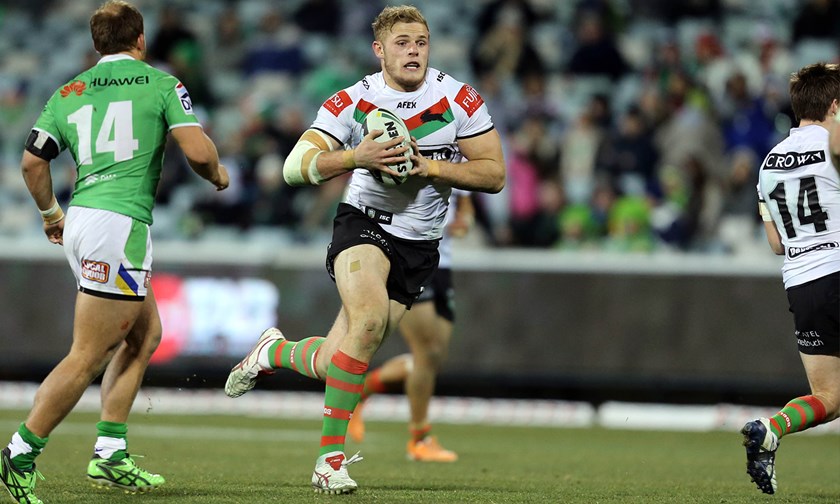 Trips down to Canberra are always special for the Rabbitohs.
After being reinstated in 2002, Souths first away game was down in Canberra and it was a game that Mr Lissing played a big part in.
"An interesting fact about that game was I raised the accommodation and sponsorship of the team at the Tradies Club Hotel in Canberra," said Mr Lissing.  
"The Tradies club is owned by the CFMEU and they helped us very much when we got back into the comp.
"They sponsored the Souths team accommodations on that day despite being big sponsors of the Canberra Raiders.
"Even though they were Canberra's sponsors they were so excited about Souths coming back into the comp, they paid for all of Souths' food and accommodation." 
While the Rabbitohs return to the Rugby League after a two-year absence was celebrated immensely by all who live and breath South Sydney, their re-establishment was also appreciated throughout the Rugby League world. 
Walking out onto the then named Bruce Stadium for their first away game since 1999, Mr Lissing explained that the mighty Red and Green were welcomed with open arms. 
"Canberra gave us a very warm welcome for our first away game in 2002, we had a massive crowd, Bruce Stadium was full and I'll never forget how warmly received we were by Canberra crowd when we came back." 
While the Rabbitohs may not be received as warmly as they were 16 years ago there is no doubting the friendly rivalry that exists and Members and supporters heading to the game can expect to see that next Saturday at GIO Stadium. 
Game Day event
The Canberra Rabbitohs fan group event starts next Saturday at 10.30am kicking off at the King O'Malley's pub,  
Jerry Lissing

"It's shaping up to be quite a little event down here."
Mr Lissing has been coordinating with the Members of the Burrow and is expecting close to 100 people to attend the pre-match function. 
From 11am onwards there will Souths trivia, hosted by Club Historian Brad Ryder and featuring special guest, 13-year-old Talon Smith, a young Souths guru. 
From there, attendees will head out to the game, which kicks off at 3pm.  
"I've reached out to the burrow and a lot of Rabbitohs fans sites, we've got quite a day planned, we're inviting anyone down to the game and the King O'Maley's Pub," said Mr Lissing. 
"I've coordinates all the tickets for the game and booked an extra bay. As of today, I've bought 150 tickets, bay 72 has been sold out so I've booked bay 73 where I'll to have 200 Rabbitohs there."
Full details below
Location:  King O'Malley's Pub, 131 City Walk, Canberra ACT 2601
Time: 10.30am
Special guests: Brad Ryder and Talon Smith
Features: Trivia, nibbles and transport to the game