No one could have written a better script for Dylan Farrell's NRL debut.
Having risen through the ranks at South Sydney, arriving from the south coast as a youngster, he soon became a star in the Rabbitohs' NYC side, with plenty of pundits predicting a big future for the then-19-year-old.
Few could have predicted how quickly he arrived to first grade though, and neither could Farrell, as a fateful call from coach John Lang just hours from their Round 22 clash against the Wests Tigers propelled him to the big time.
"It was just a normal week for me. I played NYC most weeks and had the week off because of injury and had just got back into training," Farrell said.
"On game day, about four hours from kick-off was when I got the phone call. We had quite a few injuries, I was probably third or fourth string centre and didn't really expect anything from it.
"I was hanging up my clothes and saw John Lang ringing my phone and was wondering why he was calling. He asked if I was right to play that night and I agreed, we talked about where I wanted to play and I said I wanted to play right centre with Nathan Merritt.
"I called my parents straight away, I had a few cousins and mates from the south coast and they got in the car straight away and drove up."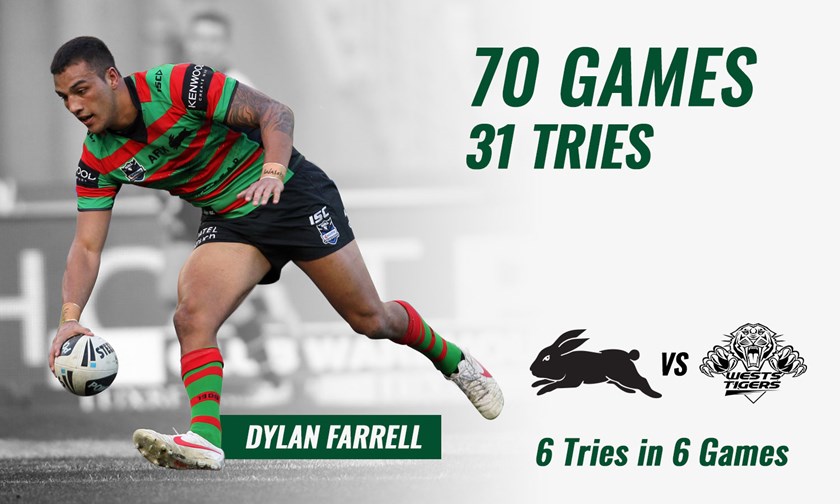 Going into the match, the Red and Green had suffered a plague of injuries, with Colin Best, Beau Champion, Luke Stuart, Sam Burgess, Dave Taylor, Scott Geddes, Ben Lowe and Michael Crocker all unavailable, meaning the young brigade had to take charge.
Their opponents, the Wests Tigers, on the other hand, were primed for a finals position. The experts were tipping the Rabbitohs as no chance to beat their inner west rivals, but that didn't matter to Farrell, who scored an early try. 
"As silly as it sounds, being my first game I didn't care what the score was," he said.
"I was just so stoked to be there, soaking it in.
"Everyone had written us off, we were a young side with a lot of players out, John Lang had to call in Craig Stapleton from the mines to come up and play for us, that's how bad we were injury-wise.
"Some blokes were playing for their season and for contracts and I was just out there having fun."
With plenty of fight in them, the Rabbitohs managed to keep in touch with the Tigers but eventually succumbed to trail 28-12 with only half an hour left. 
But with their season on the line, the scintillating Rabbitohs clicked into gear, and it was Farrell who helped lead the crusade by getting his double off a Chris Sandow grubber to put his side back into the contest. 
All of a sudden, the Rabbitohs had clawed their way back into the contest, and despite the Tigers bridging a 12-point gap with a penalty goal, the courageous Souths side refused to give in, eventually evening the scores at 30-all at full time and heading into Golden Point with all the momentum. 
"I can't recall a particular moment that turned the match, but when we had the ball we had confidence that we would be able to score," Farrell said. 
"We knew our defence wasn't the best, but when we had the ball we never had problems scoring tries that whole season. The likes of John Sutton, Chris Sandow, Rhys Wesser and Nathan Merritt were great at attacking and could pull something out of nothing.
"I just remember everyone was saying we needed to get the ball, and funnily enough when we did have it we seemed to do something with it. Sandow's boot was on fire that day, I think he kicked all his goals so if he had missed one we might not have won it."
Much like the end of regulation time, by the end of Golden Point, the two sides couldn't be separated, until fullback Rhys Wesser strolled through the fatigued Tigers defence.
The experienced campaigner drew in his opposite fullback, and threw a long cutout pass to replacement Shaune Corrigan. As the siren sounded, the ball went back inside to Farrell, who crashed over the line, completing his hat-trick and giving the Rabbitohs a miraculous 34-30 victory. 
For Farrell, it's a tale he will be able to tell his grandchildren one day. 
"The whole night was just such a big buzz for me, I was on a big high," he explained.
"Our backs were against the wall, we had key players out, a debutant and guys coming in externally and blokes who had only played a handful of games. Everyone wrote us off and I guarantee none of that had us concerned for that game. We stuck together and got the job done.
"When you're a kid playing backyard footy you always pretend you're going to score the winning try.
"When you're at school or at home, your parents or teachers will tell you to come back inside and whoever scores the last try wins. But to have it in the 90th minute after the siren on your NRL debut, you can't really even write a script for that."
Having departed the Club after the 2013 season, Farrell's career was unfortunately cut short due to injury, retiring at the tender age of 24. 
However, his love for the game, and the Rabbitohs, remains strong. 
"I remember when I first went to Souths, who were the first NRL Club I was affiliated with, it felt like such a special place," he said.
"There's definitely no feeling like there was at Souths. It was a home away from home and obviously not being from the area, from the start it felt like I was in the right place.
"I'm retired now but I'm a big Souths fan and I'll try to go to as many games as I can. I went to Sutto's 300th and Jason Clark's 150th when we beat the Roosters, so I still love watching the boys play and I wish them all the best."